Dream Home: Love Abides Here
Three children, two storeys and a rooftop terrace with a foosball table, a barbecue and a hammock – sounds like the ideal scenario for a fun-filled, family home. That is exactly the home that Ideal Design Interior created for this beautiful family of five. They share their story.
Project Snapshot
Name(s) of Homeowner(s): Zalina Ismael
House Type: 3-bedroom Private Penthouse Apartment
Size of Home: 2,519 sq/ft
Duration of Renovation: 3 months
Cost of Renovation: $100,000
Interior Design Firm: Ideal Design Interior Pte Ltd
Name(s) of Designer(s): Gary and Billy
The spacious living area of the loving family home
Shaqeel, Reyhaan, Mum Zalina and Deanna

The open concept kitchen and dining area has seating at both the island counter and dining table
HomeRenoGuru: How did you come to engage Ideal Design Interior?
Zalina: We found Ideal Design through online research. When we visited Ideal Design's showroom, they were very forthcoming, very committed. Straightaway you can see Gary's passion in his designs and how he actually relate to us – he has a very personal touch, and he listened to what we wanted.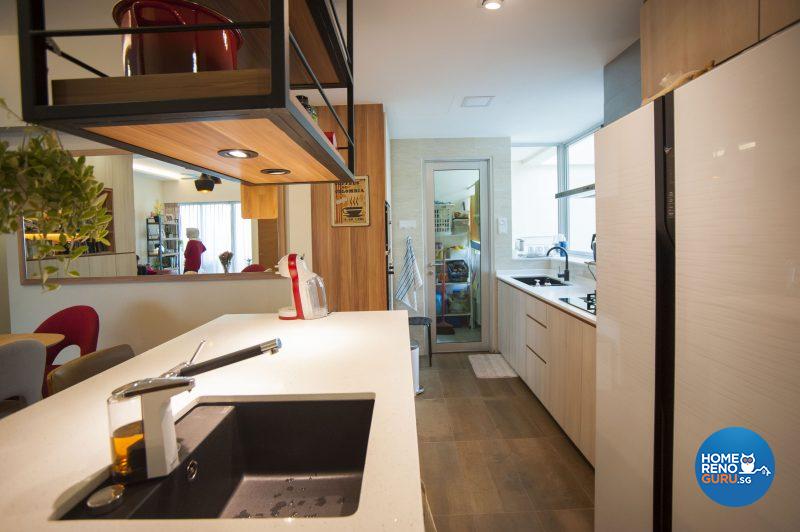 A sink is conveniently built into the island counter
HomeRenoGuru: What was your brief to Gary?
Zalina: I told him we wanted something clean, something simple. I have three kids, so I told him that maximising space was of utmost importance to us.
HomeRenoGuru: How did you find the renovation process?
Zalina: Our renovation process took a wee bit longer than we expected, because we had some structural challenges due to the need to customise the base upstairs in our rooftop. But I'm totally fine with it because Gary was very committed. He was actually hospitalised during the whole process – he had a bit of food poisoning. But he got his colleague Billy, who was also with us throughout the whole renovation process. He was contactable throughout. He worked till 3am, sending us videos, and they even worked during the Chinese New Year period. So I'm very, very happy with their commitment, their passion and the service they provided.
Decking and a pond with water feature lend the rooftop terrace a resort feel
The beloved foosball table in the semi-enclosed section of the rooftop
The staircase is adorned with beloved memorabilia
HomeRenoGuru: So what do you love most about your home?
Zalina: I love my home – I love a lot of things about it. But if I had to choose just one thing, I'm quite a practical person, so I actually love my dressing table a lot because there are compartments in it and it's ultra-useful for me, especially since I'm wearing a hijab so I need to see my brooches and stuff really clearly.

Zalina loves her dressing table, with compartments that allow her to survey her brooch collection at a glance
The master bedroom is a blend of soothing neutrals
Looking for an estimate of your renovation costs?
Let HomeRenoGuru help!
Deanna: My favourite part of the house is definitely my own room, because when I come home from school every day I feel like my room is the first place that I get to go to, and it's my sanctuary, especially since the bed is the first thing that I see when I walk into my room. I could just lie down on my bed and fall asleep – but not really, because I have to wake up again and do my work.

Deanna's room – where she studies, sleeps and dreams
Shaqeel: I really like my room, because it's my own private space. I do most of my things there, like sleep, do my work and so on. It may not be the biggest of places, but it was planned out to seem like there's a lot of space. Also, I share with my brother but it seems like I have a lot of space to myself.
The boys' room optimises space with bunk beds and artful planning
Wood-lookalike laminate imparts a warm feel to the room, while built-in shelving maximises storage space
Reyhaan: My favourite part of our house is definitely the rooftop. I like chilling on the hammock and I also like playing foosball with my siblings. Sometimes I also have family barbecues and it's really fun.
Reyhaan's favourite spot on the rooftop
HomeRenoGuru: From the sound of it, you would recommend Ideal Design Interior to family and friends?
Zalina: Most definitely, I would wholeheartedly recommend Ideal Design. Home is where the heart is.
Zalina, Deanna, Shaqeel and Reyhann: Thanks, Ideal Design. Thanks, Gary – and Billy!