Dream Home: Lots to Love, Including the Loft!
The focal point of this contemporary condominium apartment is the double-volume ceilings and generous-sized loft. Designer Yiyi from The Mind Design had prior experience with loft layouts, and delighted homeowners Arthur and Khanh Linh with her space-saving 'skinny' staircase and innovative ideas.
Project Snapshot
Name(s) of Homeowner(s): Arthur and Khanh Linh
House Type: 2-bedroom Private Condominium
Size of Home: 103 sq/m
Cost of Renovation: $40,000
Duration of Renovation: 3 months
Interior Design Firm: The Mind Design
Name(s) of Designer(s): Yiyi Lu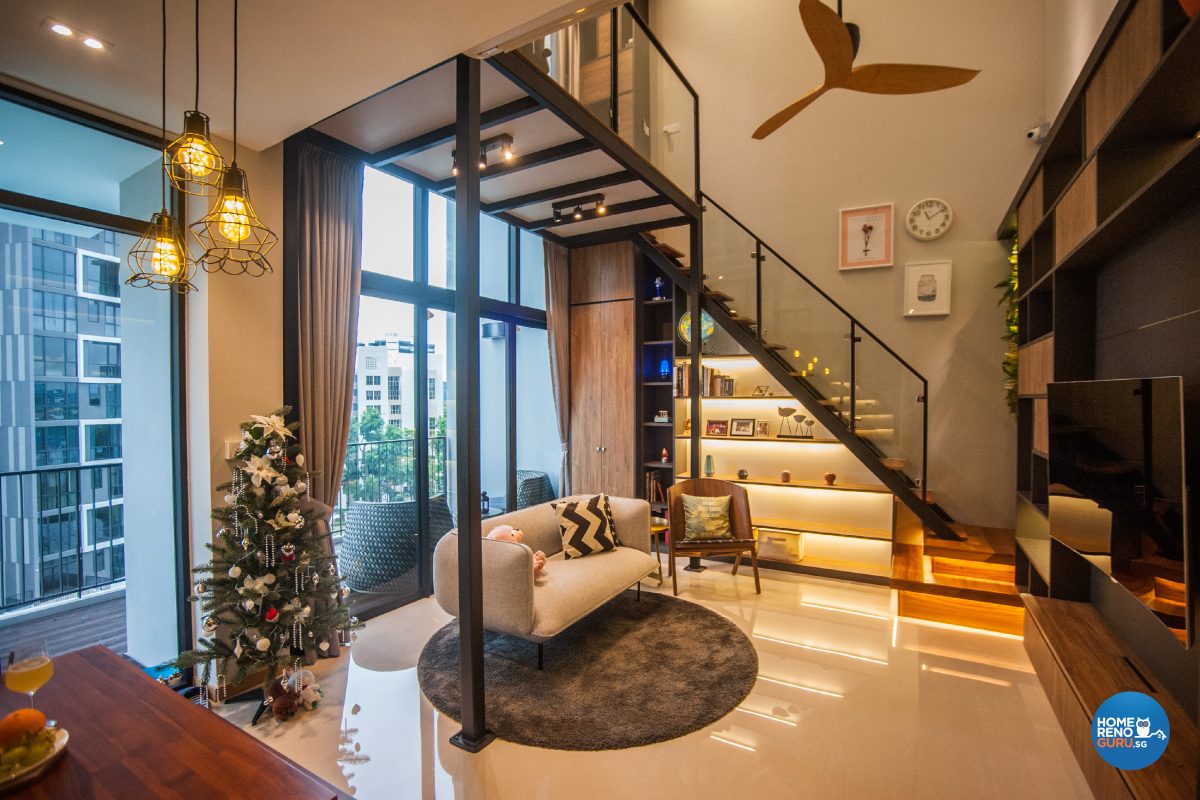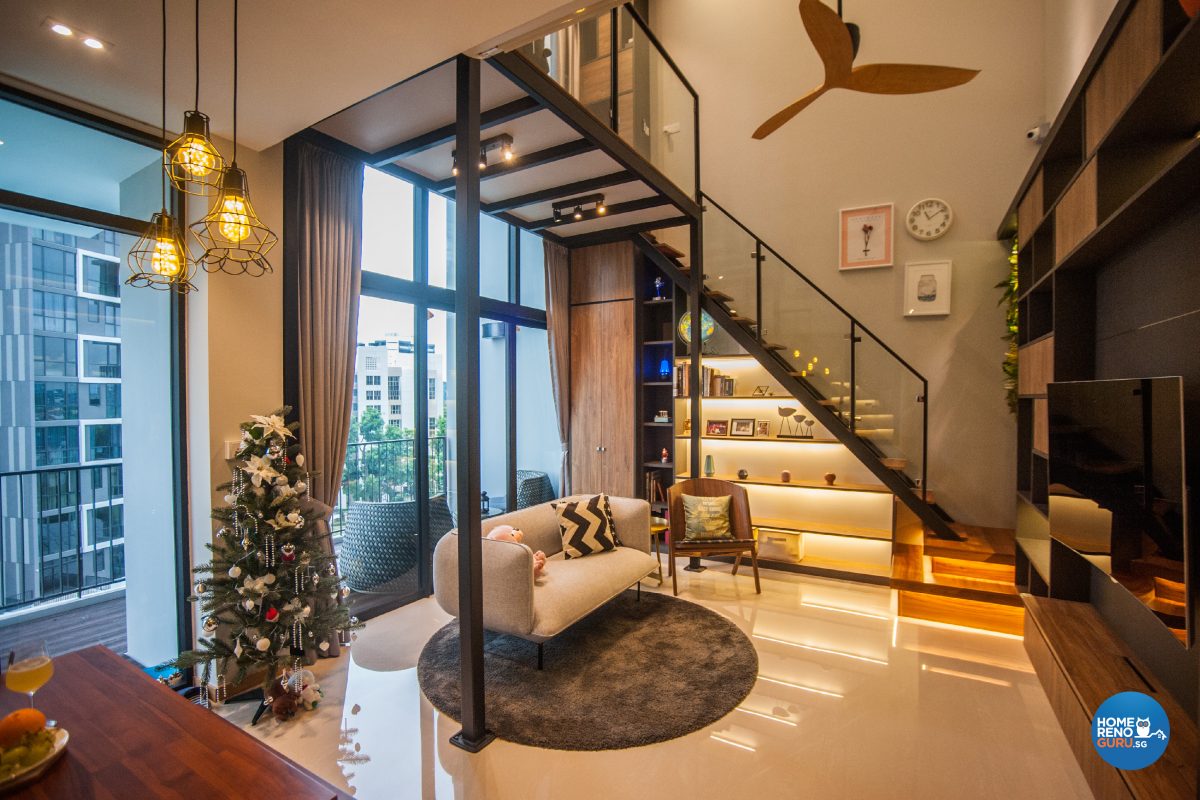 The living area is distinguished by a double-volume ceiling and a slimline staircase to the window-facing loft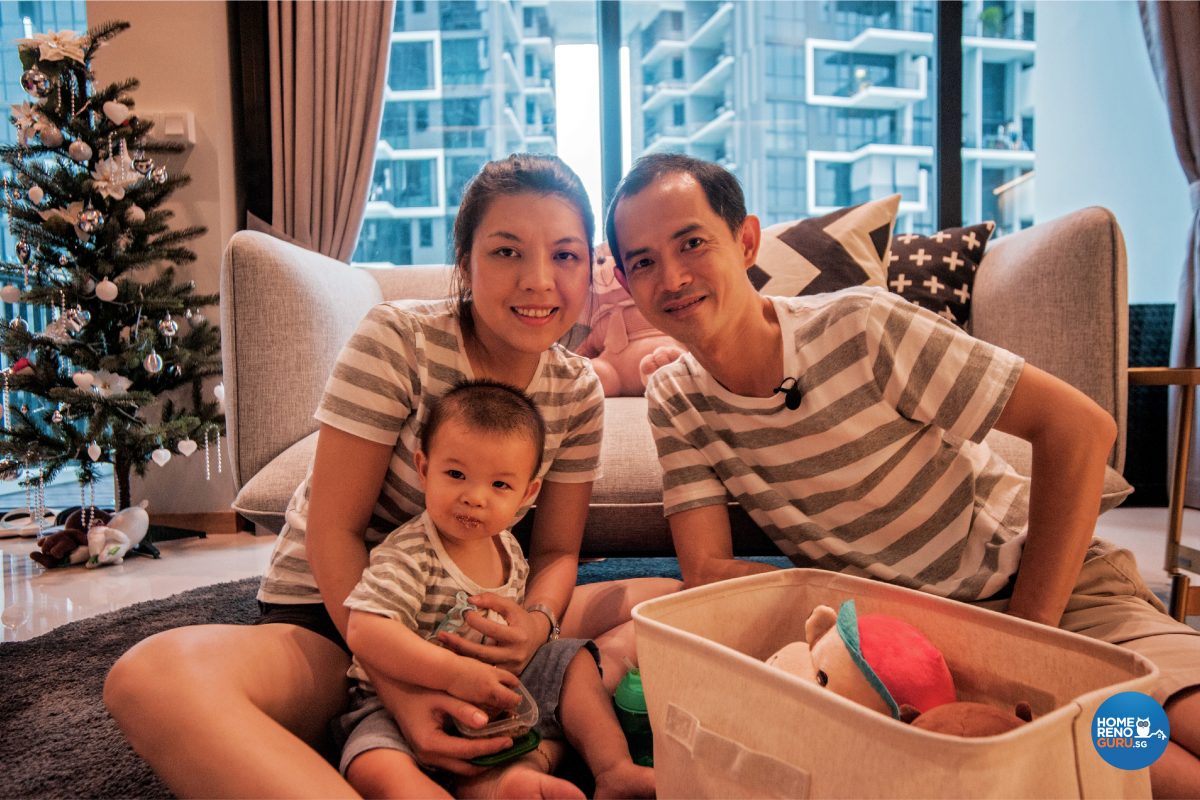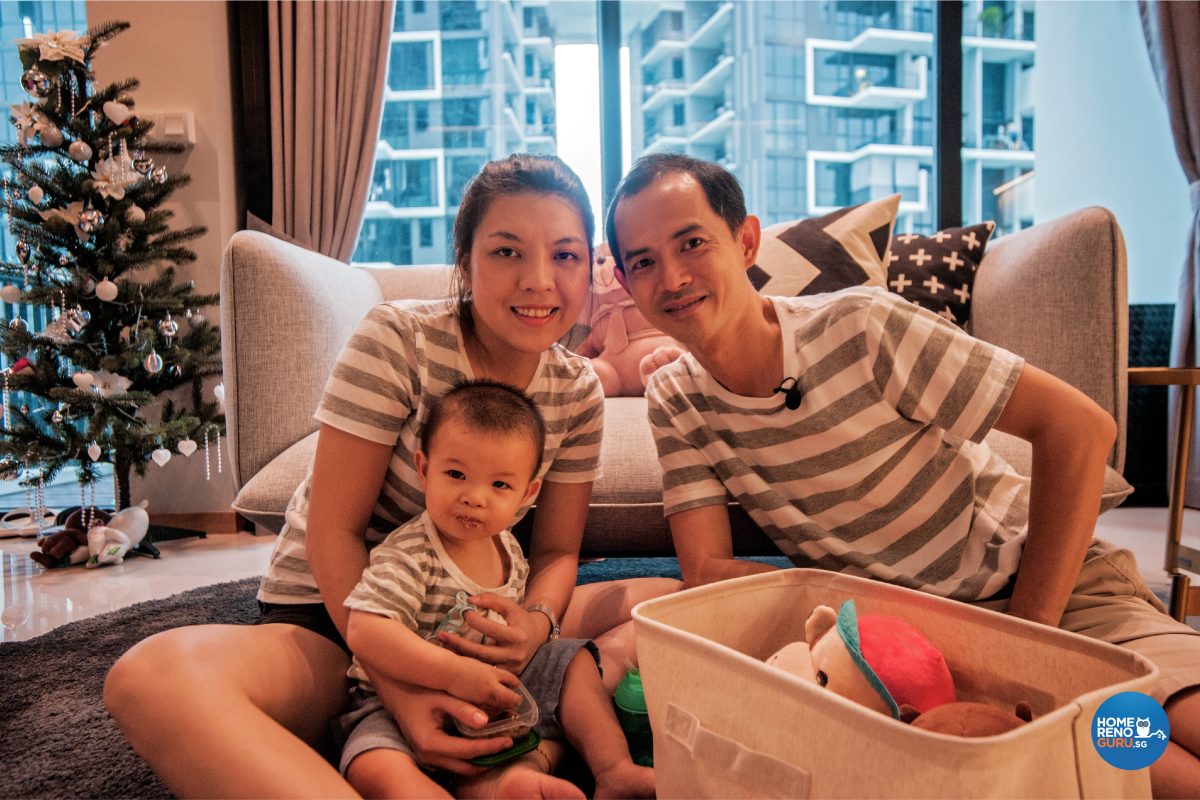 Arthur, Khanh Linh and their adorable son
HomeRenoGuru: How and why did you come to engage The Mind Design to renovate your home?
Arthur: I chose The Mind Design because Yiyi was actually my client and also the chief designer of The Mind Design. When I went through her portfolio, I loved one of the loft designs that she did.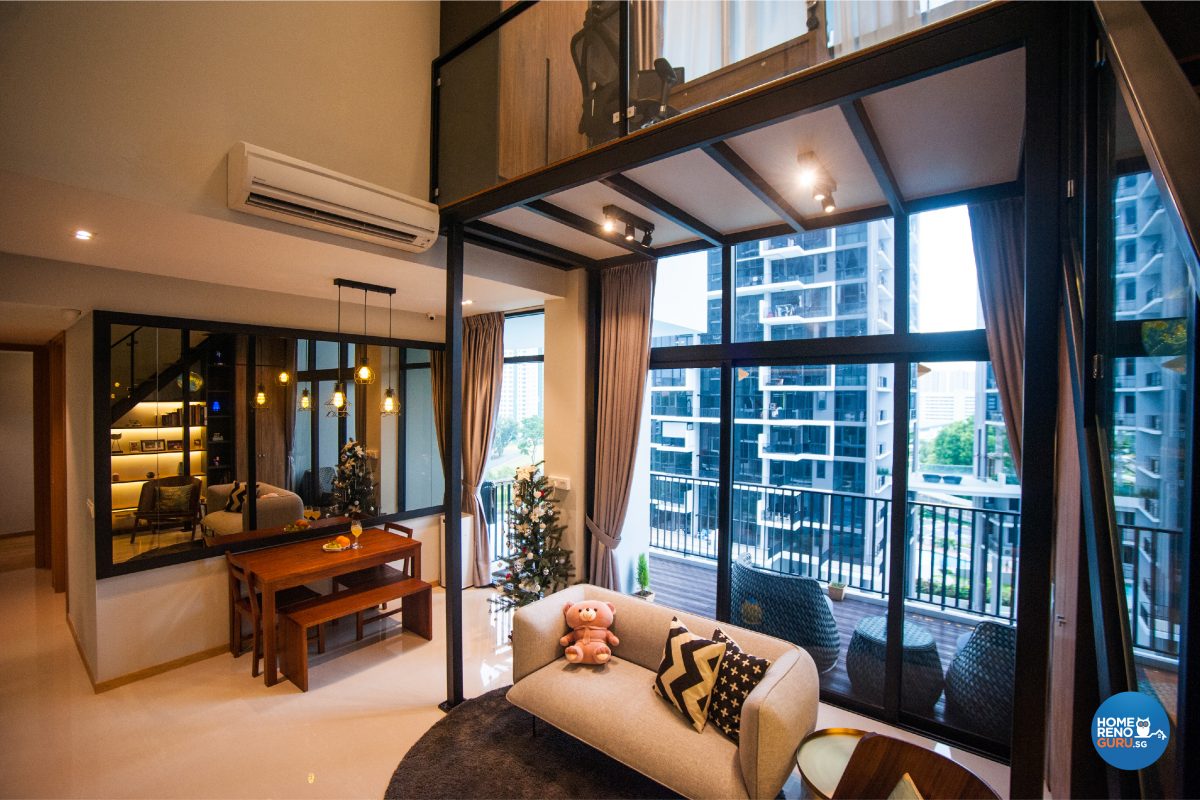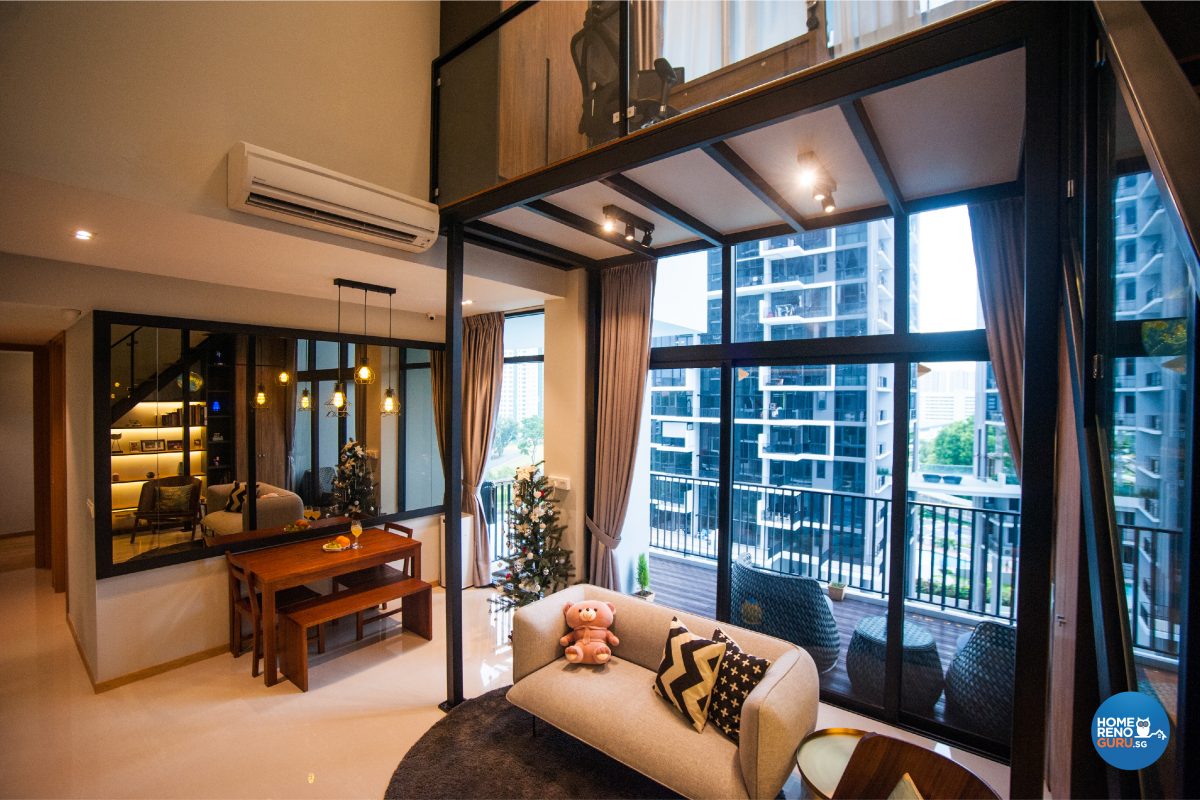 The living area is optically enlarged by mirrors, light colours and layered lighting
HomeRenoGuru: So was the loft area a high priority in your brief?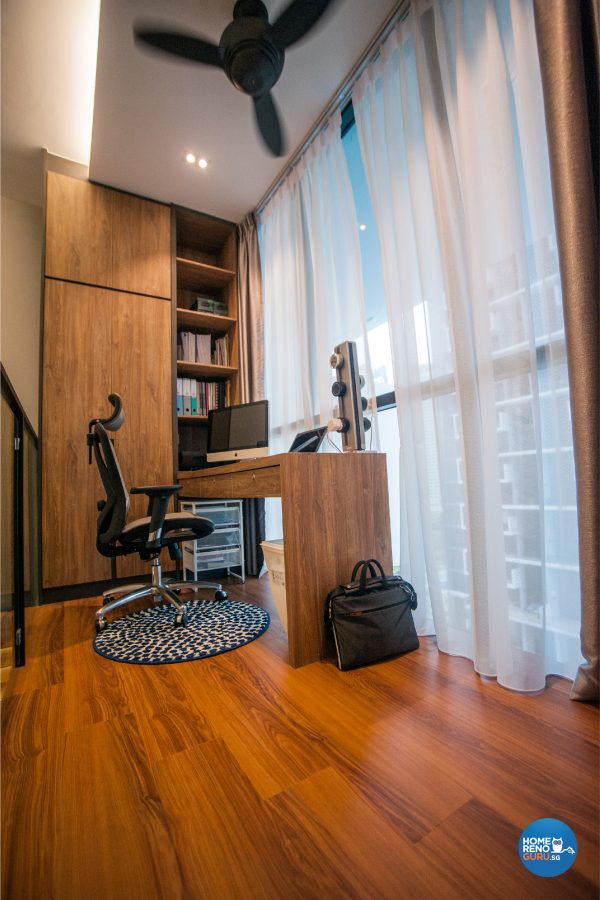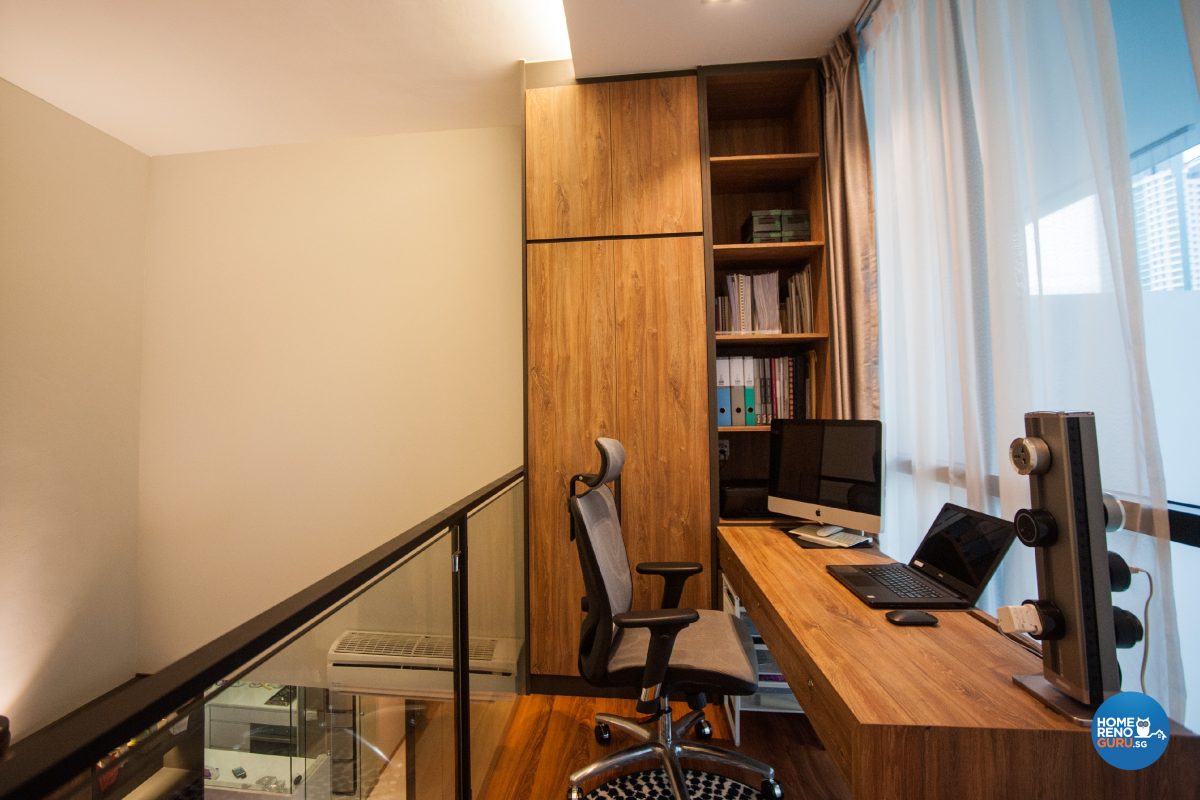 The window-facing loft is both a workspace and a retreat, affording an uplifting view over the pool and garden
Arthur: Yes, the pool-facing loft was one of the factors in purchasing this unit, in fact.
HomeRenoGuru: How was the actual renovation process?
Arthur: Along the way, we had some differences in opinion regarding the ID drawings, the tone and the colours. But nevertheless, Yiyi always managed to convince me of the practicality of the design.
HomeRenoGuru: What do you like most about your renovated unit?

The view from the loft underlines the aesthetic importance of attractive lights and ceiling fans
Arthur: I like the staircase because it's just 600mm wide, so it is not like the conventional type of staircase which is around 750mm. It really maximises the space and doesn't eat a lot into the living room. I also love my loft because it's window-facing, which is quite unconventional, and something that you won't find in most other residences.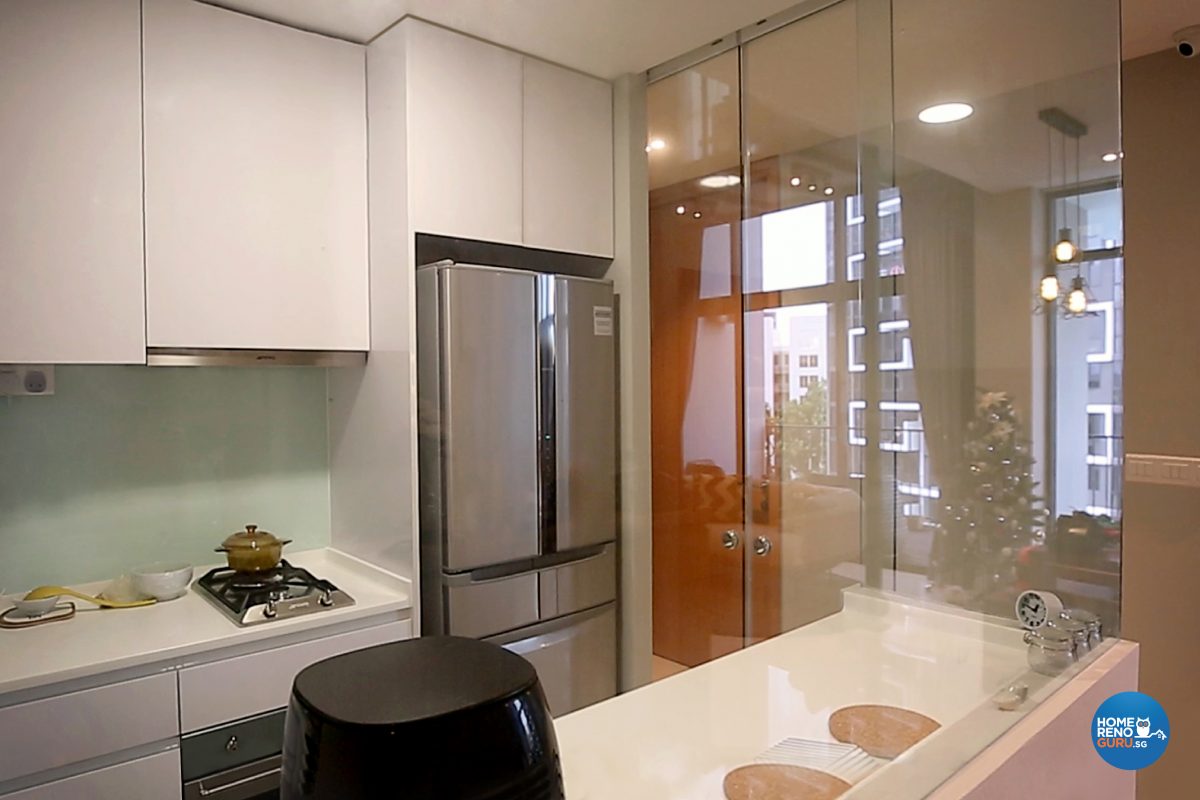 Light-coloured cabinets and a functional layout make cooking a pleasure for Khanh Linh
Khanh Linh: I love to cook…
Arthur: … and I love to eat!
Khanh Linh: So I love my kitchen.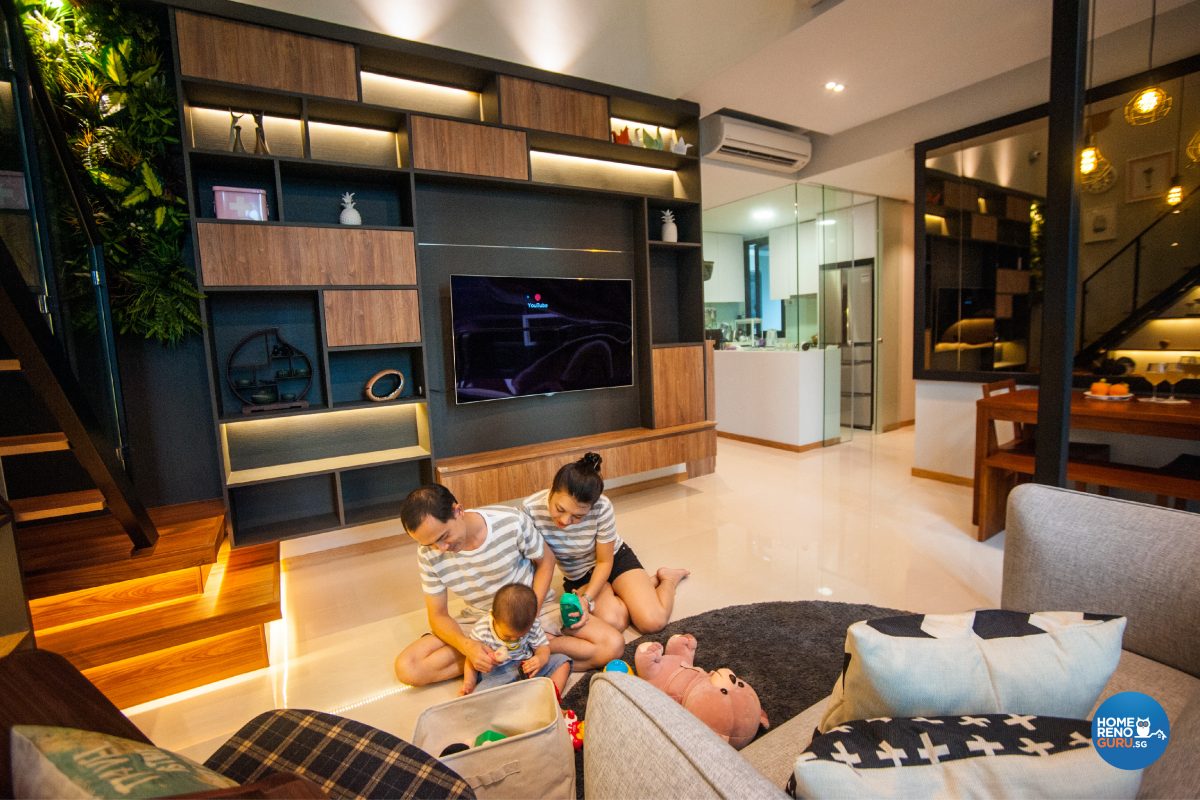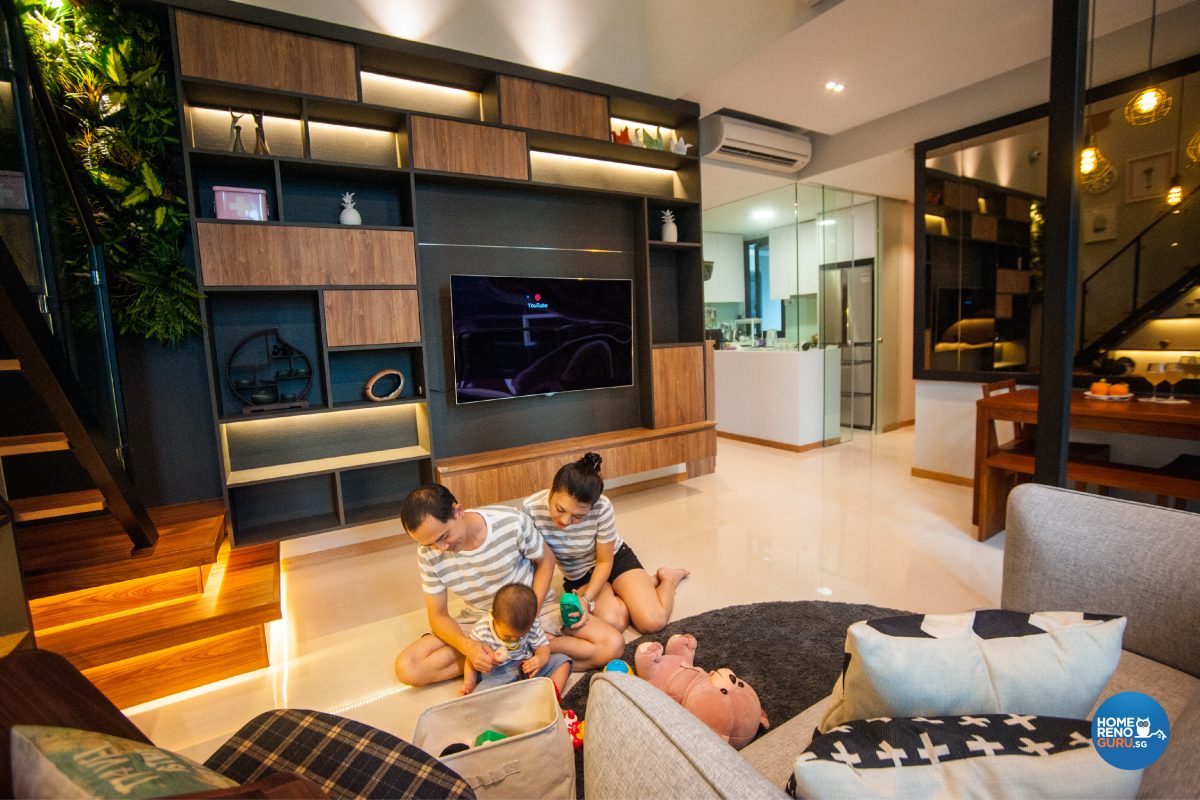 Display shelves built into the TV feature wall allow Arthur to showcase carefully curated small décor items
Arthur: What I love about my living space is the TV feature wall. Yiyi gave me a lot of storage space and shelving space, where I can display my décor stuff. And of course the lightings give the whole place warmth, thanks to the pendant lights and the spotlights.

At Yiyi's suggestion, the generous-sized balcony was clad in affordable and durable composite decking
What I do like about my balcony is the composite decking that Yiyi recommended to me. It is easy to maintain and it is kind of affordable compared to the genuine woods. And I also like my outdoor furnishings whereby I can sit down and have a cup of tea with my wife. It is a dream come true to have such a generous space on the balcony.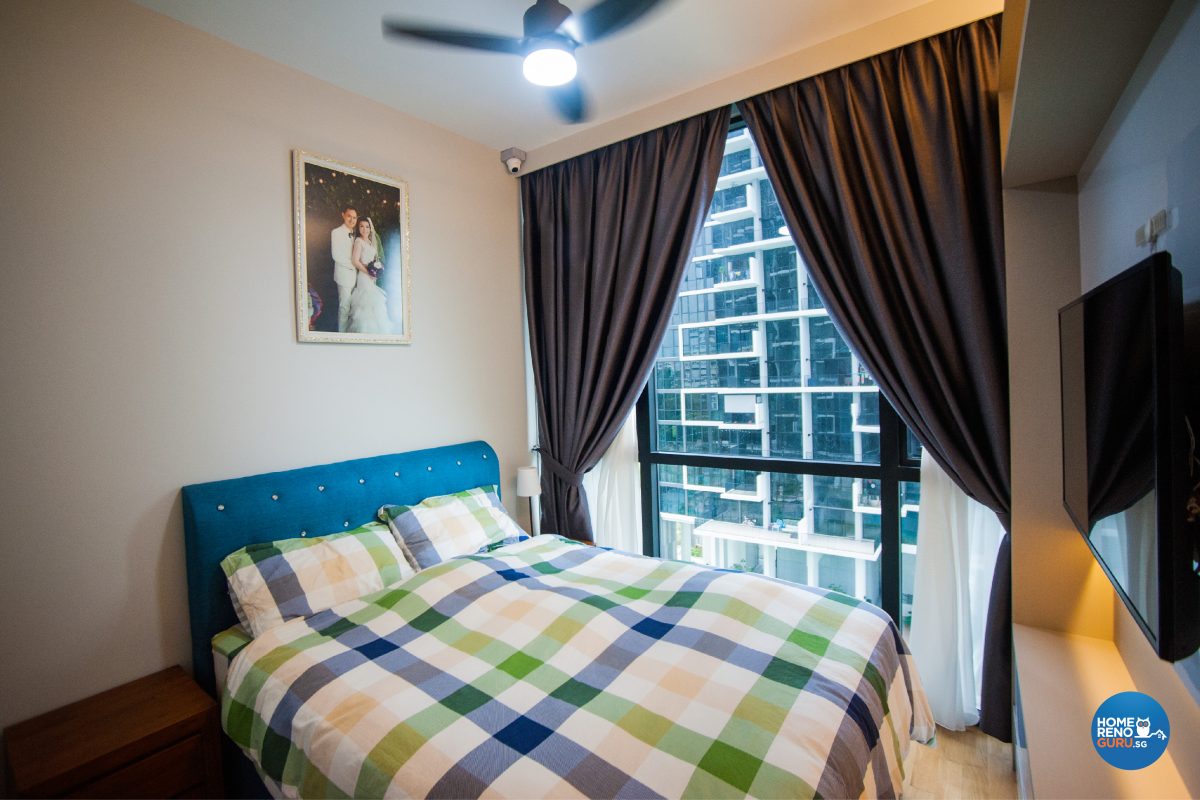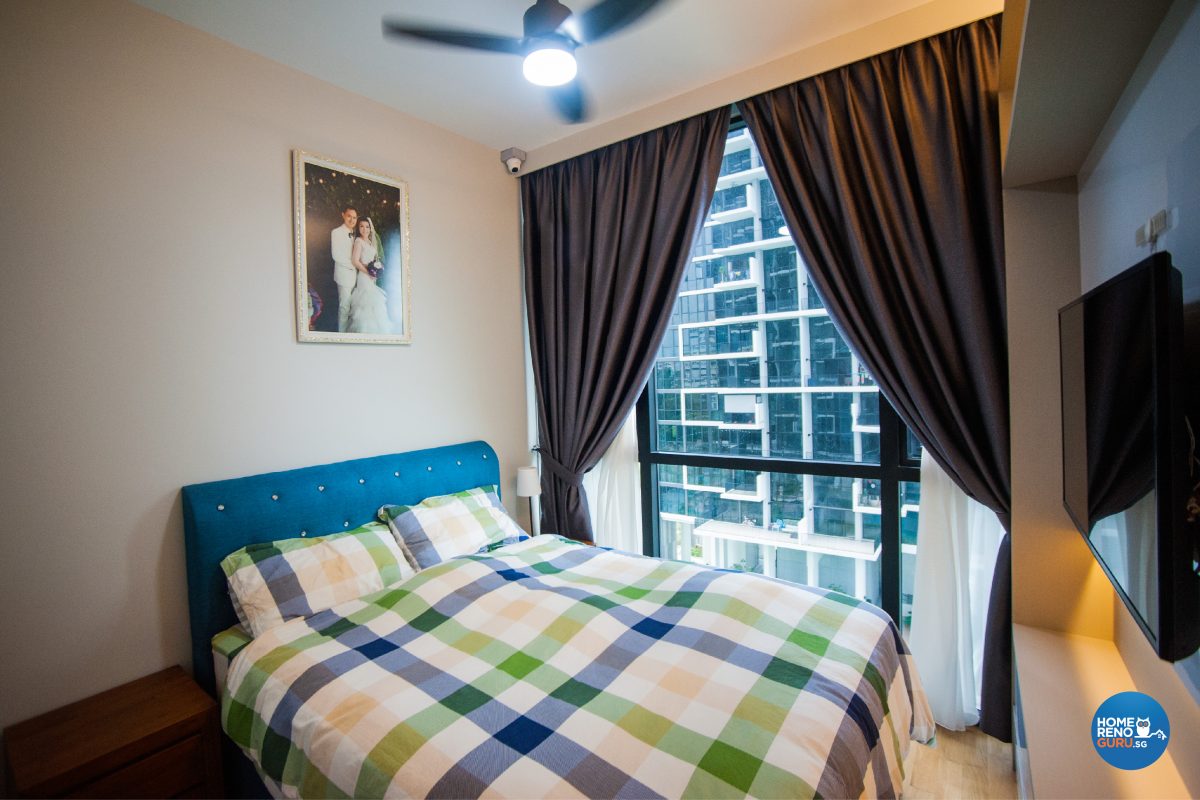 The compact master bedroom embraces simplicity and soft, soothing colours
My master bedroom posed quite a few challenges because the space is very tight. Finally, we decided to go with this TV feature wall, which is actually a mini version of the living room's TV feature wall. It has a lot of storage space and it hides a little bit of a secret – I like to play X-box and there's an X-box hidden somewhere inside!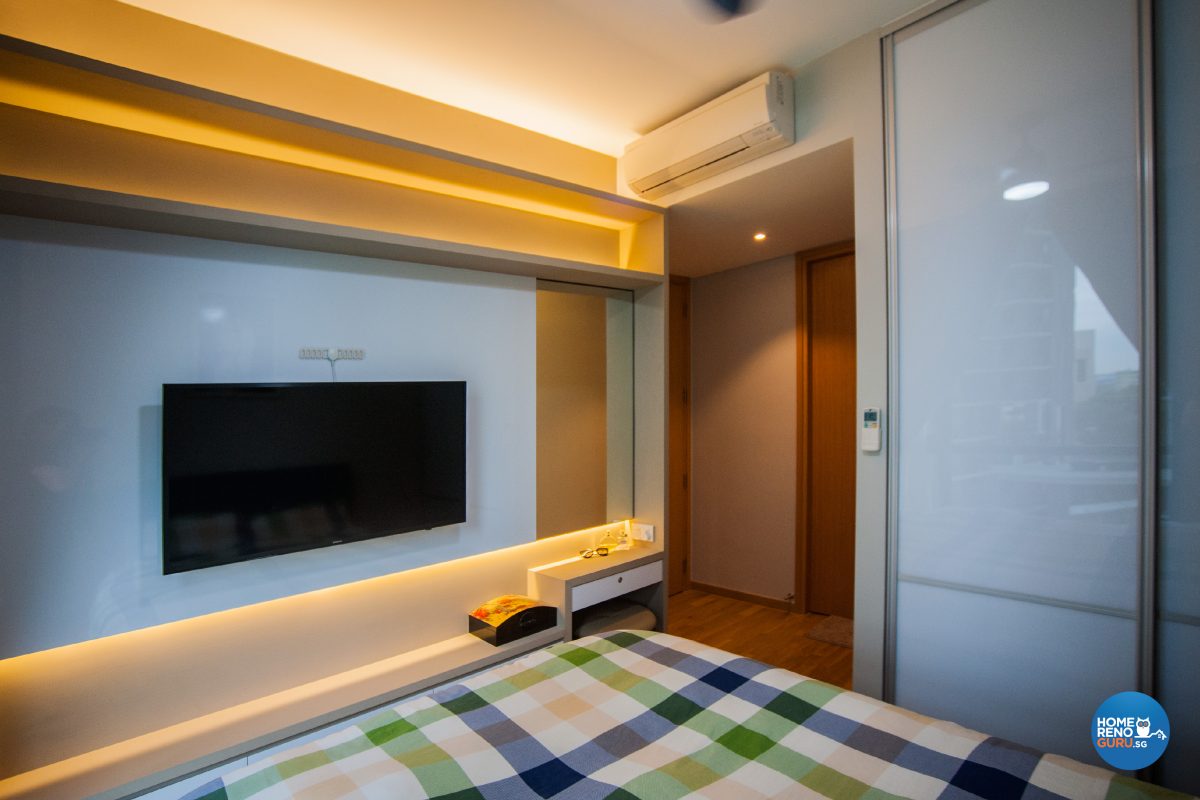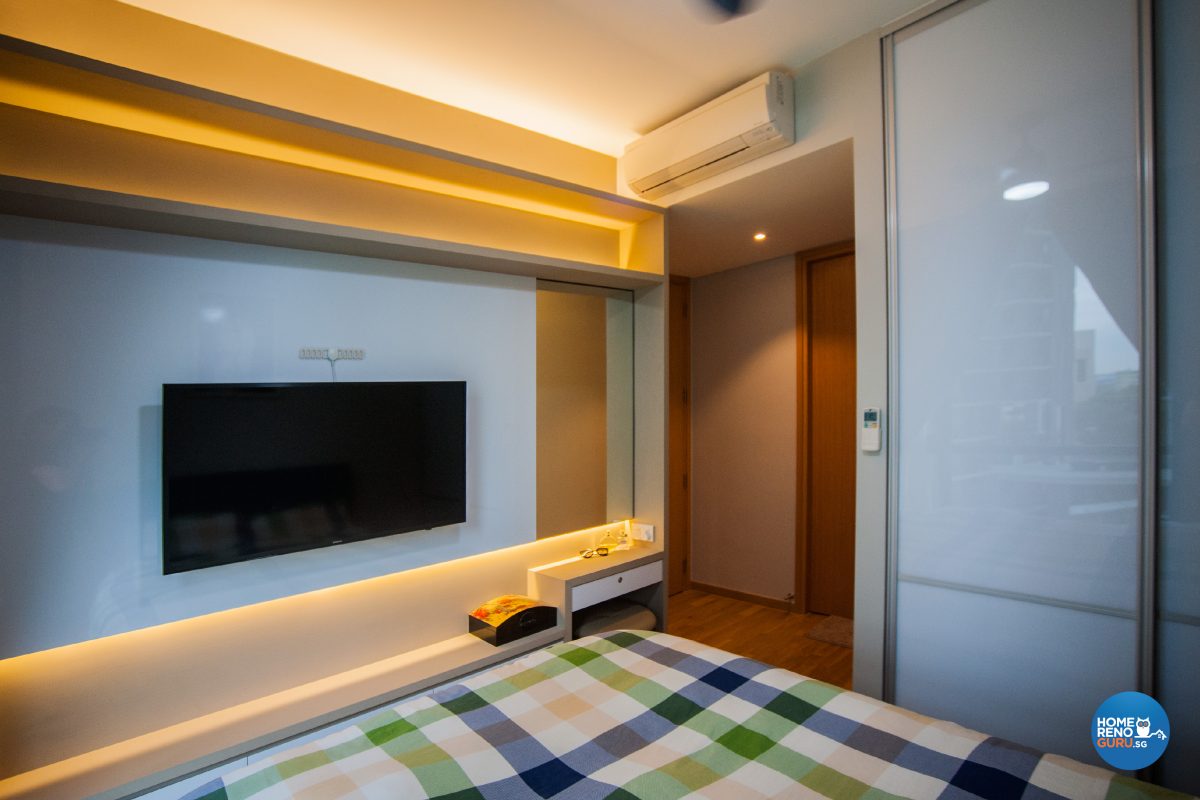 The sleek and flushed TV feature wall conceals handy storage space for all sorts of items, including Arthur's X-box!
Khanh Linh: I really love my dressing table where I can put on my makeup every morning.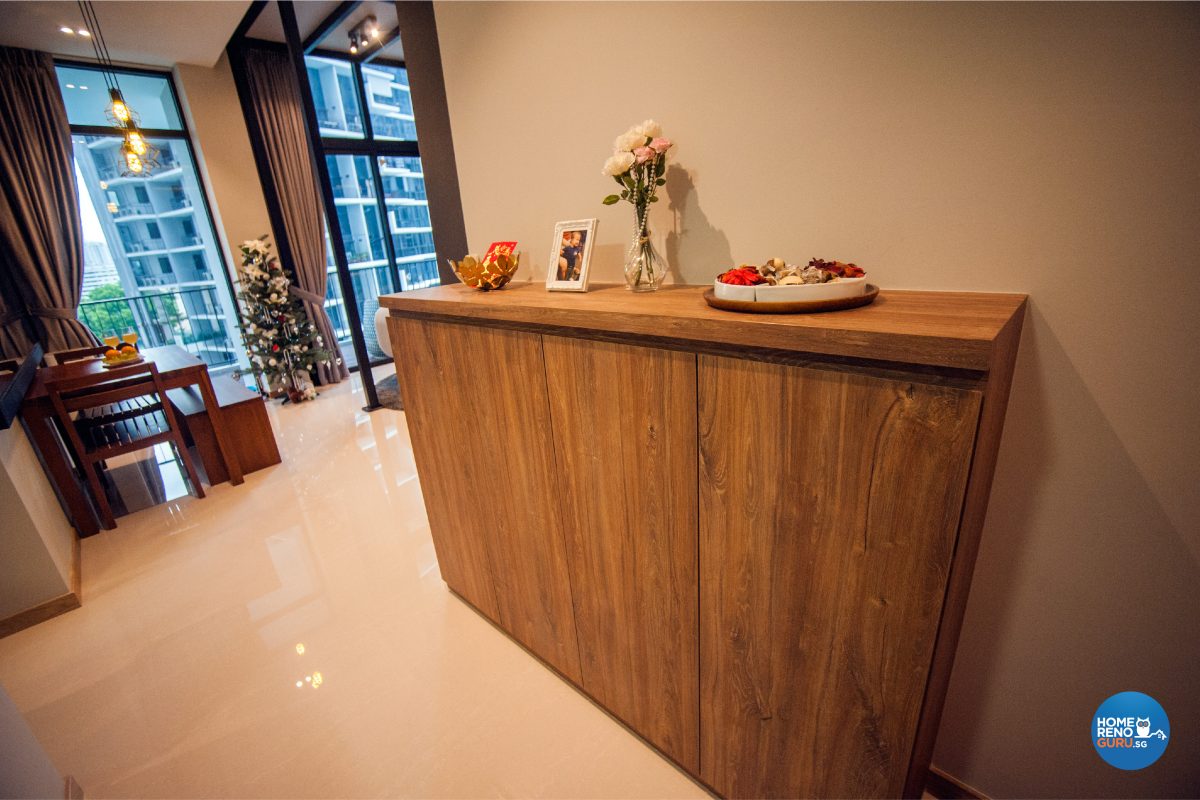 A half-height shoe cabinet overcomes the risk of a claustrophobic entrance hall
Arthur: Yiyi actually convinced me to go for the half-height shoe cabinet, so as to make the walkway not feel so congested.
Looking for Interior Designers?
Let HomeRenoGuru help!
HomeRenoGuru: Do you have any general advice you'd like to share with homeowners contemplating a renovation?
Arthur: The advice I would have for homeowners is to be realistic with what you want and to understand the constraints faced by IDs. For example, the time of renovation, the time needed to fabricate the wardrobes and stuff like that. Also, have a proper coordination with the IDs and do not at the last minute change things here and there, which can actually take up a lot of time.
HomeRenoGuru: Would you recommend The Mind Design and your designer Yiyi?
Arthur: If I were to choose an ID all over again, I would definitely choose The Mind Design and chief designer Yiyi. I love her sensitivity in terms of her colours and tones, and all her ID ideas.
Thank you The Mind Design, thank you Yiyi.
Love your work, love our home!