Dream Home: Just Like In the Movies…
Young working couple Alvin and Cassandra love to watch movies together at home. They also love bright colours, retro design – and each other (It was very sweet and very evident). Hear how their designer, Michael Ong of Two Big Guys, filled their flat with all of their favourite things while conserving as much of the original structure as possible. The result – a home with a huge personality, without a huge budget.
Project Snapshot
Name(s) of Homeowner(s): Alvin and Cassandra Andrean
House Type: 4-room Resale HDB Flat
Size of Home: 1,000 sq ft
Cost of Renovation: $34,000
Duration of Renovation: 3 months
Interior Design Firm: The Two Big Guys
Name(s) of Designer(s): Michael Ong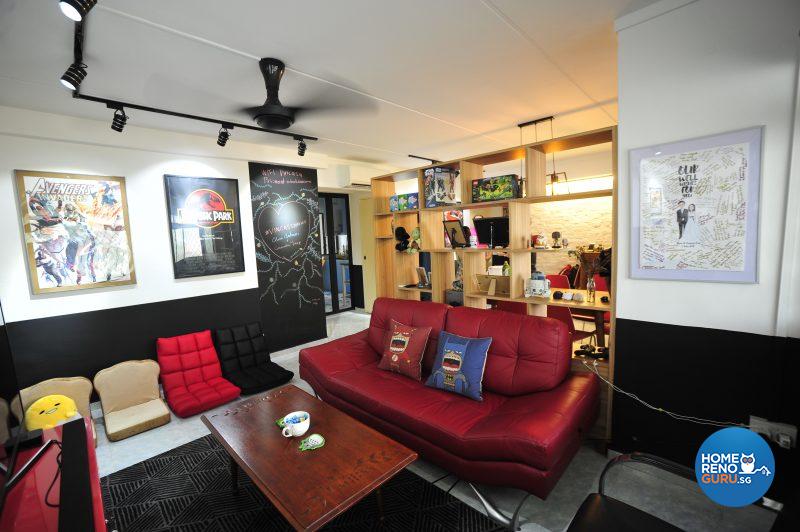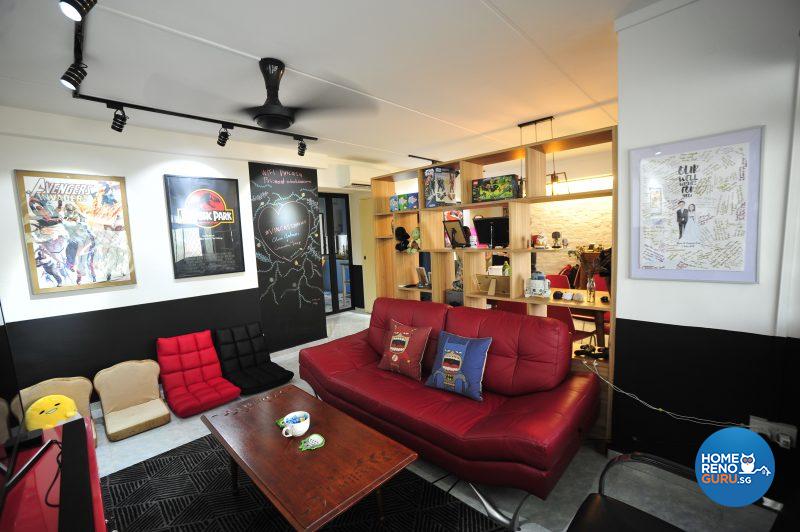 The fabulous living area of movie buffs Alvin and Cassandra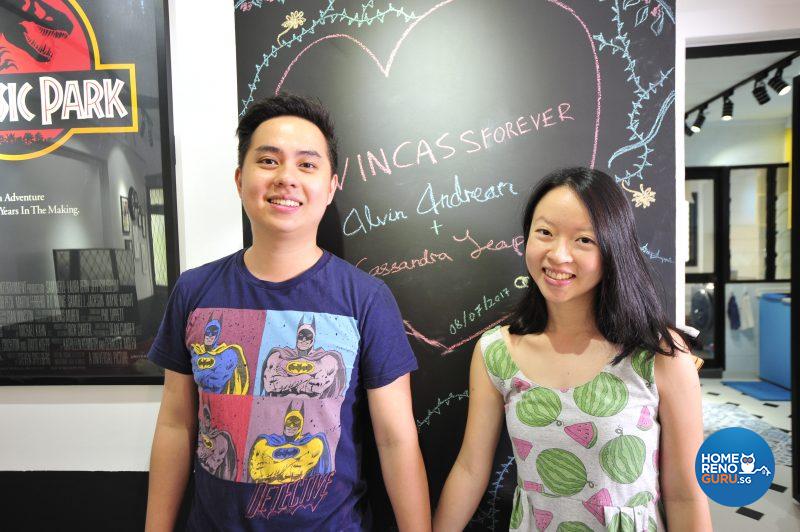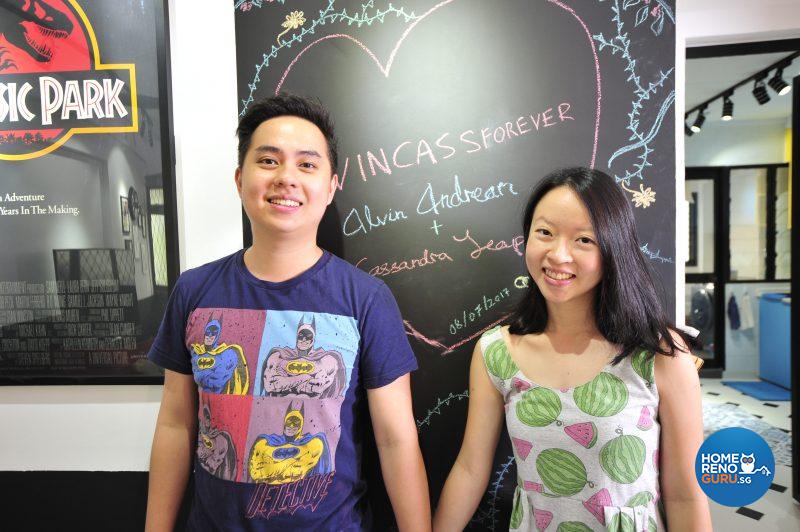 Alvin and Cassandra in front of the chalkboard panel that sits alongside their poster-covered two-tone black and white walls
HomeRenoGuru: How and why did you decide to engage Michael of Two Big Guys to renovate your home?
Cassandra: We came to know about Michael through online research when we saw his company's portfolio. We actually met up with a few other IDs, but in the end, Michael impressed us the most because of his creative vision. We felt he could deliver what we wanted and more. He really had a sense of what he wanted to achieve and we were very impressed by that.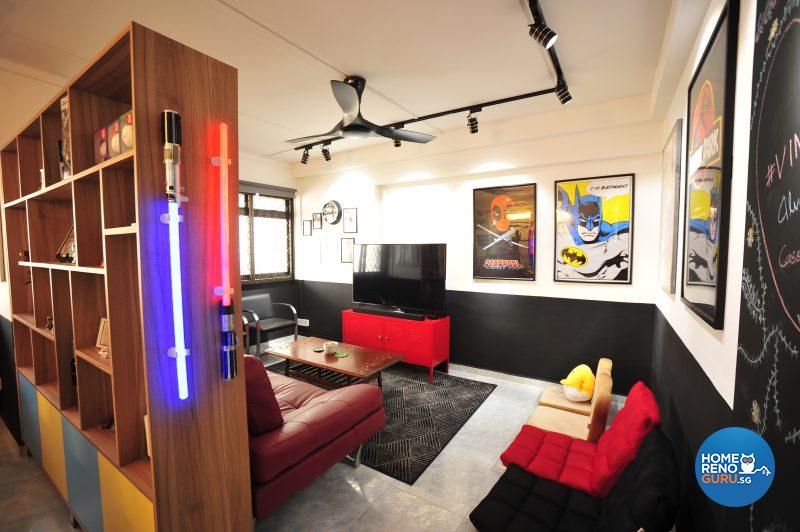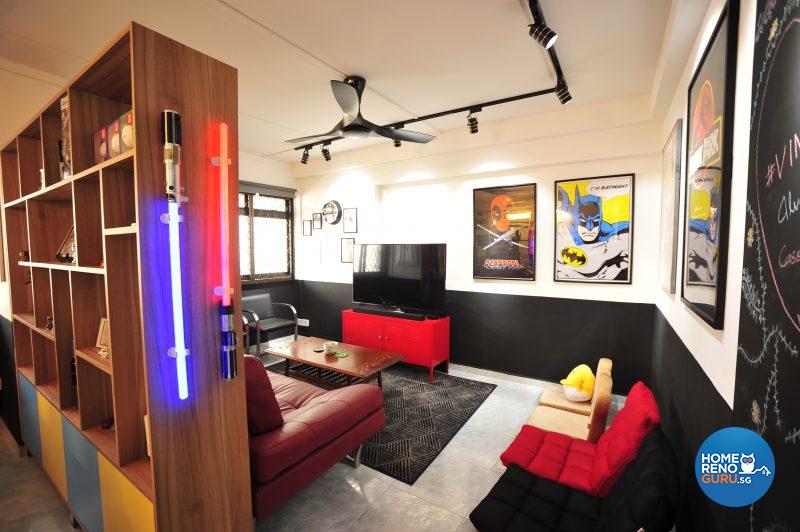 A customised shelf does double duty as a display unit and a wall divider, separating the entrance hall and dining area from the lounging and movie-viewing area
HomeRenoGuru: What was your brief to Michael?
Alvin: We really wanted a place that showcased our movie collections and collectables from the eras of our favourite movies. When we shared this with Michael, our interior designer, he had some great ideas to share with us.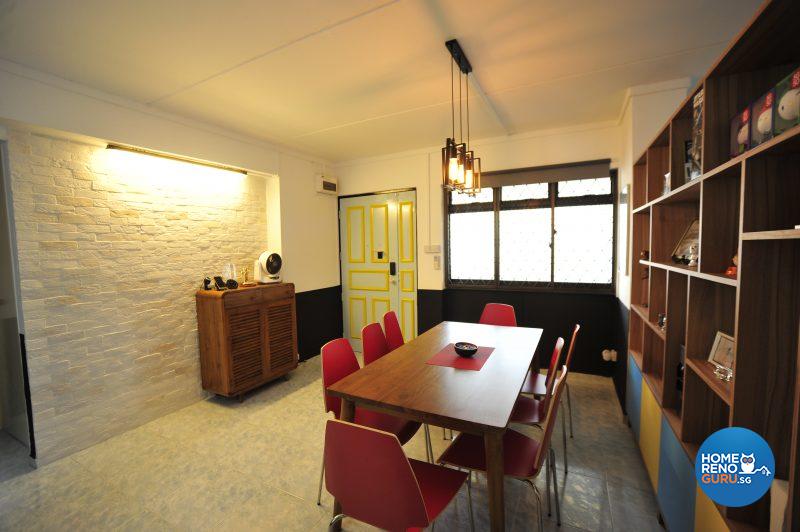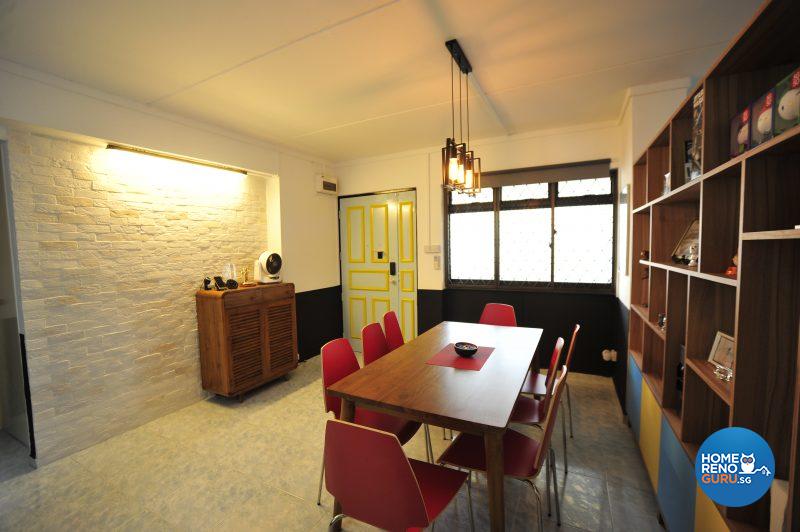 The original main door was retained and painted yellow, creating a cheerful retro right from the moment you set foot inside
When we told him we wanted more vibrant colours, he asked us what our favourite colours were – they are blue, yellow and red. He put them into the pops of colour you can see in the house now.
HomeRenoGuru: How did you find the design and renovation process?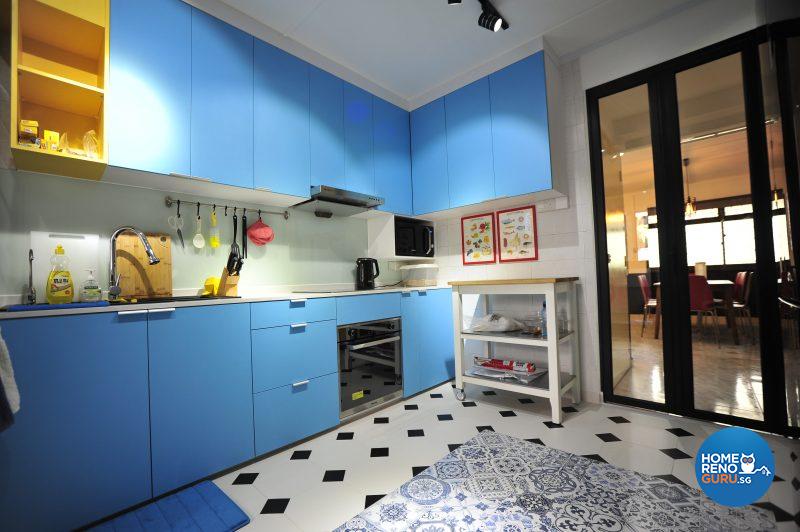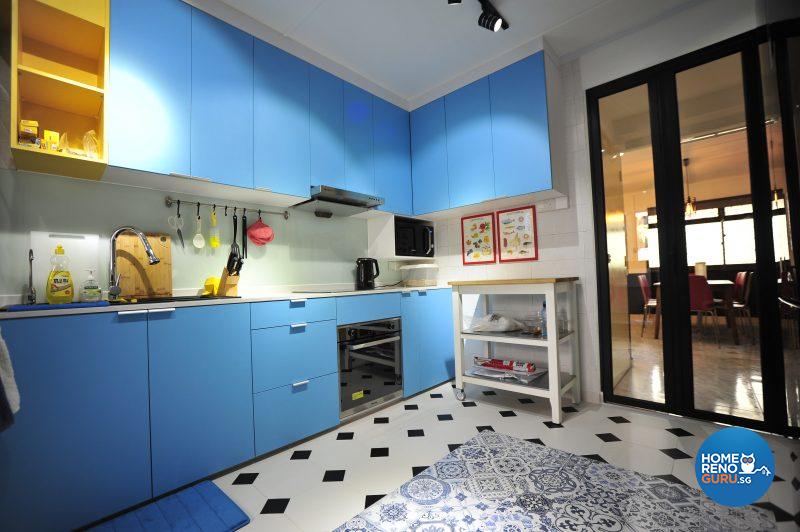 Bright blue cabinets and a tiled floor with an inset feature of blue and white Peranakan-inspired tiles
Cassandra: From the start, we saw a lot of things we liked in Michael's 3D renderings. When we told him that we wanted more punchy, vibrant colours instead of the typical wood, he brought that into the drawings, which were faithful to the final outcome. In the end we were very happy.
Looking for an estimate of your renovation costs?
Let HomeRenoGuru help!
HomeRenoGuru: What do you love most about your renovated home?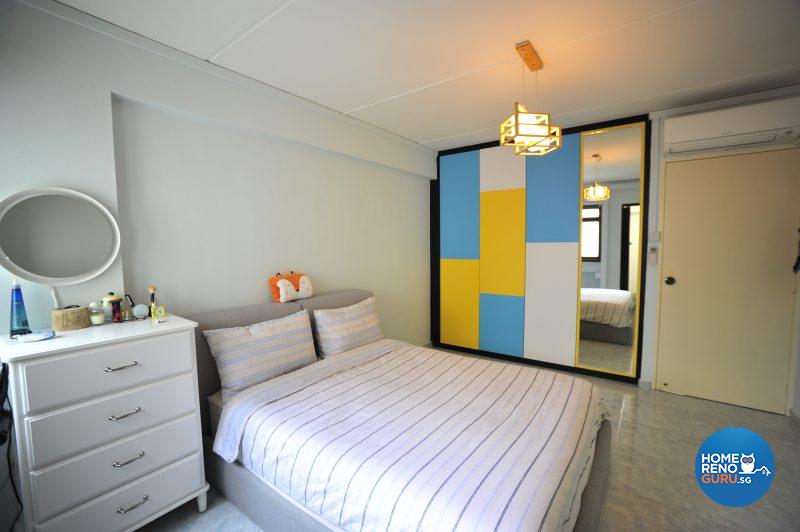 The master bedroom is all white except for pops of the couple's favourite blue and yellow on the wardrobe
Cassandra: Honestly, we love all of our home – everything about it. But if we were to pick out one feature above all, it would probably be the walls. They come in this very beautiful two-tone, black and white colour scheme, which displays our movie posters really well. There's also a chalkboard wall right next to the posters that's really nice – it has a fun, playful element to it.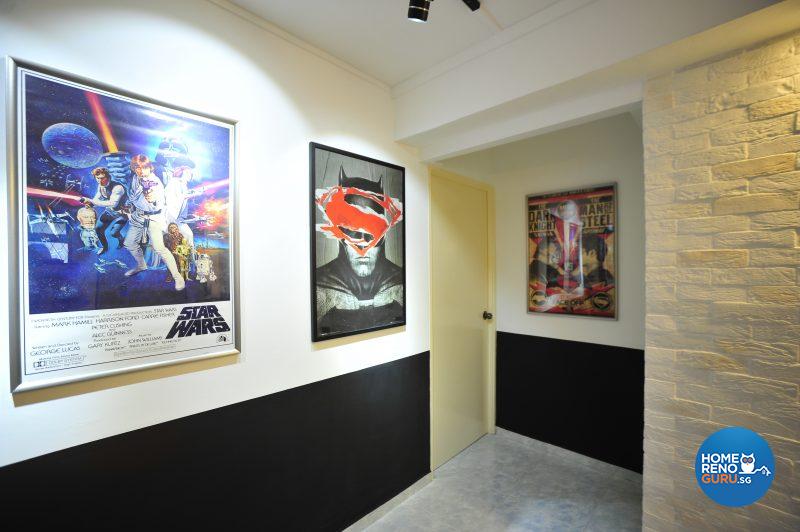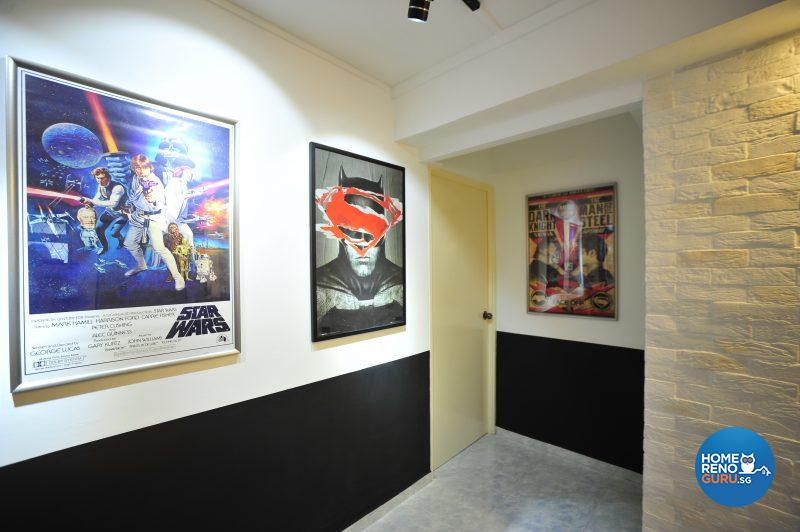 Two-tone walls showcase the couples' movie posters
Alvin: For our study/work room, we kept it fairly simple. There's a table and just some bookshelves, but something we really love is the feature wall, which is yellow and brightly lit. It brings a certain energy when we are working or studying.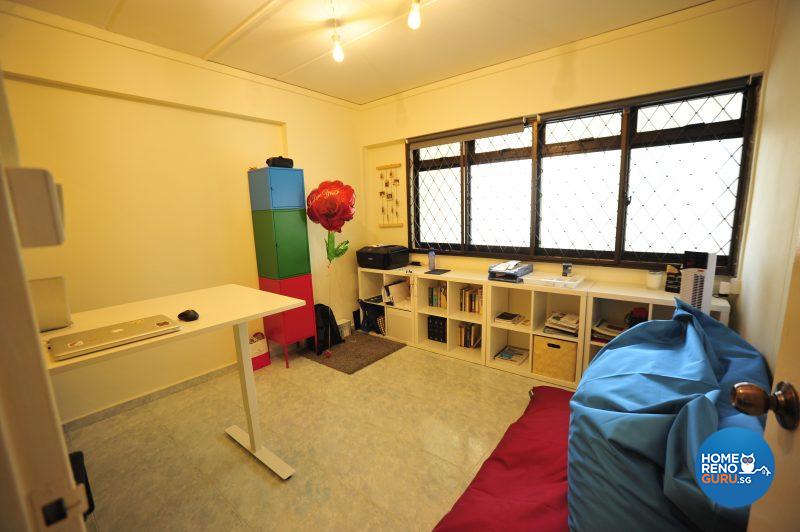 The study room is bright and minimalist, with pops of colour in the loose furnishings and a bright yellow feature wall
HomeRenoGuru: Do you have any advice you'd like to share with homeowners embarking on a renovation?
Alvin: One piece of advice I would give to homeowners is to find a smart and creative interior designer who doesn't overpower you but complements you in your ideas and creative vision for the house.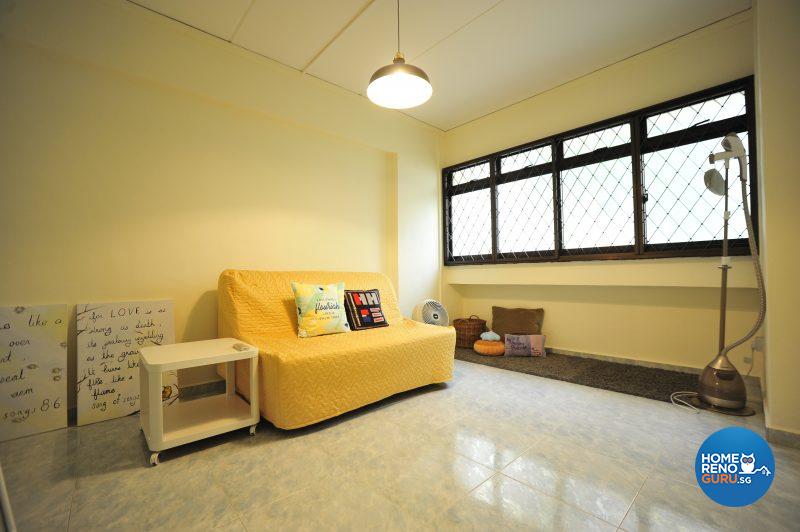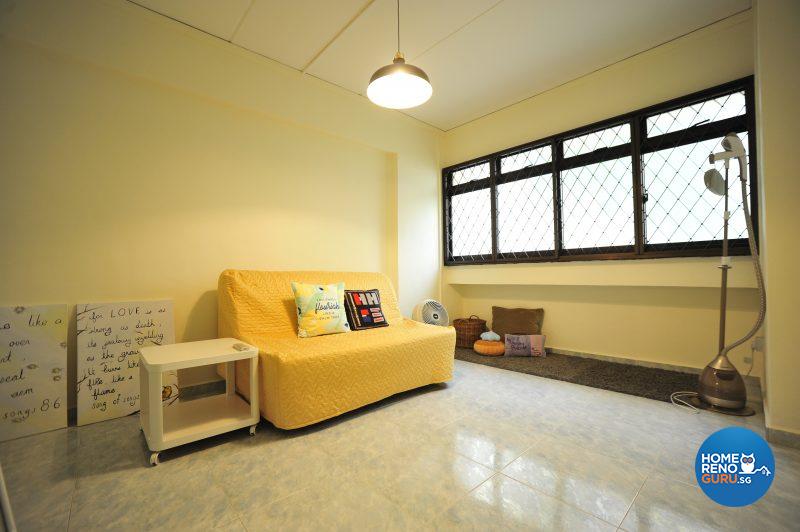 The largely unused spare room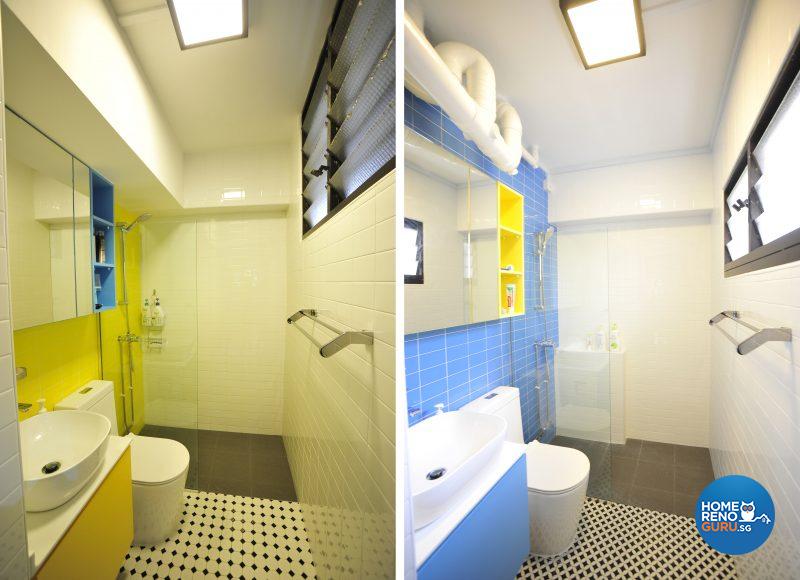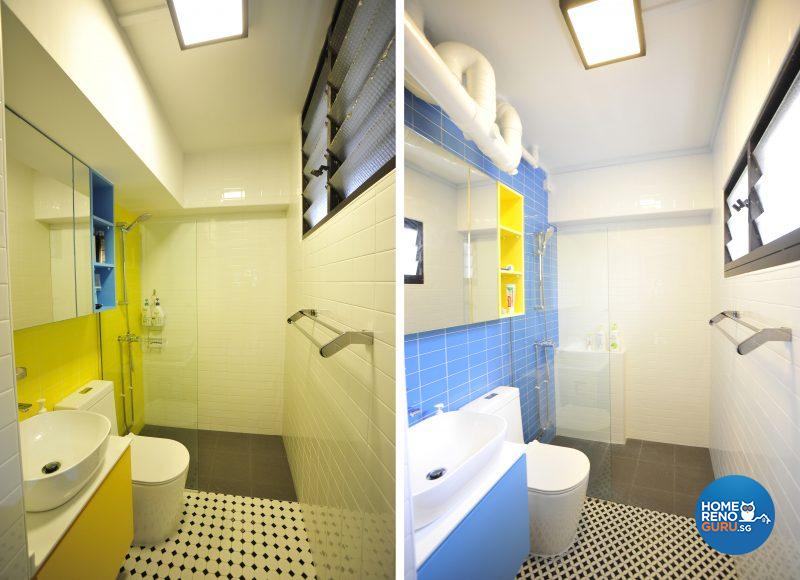 The common bathroom and the master bedroom are more or less identical twins – only the allocation of the blue and yellow has been swapped!
HomeRenoGuru: Would you recommend your designer Michael and Two Big Guys to other homeowners?
Alvin: Definitely! Without hesitation, we recommend the services of Michael and Two Big Guys.
Cassandra: I'm looking forward to many movie nights together with my forever movie buddy!
Alvin: Me too!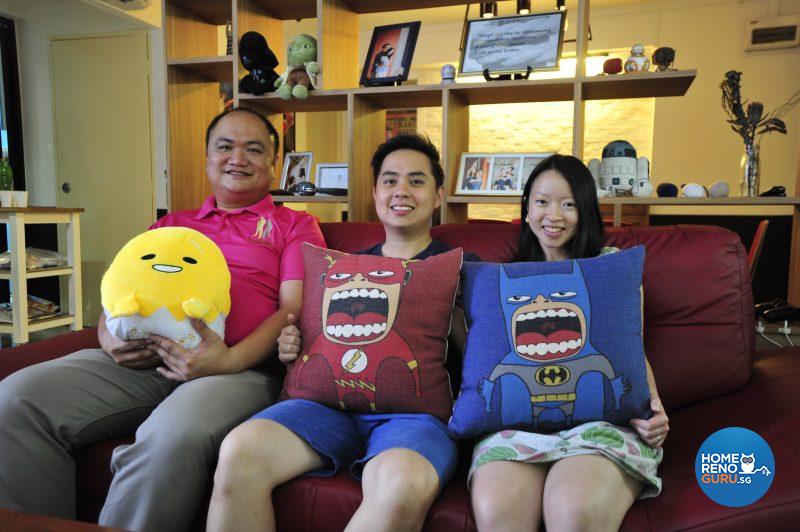 A happy trio – Michael of Two Big Guys, with Alvin and Cassandra