Dream Home: An Industrial-Nordic Nest
He likes industrial, she likes Nordic. Sound familiar? This couple of homeowners had their divergent tastes perfectly satisfied by Kagini, aka 'KG', of NorthWest Interior. Hear the story of how he blended two different styles to create their dream home.
Project Snapshot
Name(s) of Homeowner(s): Derick Ang and Louisure Tan
House Type: BTO 5-room HDB Flat
Size of Home: 110 sq/m
Cost of Renovation: $50,000
Duration of Renovation: 2 months
Interior Design Firm: NorthWest Interior Design Pte Ltd
Name(s) of Designer(s): Kaginl Loh (KG)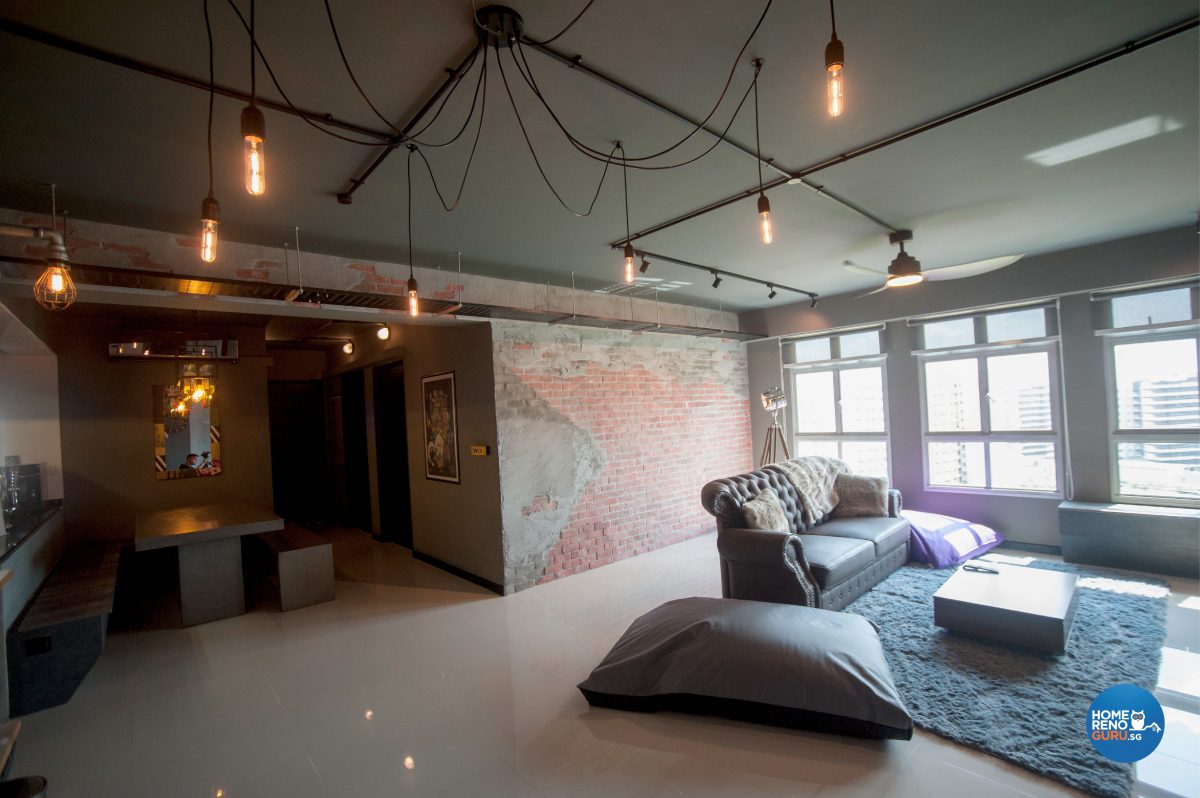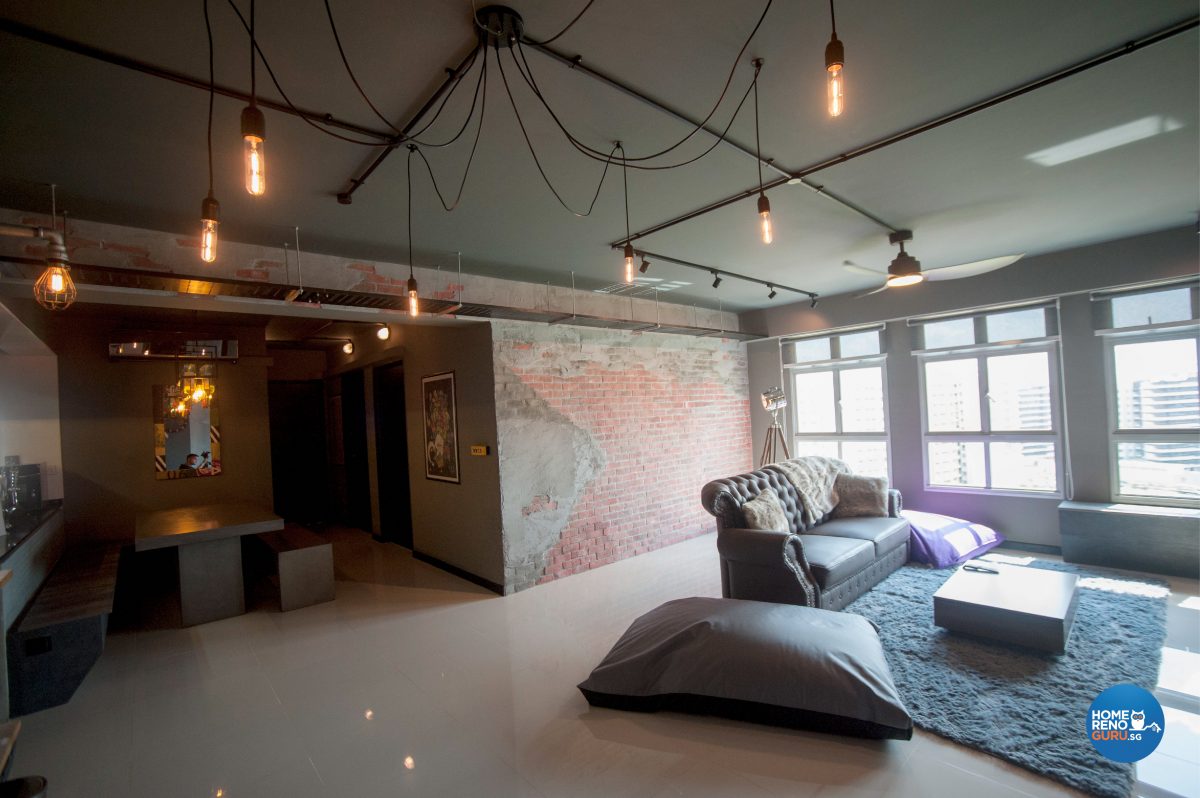 The cool industrial-Nordic vibe invites you to 'chill' as soon as you set foot inside the living area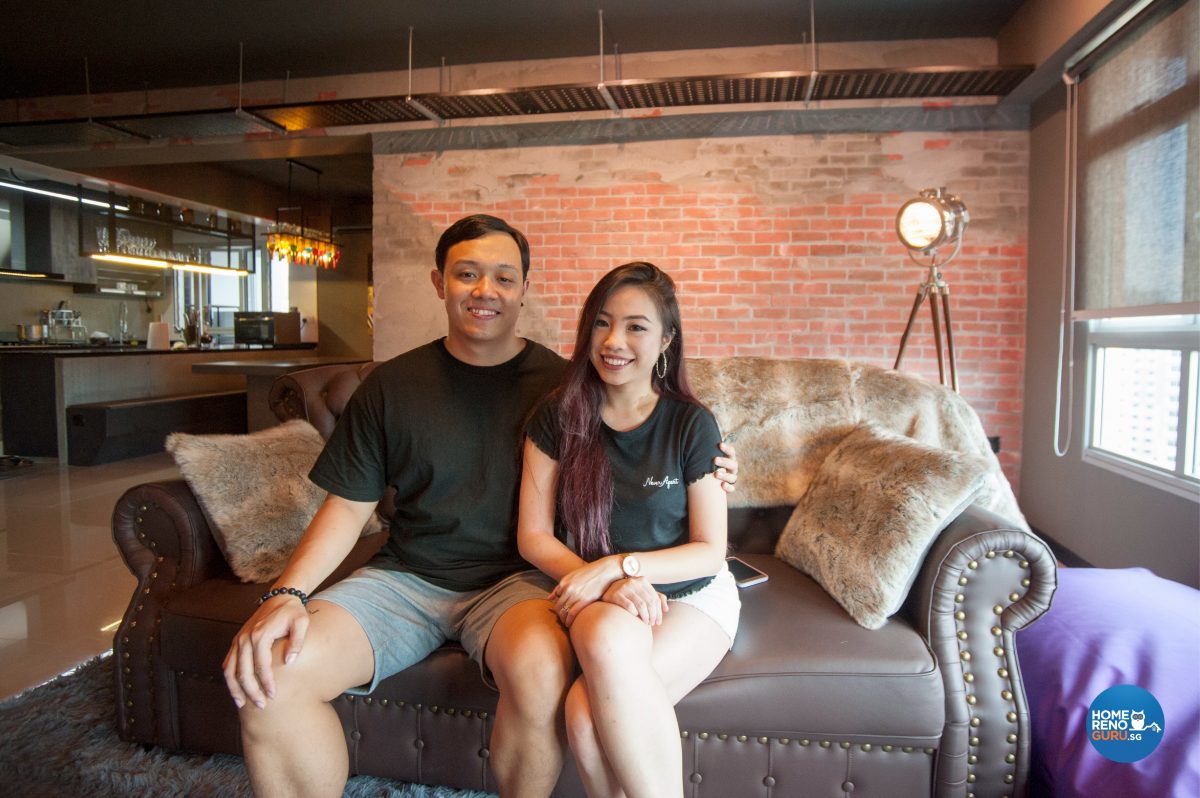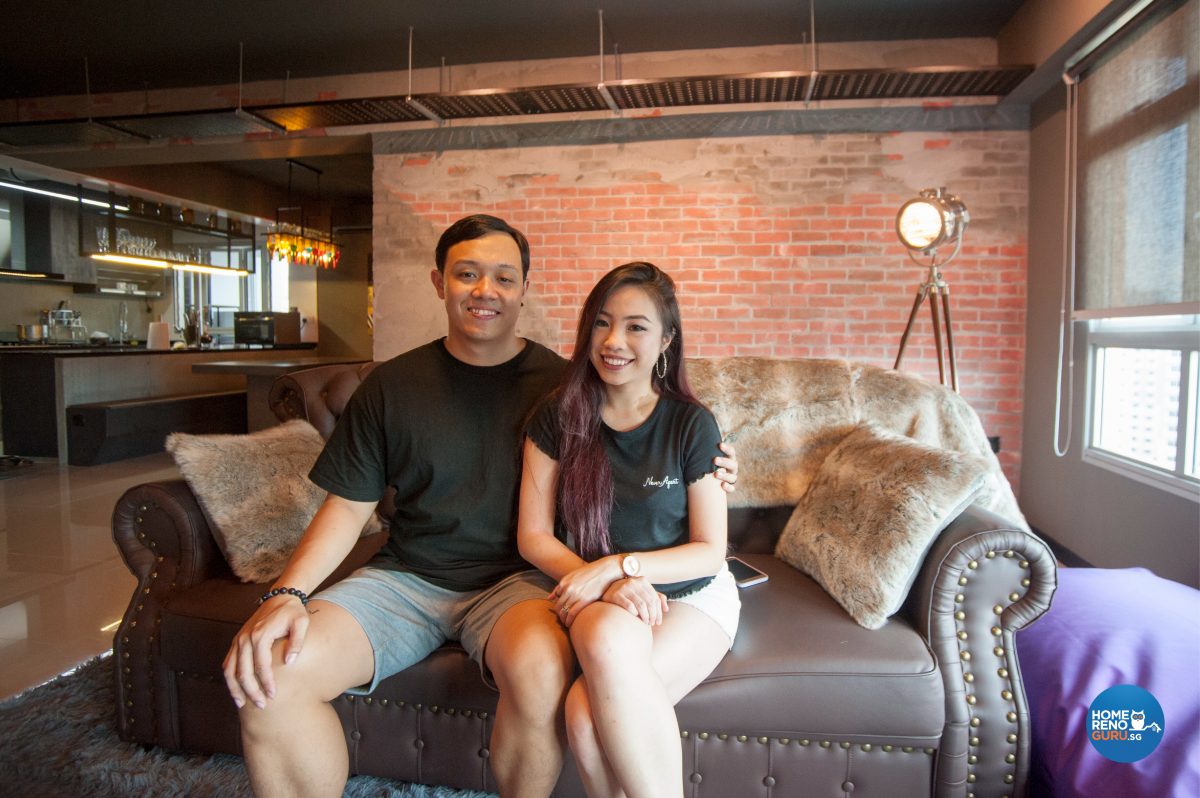 Happy homeowners Derick and Louisure
HomeRenoGuru: How did you come to engage NorthWest Interior Design to renovate your home?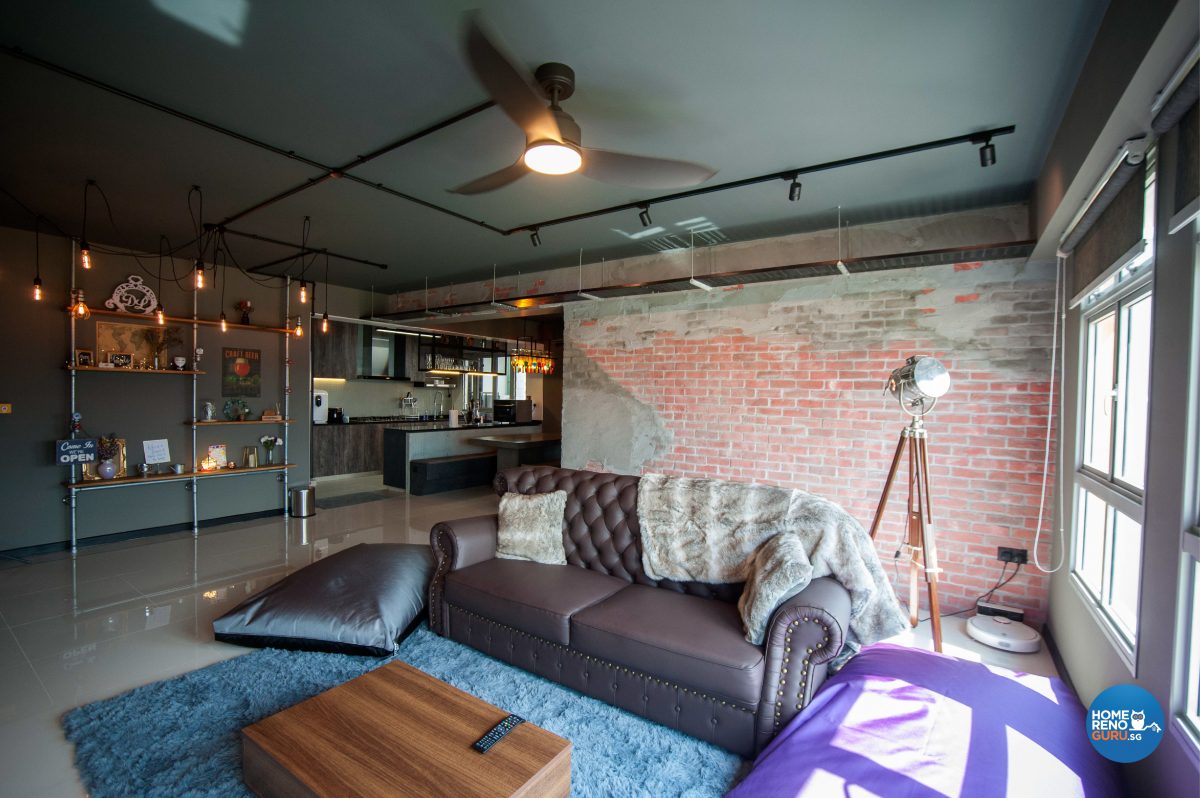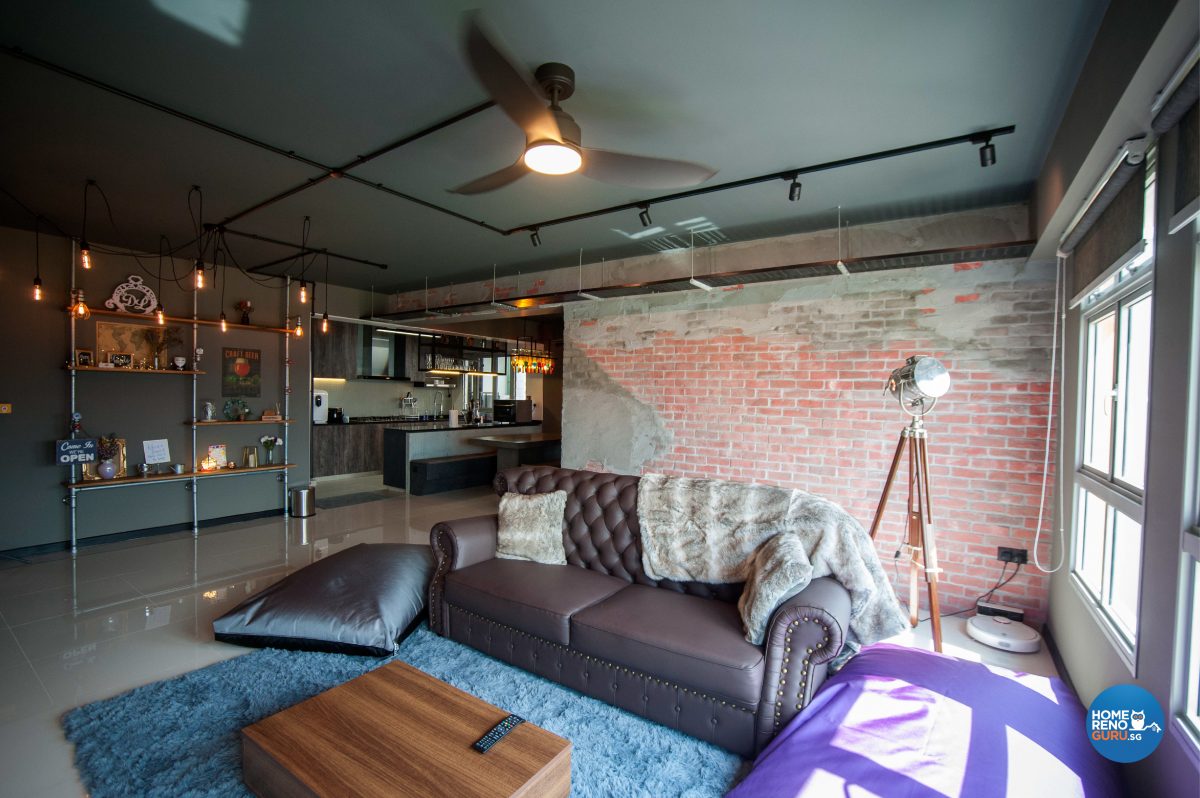 On a fine day, natural light bathes the living area; on a dull day, track lighting takes over
Louisure: We managed to source NorthWest Interior through some web applications, and KG was assigned to us. After meeting with KG from NorthWest Interior, we felt very comfortable with him. So when he proposed his ideas, we liked them very much and we chose him.
HomeRenoGuru: What was your brief to KG?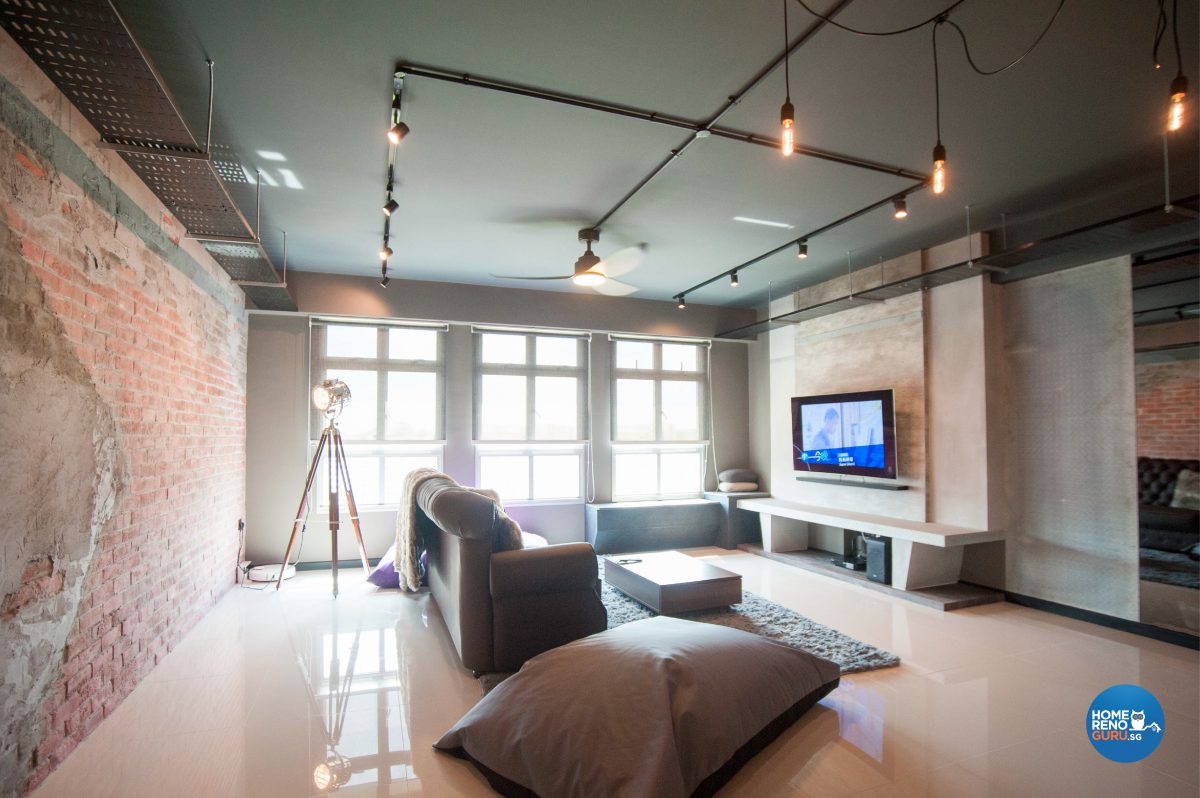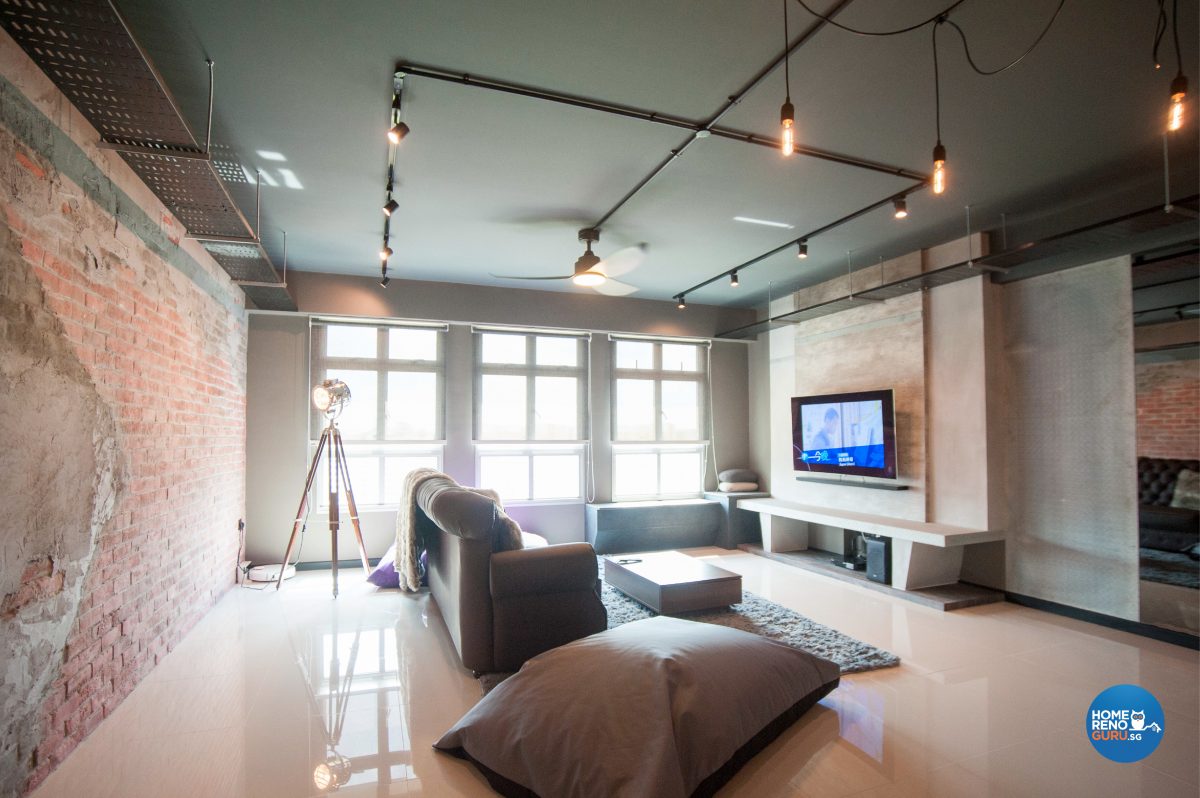 An eye-catching multi-textured feature wall simulates exposed brick
Derick: When we met up with KG, I proposed the idea of an industrial theme. We also told him about our budget and subsequently he gave us his idea with that.
Louisure: My husband really likes the industrial style, I favour the Nordic style over his idea so in the end we had to make a consensus and then settle on a theme that suits the both of us.
HomeRenoGuru: How did you find the actual renovation process?
Louisure: The renovation process was pretty intensive. We basically had no time to keep track of things. KG gave us updates of the house daily, and whenever there is something that requires our attention immediately. He is very pro-active.
HomeRenoGuru: What aspects of your renovated home do you like most?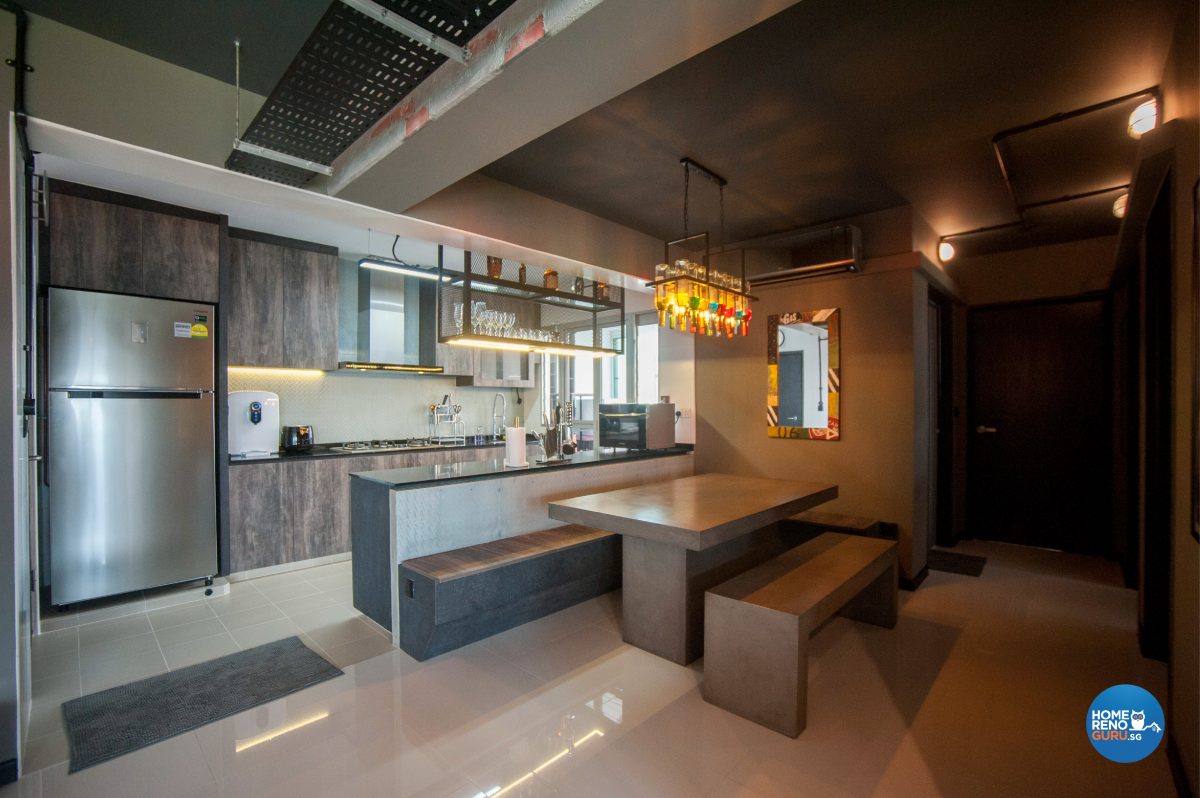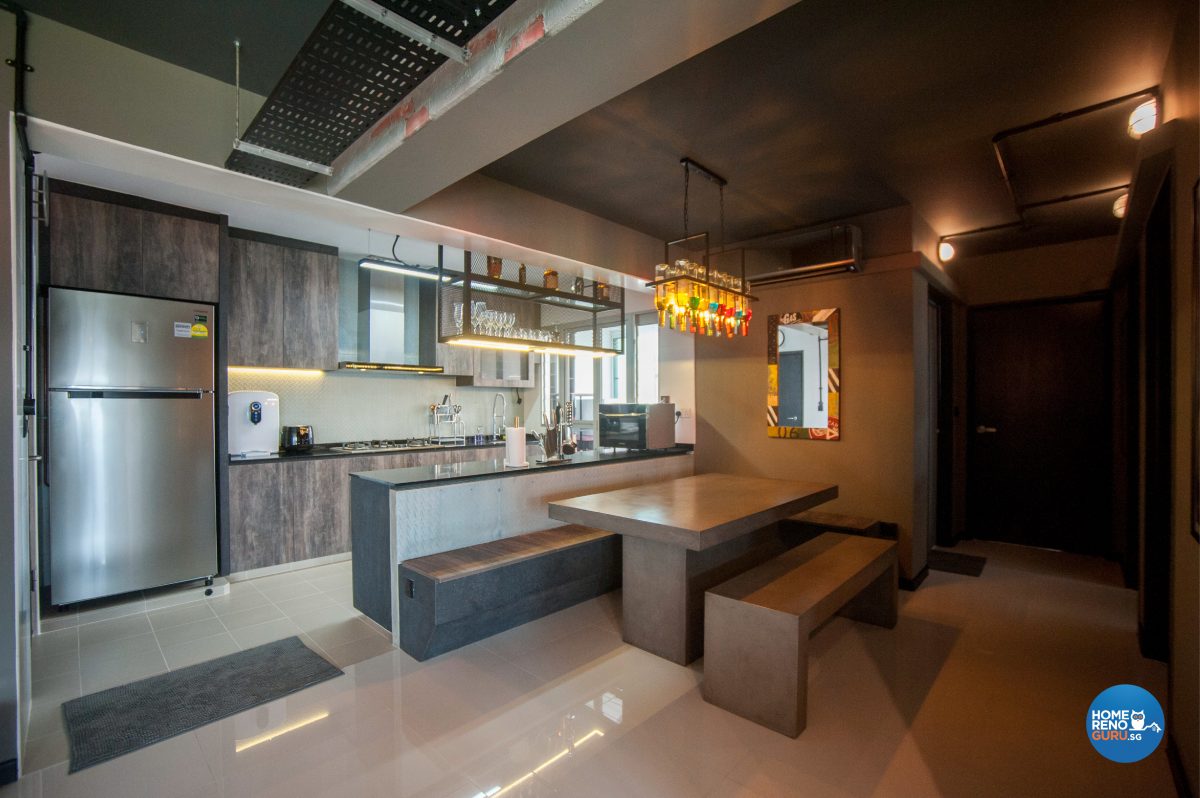 The stainless steel fridge gives a 'commercial kitchen' feel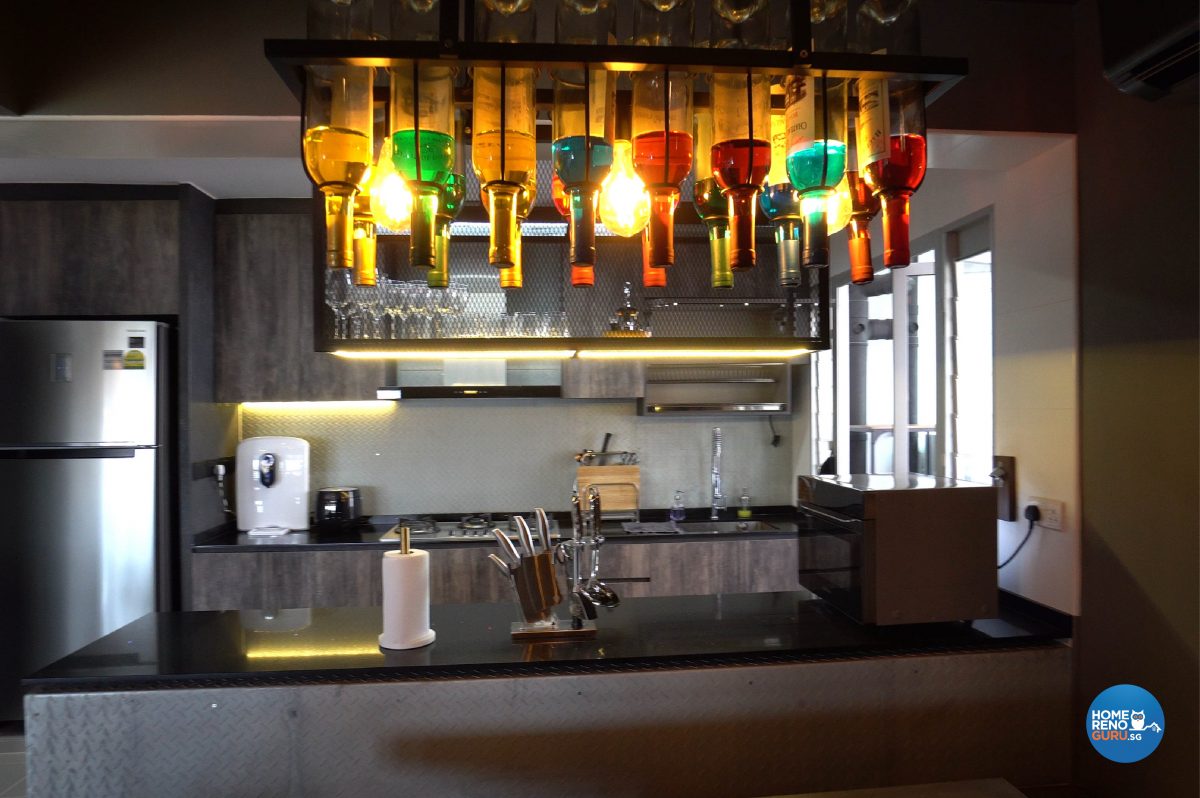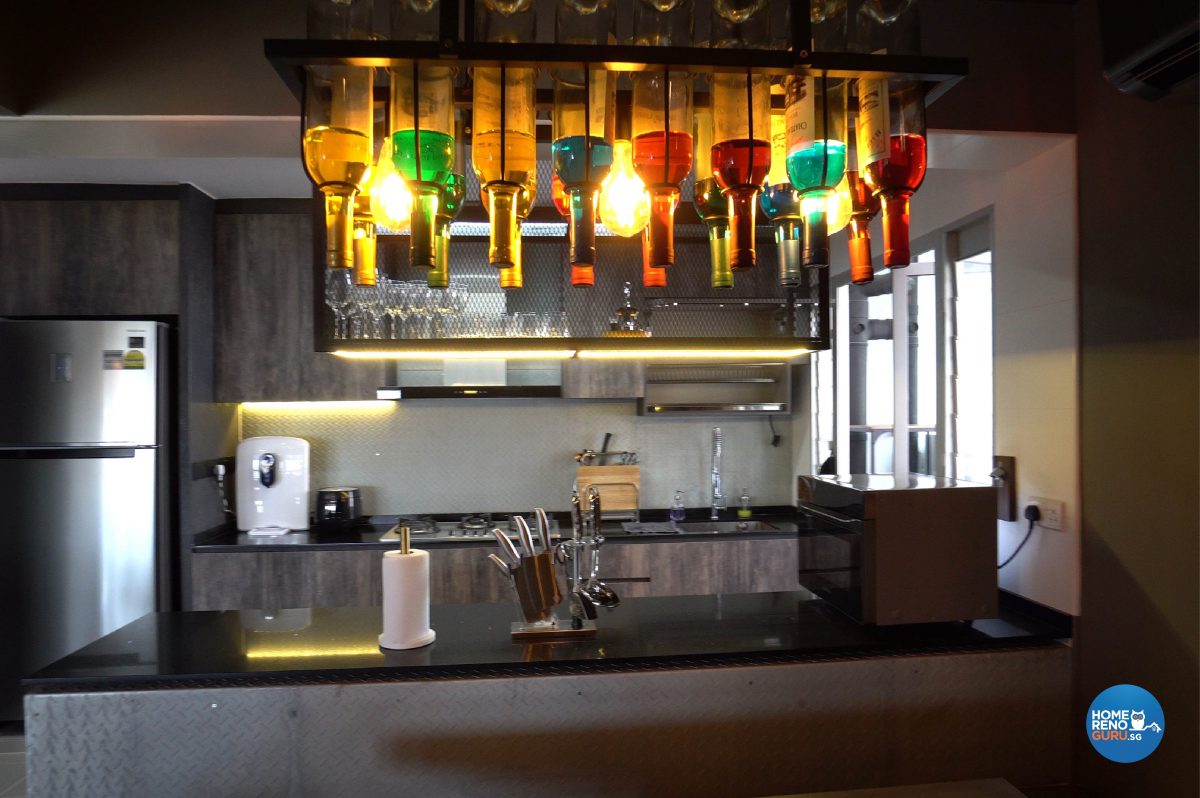 The kitchen's monochromatic colour scheme is enlivened by a multi-coloured light feature comprising suspended glass bottles
Derick: The kitchen's idea was to house a lot of guests, cause we really like having people over. KG actually incorporated the industrial theme by using the metal steel plates in the dining and kitchen area.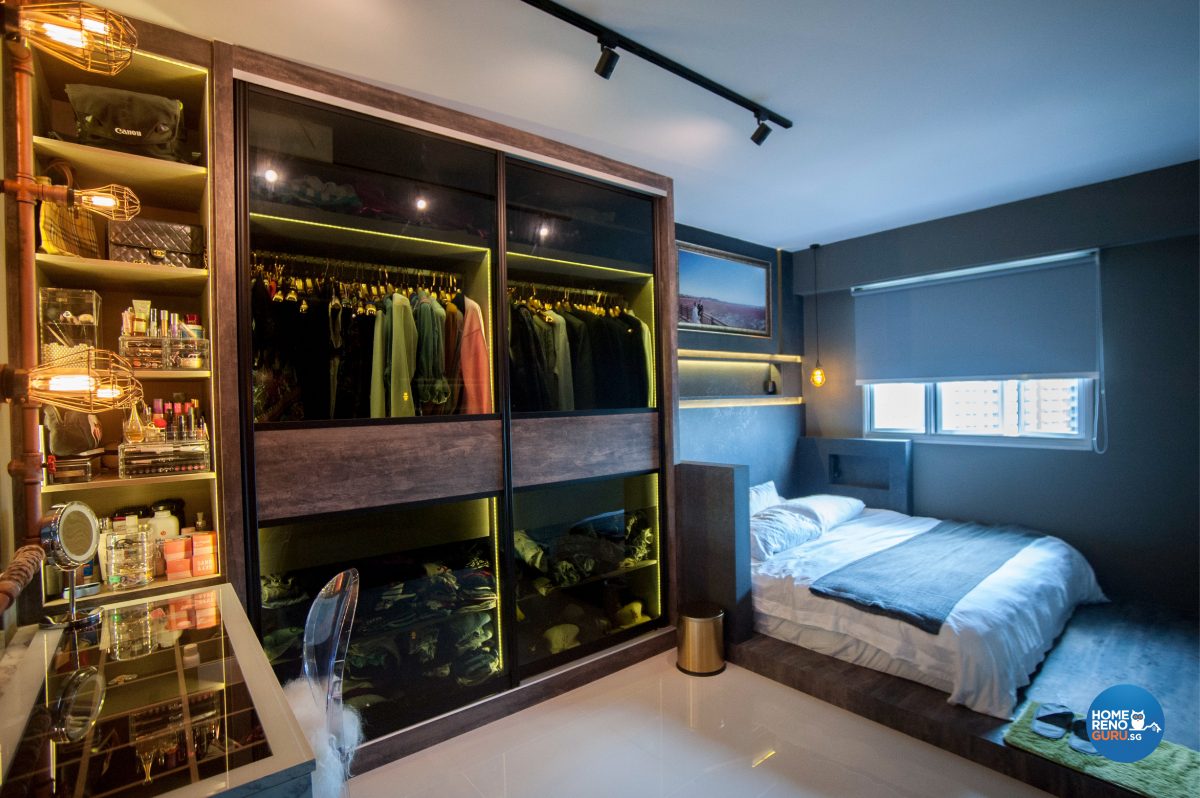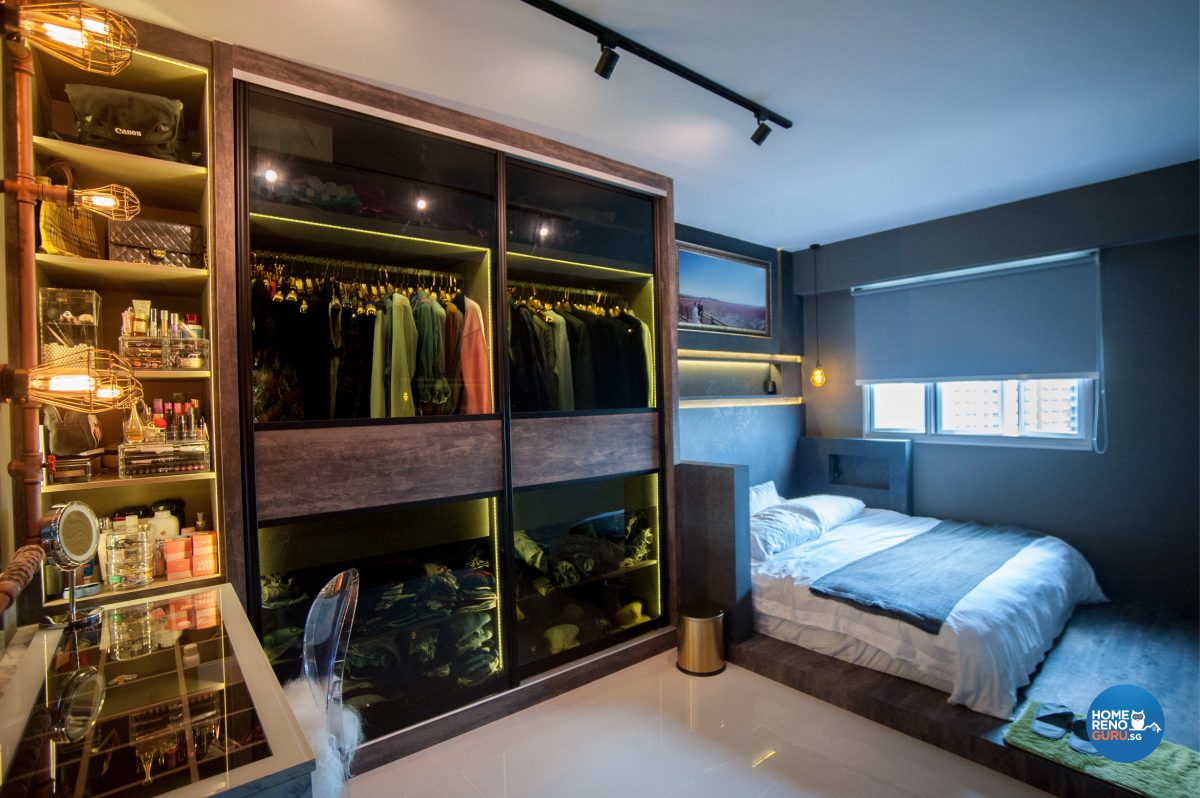 The industrial-Nordic theme continues in the master bedroom, which features a built-in marble-topped dressing table
Louisure: I really wanted my Nordic style to continue on, that's why we had the marble top on the dressing table and also there are holes with specific compartments to fill up with my accessories.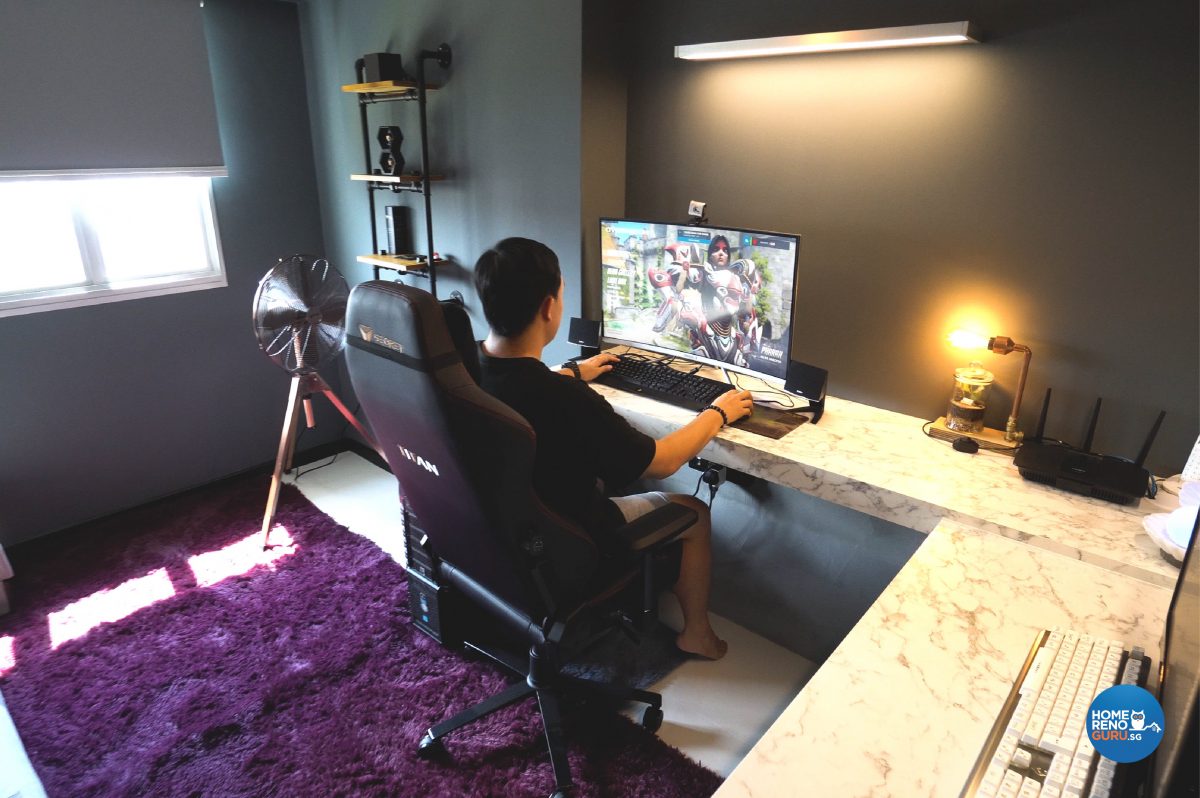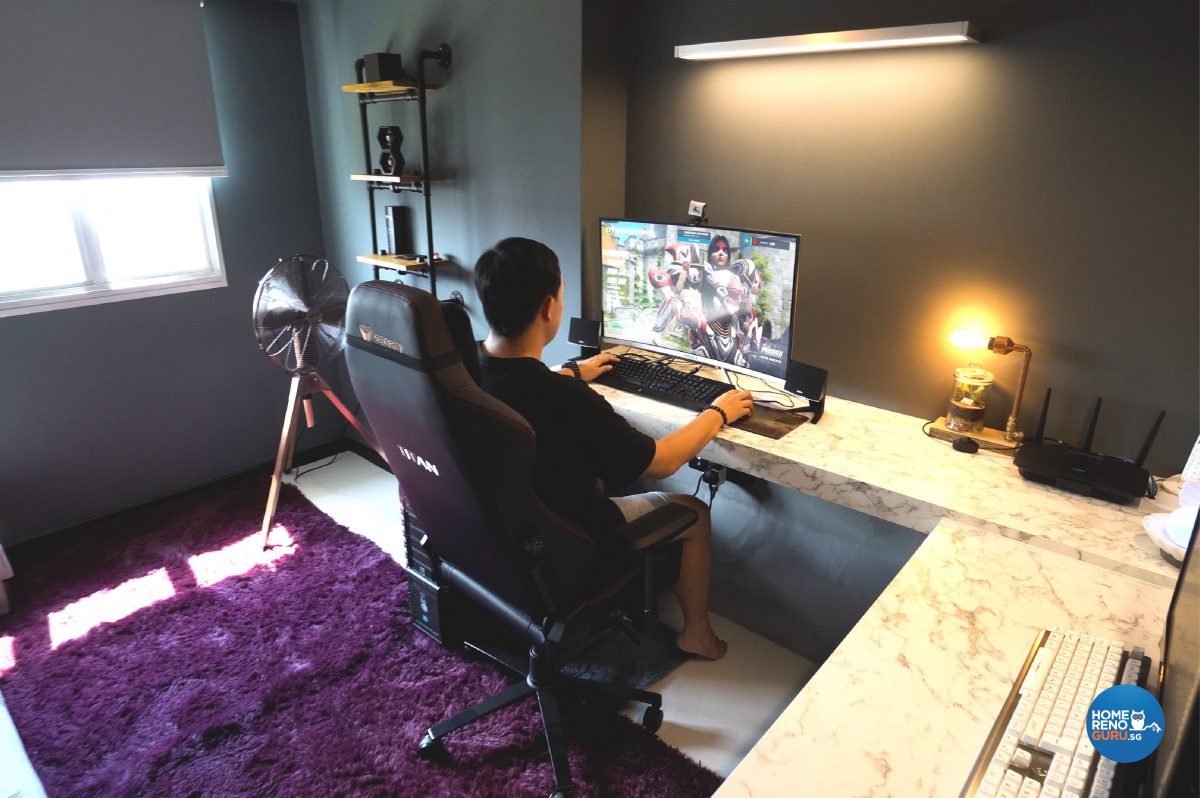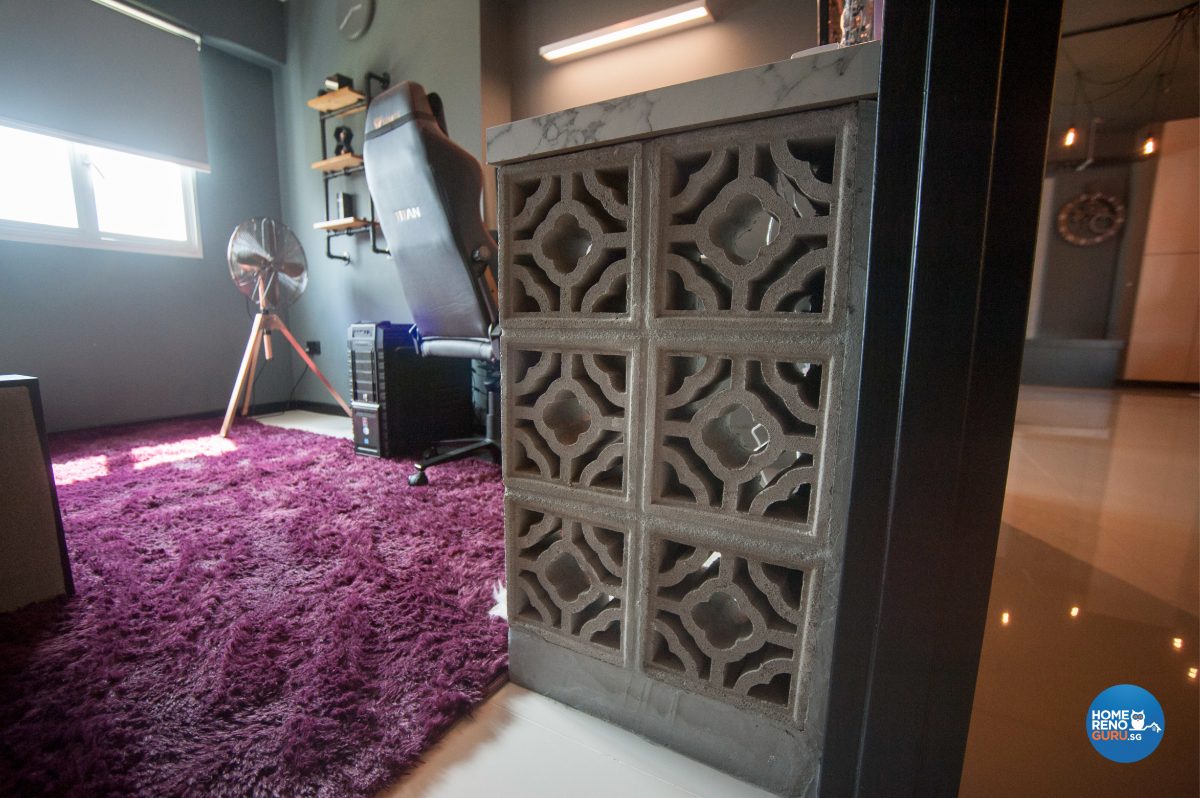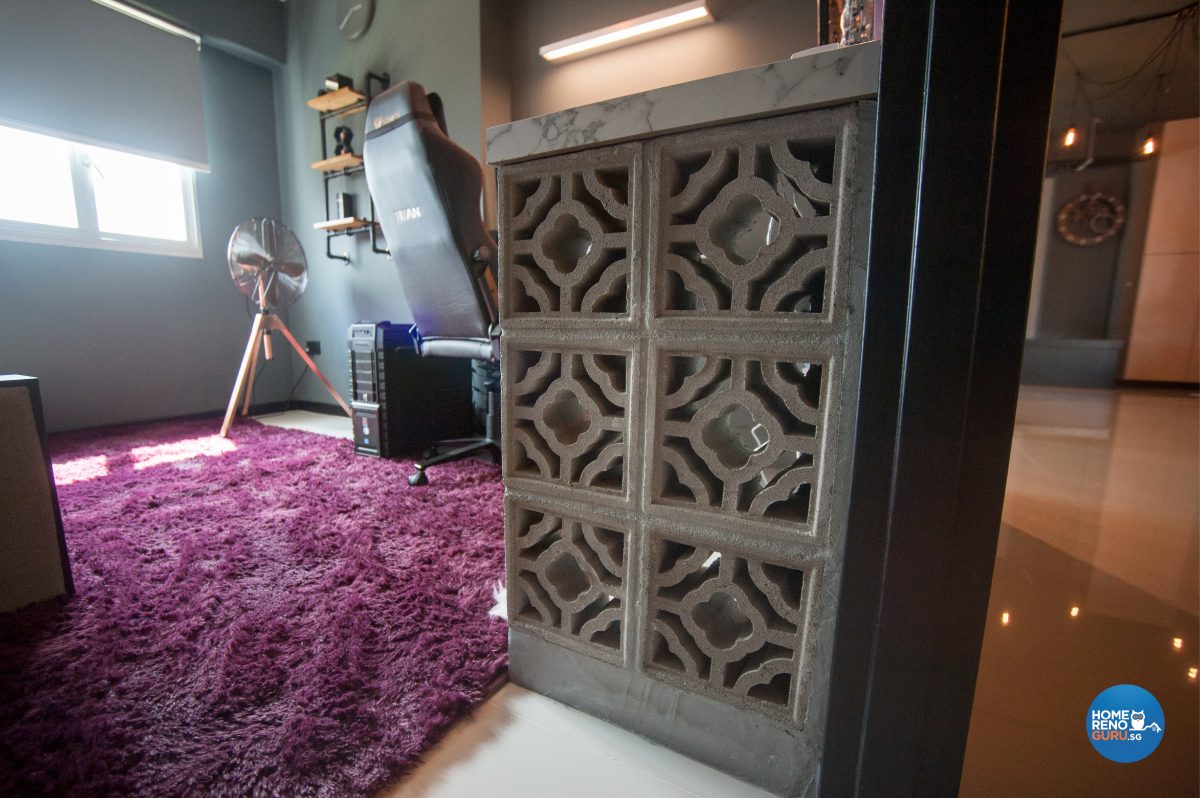 The gaming room accommodates an L-shaped desk for Derick's gaming rig and plenty of storage space
Derick: For the entertainment room, KG managed to infuse both concepts into the room itself by creating a very nice L-shaped table for my gaming rig.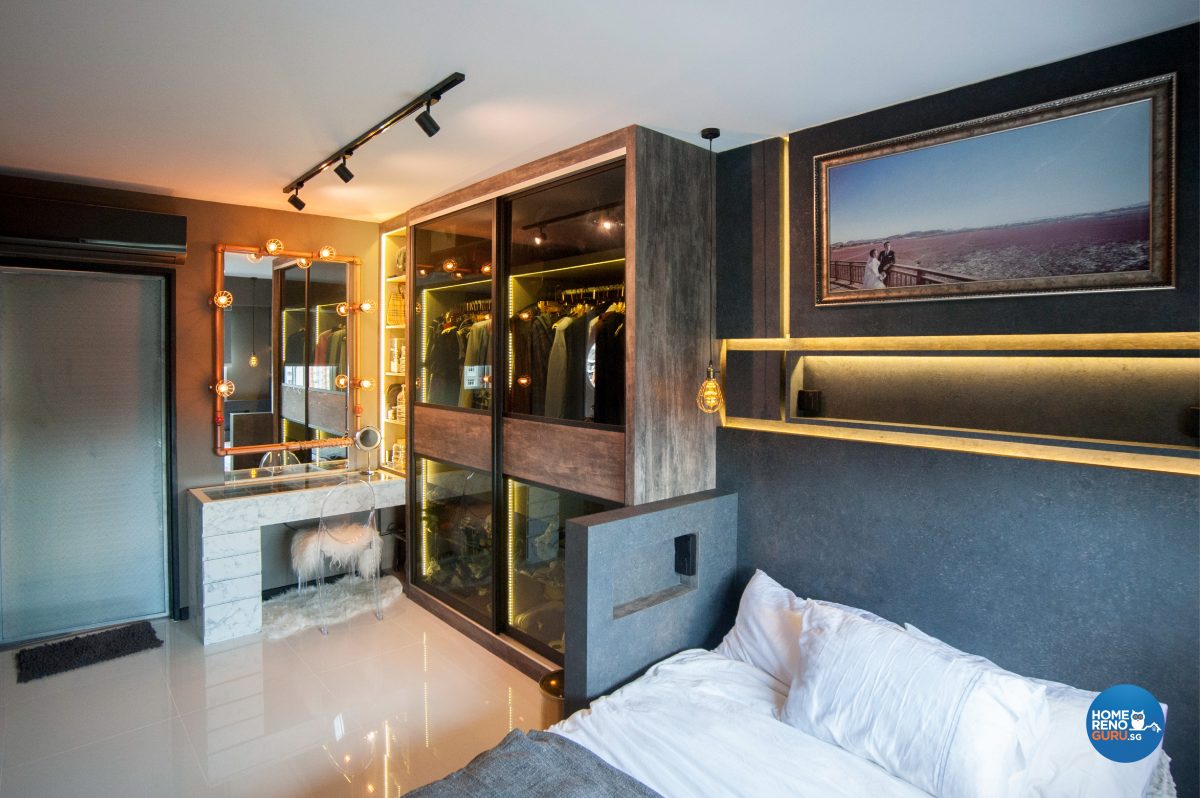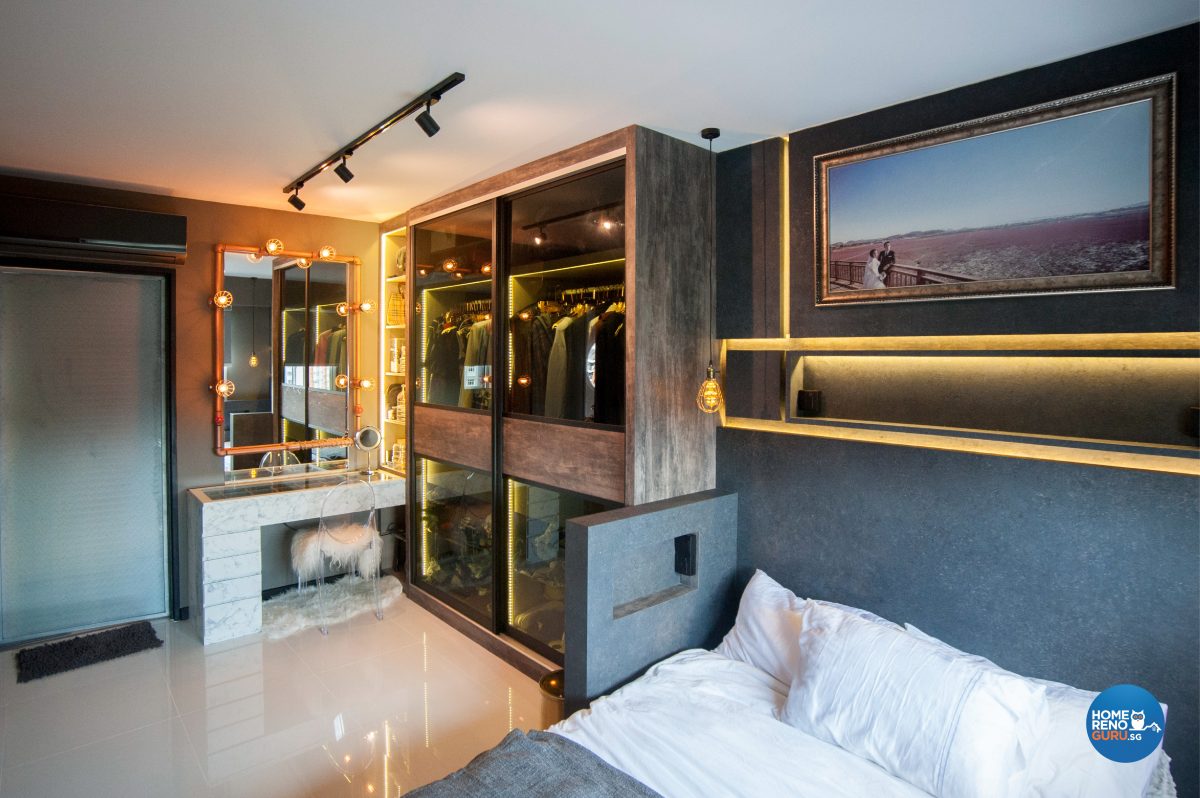 Handy storage nooks on either side of the bed accommodate personal items for husband and wife
Louisure: For the bedside area, we specially requested for a small compartment where each of us could put our phones or our alarm clocks and radio on.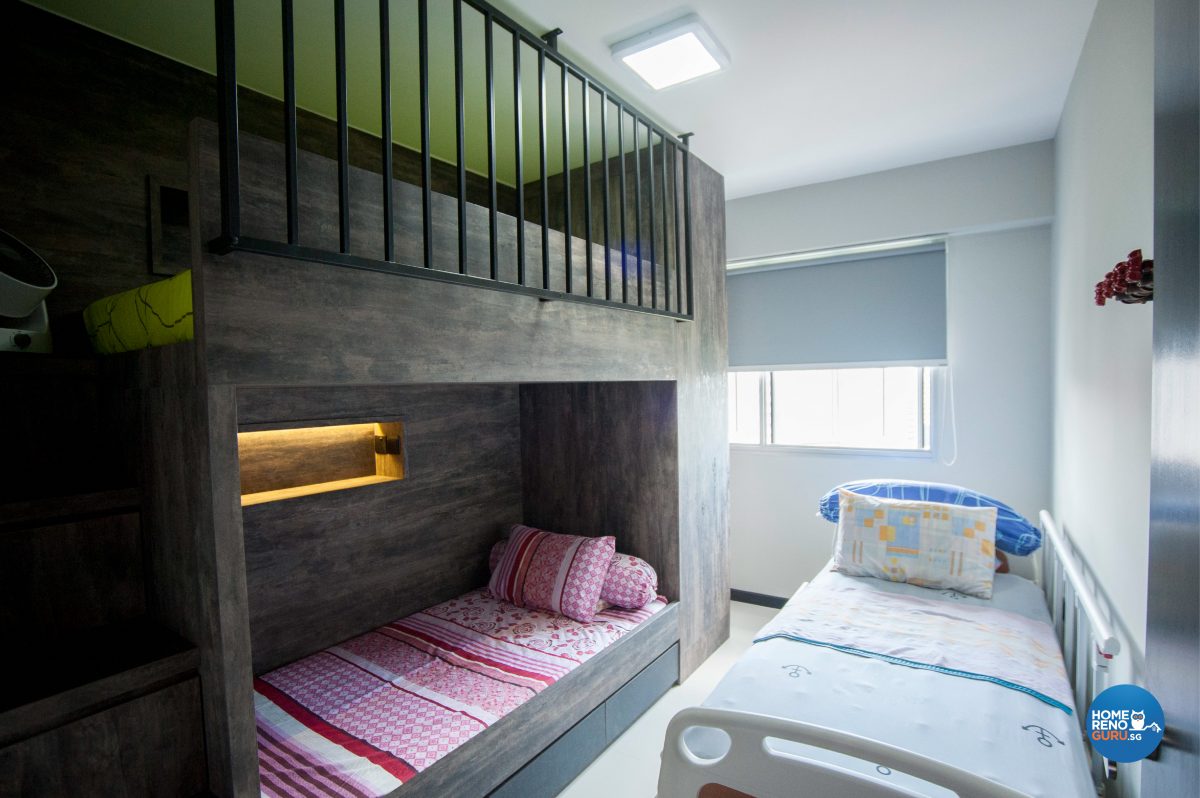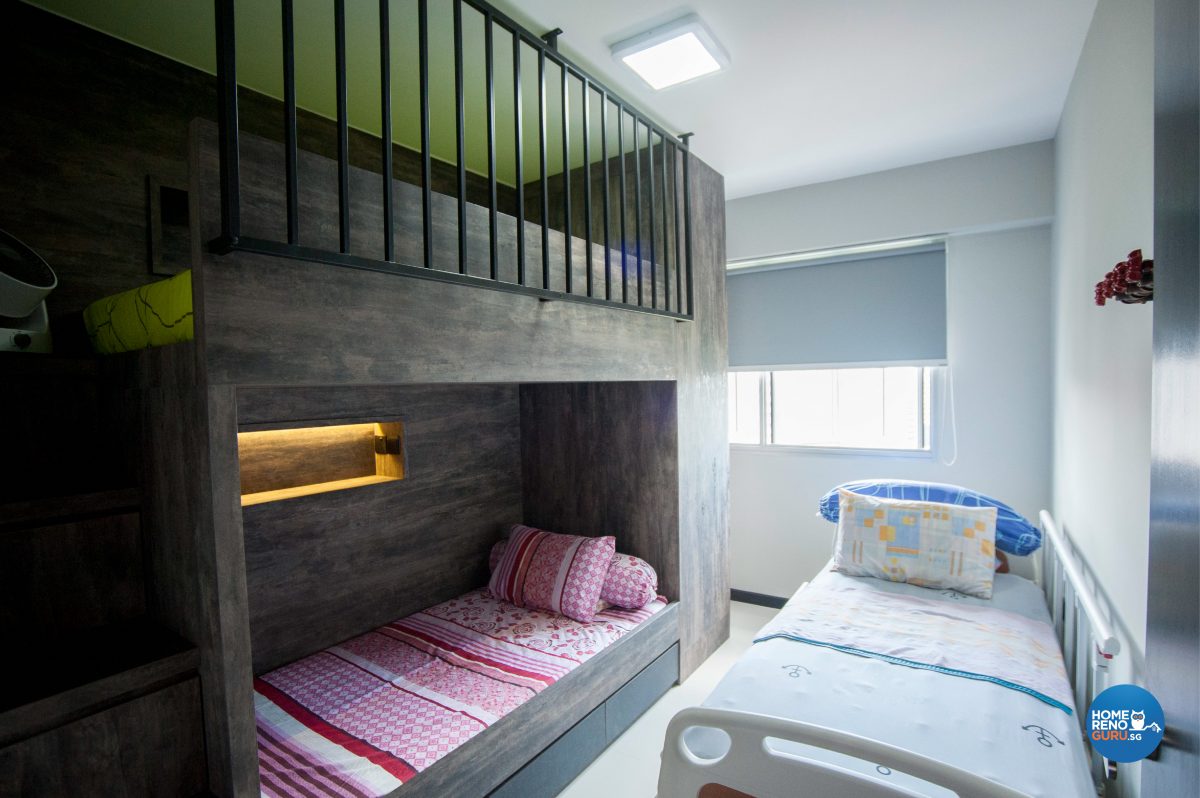 The second bedroom accommodates the grandparents and live-in carer
HomeRenoGuru: Do you have any general advice you would like to share with homeowners embarking on a renovation?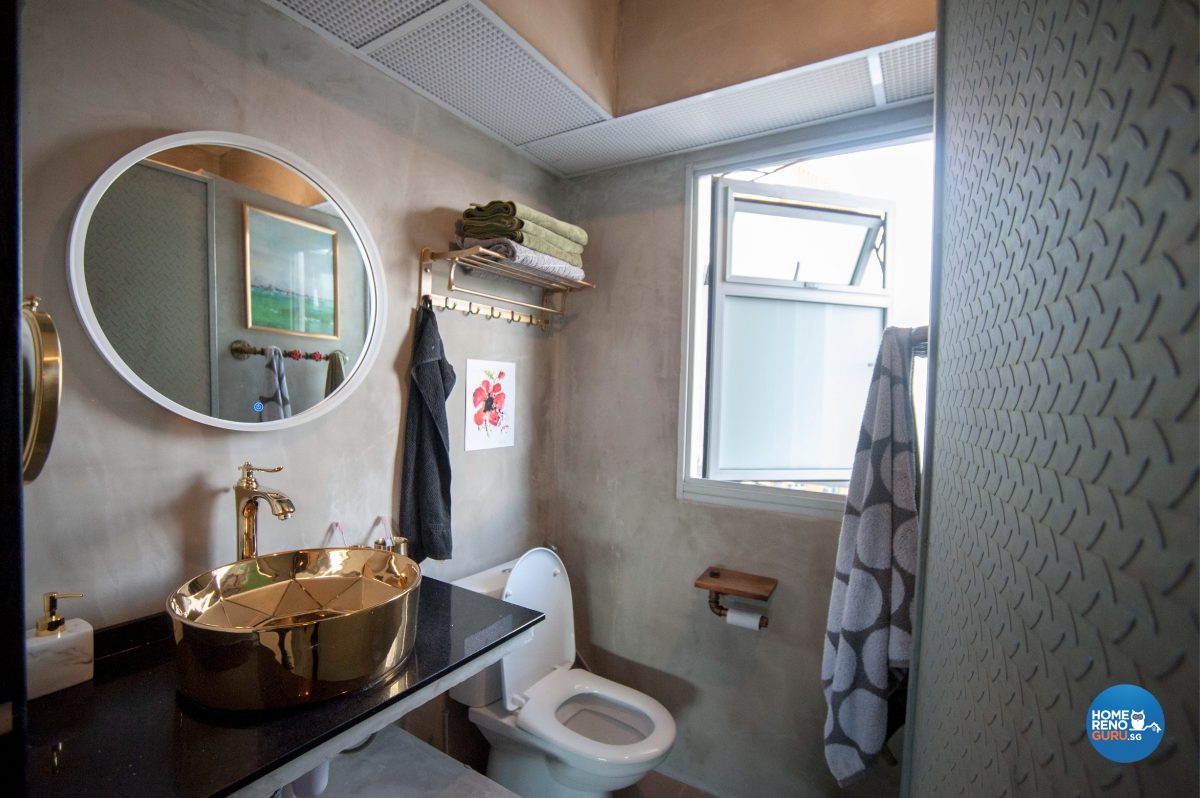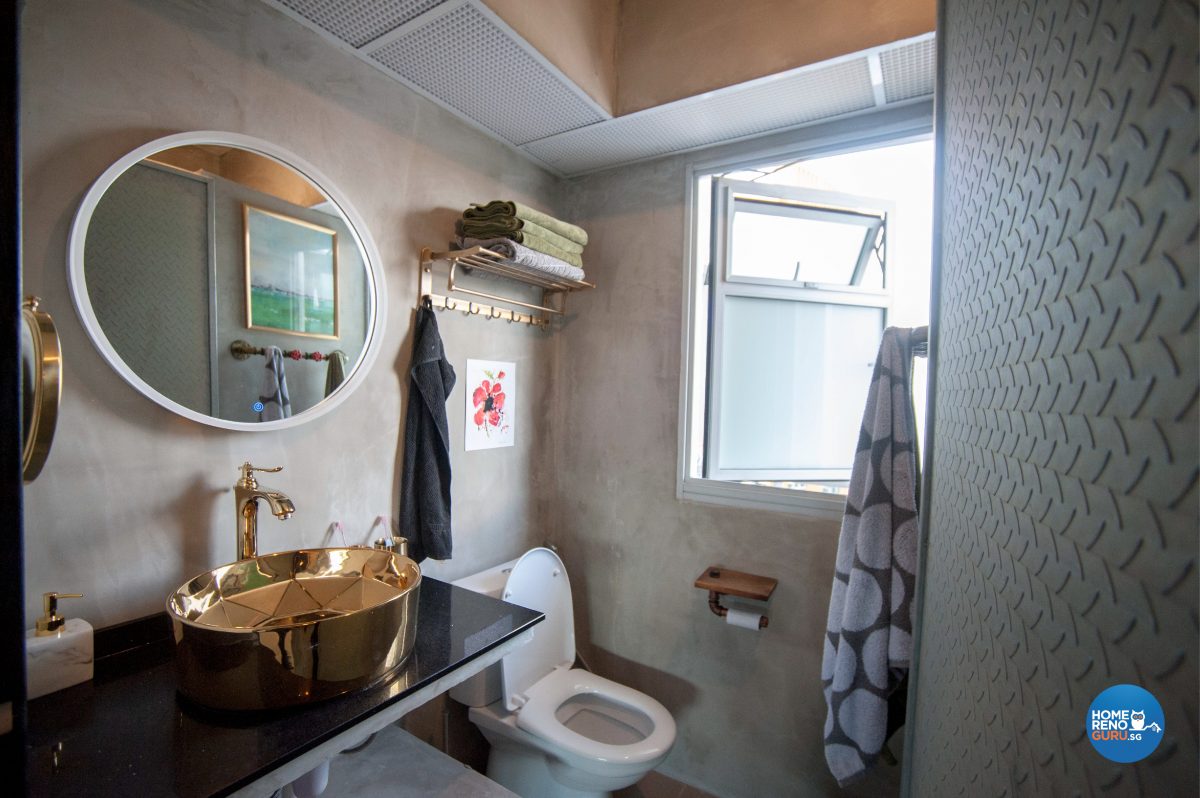 The master bathroom keeps it simple with light grey walls and a black-topped vanity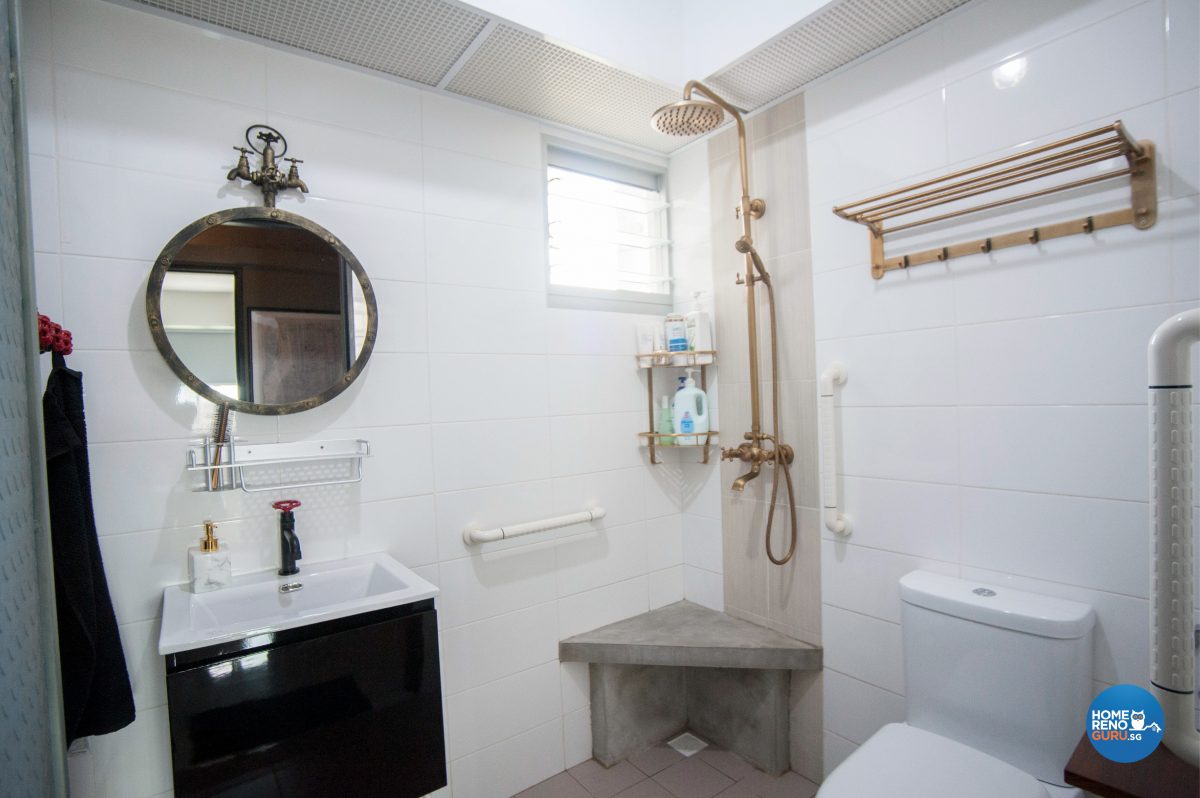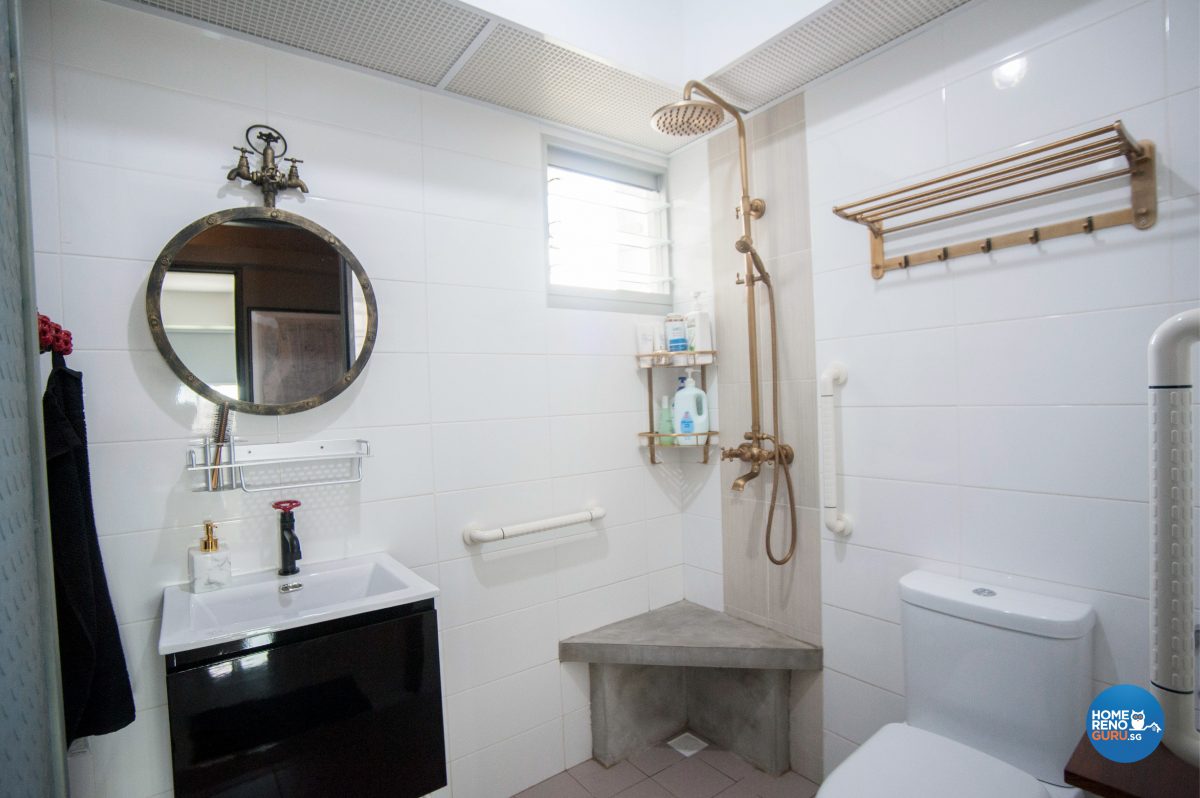 The common bathroom reverses the colour scheme of the master bathroom with a white-topped vanity
Louisure: What we suggest to new homeowners is to do their thorough homework and to make sure to have a rough theme in mind first. Then allocate budgets and then, after that, just manage expectations.
Thank you, KG and NorthWest Interior, for designing our dream home!
Looking for an estimate of your renovation costs?
Let HomeRenoGuru help!
HomeRenoGuru: Would you recommend NorthWest Interior to other homeowners?
Derick: I personally recommend KG and NorthWest Interior for their professionalism and their very keen eye to all our details.
KG: Thanks for trusting in us and I hope you enjoyed our works.
Louisure: We will definitely look forward to building a new future here.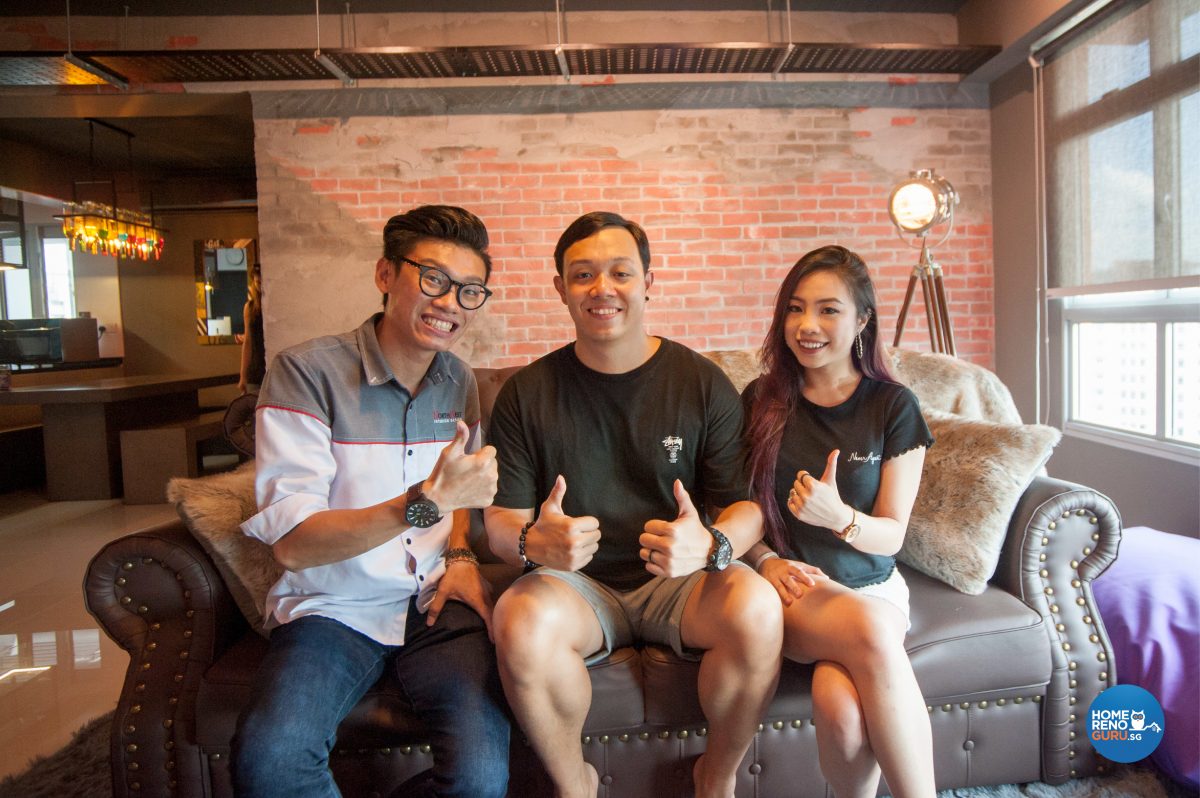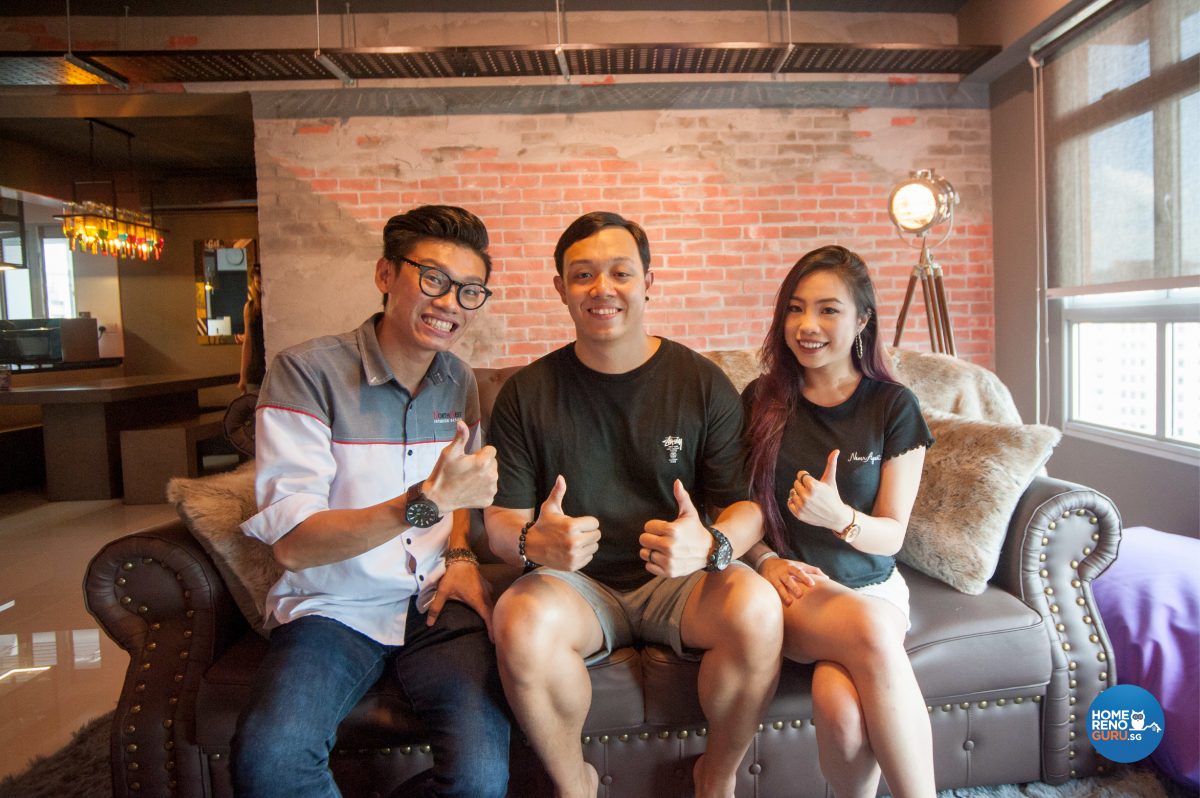 Thumbs up all round – designer KG with homeowners Derick and Louisure