Dream Home: An Indoor/Outdoor Lifestyle
Ryan and Eileen purchased their ground floor condo unit to foster Ryan's mother's love of gardening. The choice defined their lifestyle and their home renovation. For the latter, they went straight back to the interior design firm that had renovated Eileen's parents' home a decade earlier – U-Home Interior Design. Read about the highly successful fruits of their labours.
Project Snapshot
Name(s) of Homeowner(s): Ryan Ang and Eileen Sim
House Type: 4-bedroom Private Condominium Apartment
Size of Home: 1,712 sq ft (including outdoor area)
Cost of Renovation: $56,000
Duration of Renovation: 1 month
Interior Design Firm: U-Home Interior Design Pte Ltd
Name(s) of Designer(s): Mr Leow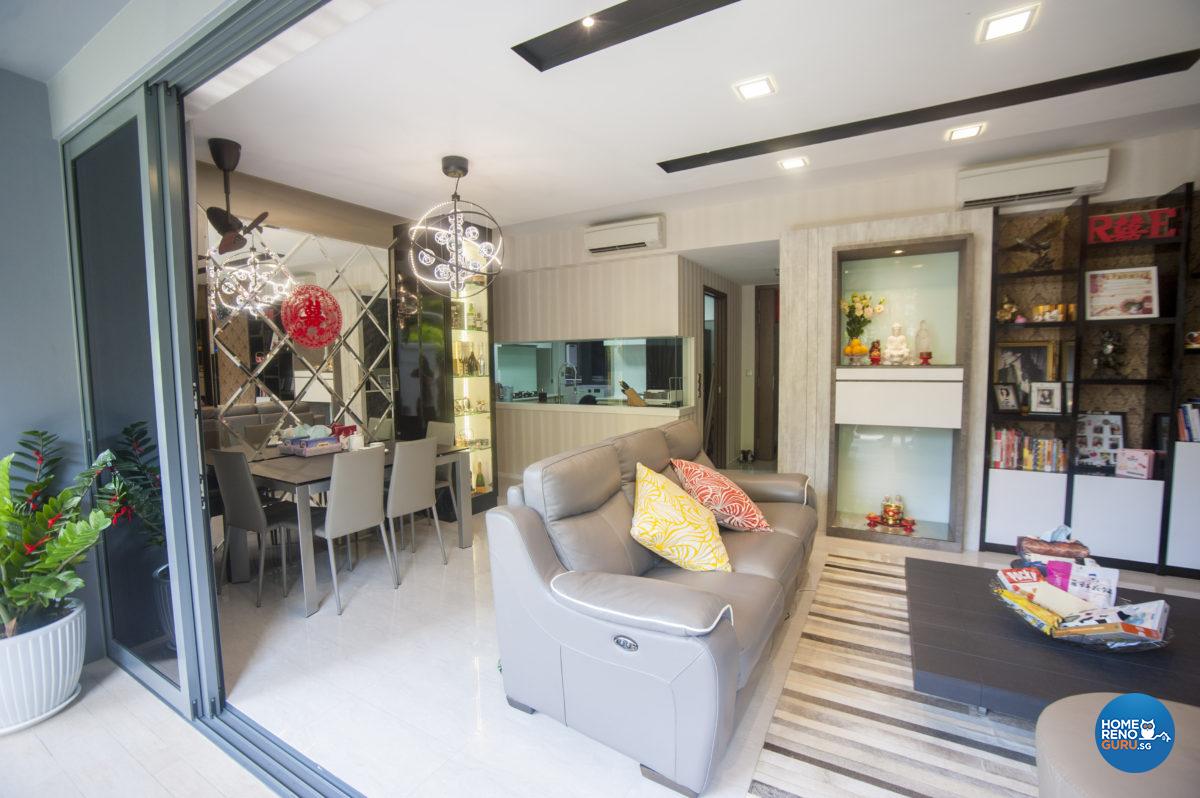 The ground-floor unit allows large gatherings to spill out onto the large outdoor patio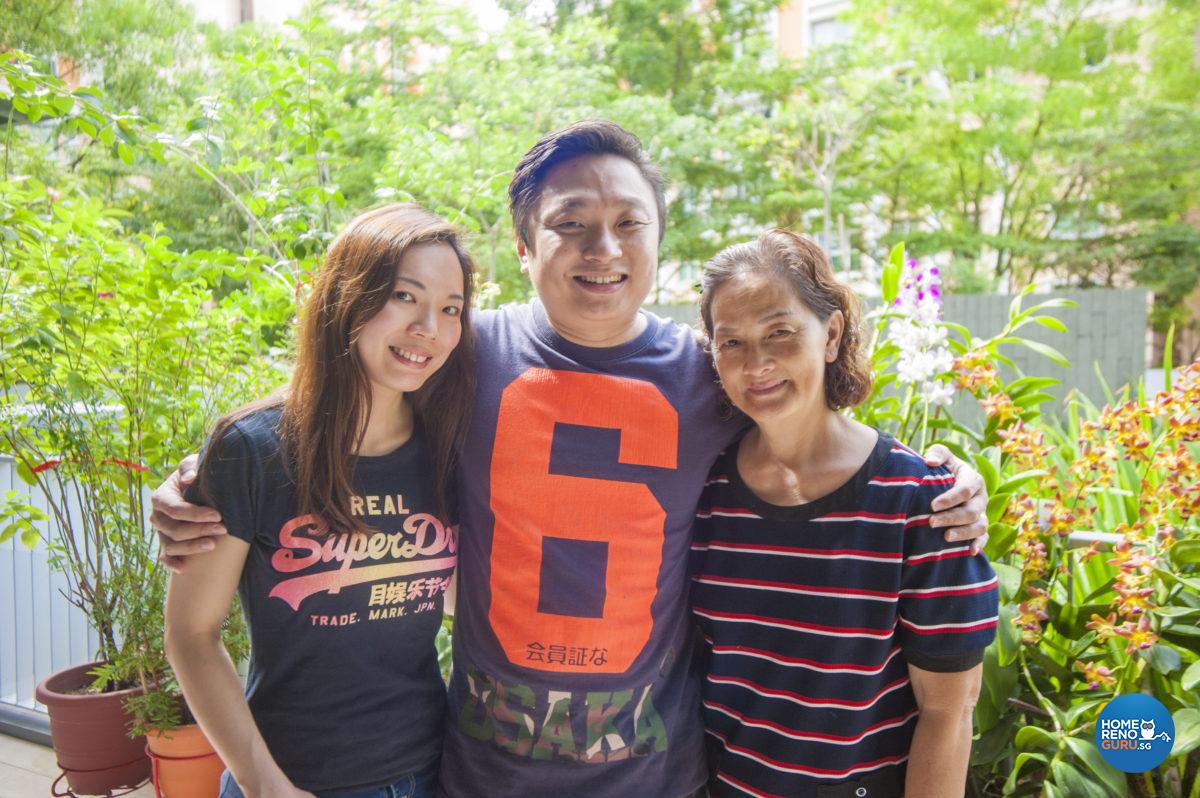 Eileen, Ryan and Ryan's mother – the 'green thumb' of the house
HomeRenoGuru: How and why did you choose U-Home to renovate your home?
Eileen: We chose U-Home because my parents' home was done up by them ten years ago and I was very impressed with their works. Hence, without any hesitation, I went back to them.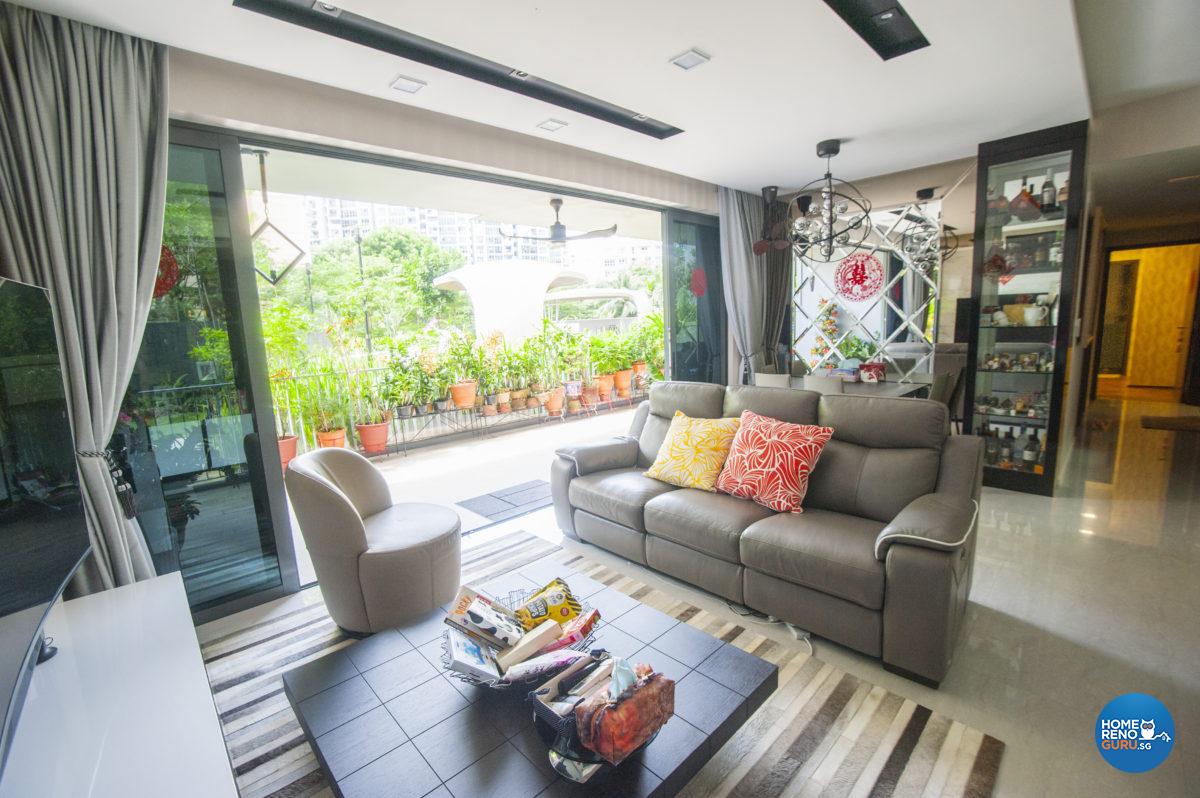 The sunlit living area
HomeRenoGuru: What was your brief to your designer?
Ryan: We did not have any particular theme. Rather, we mixed and matched different themes. We wanted a lot of white and light colours to make the place more spacious. We also chose different wallpapers and lightings to make our home distinctive.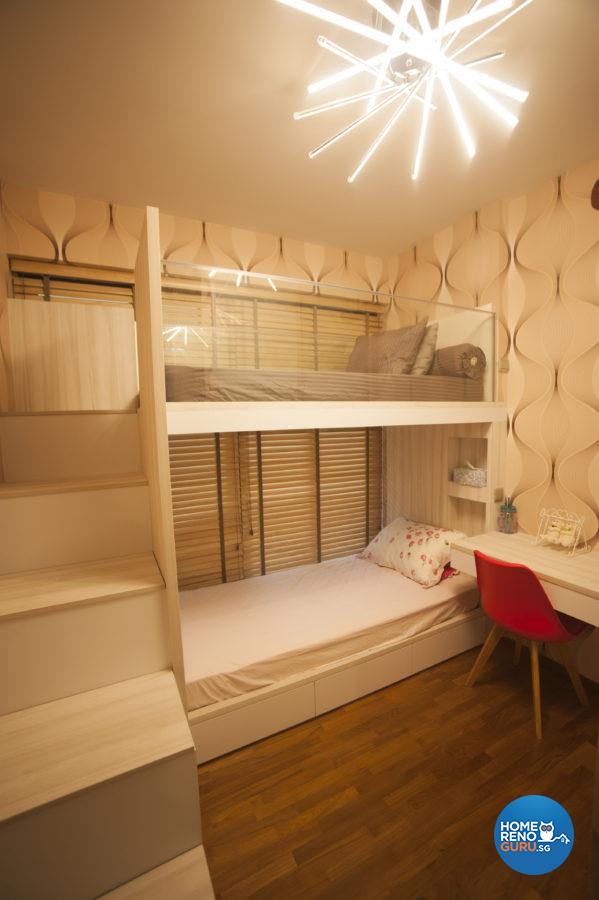 A fantastic light fitting and textured wallpaper make the spare room distinctive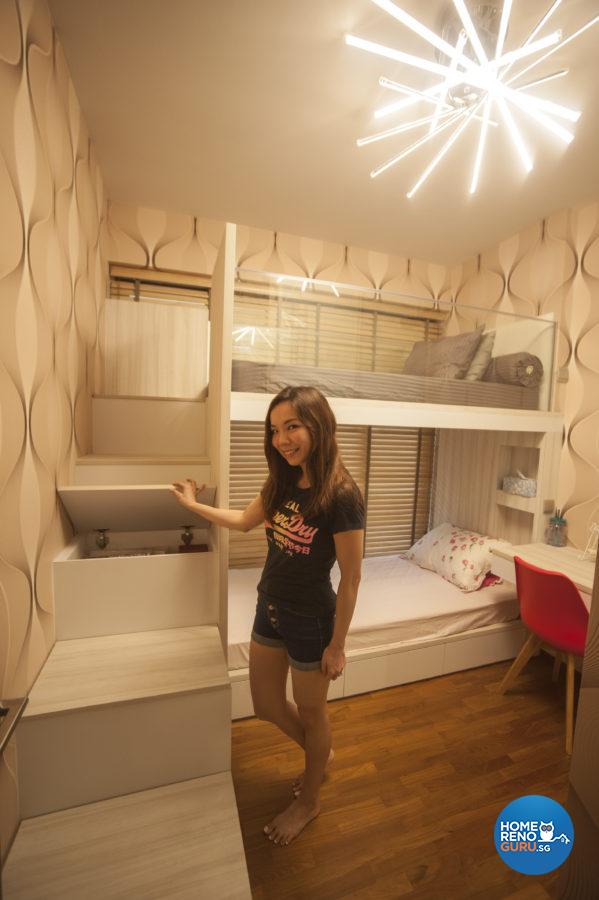 Clever concealed storage has been built into the stairs leading to the bunks
HomeRenoGuru: What was the main part of the renovation process?
Eileen: For the renovation process, the major construction was to convert the common bedroom into a walk-in.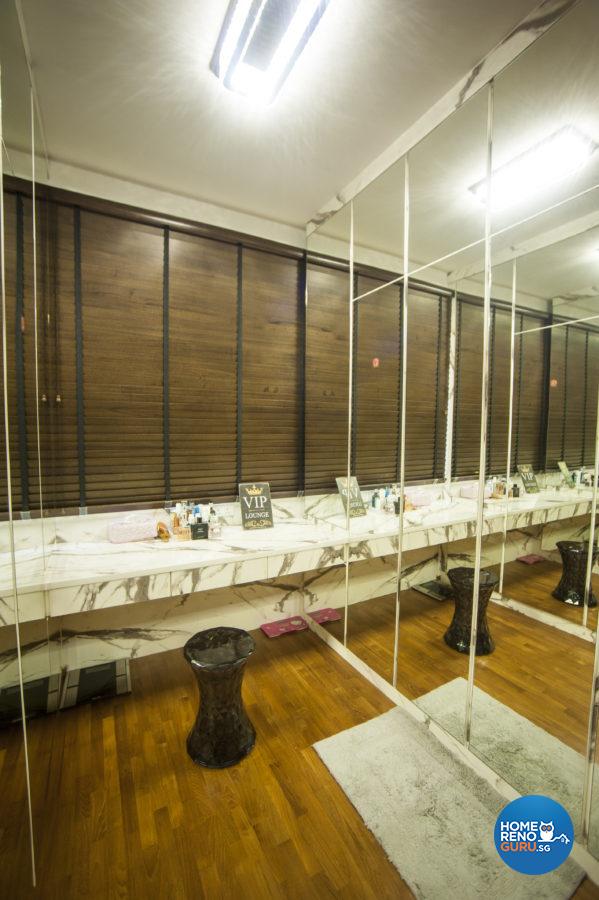 The walk-in wardrobe accommodates a luxuriously long dressing table
HomeRenoGuru: How was the actual renovation process?
Ryan: It is quite remarkable that the whole process of the renovation was done within one month. Mr Leow from U-Home was really fantastic. He was very pro-active on the schedule and gave us updates on the process.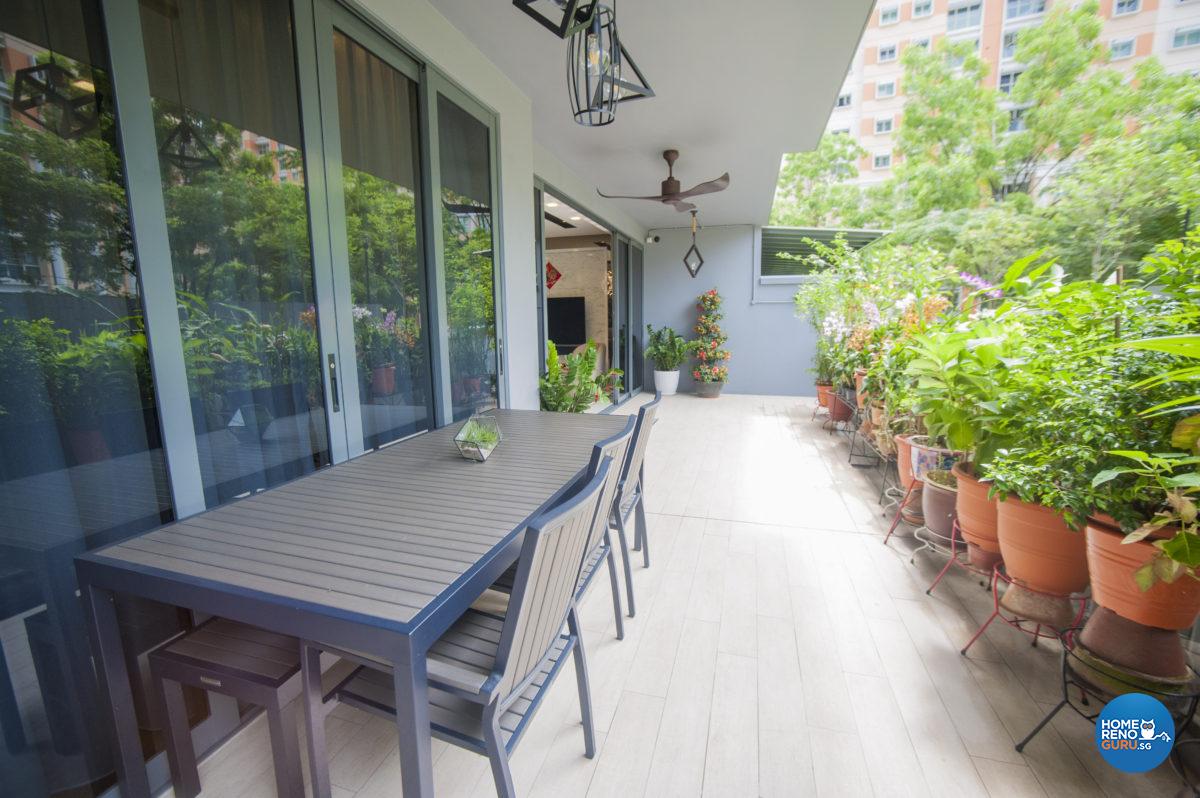 Rows of lovingly tended potted plants create a green screen on the patio that ensures privacy while admitting sunlight
HomeRenoGuru: What do you love most about your home?
Ryan: We chose the ground floor unit because my mum loves gardening and it really has a space big enough for her to place all her plants. This greatly influences our lifestyle so when we are having dinner with the three of us, my wife, my mum and myself, we will dine indoors. And when our extended family and friends come for a gathering, we will dine outdoors.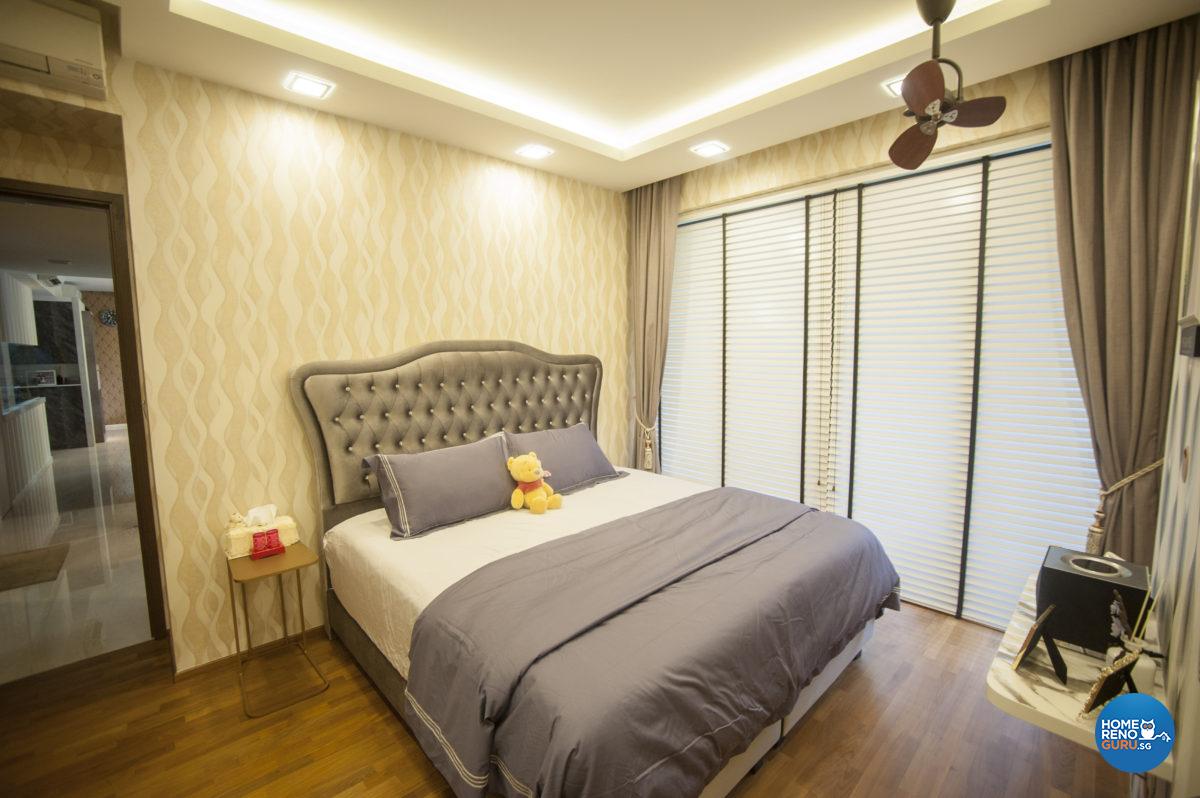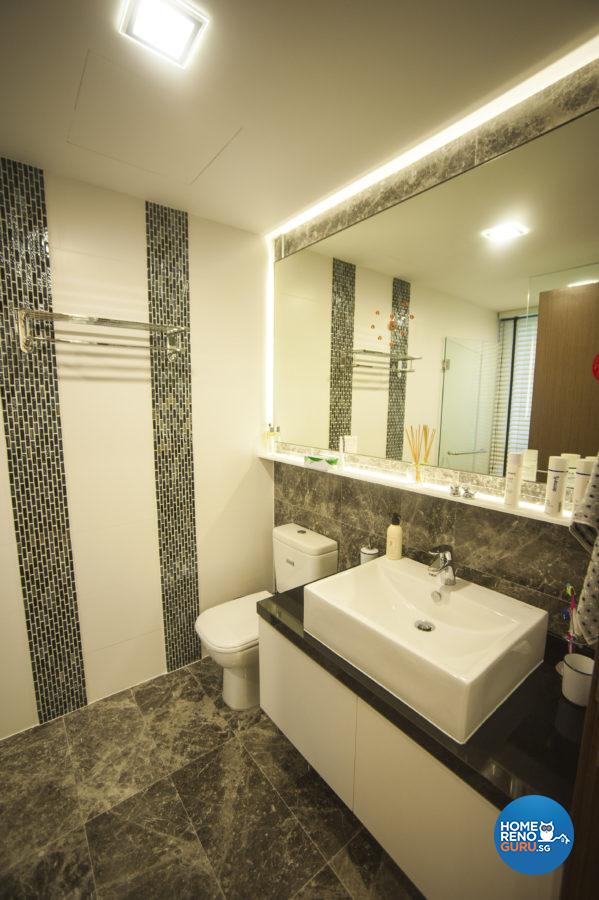 The modern Victorian master bedroom and its hotel-like bathroom
Eileen: My favourite part of the home would be the master bedroom with the walk-in, because it is really spacious and also it is very cosy. I love the walk-in especially – it has a great vanity area, a lot of glass surfaces that create the illusion of space, and also a lot of storage.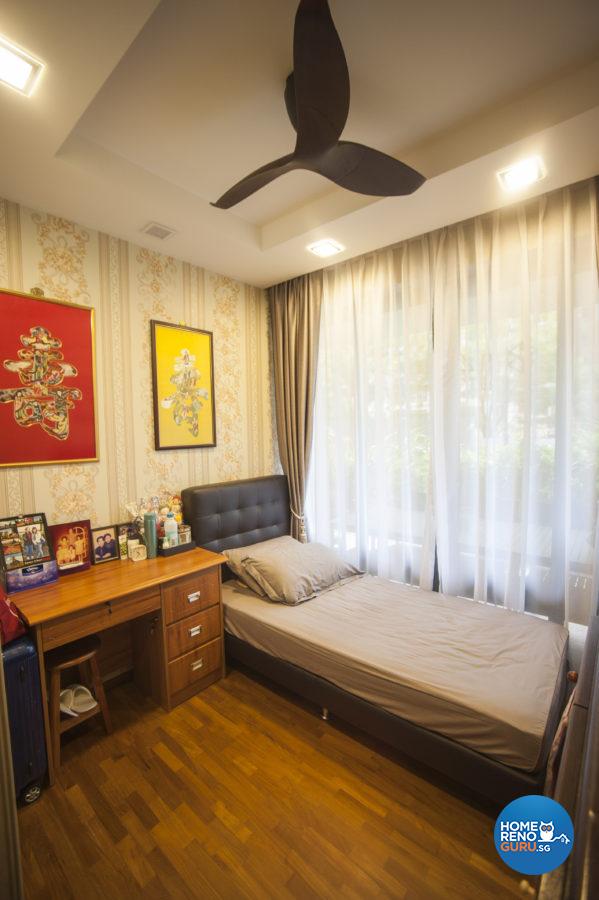 An Oriental-inspired wallpaper matches the furniture and wall hangings in Ryan's mum's room
Ryan: We chose a wallpaper that has a more Oriental feel for my mum's room to match her furnitures. My Mum is very happy in here.
Eileen: For the kitchen, we were actually very happy with what it came with but, however, we changed the countertop to black instead to prevent stains, and also we changed the twin basin into a single basin for washing purposes.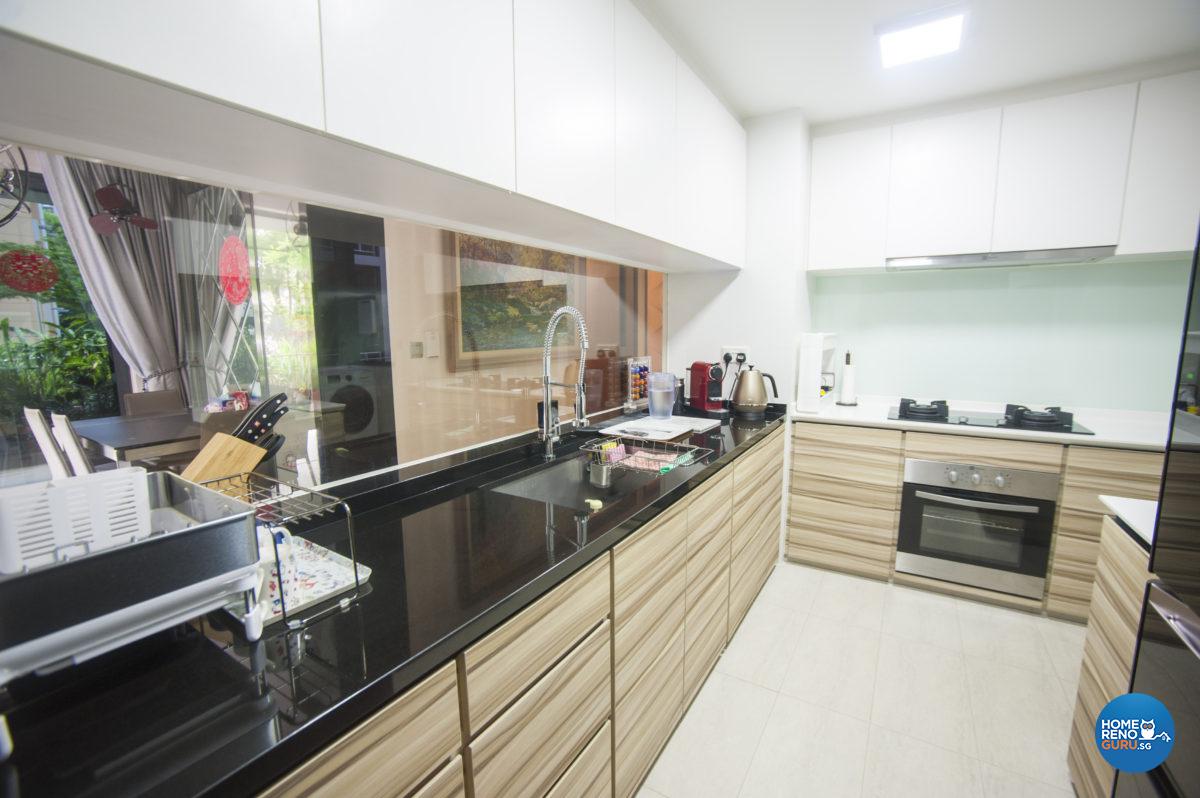 A black countertop was installed in the kitchen to prevent and conceal stains
Looking for an estimate of your renovation costs?
Let HomeRenoGuru help!
HomeRenoGuru: Would you have any advice to share with homeowners, based on your first-hand experiences?
Ryan: My advice to new homeowners would be – once you get hold of a good ID, hang onto him!
HomeRenoGuru: Would you recommend U-Home Interior Design and Mr Leow to other homeowners in search of a renovation company?
Eileen: My parents were thrilled with U-Home ten years ago and today we are equally thrilled as well. We are very happy with the whole renovation process.
Ryan: Definitely we would recommend U-Home. Thank you Mr Leow. We love our home, indoors and outdoors!