Dream Home: A Homely Home
There's nothing like the feeling of coming home, according to happy homeowner Jerome Leow. He loves the warm and cosy feeling of returning to his wife, two young sons Daryl and Dave, and the comfortable environment that was created by Aloysius of Earth Interior Design. Hear how his family's requirements were fully met within an impressively tight timeline.
Project Snapshot
Name(s) of Homeowner(s): Jerome Leow and Phoebe Ong
House Type: 4-bedroom Executive Condominium
Size of Home: 1,227 sq ft
Cost of Renovation: $40,000
Duration of Renovation: 5 weeks
Interior Design Firm: Earth Interior Design
Name(s) of Designer(s): Aloysius Ong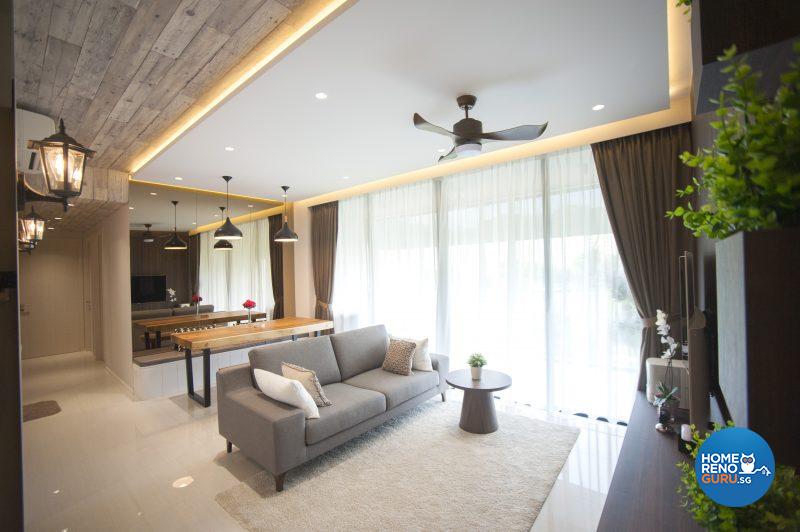 The wood-lookalike wallpaper on the ceiling heightens the cosy, rustic feel of the living area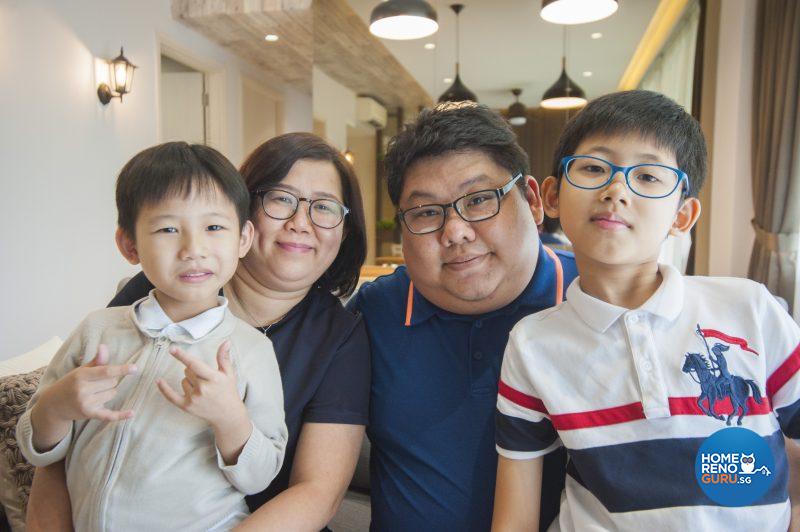 Dave, Phoebe, Jerome and Daryl
HomeRenoGuru: How and why did you choose your interior design company?
Jerome: We started off by looking around for the perfect ID for our new house. We got some recommendations from our friends, and Earth Interior was one of the IDs recommended, mainly because, the ID, Aloysius, was very attentive. He actually takes down everything that we say, and gives us very good suggestions and guidance in terms of how to do up the renovation.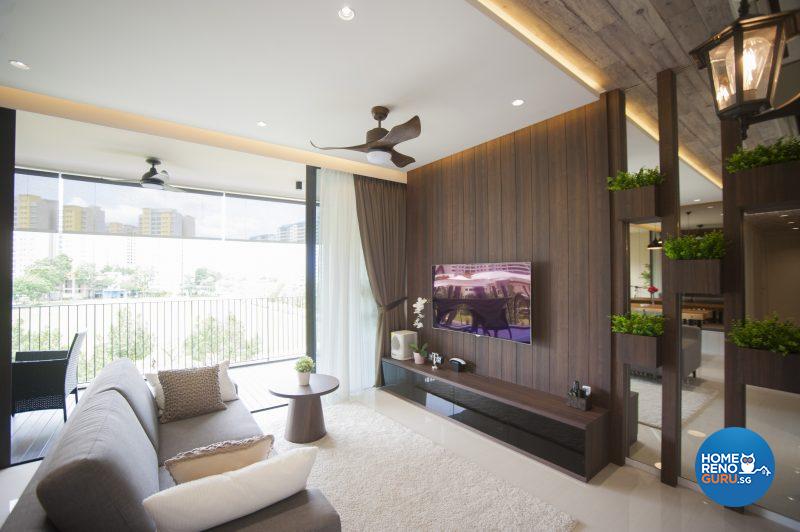 A wooden TV console and warm lighting create a homely and welcoming environment
HomeRenoGuru: Did you have a clear vision of what you wanted from your renovation?
Jerome: Originally we were very confused with the theme that we wanted. You know, there are so many pictures out there on the Internet. We had a lot of internal discussion – she wants A, I want B. So the other point that we brought across to the ID was the space planning, because, as you know, these days flats are typically very small. We wanted to have more space, but we didn't want it to look so packed and squeezy. There were a lot of discussions around the theme and the space utilisation with the interior designer.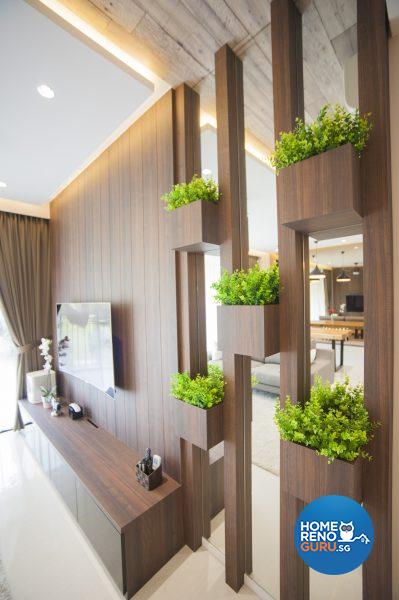 Splashes of green in built-in planters add a lively touch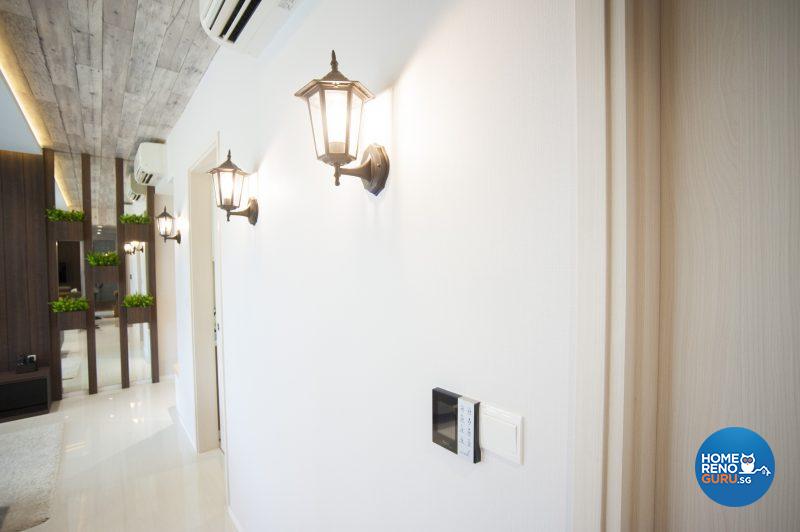 The uncluttered wall beneath the feature ceiling is illuminated by nostalgic lamps
HomeRenoGuru: How did you find the renovation process itself?
Jerome: We were very upfront with Aloysius, the ID, in that we were looking forward to a very fast turnaround and a quick move-in. So he showed us the planning, the different kinds of works, and the different stages of the renovation. During the process, he updated us via Whatsapp and telephone telling us about the progress of the flat. And most of the time when we came down, we saw him there – looking around and making sure that all the things in the house were going well.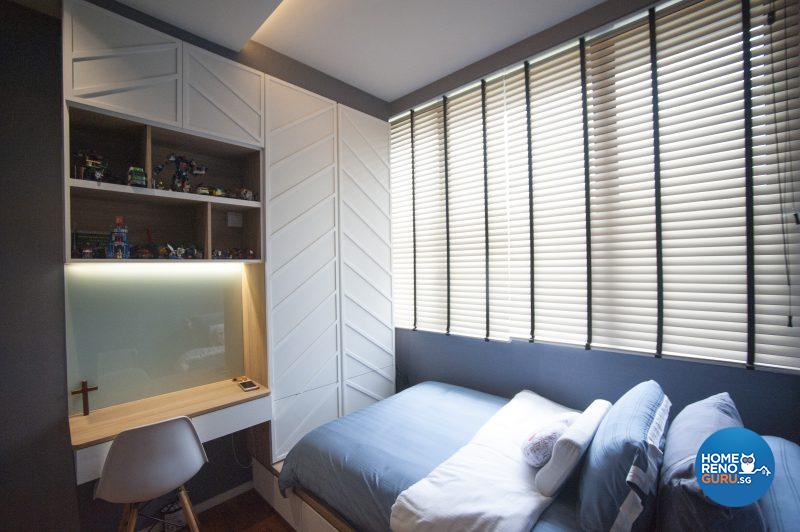 The older son's room features distinctive white wooden panelling over the built-in closet and overhead storage space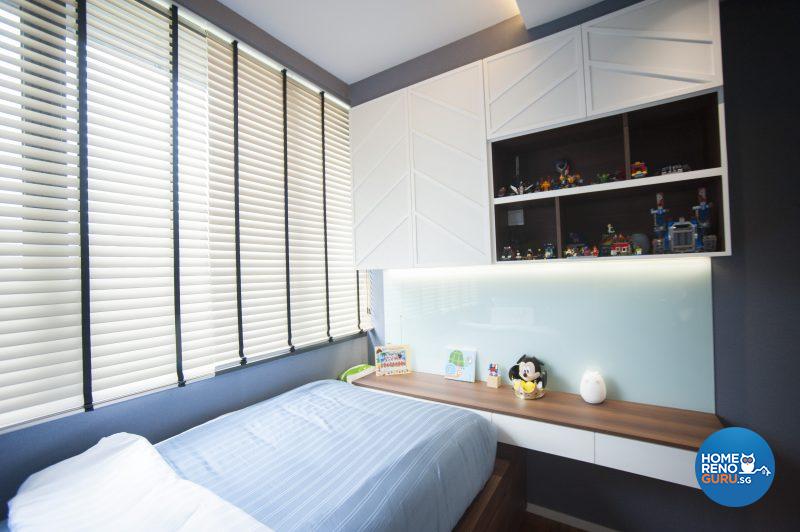 The younger son's room features the same white panelling in his brother's room, only in a different configuration
Looking for an estimate of your renovation costs?
Let HomeRenoGuru help!
HomeRenoGuru: What do you love most about your home?
Jerome: My boys are particularly very happy with their rooms. They get to keep their toys, tidy up their room and do their homework nicely.
As for myself, I think my favourite part of the home is the living room. So nowadays, whenever I come from work I get this cosy and homely feel. The distinctive part, which I think is outstanding, is actually the wallpaper – the woody wallpaper that we put on the ceiling. It gives us the very cottagey feel that we wanted, and it joins the entire living room to the TV console.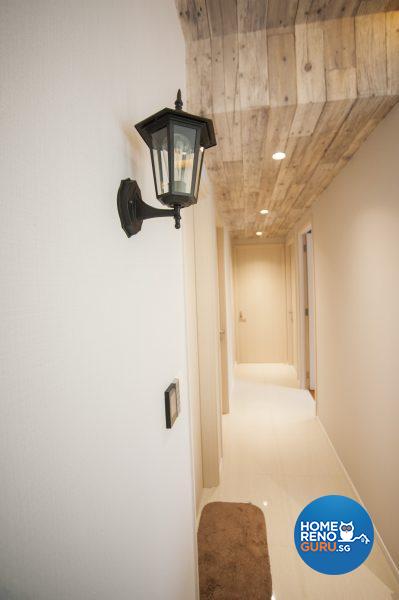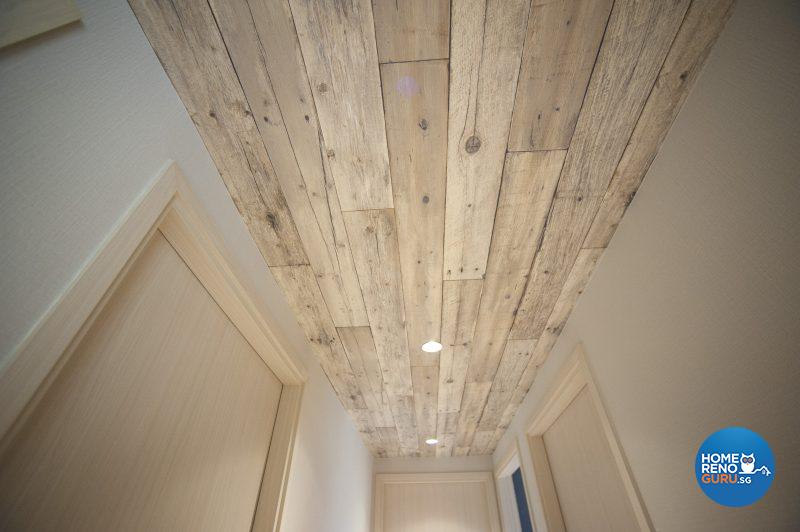 The feature ceiling continues down the hallway and connects all of the main spaces within the home
Another outstanding place that I am very happy with is my master bedroom. Aloysius designed a concealed dresser for my wife to use. It keeps the mirror and stuff within the cabinet itself, so we don't see the untidiness of the contents.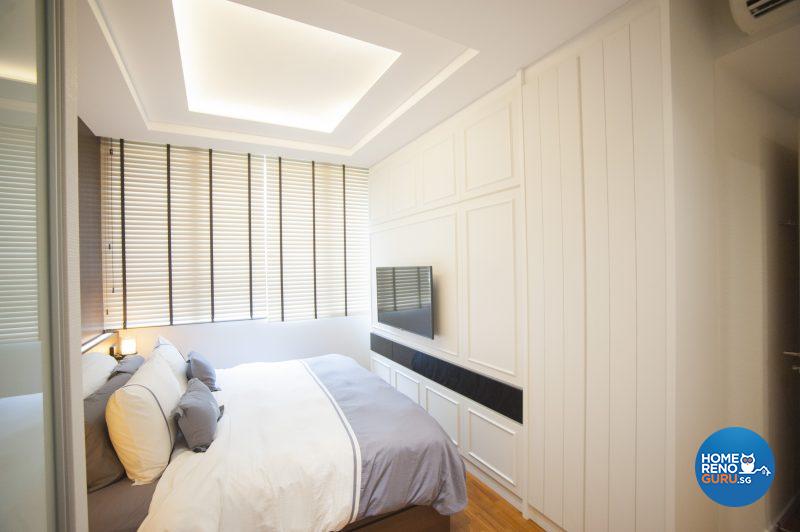 The beautifully illuminated master bedroom conceals an abundance of storage space and a built-in dresser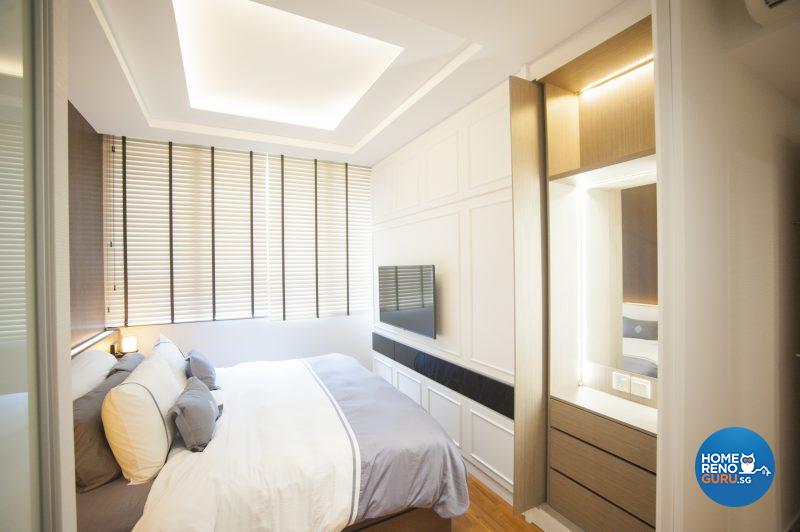 Phoebe's dresser, revealed
Another interesting aspect of the living room is the space planning. So Aloysius suggested that we have a pull-out shoe cabinet, so that you can go in really deep and put in as many shoes as you want.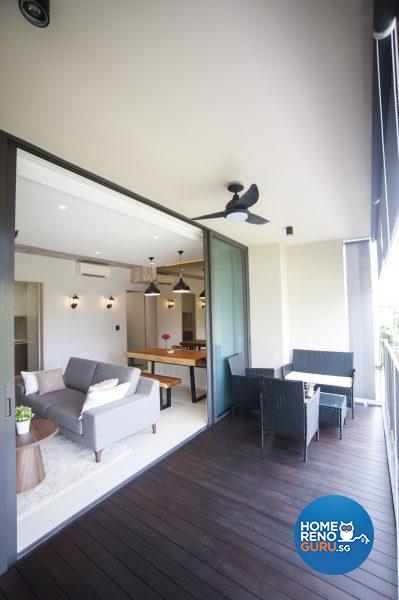 The living area extends out onto the spacious balcony
HomeRenoGuru: Do you have any general advice to share with homeowners who are contemplating a renovation?
Jerome: My advice for new homeowners is – no doubt you are very happy that you are going to get your keys, but stay calm, stay cool. Look around, ask your friends, ask your relatives, look for recommendations, do your own homework, compare the prices, talk to different people.
HomeRenoGuru: Would you recommend Earth Interior Design and Aloysius to other homeowners?
Jerome: Most definitely, yes! I am very grateful to Earth Interior and Aloysius. A special thank you to Aloysius once again – thank you, Aloysius. Thank you, Earth Interior.