Dream Home: Home Sweet Home
Kelly Teo felt totally comfortable with her designer, Judy Tan of New Interior Design, and subsequently has a home in which she feels entirely comfortable. She loves her white and wooden sanctuary and considers every cent well-spent, including the 'splurge' on expensive real teak flooring.
Project Snapshot
Name(s) of Homeowner(s): Kelly and Gordon Teo
House Type: 5-room BTO Flat
Size of Home: 113 sq m
Duration of Renovation: 2 months
Cost of Renovation: $80,000
Interior Design Firm: New Interior Design
Name(s) of Designer(s): Judy Tan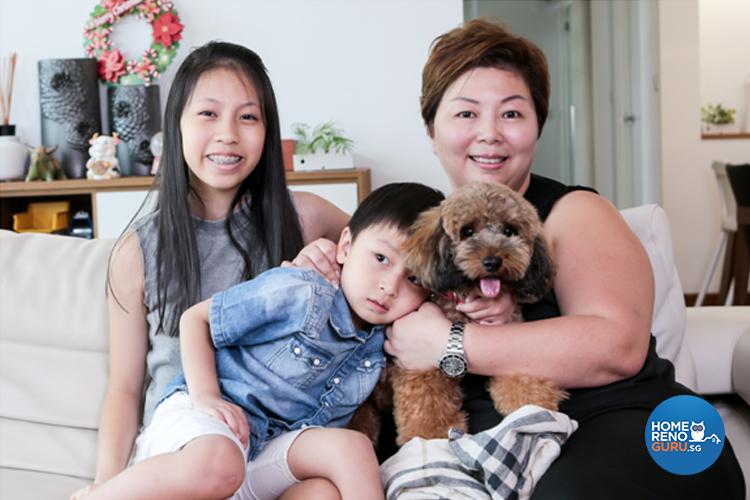 Pearl, Caden, Kelly and Maltipoo (Maltese terrier poodle cross) Kobi in their 'home sweet home'
HomeRenoGuru: How did you choose your interior design firm and designer?
Kelly: I searched online for a few interior designers and I'd spoken to a few IDs. After I'd spoken to Judy from New Interior Design, I felt very comfortable… And I have no regrets.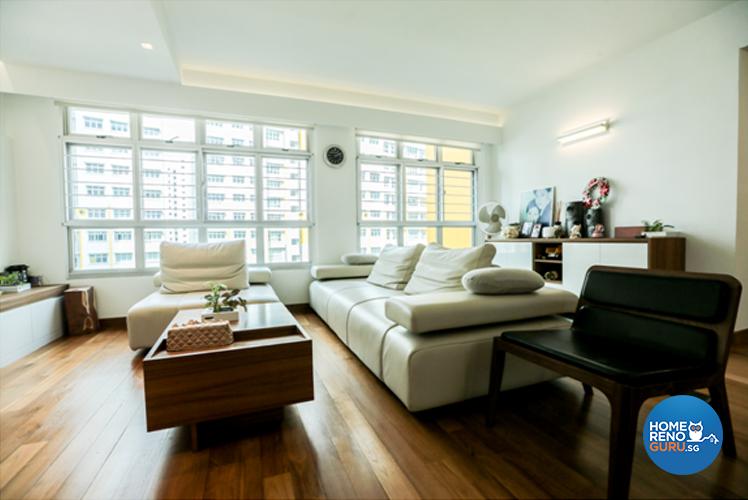 Kelly opted for a white colour scheme with lots of wood
HomeRenoGuru: What was your brief to your designer?
Kelly: I prefer something simply and elegant, so I chose the colour white, with a wood feel, and I insisted that I wanted Burmese teak flooring.
Kelly loves the luxurious underfoot feel of real Burmese teak flooring, which was admittedly costly
HomeRenoGuru: How did you find the renovation process?
Kelly: The renovation process was really great and comfortable. Judy updated me every day regarding the progress and took photographs for us. Even when we had last-minute changes, Judy acted very fast and incorporated them. Judy's after-sales service was also great. She responded very fast and acted very quickly.
Basically, I love working with Judy.
Kelly loves the hotel-like feel of her bedroom
HomeRenoGuru: What are your favourite parts of your home?
Kelly: I love every part of my house. When I reach home from work I feel 'home sweet home'. If I had to choose one room, I would choose my bedroom because it has a hotel-like feel, and also my bathroom, which has plenty of storage areas.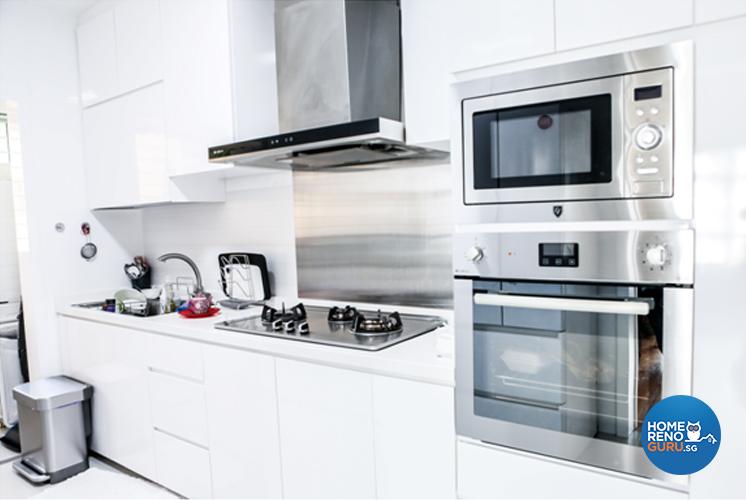 Kelly's extra-deep kitchen drawers are ideal for storing tableware and kitchen utensils
I also love my kitchen. I love the soft-closing drawers, and I love the drawers because it's really very big and deep so I can storage a lot of my plates and bowls and all my utensils inside.
Looking for an estimate of your renovation costs?
Let HomeRenoGuru help!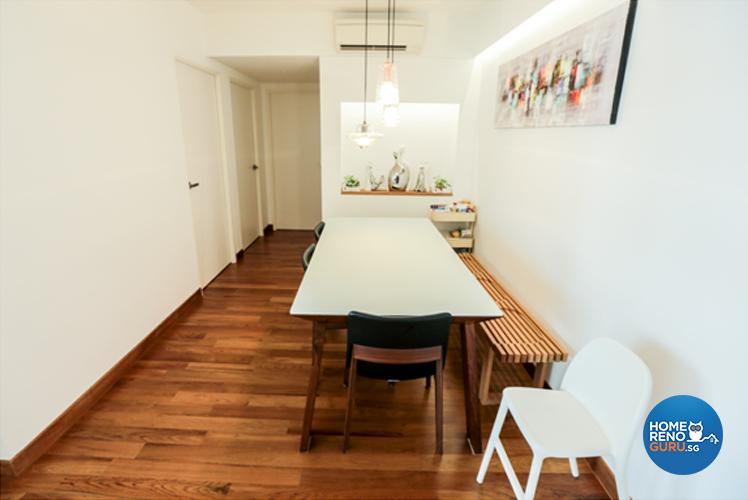 The dining area is distinguished by spotlit recessed shelving and a vibrant painting that was gifted to Kelly by her designer
I also love my dining area with the recessed shelving and the spotlight. I must mention my painting. It is a gift from my designer Judy. She carried it all the way back from Bali… I love it!
Pearl:  My favourite place is my bedroom because I have a spacious desk for studying and I even have lots of space for storage for my books and my clothing.
HomeRenoGuru: Do you have any general advice for homeowners contemplating a home renovation?
Kelly: If you're looking for an ID, my opinion is – find someone that you're comfortable with. This is very important.
HomeRenoGuru: Would you recommend your interior design company and designer to other homeowners?
Kelly: I would recommend Judy Tan from New Interior Design without any hesitation. Thank you New Interior Design and Judy Tan for giving me a 'home sweet home'.