Dream Home: Helping Families Help Themselves
Successful local interior design firm, Interior Diary, recently gave back to society by undertaking the renovation of a home for a young family whose cramped living quarters had fallen into disrepair. They partnered with local non-profit organisation Jamiyah Singapore to source a family in need, and picked up the entire bill for the renovation, workmanship and materials. This is the story of their meaningful project.
Project Snapshot
Name(s) of Homeowner(s): Maszlina and Tan, 4 children aged 11 – 17
House Type: 3-room BTO HDB Flat
Size of Home: 93 sq m
Cost of Renovation: $28,000
Duration of Renovation: 2 weeks
Interior Design Firm: Interior Diary Pte Ltd
Name(s) of Designer(s): Steven Loh (Creative Director) and Partners Gary Ng and Tony Low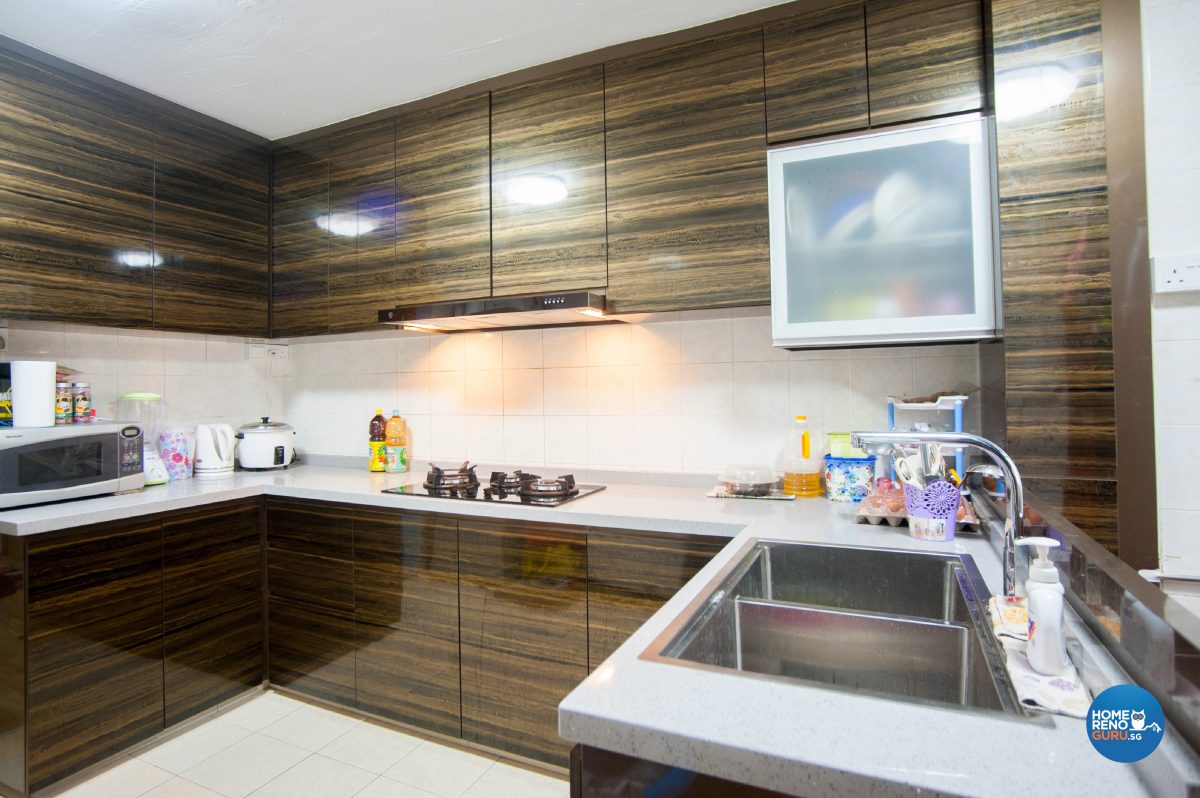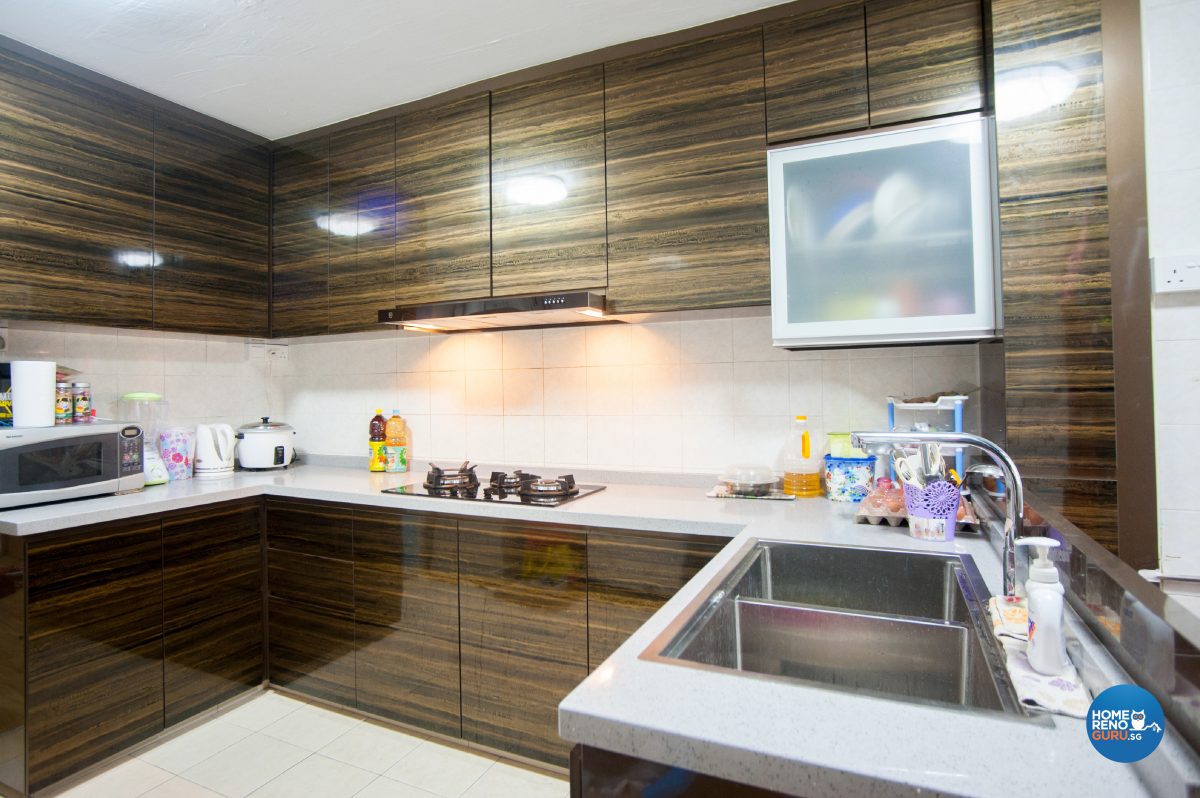 Maszlina's remodelled kitchen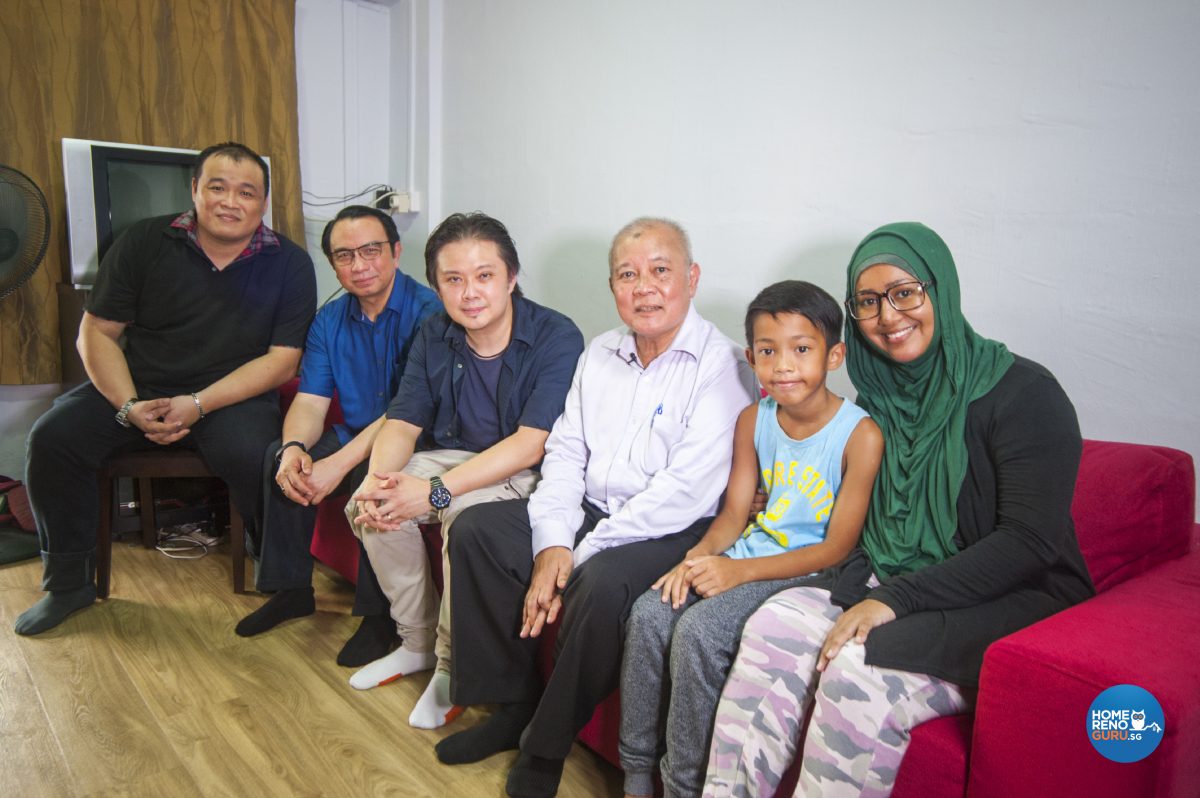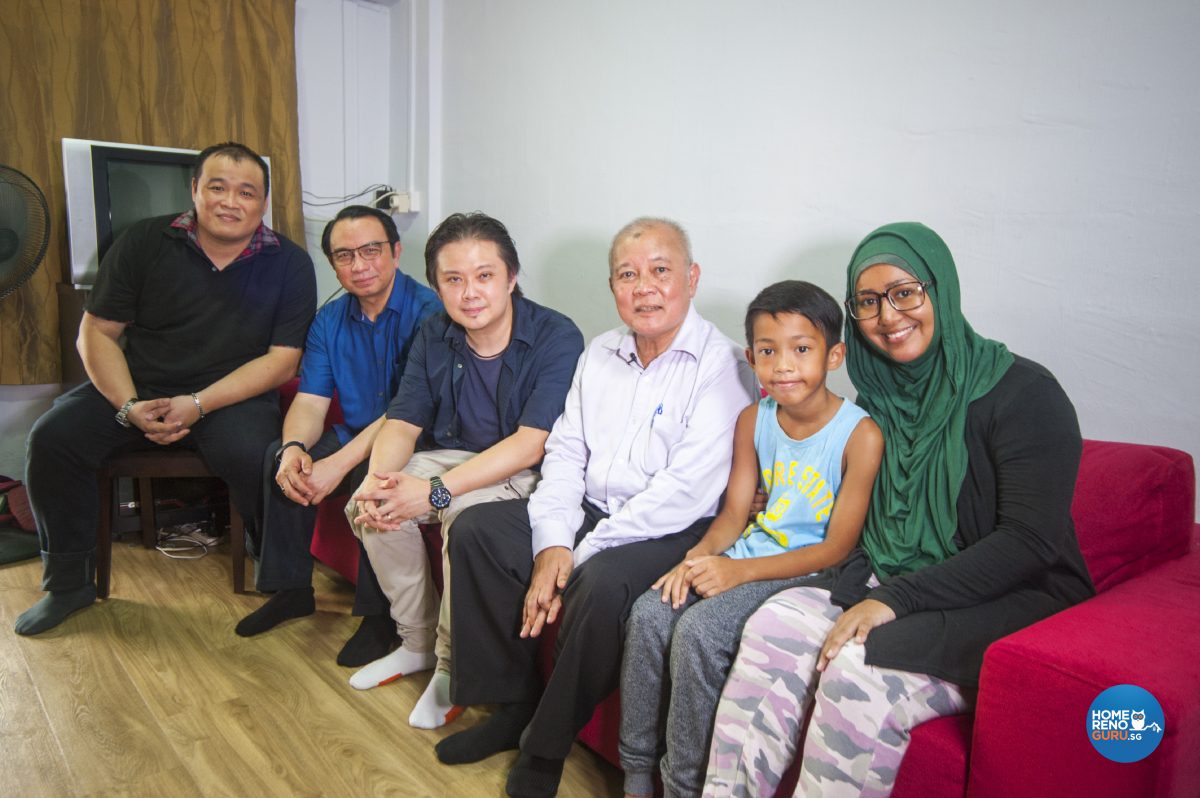 L to R: The Interior Diary partners, Mr Halim of Jamiyah Singapore, happy homeowner Maszlina and and her youngest son
HomeRenoGuru: Hi, Steven. Why did you undertake this charitable project?
Steven: Interior Diary was set up by three partners. All of us were in the design line, so we decided to come together and form this company, Interior Diary Pte Ltd. In this business, we faced a lot of obstacles and challenges, and thanks to good luck and hard work, we managed to overcome all these obstacles. We are very grateful for our good fortune, and so we decided it was time to give back to society.
We approached Jamiyah Singapore, a non-profit organisation, to look into the profiles of the families they served. That's how this project came about.
HomeRenoGuru: Hello, Mr Halim, can you explain the mission of the Community Outreach and Development arm of Jamiyah?
Mr Halim: Jamiyah has been in existence for 45 years, and our job is to reach out to needy Singaporeans of all races, to help them move up in the world.
In 1974, we had a welfare department, and one of the things that we did was to provide food rations every two months for needy Singaporeans. However, we realised that providing food on the table alone is not sufficient. We need to empower such families so that one of these days they'll break out of that poverty cycle, and prepare them and their children for the future.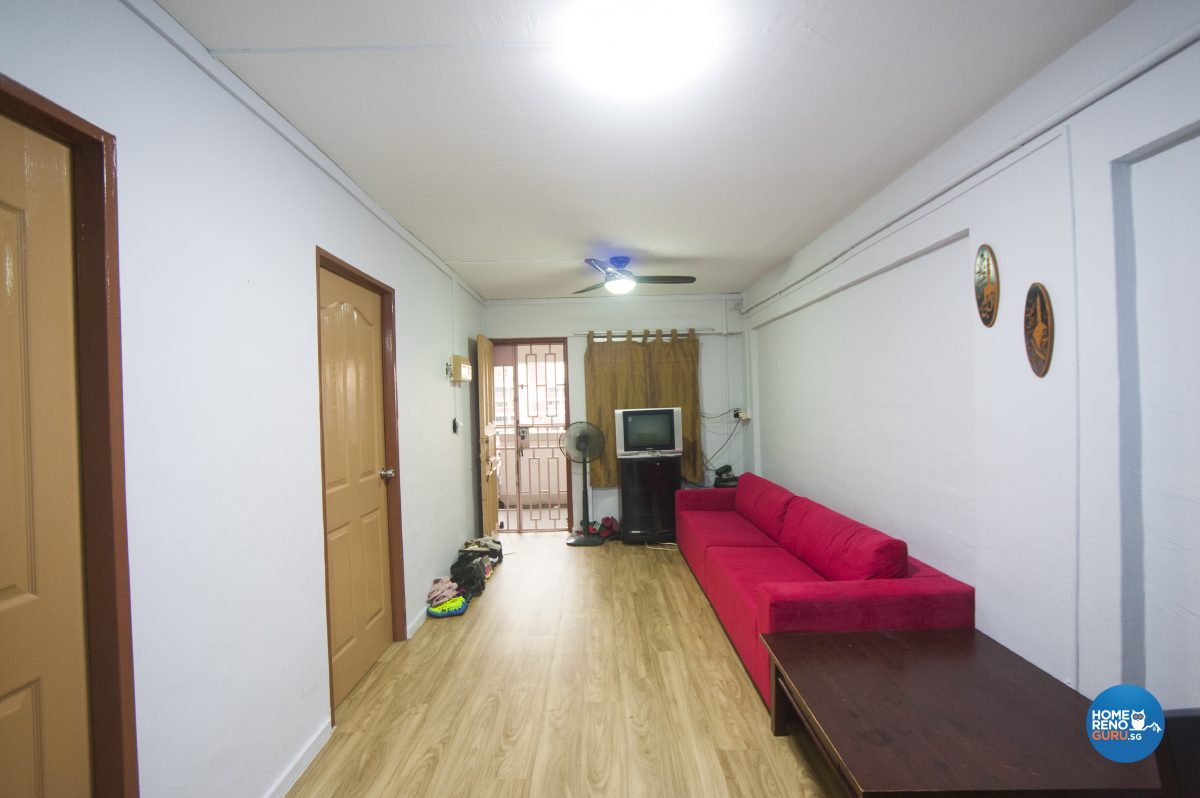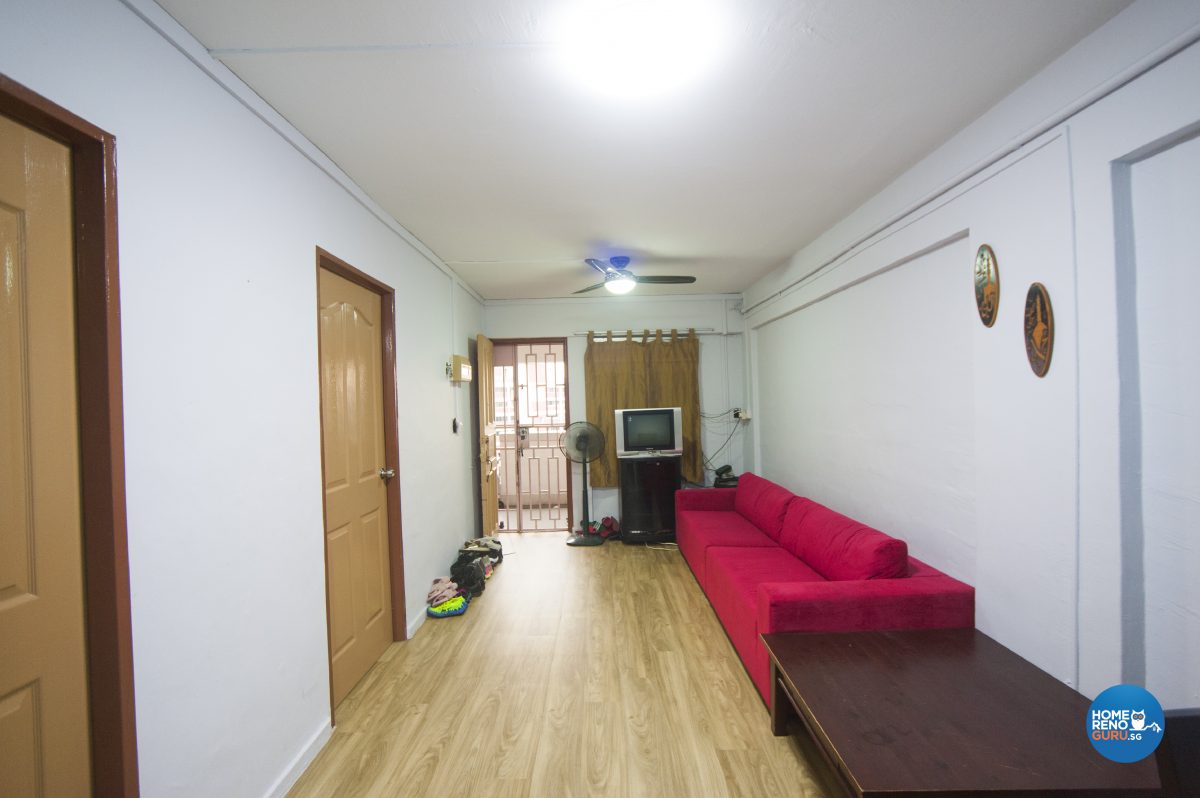 New flooring, new paint, new doors, a new ceiling fan… and a fresh new start for the family!
HomeRenoGuru: What was Jamiyah's role in this project?
Mr Halim: Since one of the things that we wanted to provide is holistic help, that's how Interior Diary came on board. When Steven approached us, we said – why not, we'll discuss. After some discussion, we decided to select a home that needed a total revamp. So what I did was very simple. Amongst our beneficiaries who receive food rations, 60 percent were living in rental flats, so there was no point in renovating rental flats that belong to the Government. Then we decided to pin down our search to three-room flats, after which we further pinned it down to those who are young and staying with their young schooling children.
We soon found this mixed-race family with four school-age children. So this flat happens to be the one, to be the lucky one.
HomeRenoGuru: What was the state of the flat prior to renovation?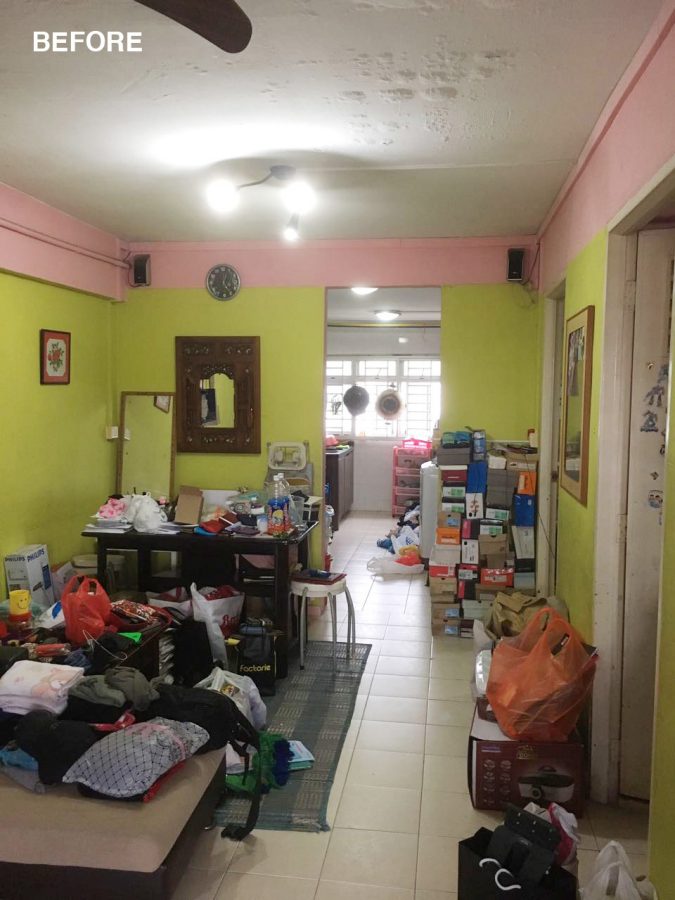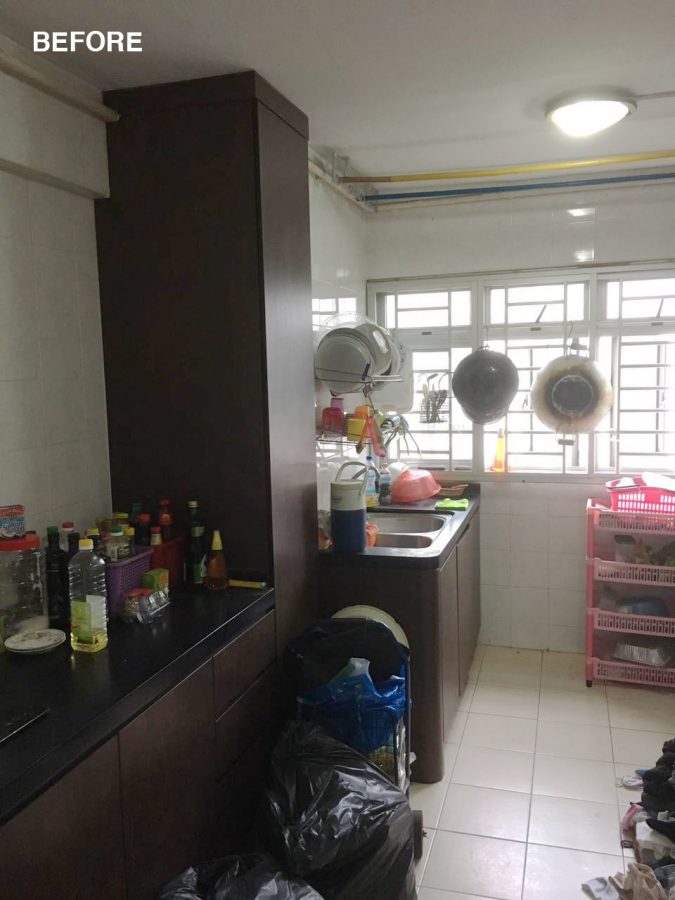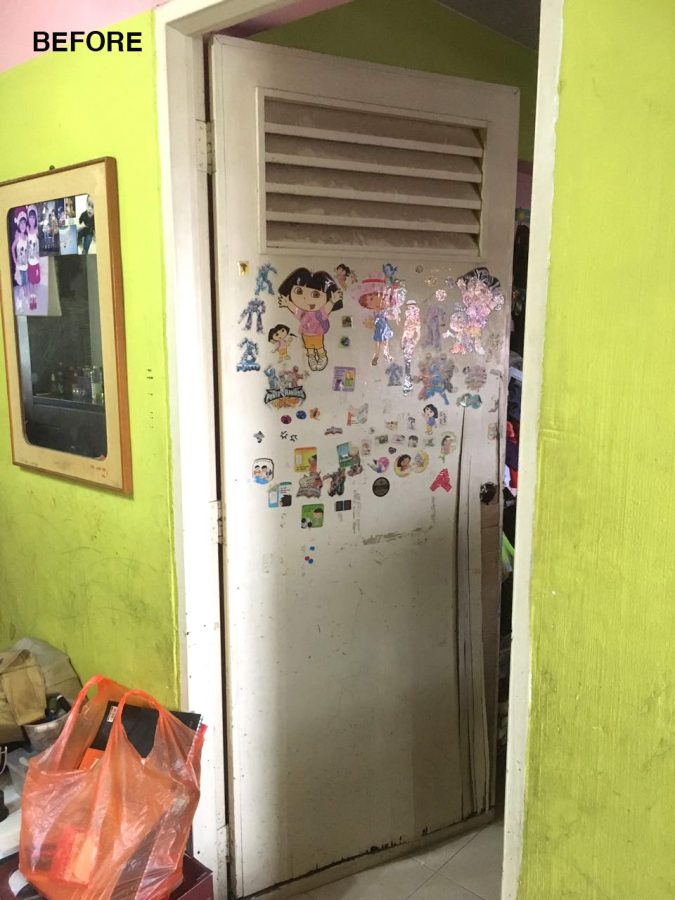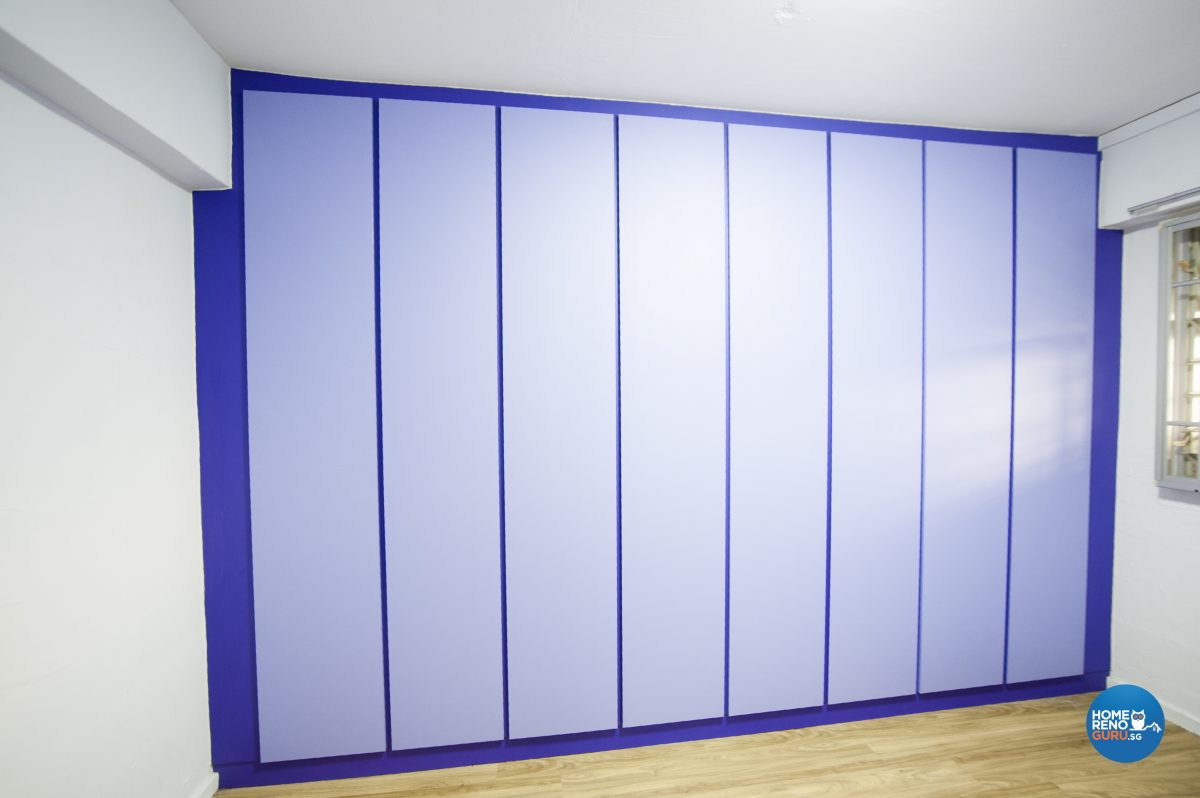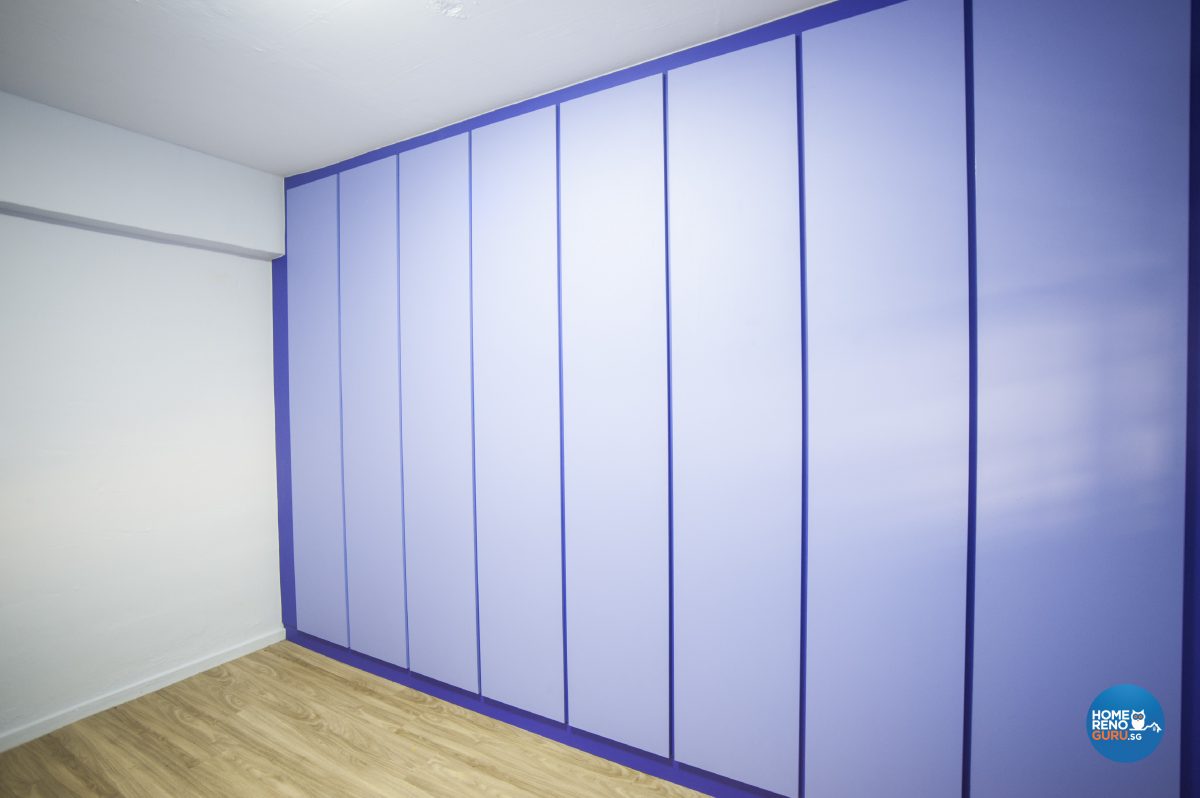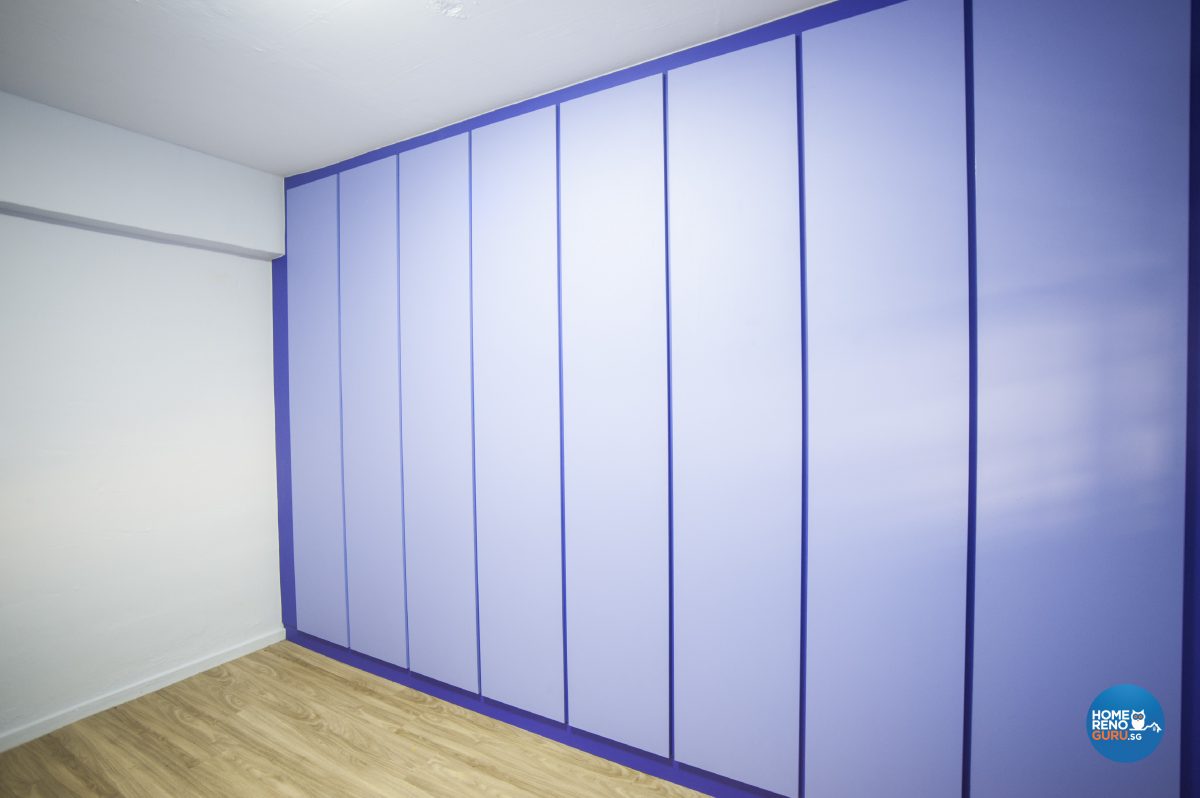 New built-in floor-to-ceiling wardrobes provide ample storage space to keep the children's clothes and possessions out of sight and easy to access
Looking for Interior Designers?
Let HomeRenoGuru help!
Steven: I personally came down to take a look, and the condition of this house was pretty bad. From the flooring to the walls and even to the electrical wiring, everything was faulty – especially the kitchen cabinets, which had all the doors torn off and collapsing. The flooring in the rooms and also the doors from the bedroom side had all given way. So by this chance we talked to Mr Halim from Jamiyah, we decided to stretch out our hand to help this family out.
HomeRenoGuru: What was the scope of the renovation?
Steven: The flooring was a major part of the renovation. We installed vinyl flooring because we noticed that the children like to lie on the floor, and even read and sleep on the floor. Now during the cold weather, it won't feel so cold. The first time when I came here, I noticed the children were all sweating, so we provided them with a ceiling fan. And then when it came to the rooms, we noticed the doors had torn off, so we decided to change the room doors to give the family some privacy. Moving onto the kitchen area, we constructed a new kitchen cabinet for them, with all new hinges. This family has a lot of kids, and kids being kids, they can be a bit rough when they use things. We gave them the best quality products.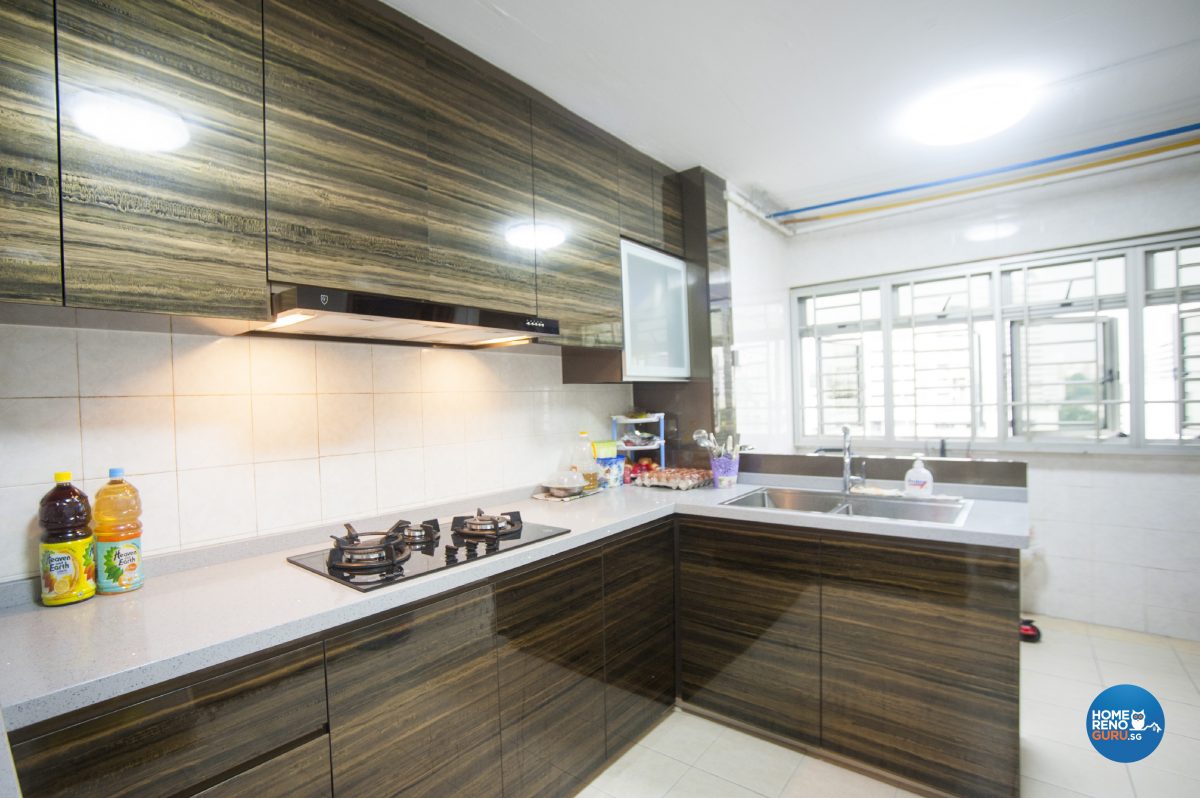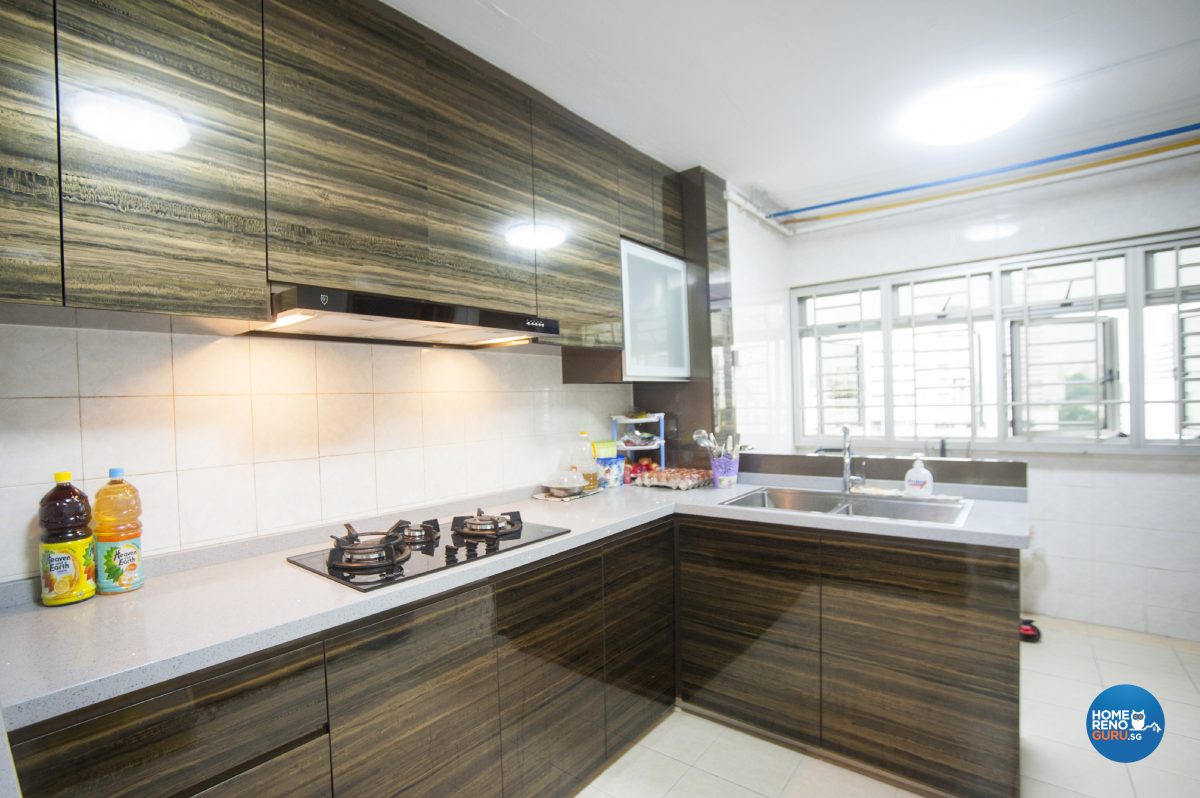 Maszlina's favourite part of her newly renovated home is the kitchen
HomeRenoGuru: Hello, Maszlina. Thank you for having us in your home. Can you share how the renovation has improved life for your family?
Maszlina: (Translated from Malay into English) Before this house was renovated, it was hard to walk around. After the renovation, my children feel more comfortable sleeping and find it easier to study. Thank God, after this renovation, the life of my family feels more complete. Before this my life was much harder, and I could not do a lot of things at home. I am thankful to the interior designers for helping my family. My favourite part of the renovation is the flooring and the kitchen. The kitchen is now very comfortable and cooking is so much more hassle-free.
HomeRenoGuru: How satisfied are you with the renovation, professionally and personally?
Steven: It may have been a humble renovation, but when we see the owners with big smiles on their faces, the job satisfaction was huge.
HomeRenoGuru: Mr Halim, how do you foresee that the family will benefit from the renovation?
Mr Halim: Children need an environment that's conducive to study. If you don't have a very good physical environment, and are living in a very cramped place, the children cannot study in comfort. This renovation has provided them with a conducive physical environment.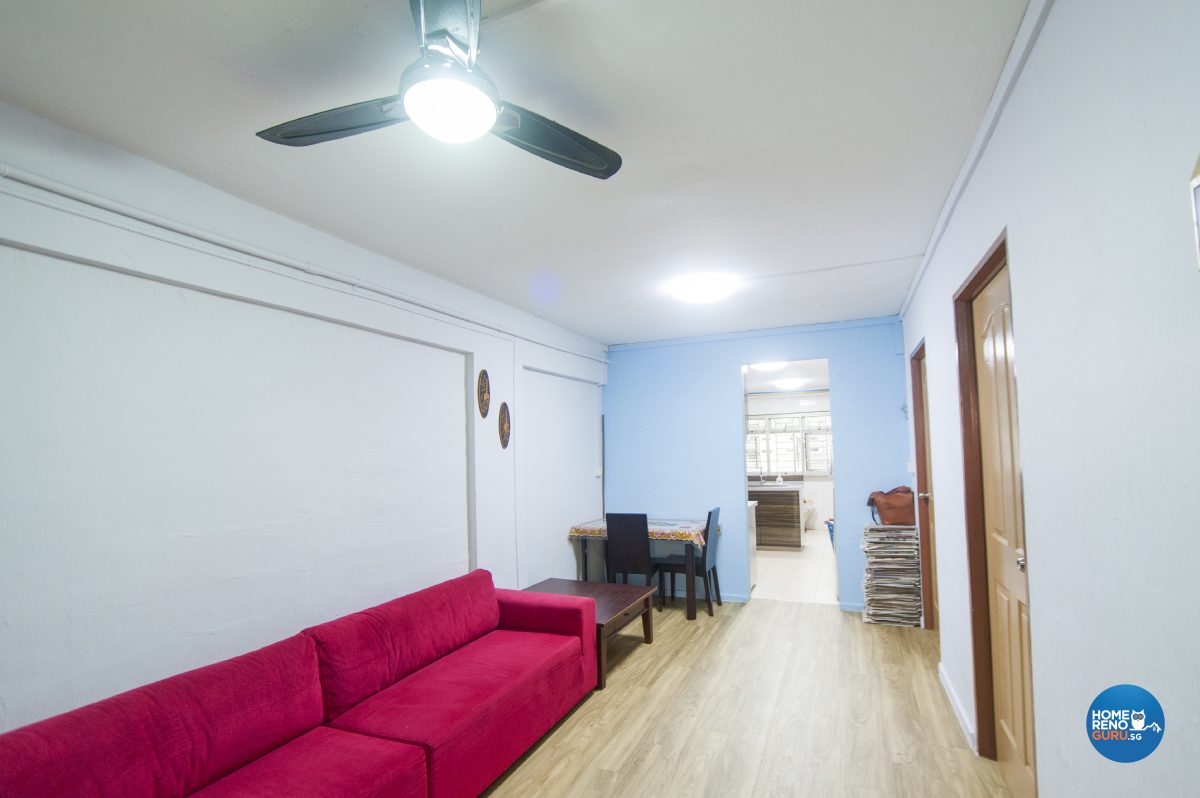 The dining room table at the end of the living area doubles as a study desk for the school-going children
The next step is – how does Jamiyah come in to help these families to move out of this cycle? Rescaling, retraining, making sure the four schooling children do well in school so that once they do well they get a better paying job that can help the family move out of the poverty cycle. Then, instead of getting help, they will become contributors by helping others to move up.
HomeRenoGuru: How was the experience of working with Jamiyah and its client?
Steven: It is our privilege and our honour to work with Jamiyah, to provide our customers with a better home and a better place to stay in. Thank you.
Mr Halim and Maszlina: Thank you, Interior Diary.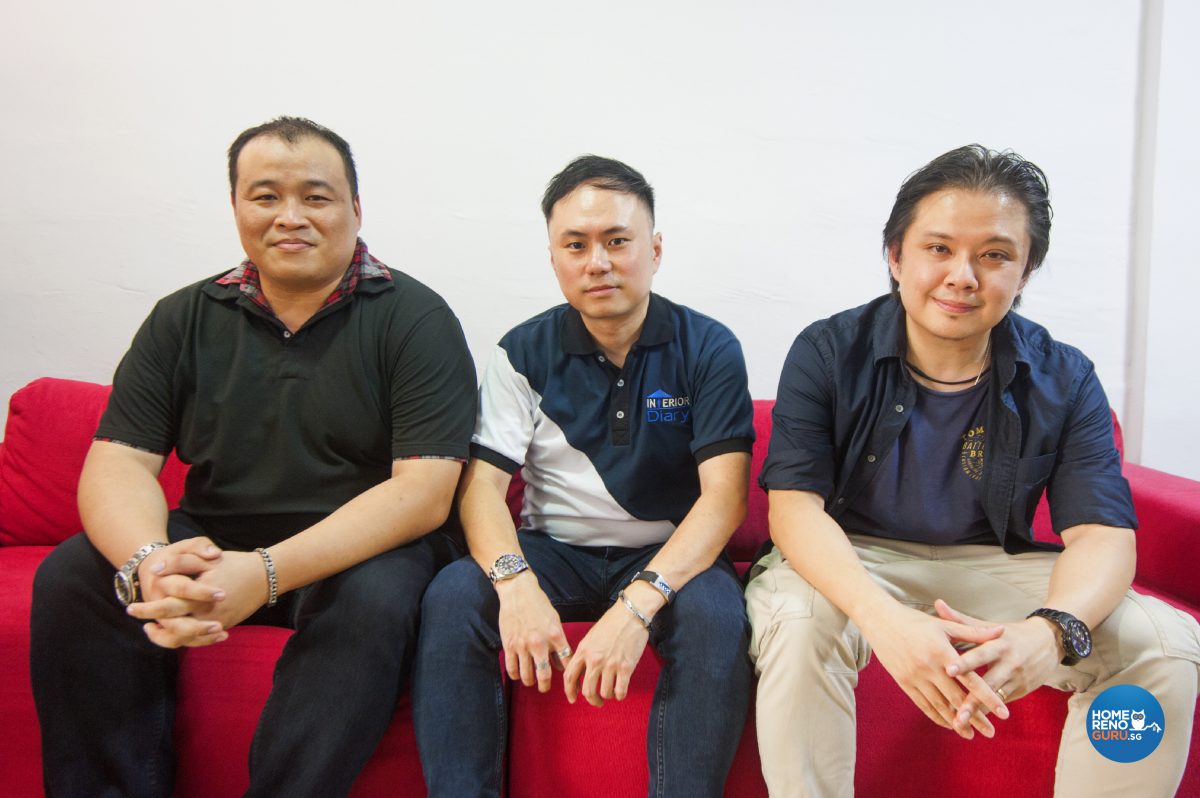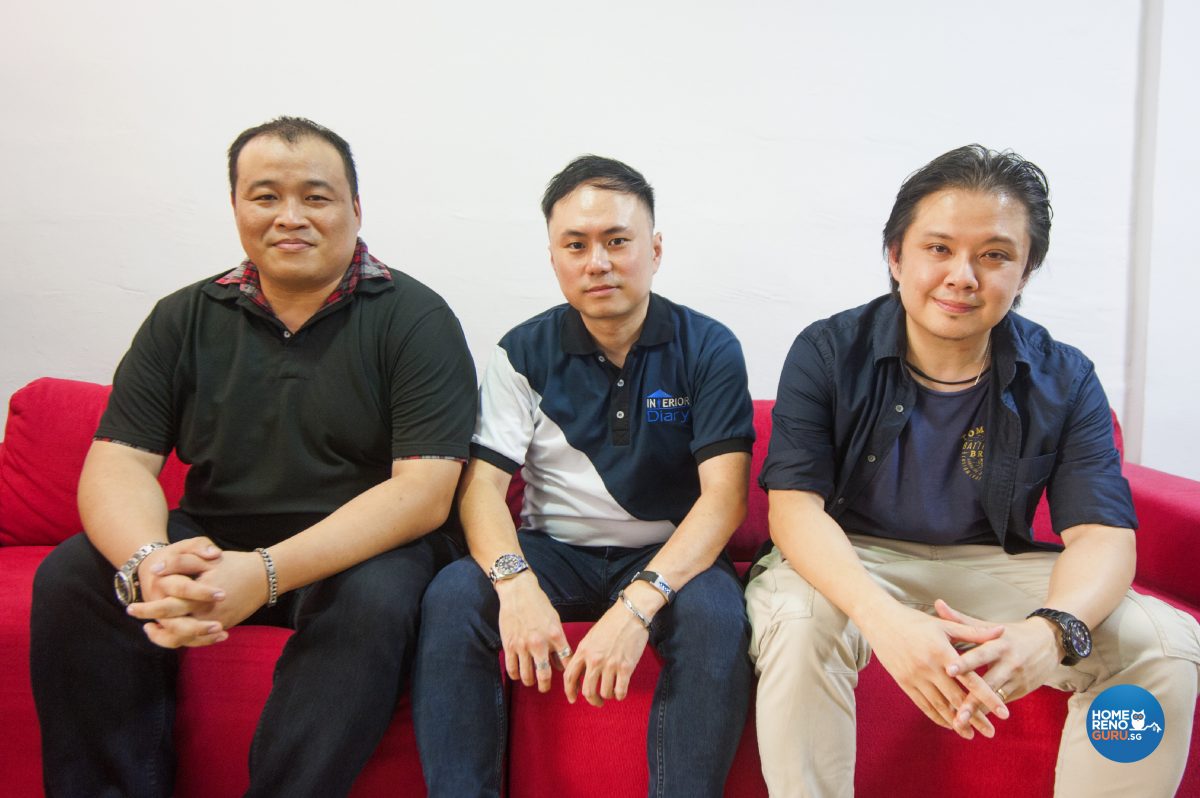 The three grateful founders of Interior Diary are happy to have had a chance to give back to society