Dream Home: A Hassle-free Renovation
Jen and Kenny were repeat customers of G'Plan Design, possibly the ultimate compliment anyone can pay an interior design firm. Their wish-list included lots of storage space and a simple, uncluttered layout. They ended up with a house that is truly their 'home' in the true sense of the word.
Project Snapshot
Name(s) of Homeowner(s): Kenny Ang and Jen Tang
House Type: 3-bedroom Private Condominium Apartment
Size of Home: 1260 sq m
Cost of Renovation: $29,000
Duration of Renovation: 1 month
Interior Design Firm: G'Plan Design Pte Ltd
Name(s) of Designer(s): Kenny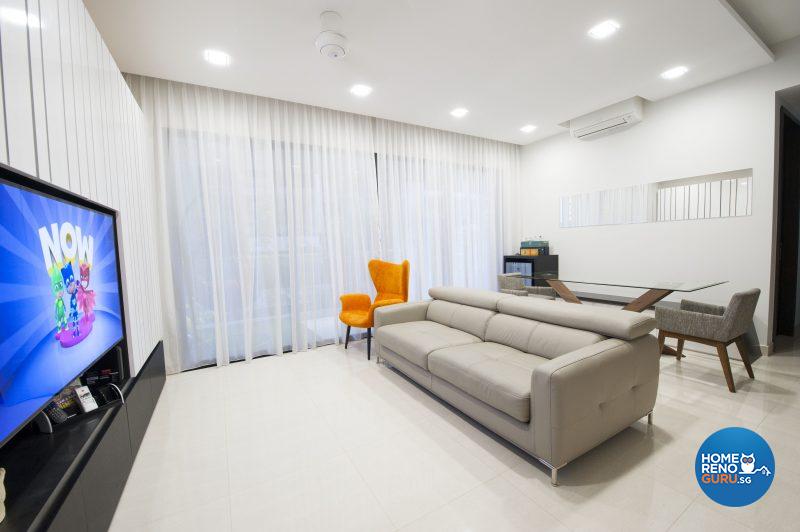 The spacious, simple living area is the family's favourite hangout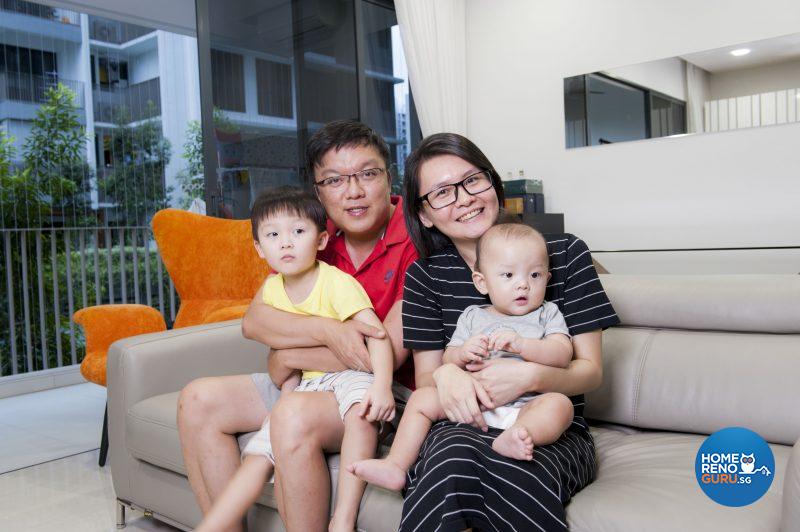 Kenny and Jen with sons Kyle and Kaizer
HomeRenoGuru: How and why did you choose G'Plan Design to renovate your home?
Jen: The reason why we chose G'Plan was because it was a word-of-mouth referral. This is the second time that we are using their services, so we are actually returning customers.
HomeRenoGuru: What was your design brief to Kenny?
Jen: When we briefed our designer Kenny, who coincidentally shares the same name as my husband, we told him that we wanted something simple. We already had something in mind that we wanted, especially for the children's room.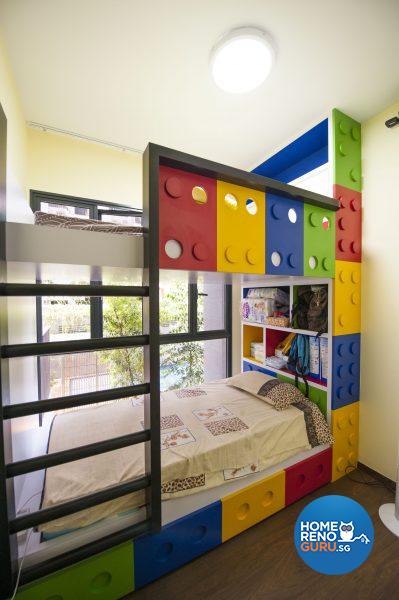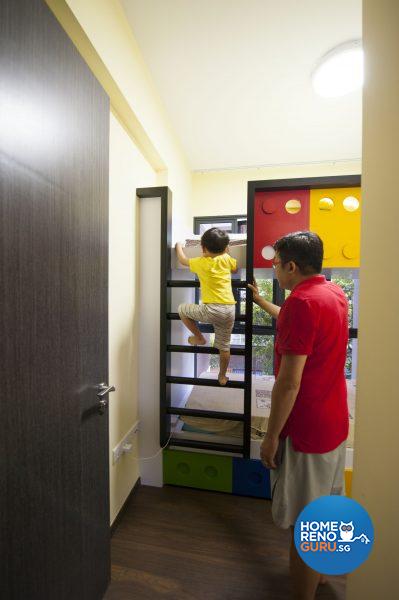 The boys' Lego-inspired room with built-in bunk beds
HomeRenoGuru: How was the actual renovation process?
Jen: When it came to the renovation, we found that the process was actually very hassle-free. So Kenny would arrange and coordinate with all the sub-contractors. They'd do their own checks, and some final checks with him. That's why we liked his services and this is the second time that we are using him.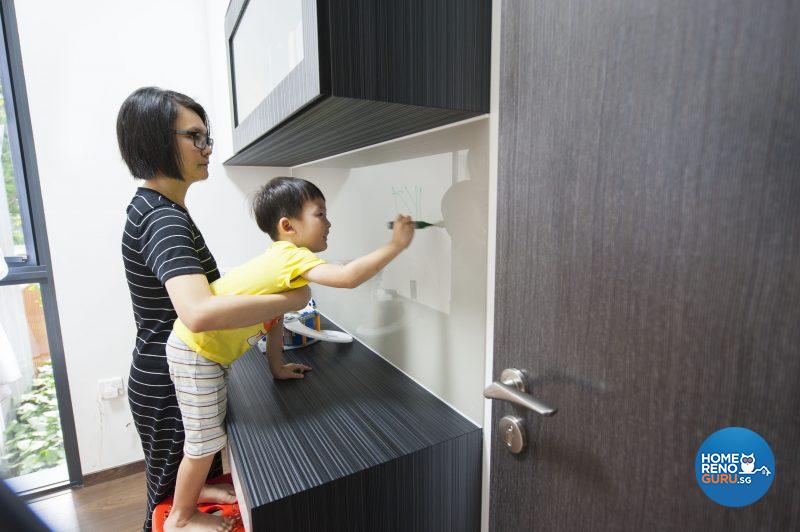 The second bedroom has a whiteboard where mum Jen helps the children learn to write
Looking for an estimate of your renovation costs?
Let HomeRenoGuru help!
HomeRenoGuru: What do you appreciate most about your renovated home?
Jen: I particularly like the children's room, which is actually a bunk bed Lego room. We explored that idea because my eldest son Kyle likes Lego a lot, and we think that it's a great theme for both boys. And the study room is actually a study cum playroom and there is actually a whiteboard whereby the children can learn while we are actually teaching – they can actually write on the board.

The platform storage bed keeps the clutter literally under the bed
The master bedroom has a platform storage bed, so that actually optimises a lot of space for us to store a lot of things, especially the children's items. We think it's a great way of having storage in a small house.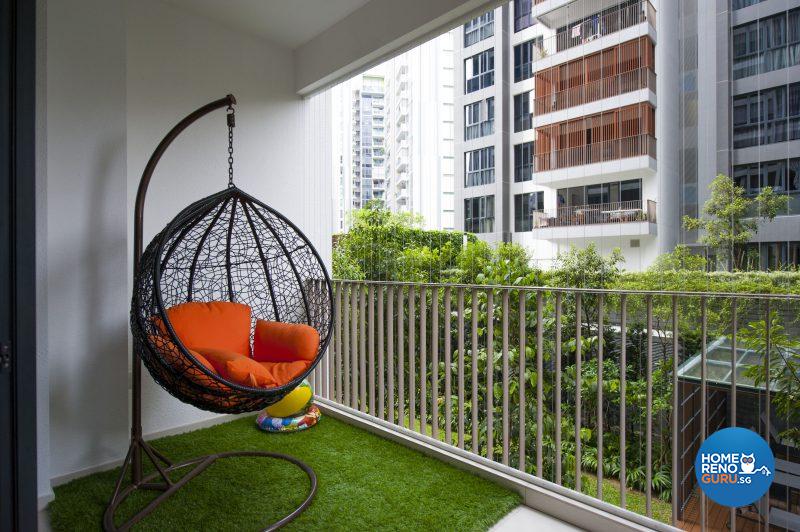 A favourite spot for chilling – the swing chair on the balcony
There is actually a comfortable corner at the balcony where there is a swing chair. So any one of us, when we are tired after a day's work, will often rest on the swing chair with the fan on.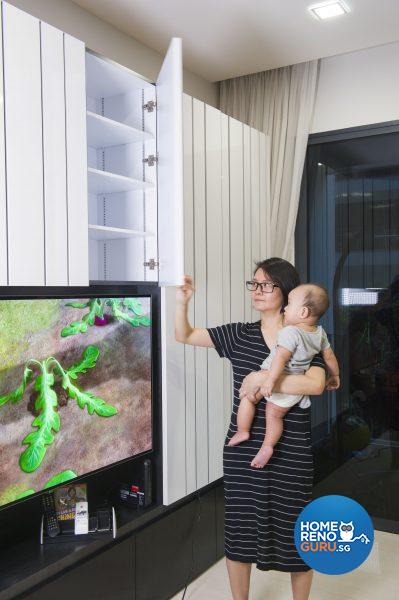 The TV console encloses more concealed storage space
Last but not least is our living area. The TV console comes with a storage compartment where, again, we can store a lot of things. And the living area is quite big and airy, so it is where most of us will spend most of our time here.
HomeRenoGuru: Do you have any advice that you think would be of help to homeowners looking for an interior design firm?
Jen: The piece of advice that I would like to share with homeowners is when you are choosing your ID, you have to be particular with the workmanship and the after-sales services that he is providing.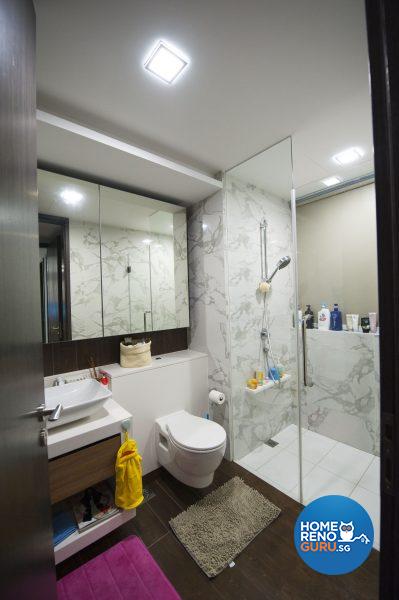 The luxurious fully tiled bathroom is illuminated with down lights
HomeRenoGuru: Would you happily recommend G'Plan and Kenny to other homeowners out there?
Jen: I wholeheartedly recommend G'Plan, and Kenny. Thank you for making my home 'my home'