Dream Home: Happiness is a Homely Home
When Joe, his wife and daughter wanted more personal space, they turned to NID Interior and converted four bedrooms into two. They love the homely atmosphere of their home, which underwent an extensive renovation to create more space for cooking, entertaining, relaxing and even storing shoes.
Project Snapshot
Name(s) of Homeowner(s): Joe Ng
House Type: 4-bedroom Private Condominium (converted to 2-bedroom)
Size of Home: 1,900 sq/ft
Cost of Renovation: $110,000
Duration of Renovation: 2 months
Interior Design Firm: NID Interior
Name(s) of Designer(s): Sam Tan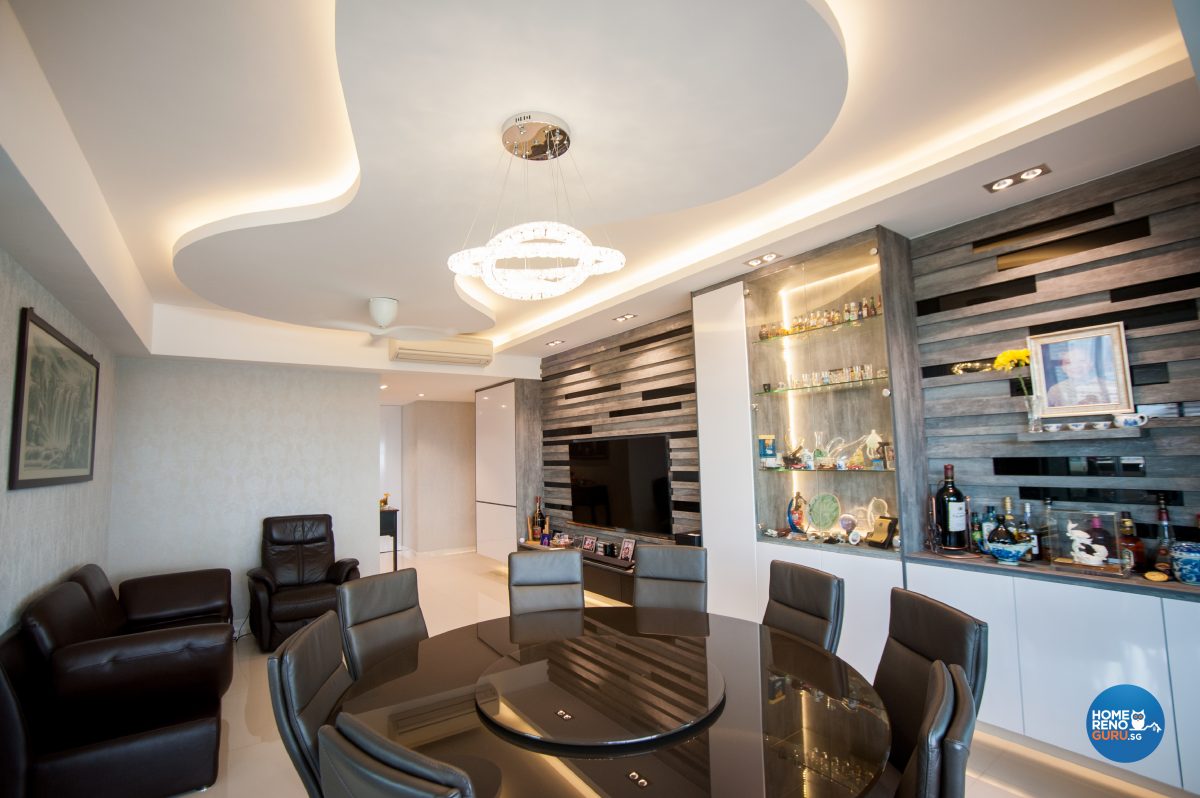 A neutral colour scheme, accented by dark furniture and warm layered lighting effects, creates a look of timeless elegance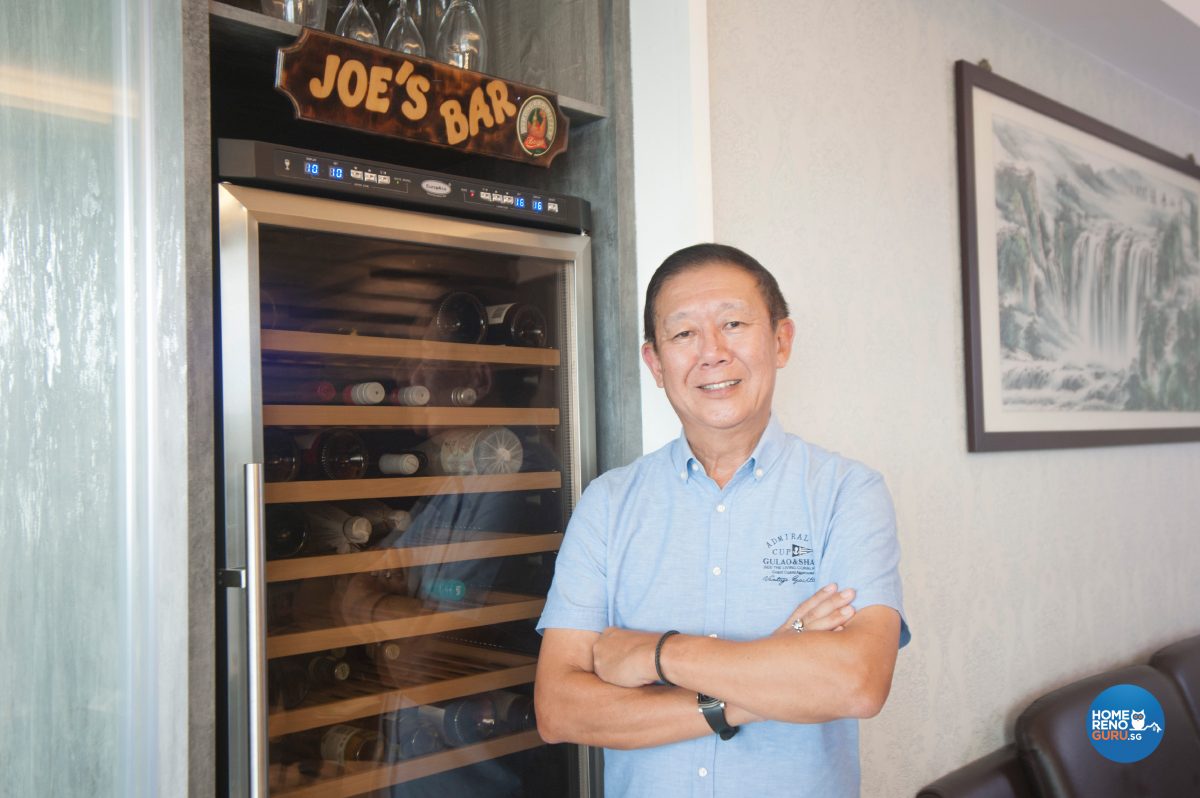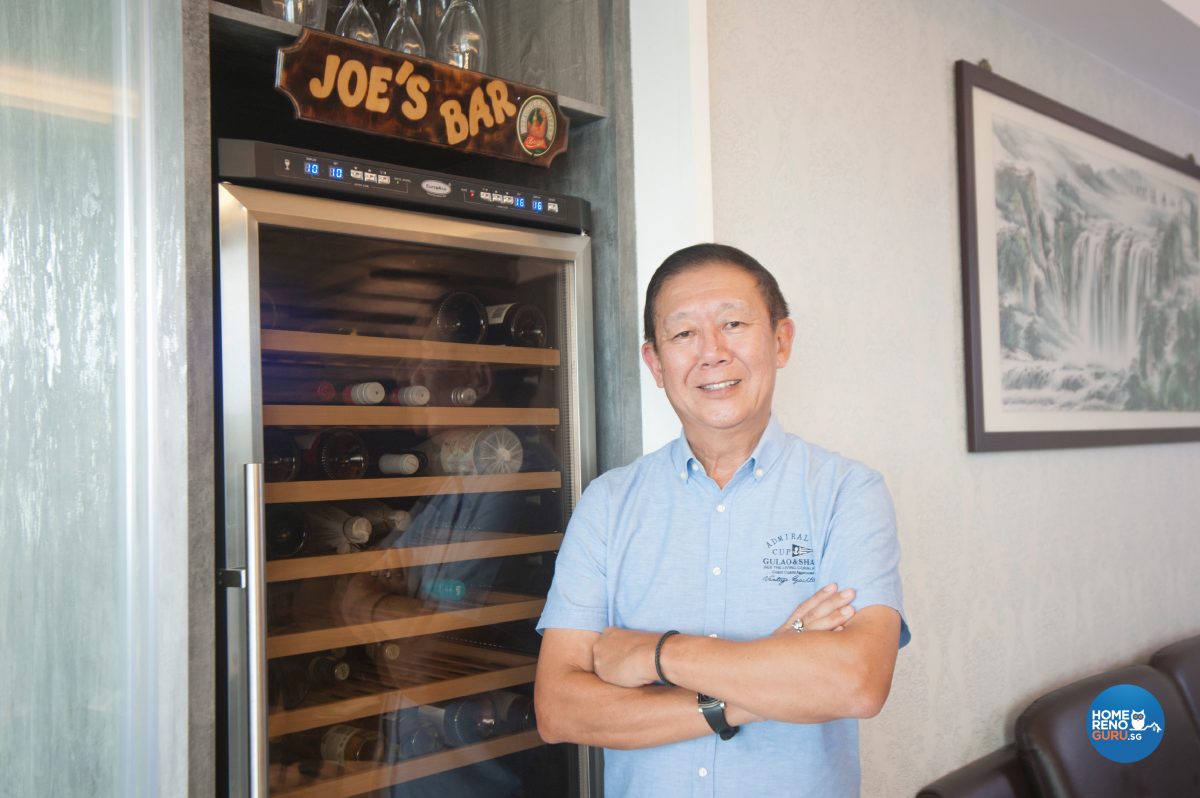 Happy homeowner Joe and his extensive wine collection
HomeRenoGuru: How and why did you come to engage NID Interior to renovate your home?
Joe: NID Design was actually recommended to us by my daughter's friend, though originally we had three companies to quote just to safeguard ourselves. Sam from NID Interior actually did a good job and his pricing was surprisingly pretty reasonable.

HomeRenoGuru: What was your brief to Sam?
Joe: We discussed with Sam because basically we already had a simple plan on the design. Originally, there were four bedrooms and we needed a bigger space for ourselves, so we decided to tear down two bedrooms. We also told Sam that we wanted to emphasise a homely atmosphere and avoid flashy colours.
HomeRenoGuru: What are the highlights of the renovation, in your opinion?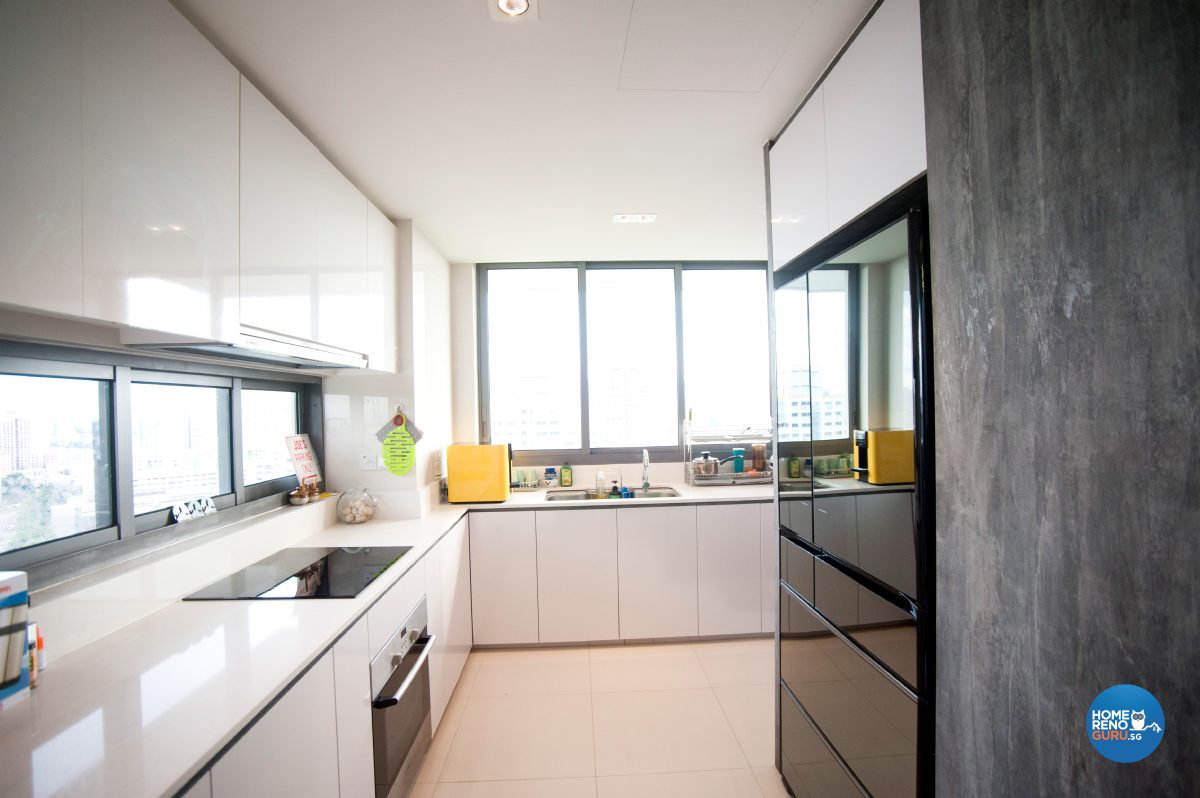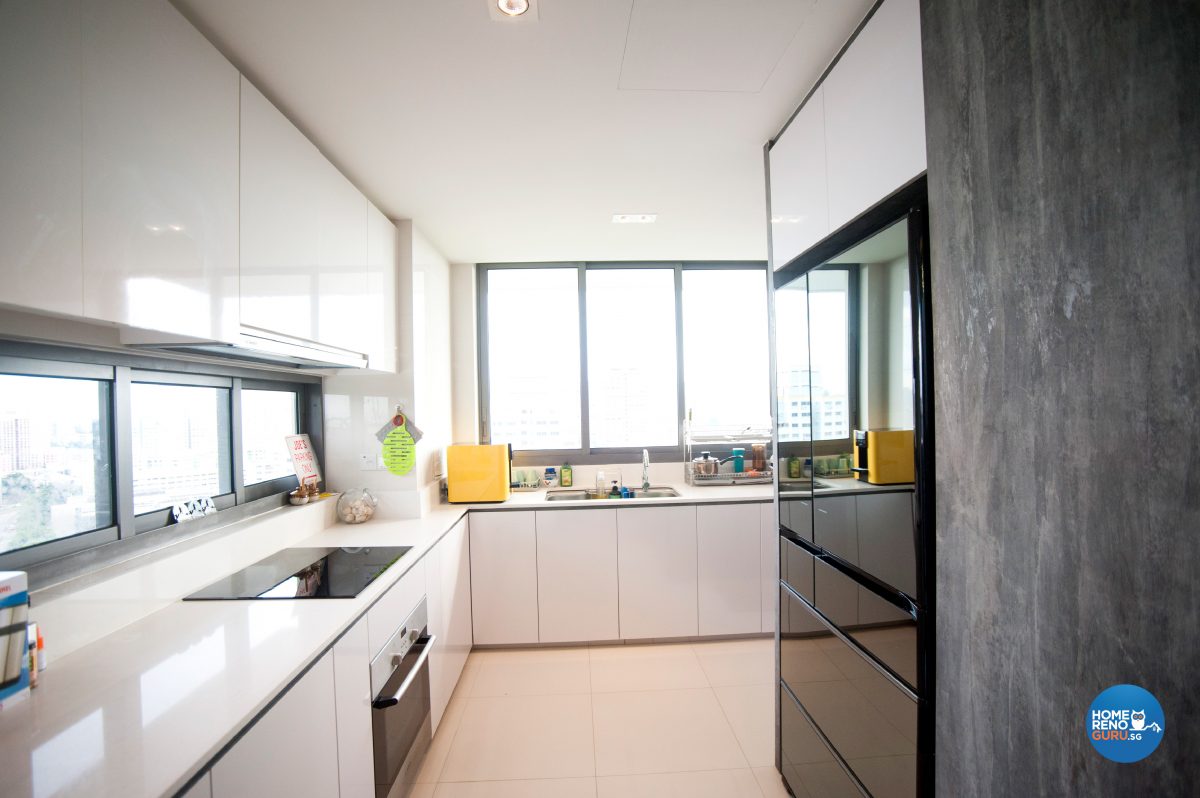 The kitchen was enlarged to accommodate the ladies of the house
Joe: The kitchen was created because the ladies needed more space. On and off I do entertain relatives and guests, which is why we have a big wine fridge and a big storage place for the liquors and my golfing equipment.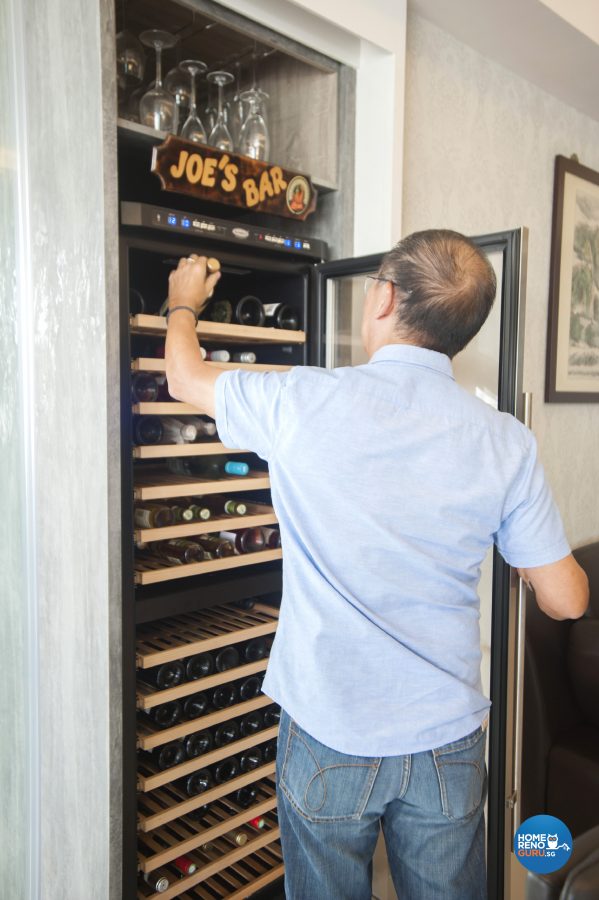 A recessed space was built to order for Joe's wine fridge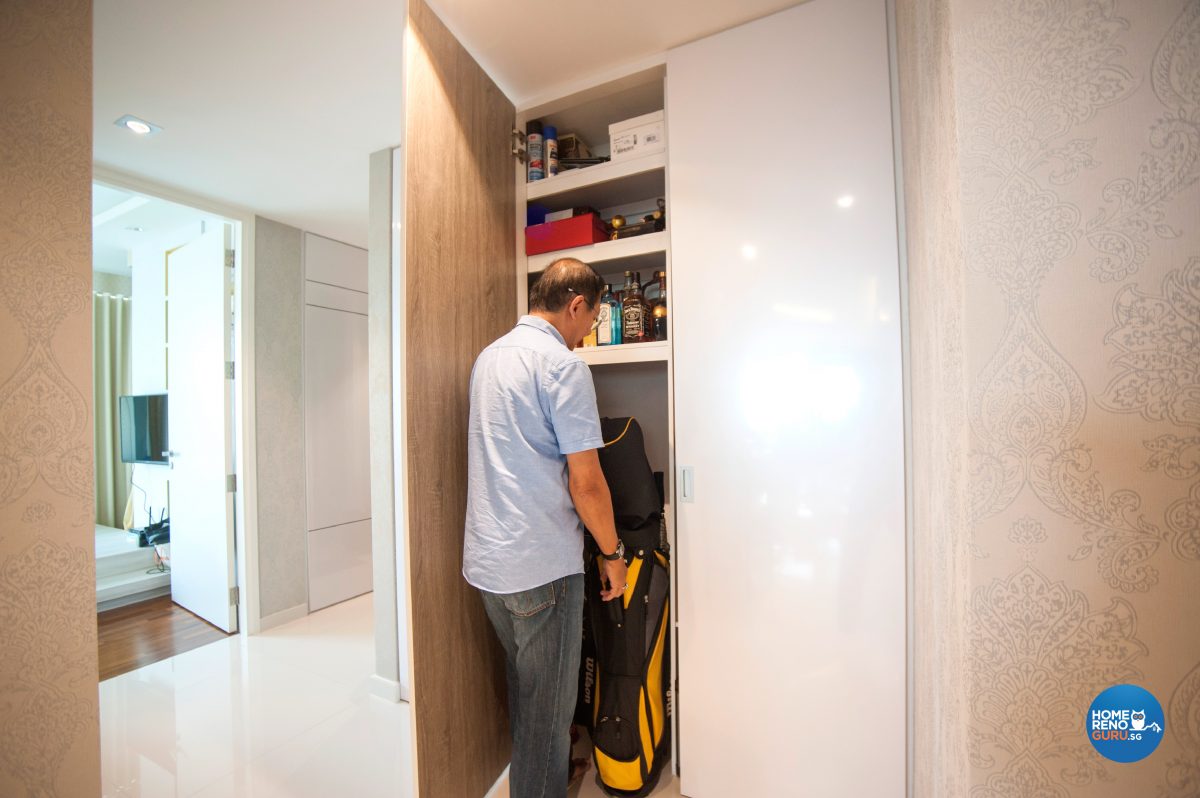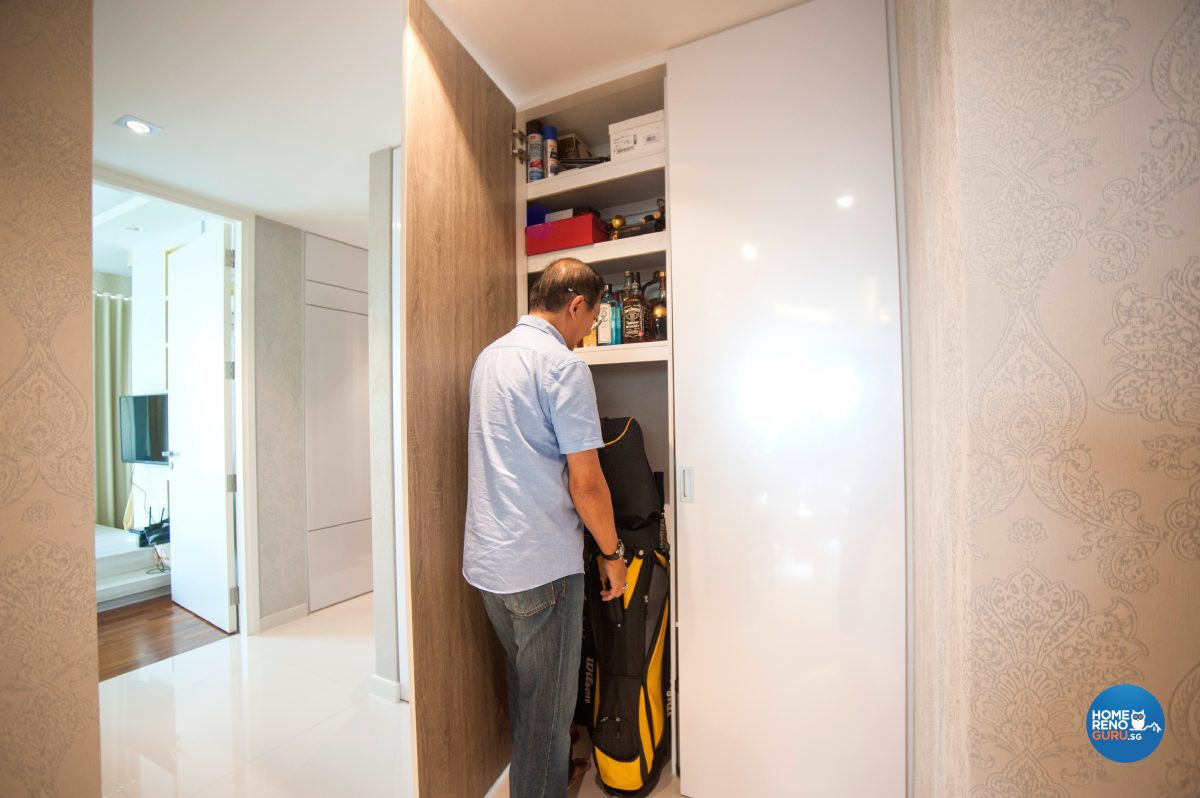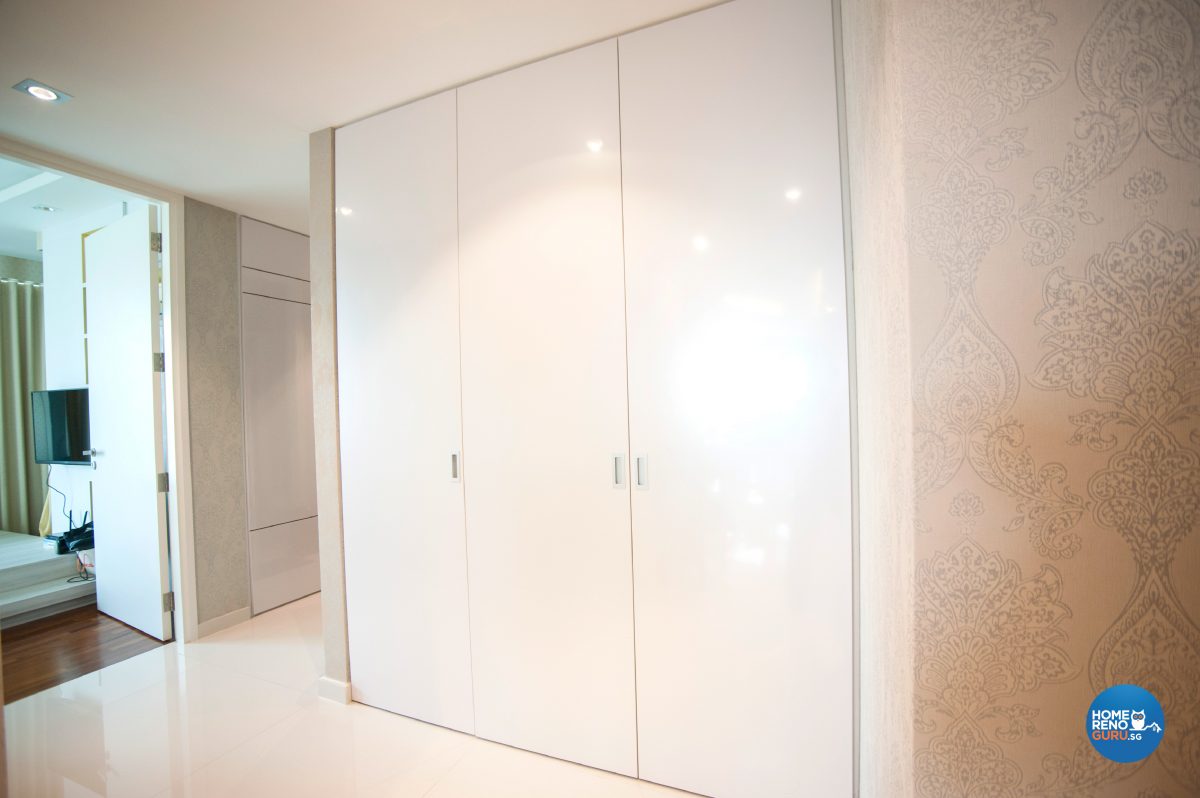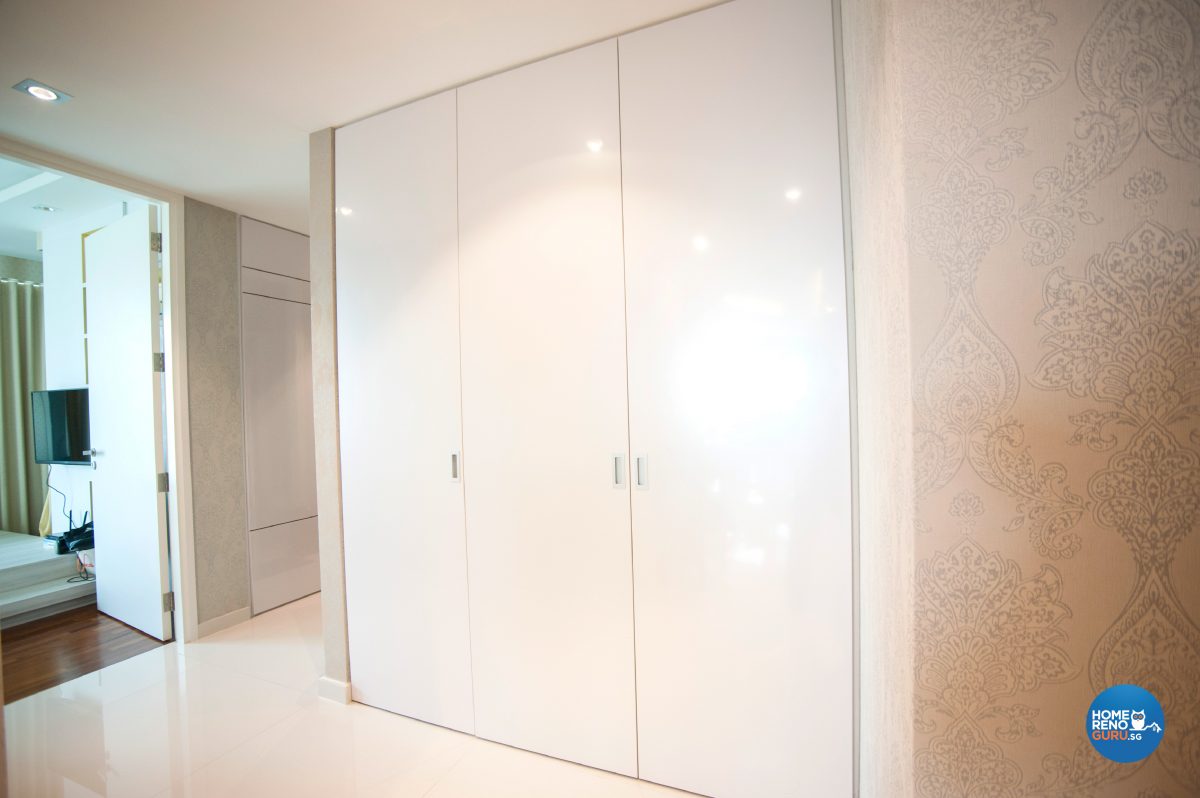 Golfing equipment and liquor has its own customised storage space, easily accessed and neatly concealed
And, you know, ladies being ladies, they have plenty of shoes, so Sam recommended improvements to the shoe cabinet and that made my daughter and wife happy.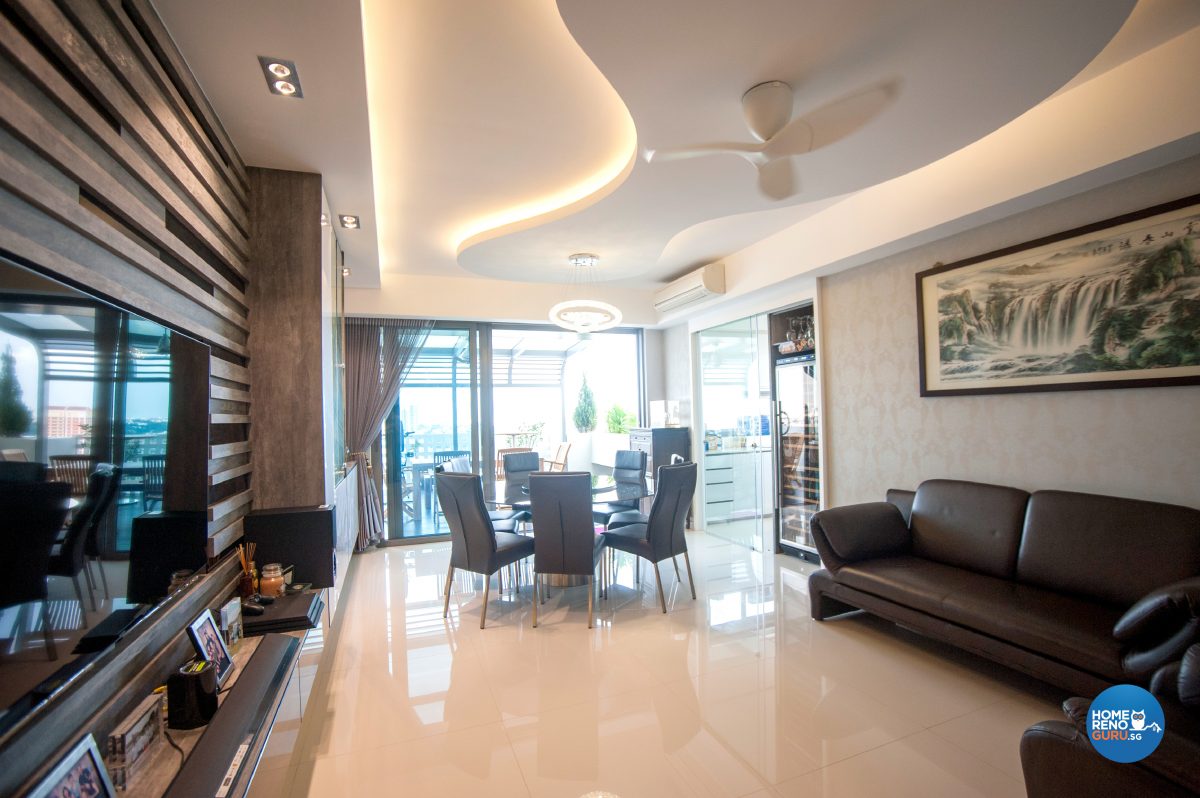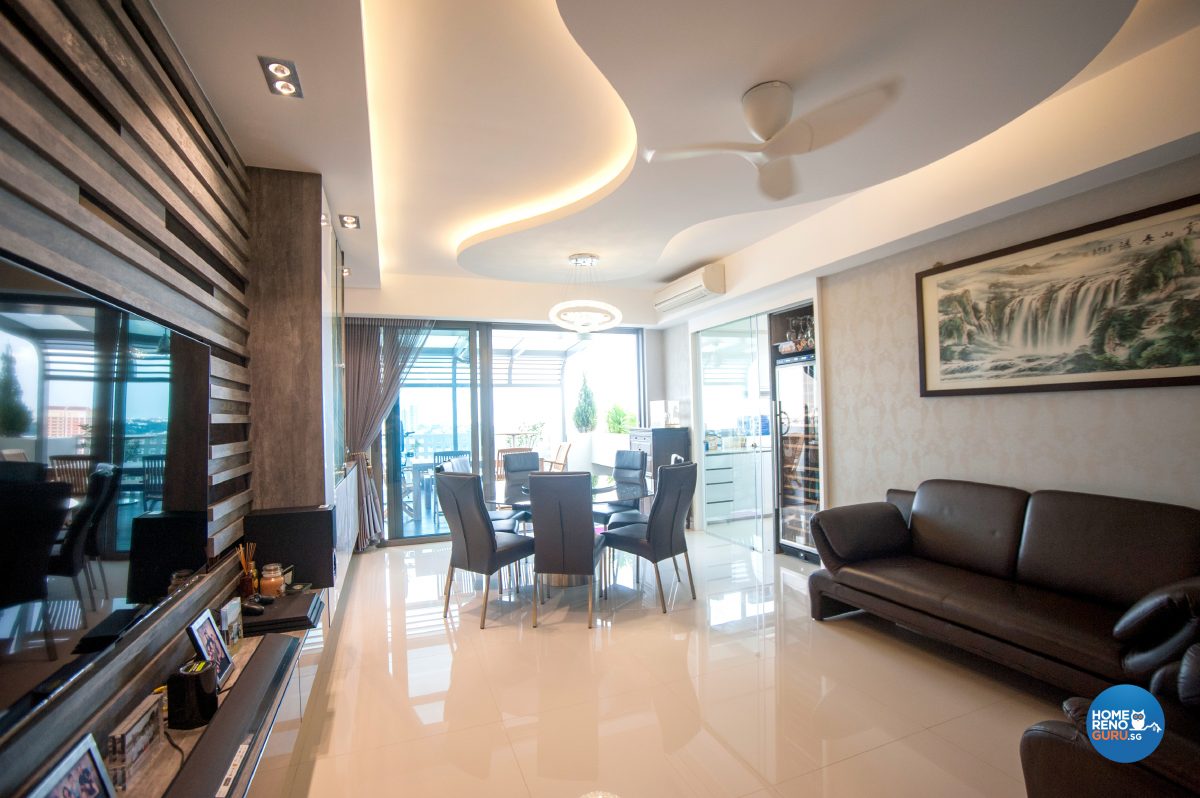 An eye-catching curved ceiling feature breaks down the linear, rectangular space of the living and dining area
My favourite part of the house is obviously this sofa that I'm sitting on because I get to watch lots of movies. I also like my balcony area where family and friends can get together.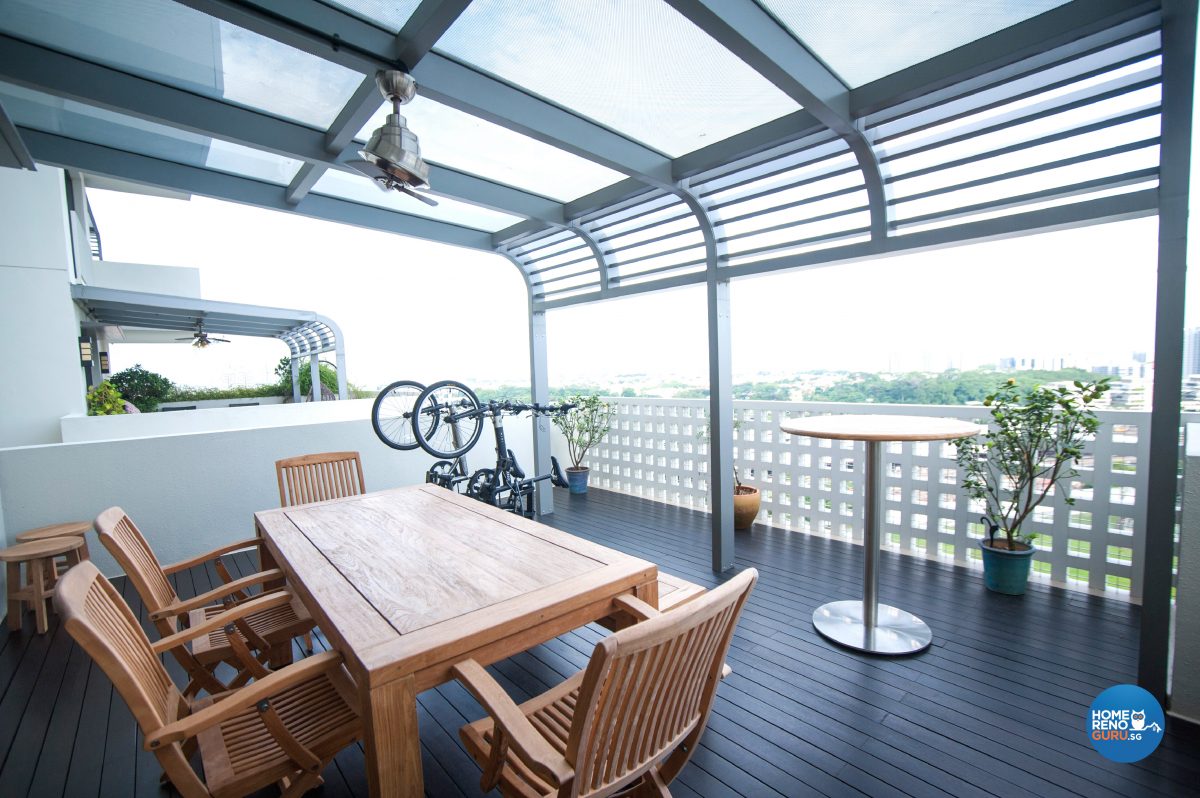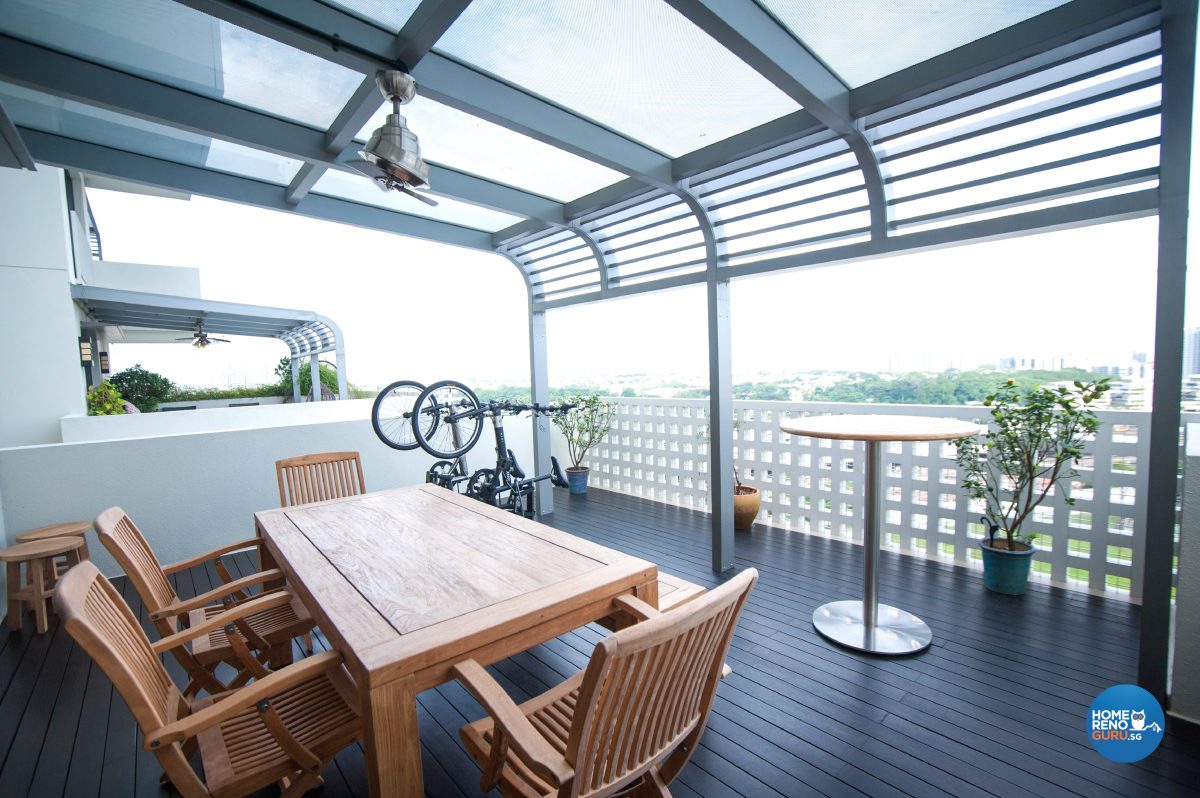 The semi-enclosed balcony area is ideal for outdoor entertaining and casual family gatherings
Obviously my wife is very happy with her walk-in wardrobe where she can display all her necessities. She also likes her bed, which she can lie on to watch TV. We actually tore down a bedroom to create the walk-in wardrobe, which is linked to the master bedroom.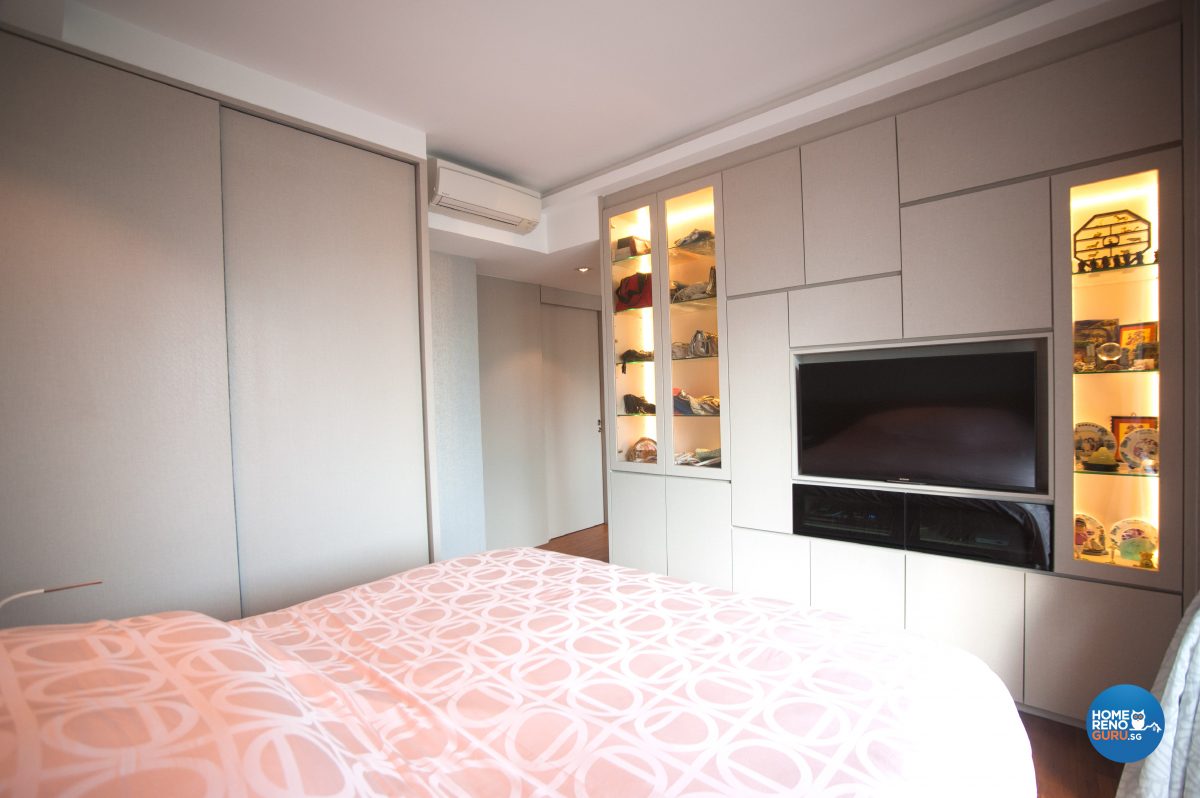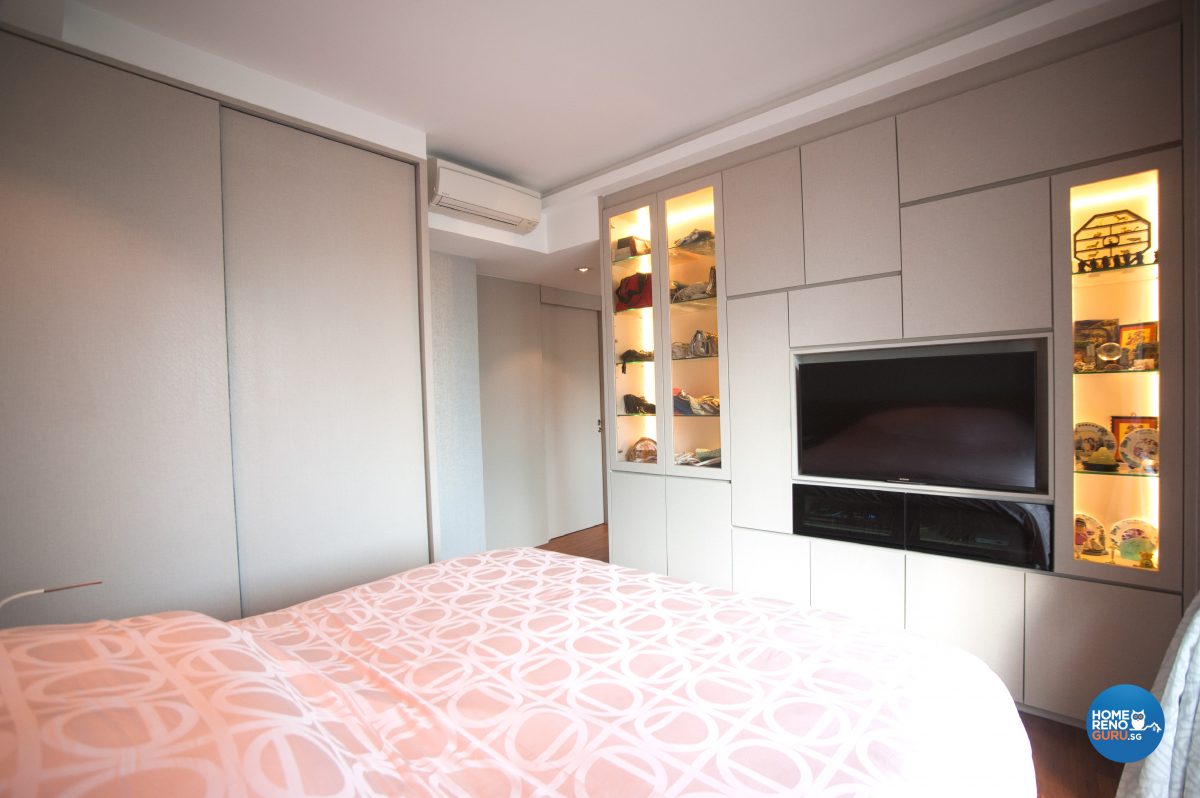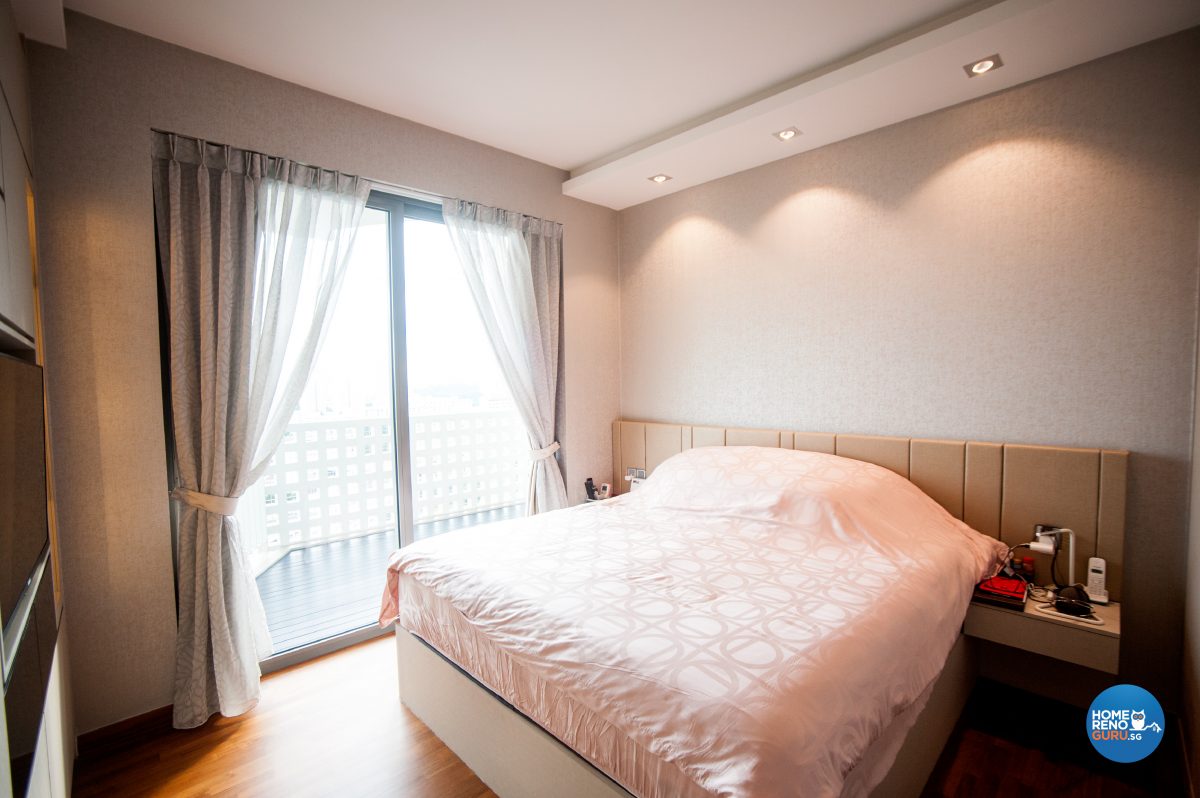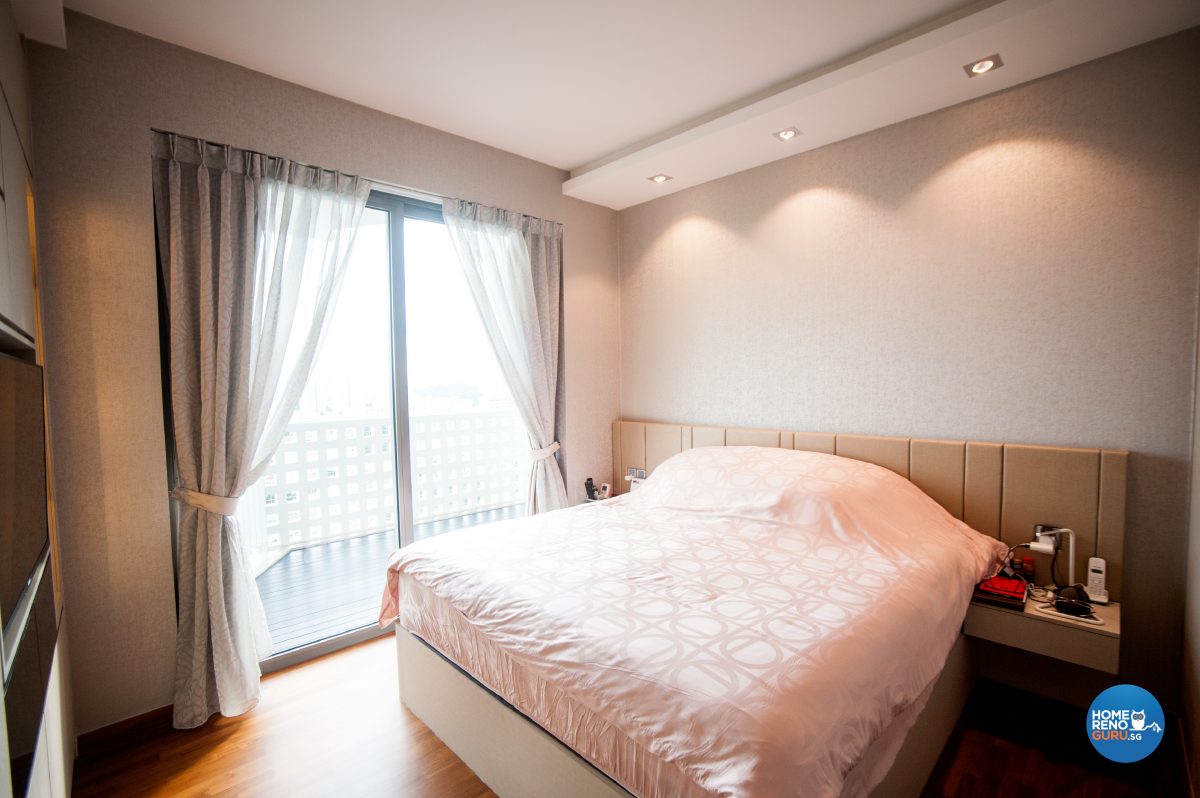 The master bedroom features illuminated shelving and soft recessed lighting, creating focal points out of nothing but light!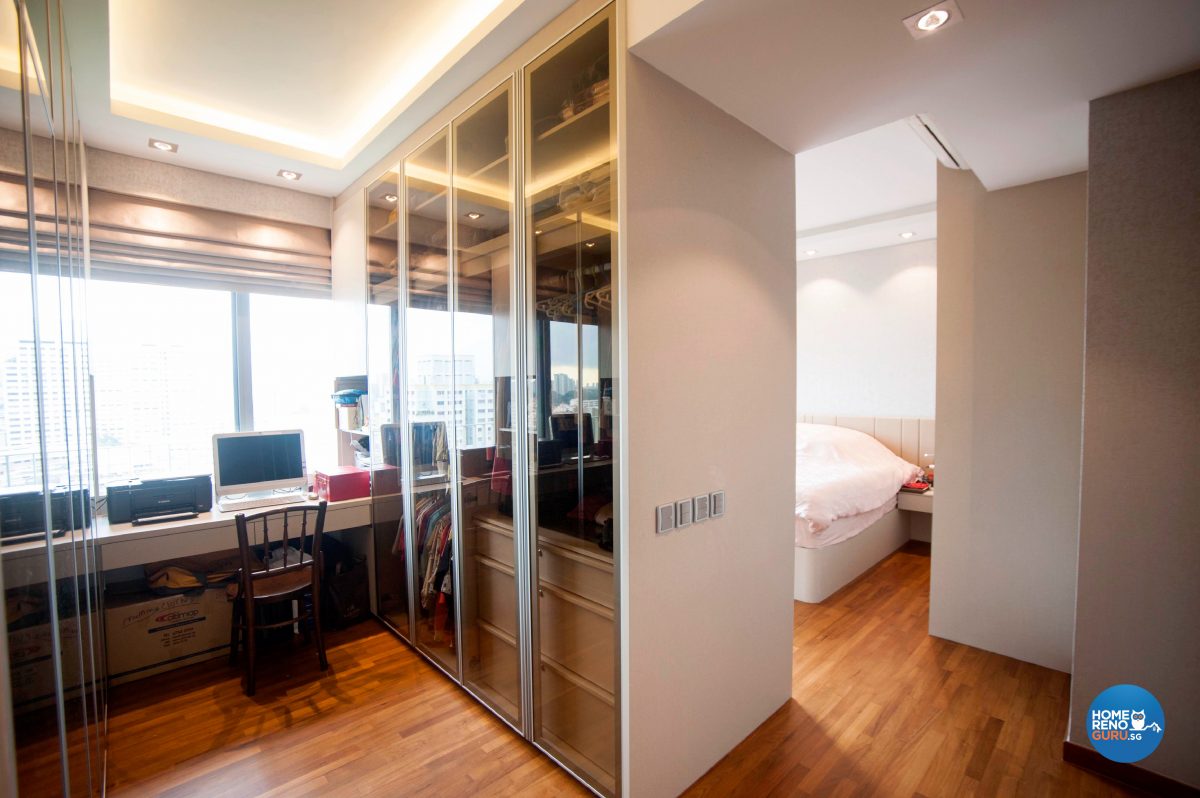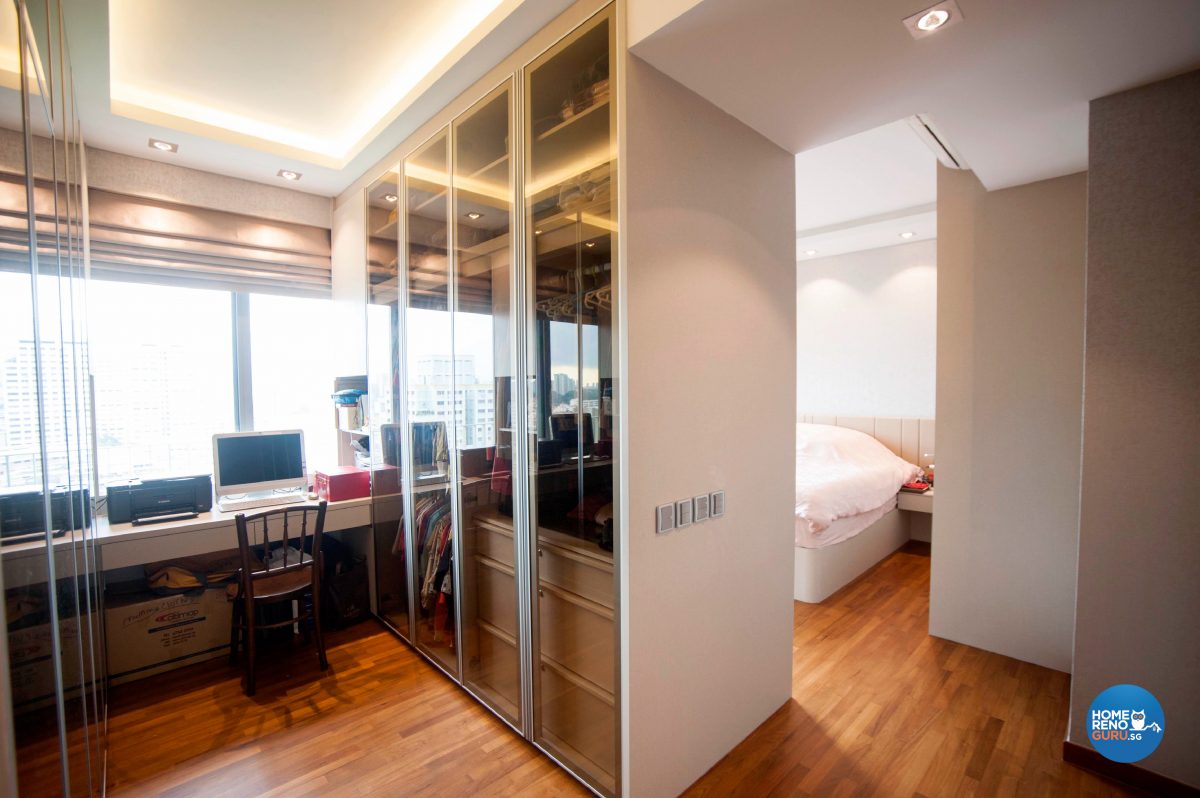 A spacious, window-facing walk-in wardrobe is a luxury and a sanctuary
My daughter actually wanted more storage and Sam came up with the idea of a concealed platform beside her bed where she can store her things.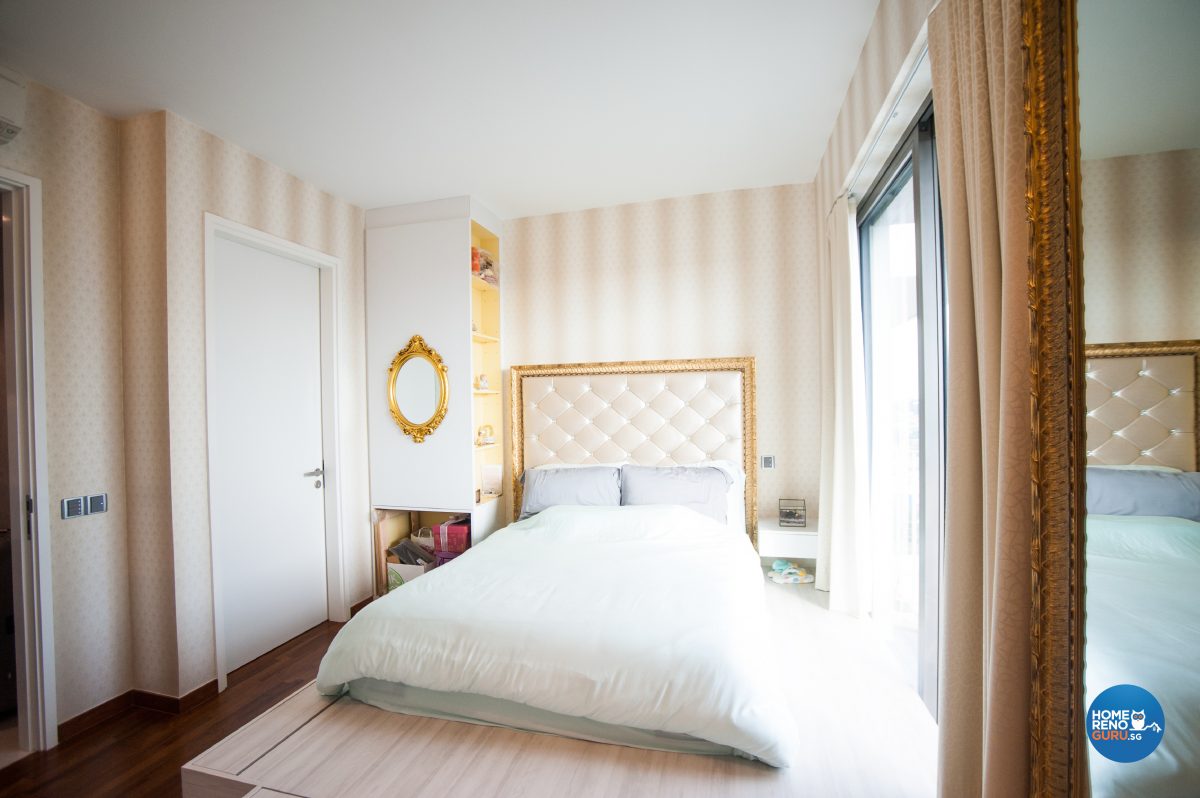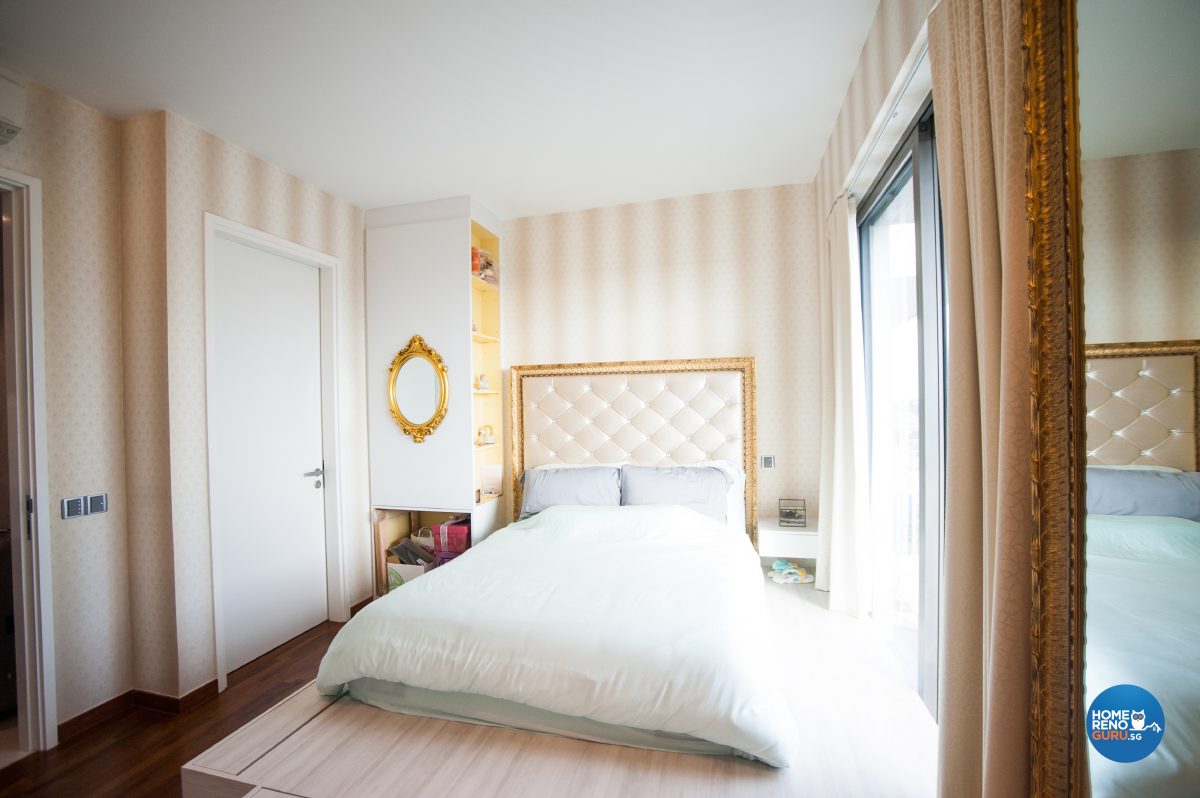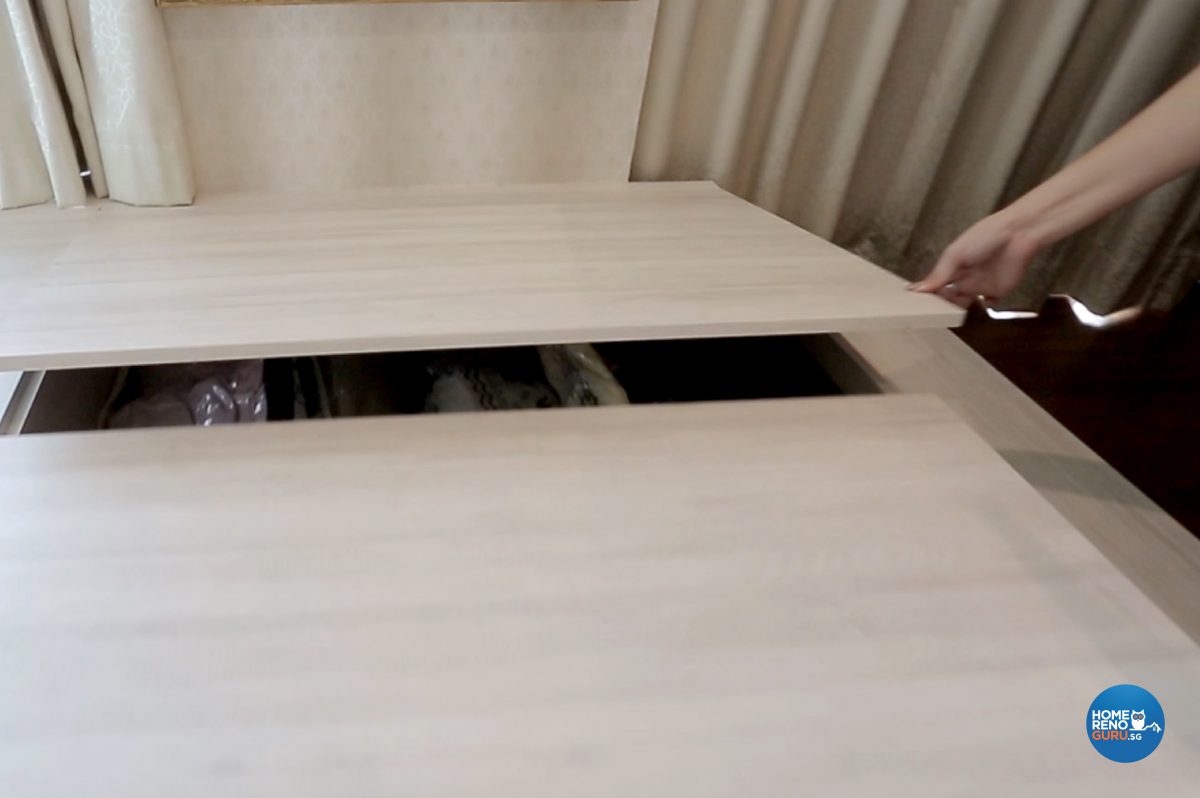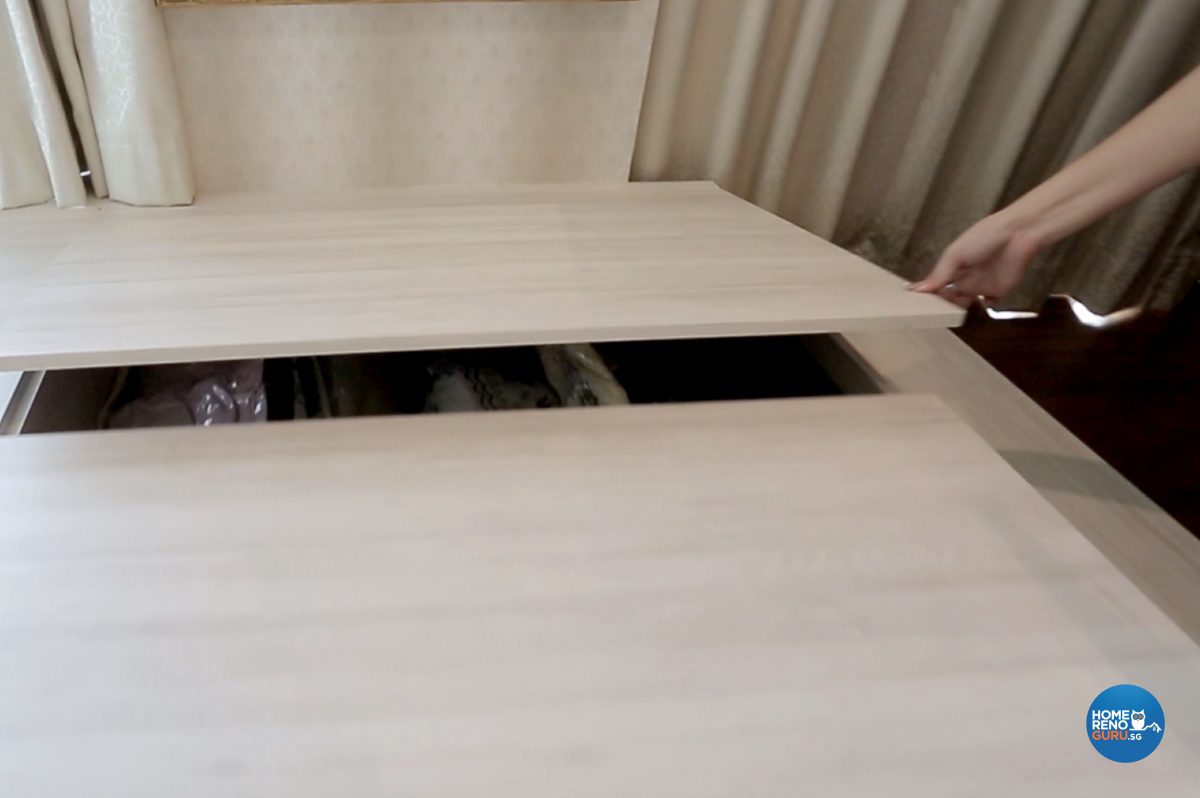 In the daughter's bedroom, a brilliant platform bed conceals abundant extra storage space
HomeRenoGuru: Do you have any advice you would like to share with other homeowners embarking on a renovation?
Joe: My advice to new homeowners is to never just rely on one quote. You have to get a few parties to quote then narrow down what you want to do.
HomeRenoGuru: Would you recommend NID Interior to other homeowners?
Joe: I'm happy with what NID Interior has done for us and Sam's team did a good job. Whenever we had problems, he was very attentive and he would attend to it very fast. I strongly recommend people that are looking for ID people to consider them.
Looking for Interior Designers?
Let HomeRenoGuru help!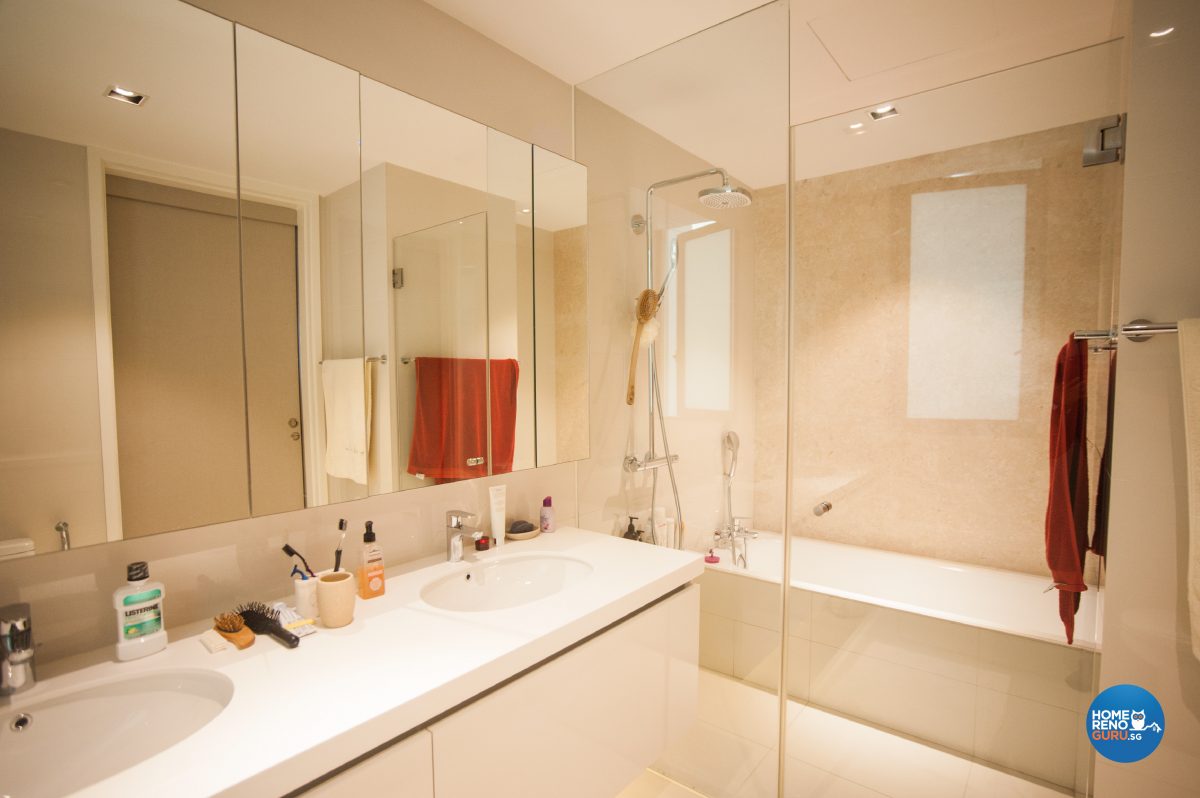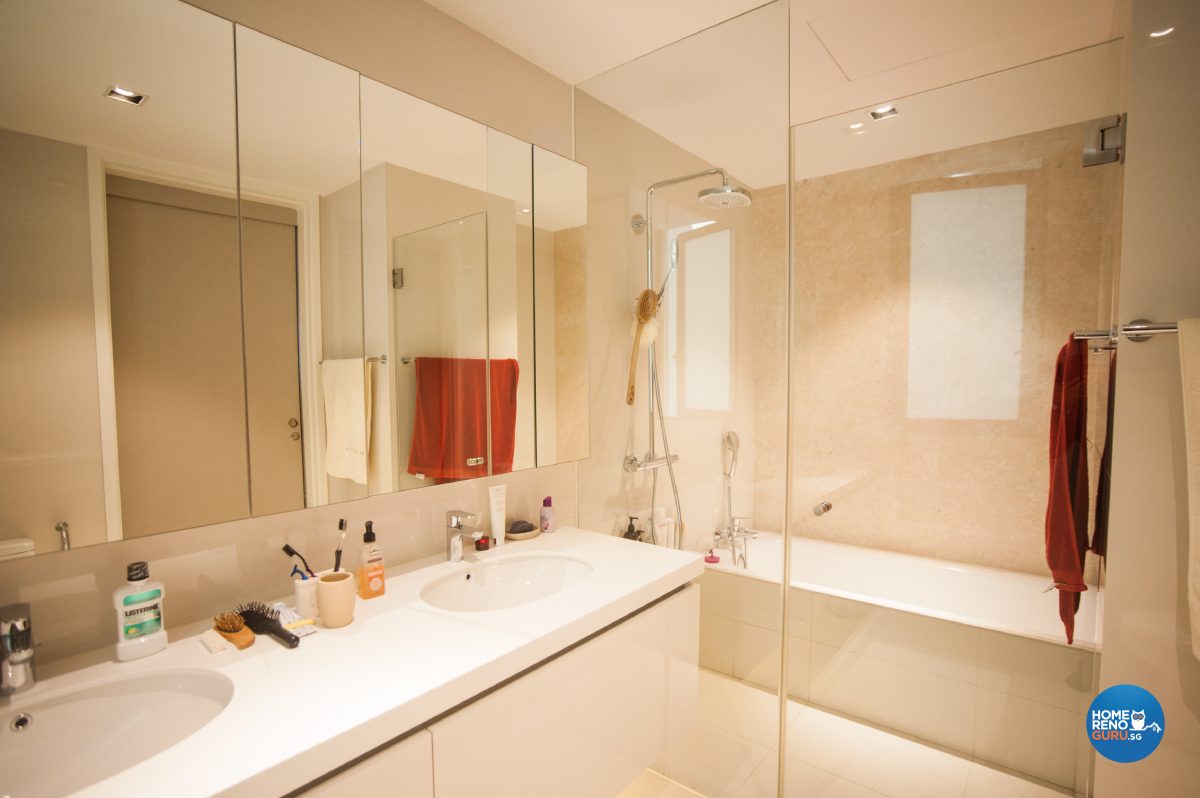 The master bathroom has an extra-long vanity to enable both 'halves' of the couple to use the space concurrently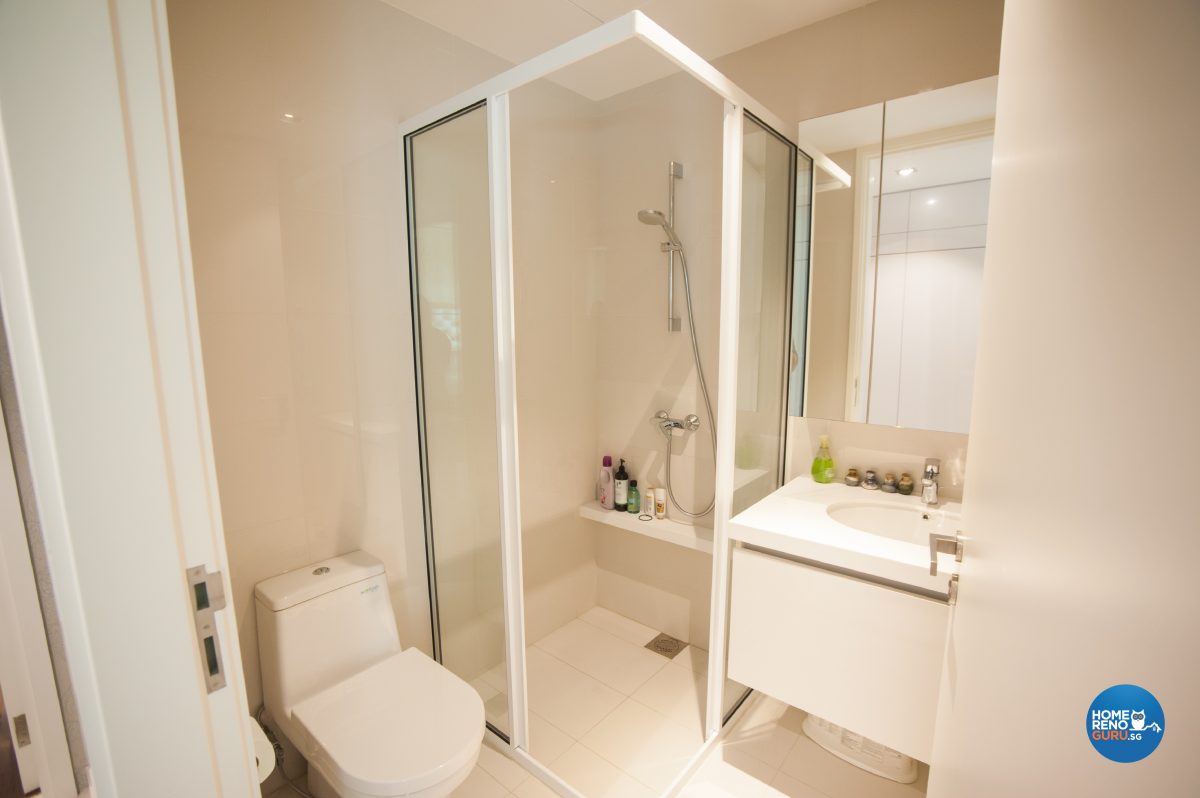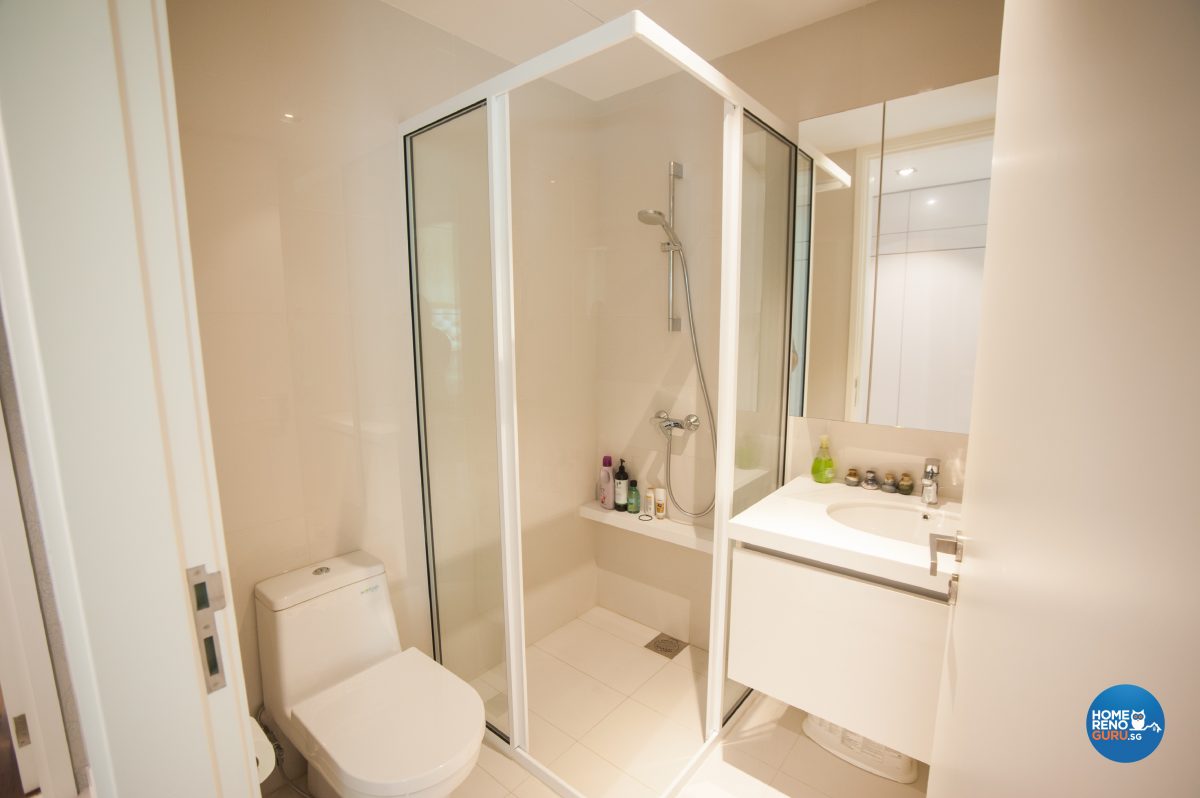 The common bathroom is neat, compact and neutral