Dream Home: The Green, Green Grass of Home
Wilfred, Shini and 4-year-old Winnie and have a little 'garden' on the balcony of their Executive Condominium apartment, in the form of a carpet of springy artificial grass. They love their cosy nest, beautifully renovated in time for the arrival of their second child – and they loved the input from their designer Shusi of Spacious Planners.
Project Snapshot
Name(s) of Homeowner(s): Wilfred Chua and Shini Koh
House Type: 3-bedroom Executive Condominium Apartment
Size of Home: 1,033 sq ft
Cost of Renovation: $40,000
Duration of Renovation: 6 weeks
Interior Design Firm: Spacious Planners Pte Ltd
Name(s) of Designer(s): Shusi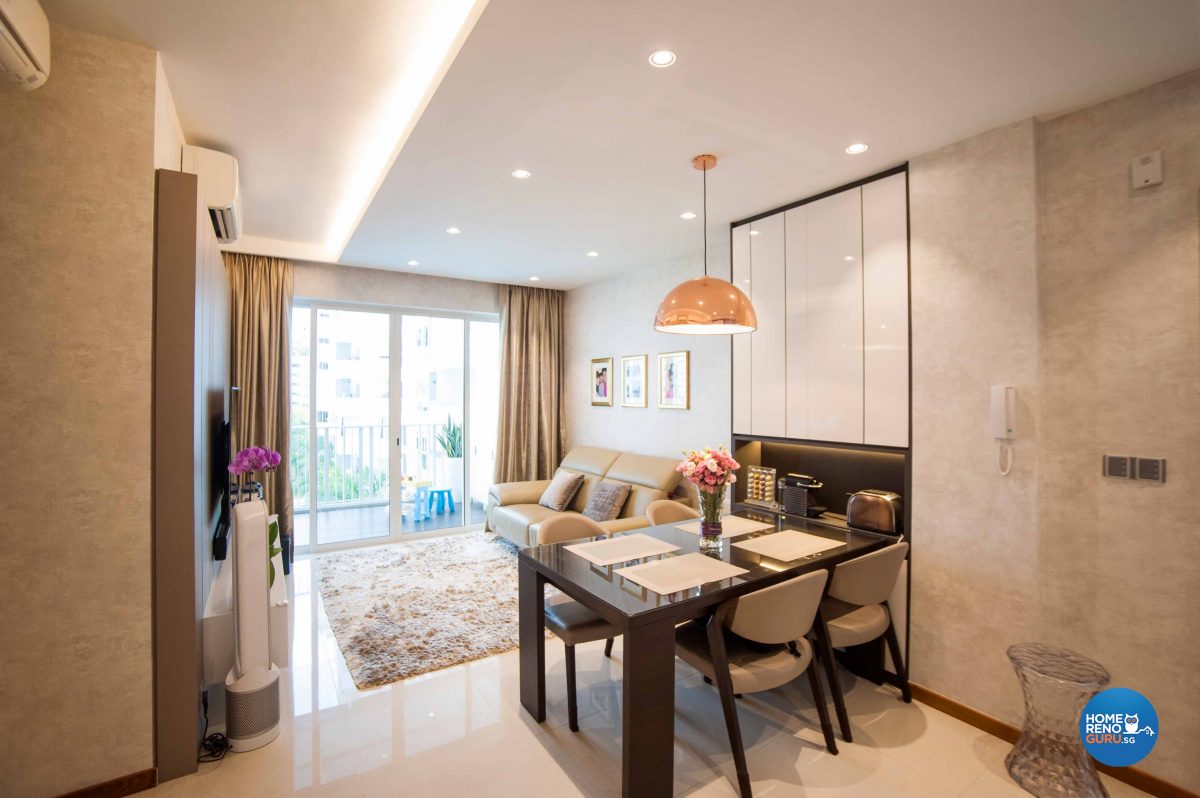 The open concept living and dining area, featuring a built-in cabinet in the recessed wall of the dining nook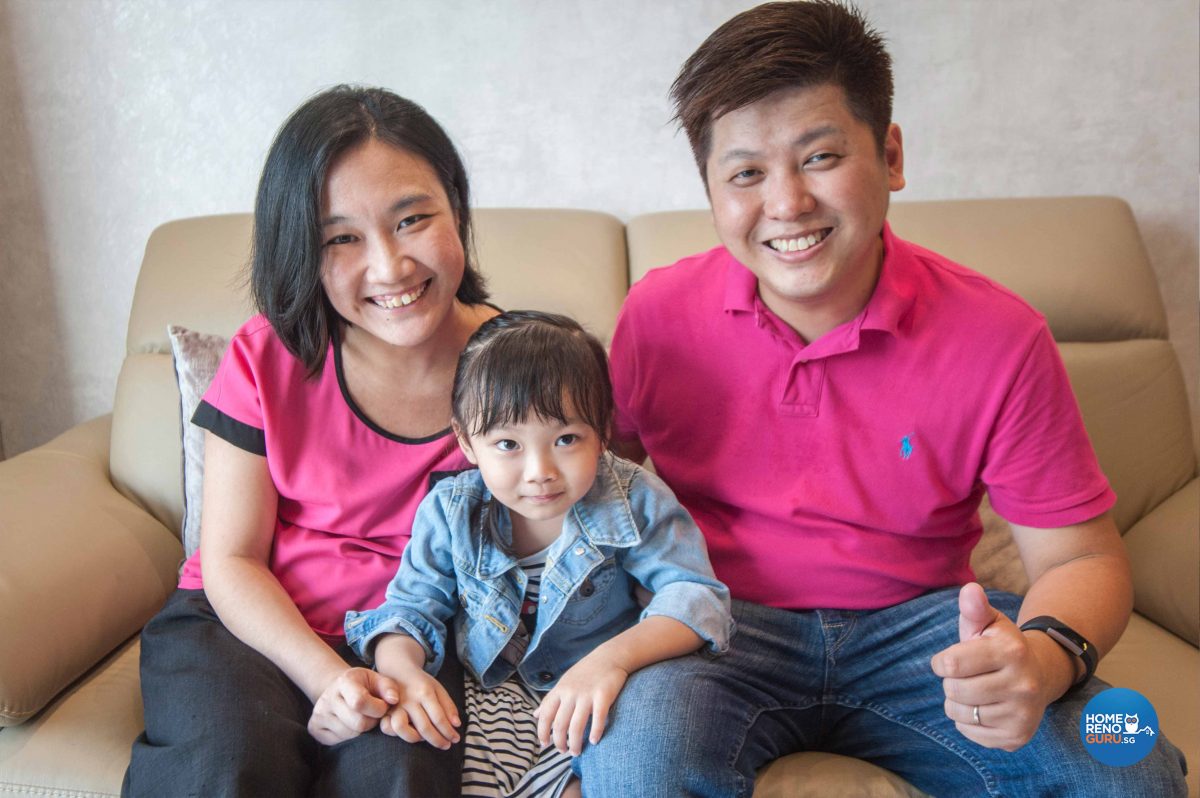 Shini, Winnie and Wilfred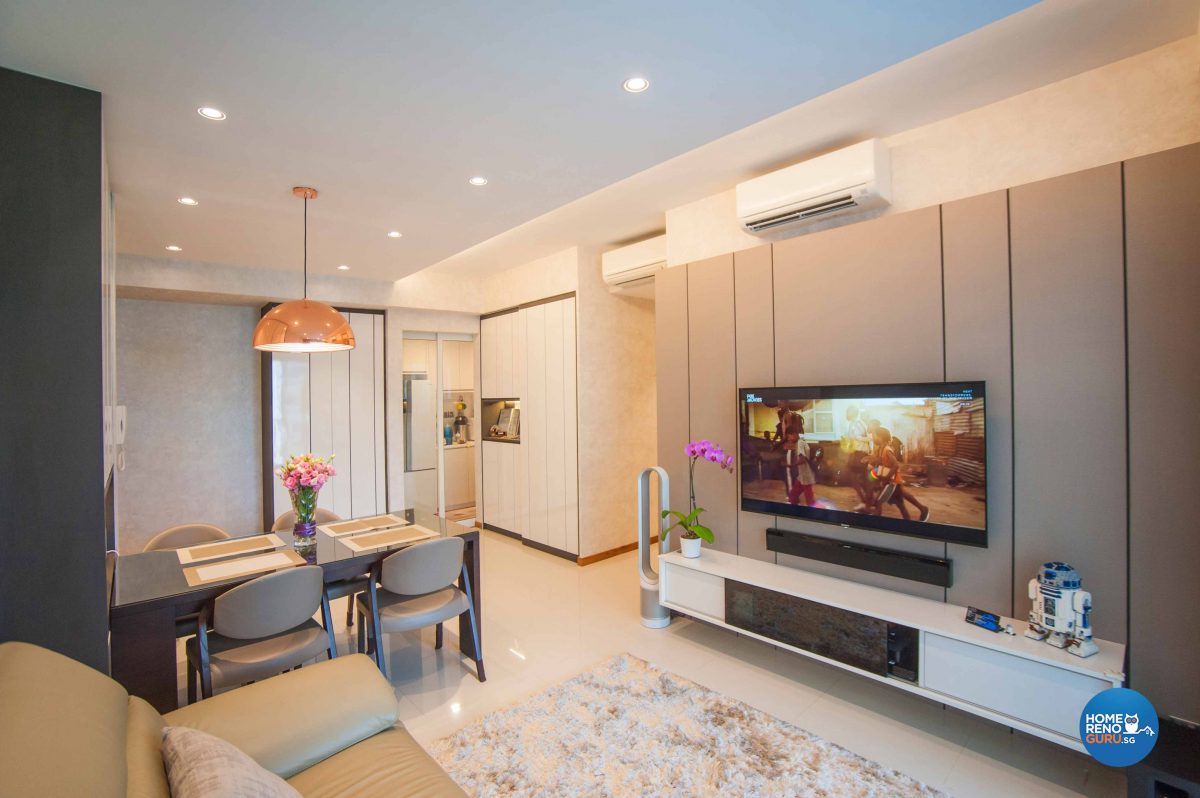 A panelled feature wall neatly conceals the wiring behind the TV set
HomeRenoGuru: How and why did you come to engage Spacious Planners for the renovation of your home?
Shini: We actually walked in to a few of the IDs and finally we shortlisted Shusi from Spacious Planners, because we felt that she had very good communication skills and a great rapport with us. She actually met all of our requests.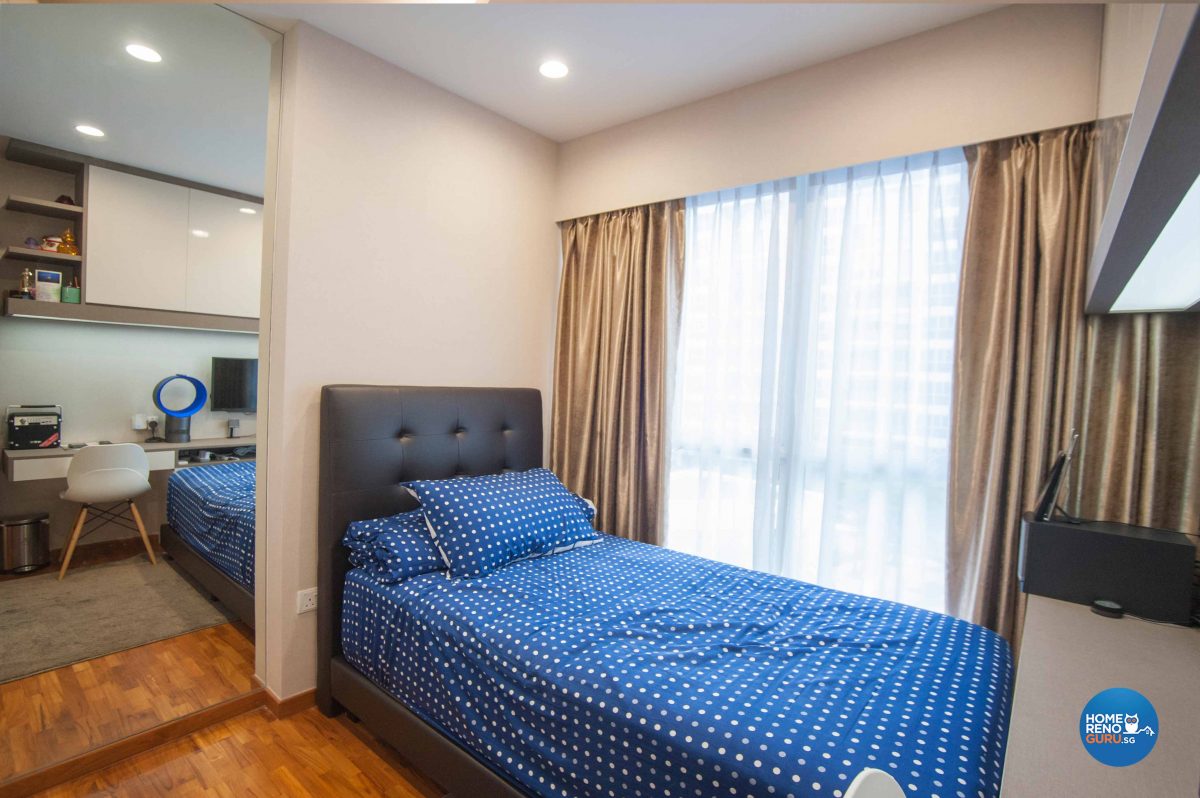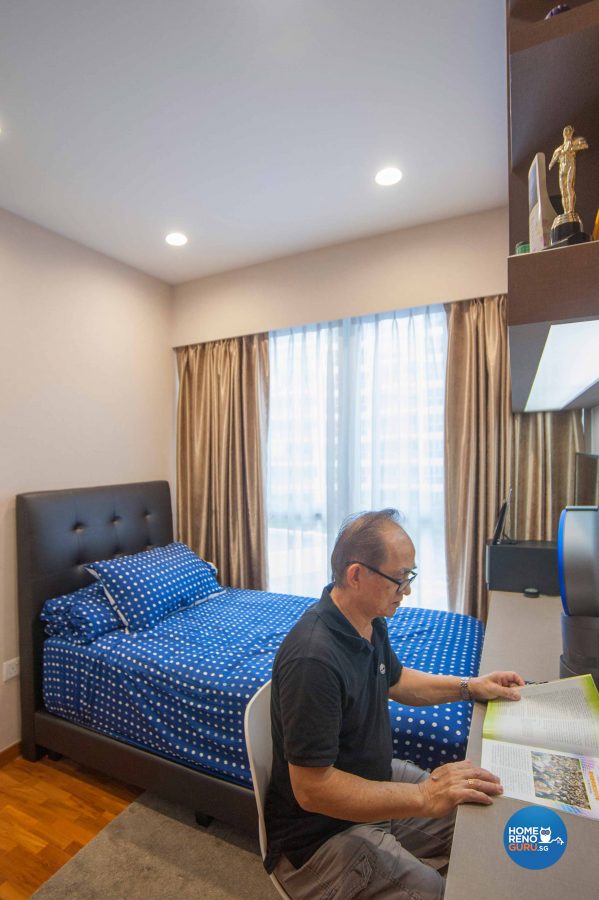 Wilfred's father's room optimises a compact space with a built-in wardrobe, desk and overhead cabinets
HomeRenoGuru: How did Shusi manage the renovation process?
Wilfred: Sushi was very prompt and kept us updated with SMSes. She managed the contract very well and she was always on the site – that really impressed us.
HomeRenoGuru: What do you love most about your renovated home?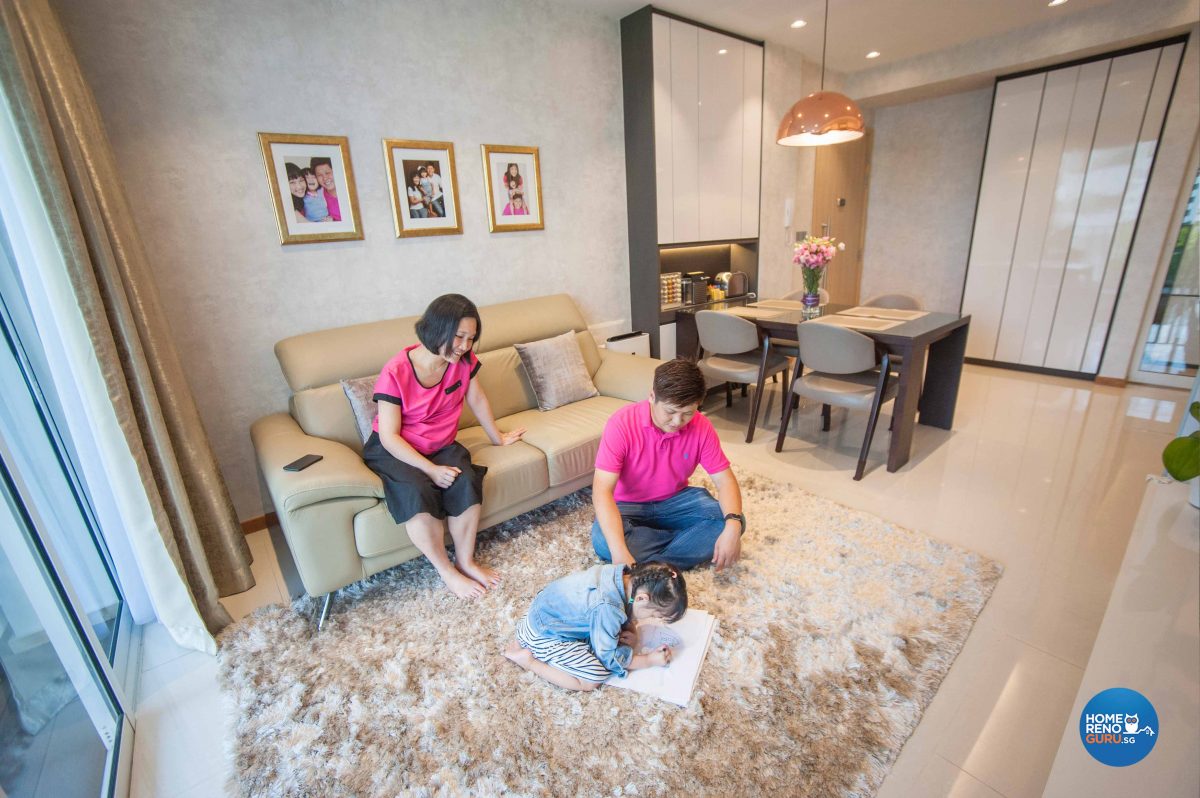 The light colour palette enhances the feeling of spaciousness in the living area
Shini: My favourite place is actually the dining area. Initially there was this little space where we had to push our dining area table all the way in. But Shusi suggested this idea of having a built-in cabinet there, where we could put our coffee maker, our toaster and so on. It became a little place for us to bond together during our breakfast time.

The balcony is bisected into a study cum seating area and a play area, with wooden decking and artificial turf
Wilfred: The balcony is one of my favourite places, because it has a very relaxing atmosphere. Shusi actually suggested a partial decking with artificial grass and we love this unique idea, because it gives our house some greenery while Winnie can make the decking area her play area.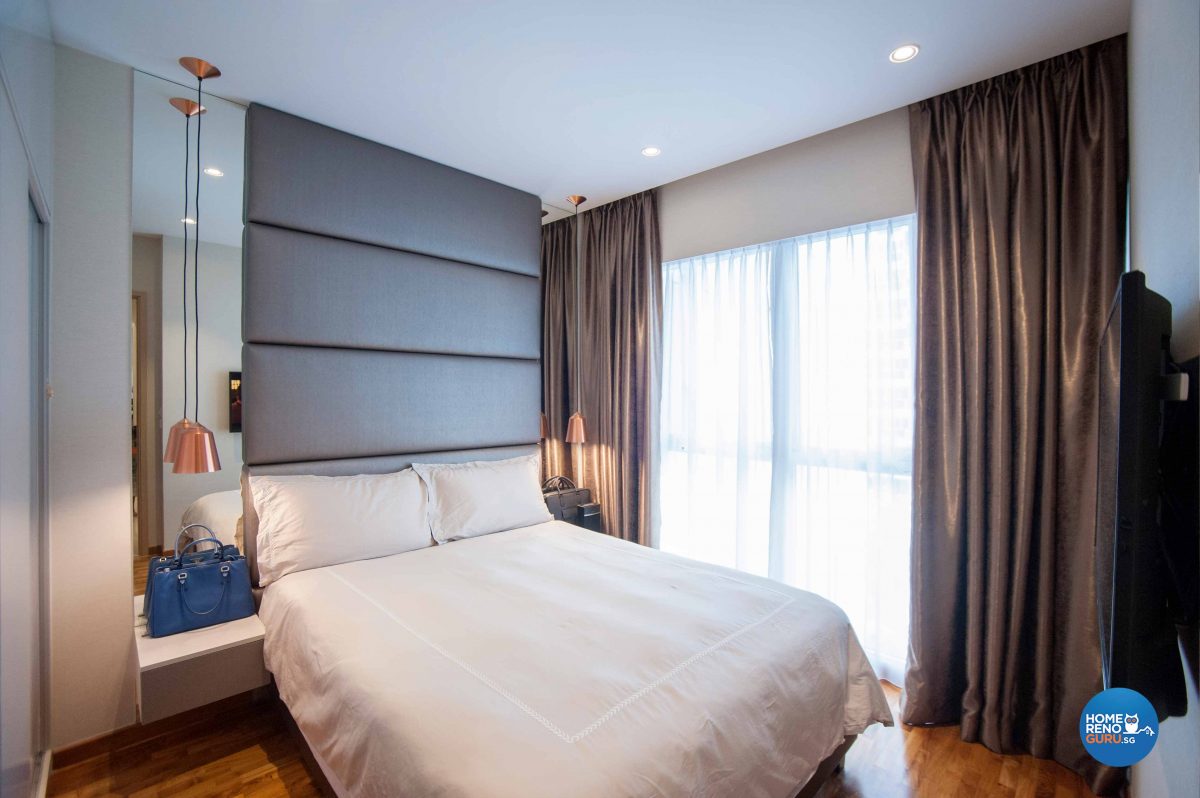 A fully-upholstered ceiling-height bedhead creates a focal point in the master bedroom
Shini: One place I particularly like is actually our master bedroom. The space we have is actually quite limited, yet we wanted to have a very grand cosy look – a place where we could rest comfortably after a day of hard work.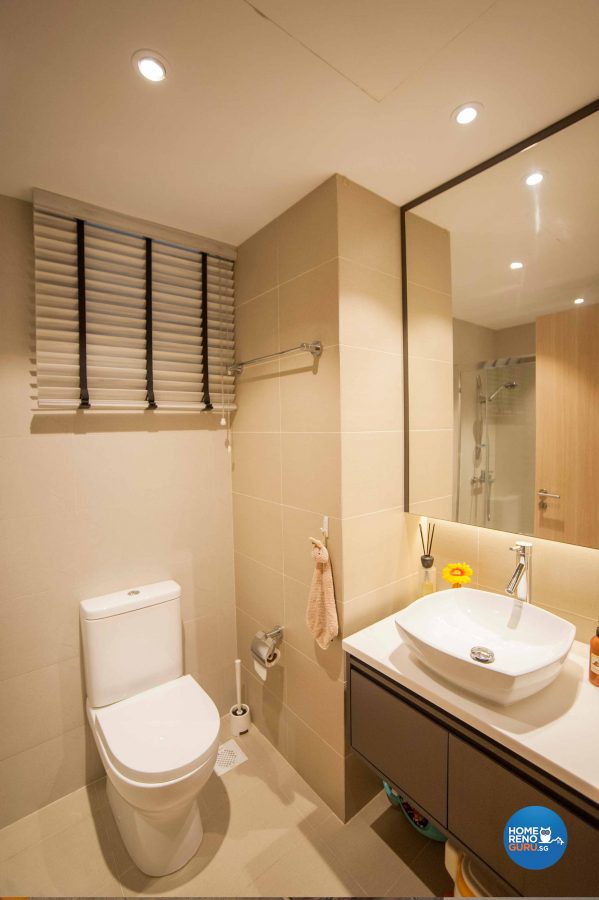 The master bathroom is optically enlarged by the mirrored cabinet
And next would be our master toilet. Initially we were given this very simple mirror, but Shusi changed it to a very long mirrored cabinet. I love that idea as well.
Wilfred: Something that makes our house unique is that you'll find wallpaper throughout. We love the subtle colours and texture that it gives us, which Shusi suggested.
Looking for an estimate of your renovation costs?
Let HomeRenoGuru help!
HomeRenoGuru: Do you have any general advice to share with homeowners embarking on a renovation?
Shini: For anyone who is looking for interior designers to design their own home, I think the most important thing is to find someone whom they can entrust, someone who they're comfortable with and someone who can understand their needs.
HomeRenoGuru: Would you recommend Spacious Planners and your designer Shusi to other homeowners looking for a company to renovate their home?
Wilfred: Without hesitation, we sincerely recommend Spacious Planners and our designer Shusi. We love our home!