Dream Home: Full Hearts and Open Spaces
Yenny and San, loving parents of adorable little Shaan Kaiser, followed their hearts and went with a friend's recommendation in engaging Carpenters Interior Design. From the subtle colour of the flooring to the extensive hacking of walls, all their decisions paid off. Hear how their dream home became a reality.
Project Snapshot
Name(s) of Homeowner(s): San and Yenny
House Type: BTO 4-room HDB Flat
Size of Home: 93 sq m
Cost of Renovation: $30,000
Duration of Renovation: 2.5 months
Interior Design Firm: Carpenters.com.sg
Name(s) of Designer(s): Eugene She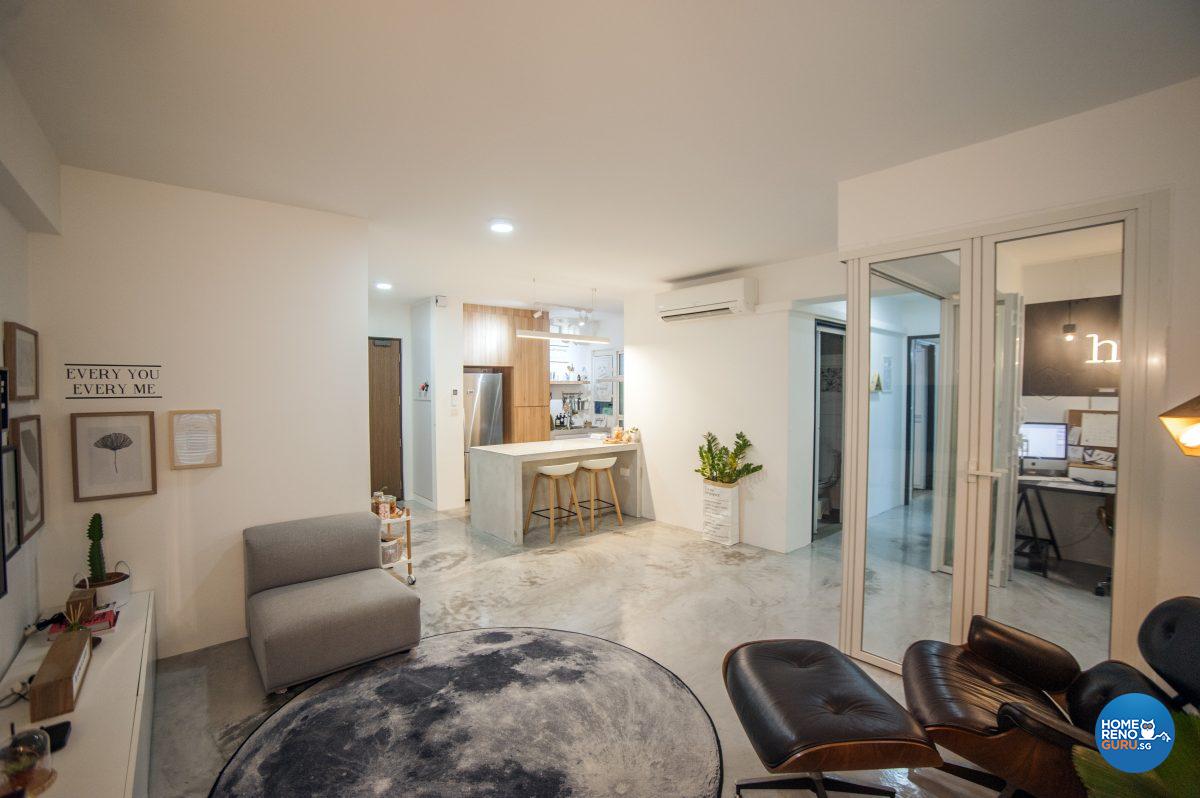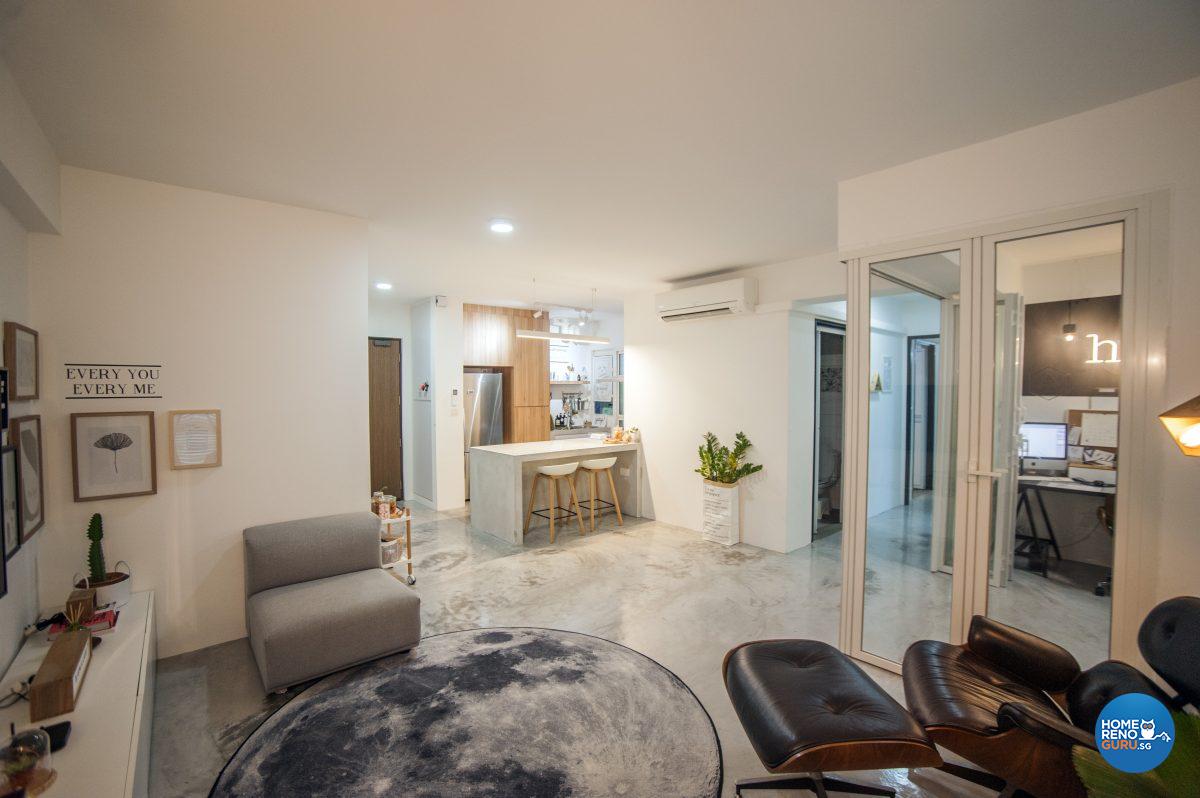 The open concept living and dining area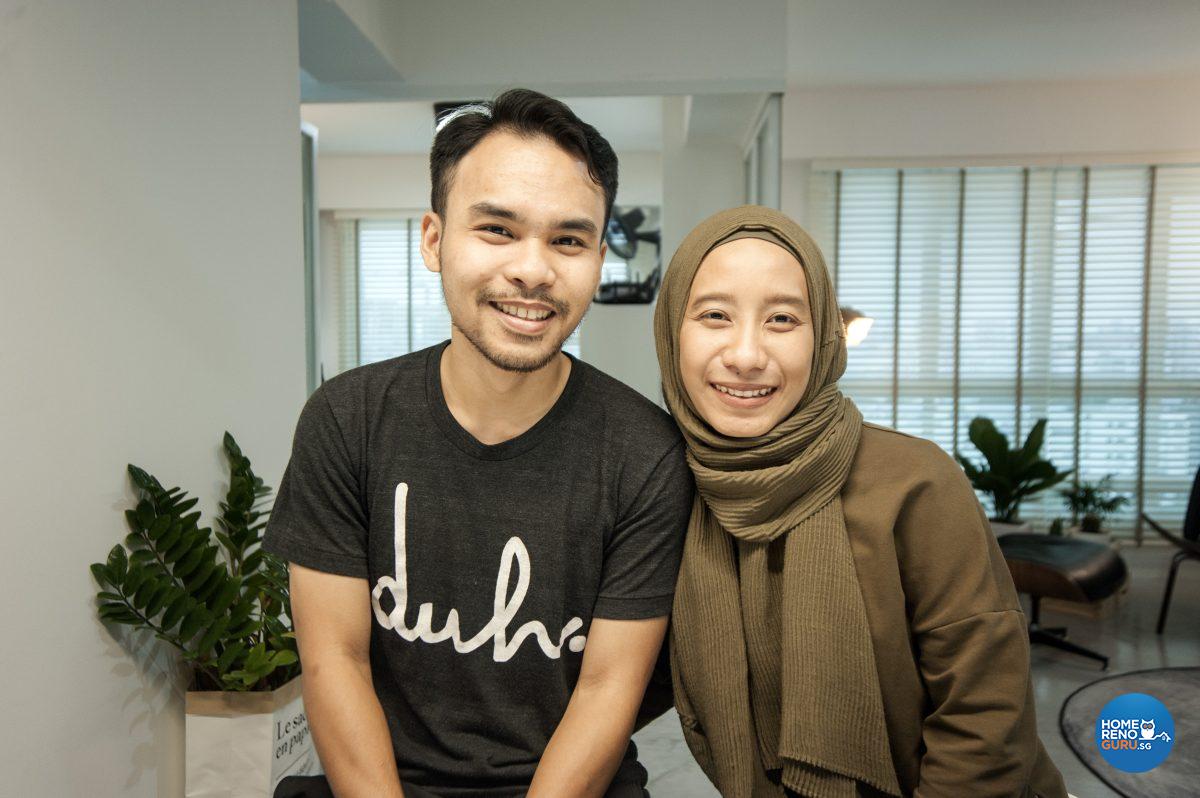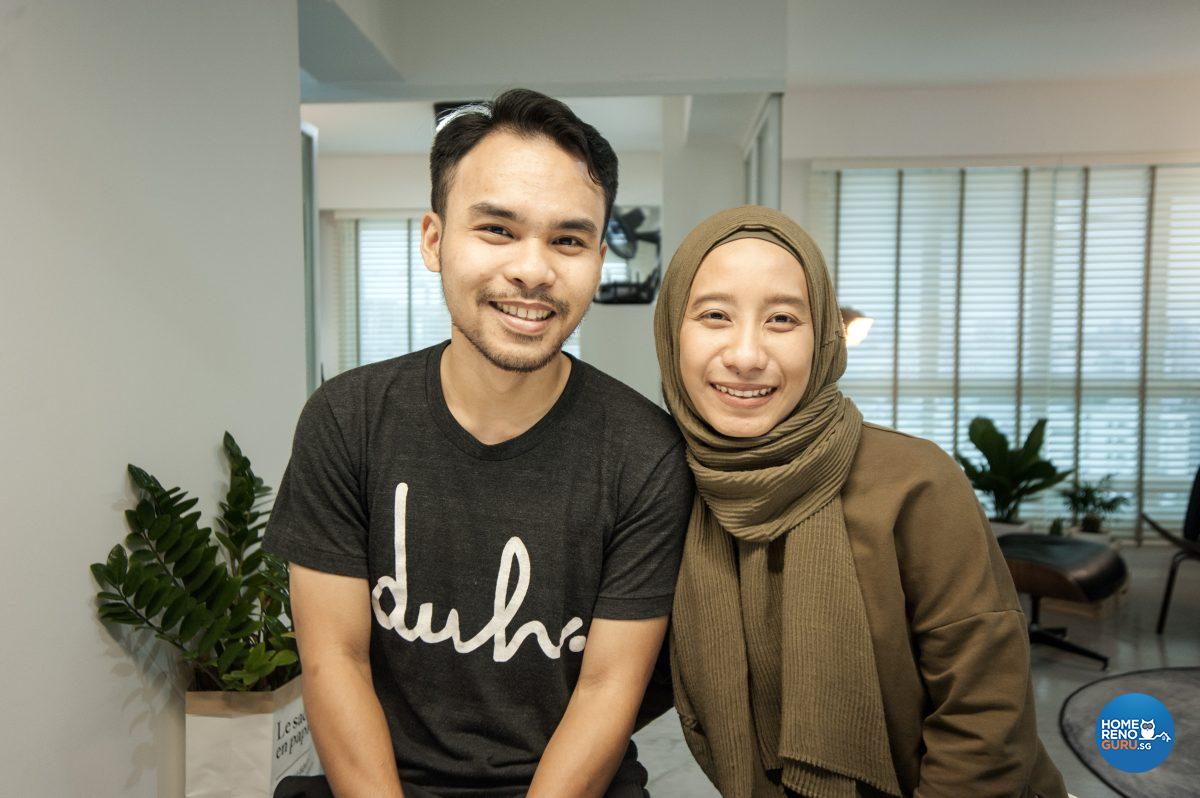 Happy homeowners San and Yenny
HomeRenoGuru: How did you come to engage Carpenters for your home renovation?
Yenny: They were recommended by our friend, who also engaged Carpenters for their home reno. During the first meet up with Eugene, we felt comfortable talking to him, discussing our plans for our house reno.
HomeRenoGuru: What was your brief to Eugene?
San: Before we met up with Eugene, we actually had a few discussions with each other. And then he came up with a mood board and also a preliminary set of instructions on what we wanted for our house, which touches a bit on the industrial and mid-century themes.
HomeRenoGuru: What do you love most about your newly renovated home?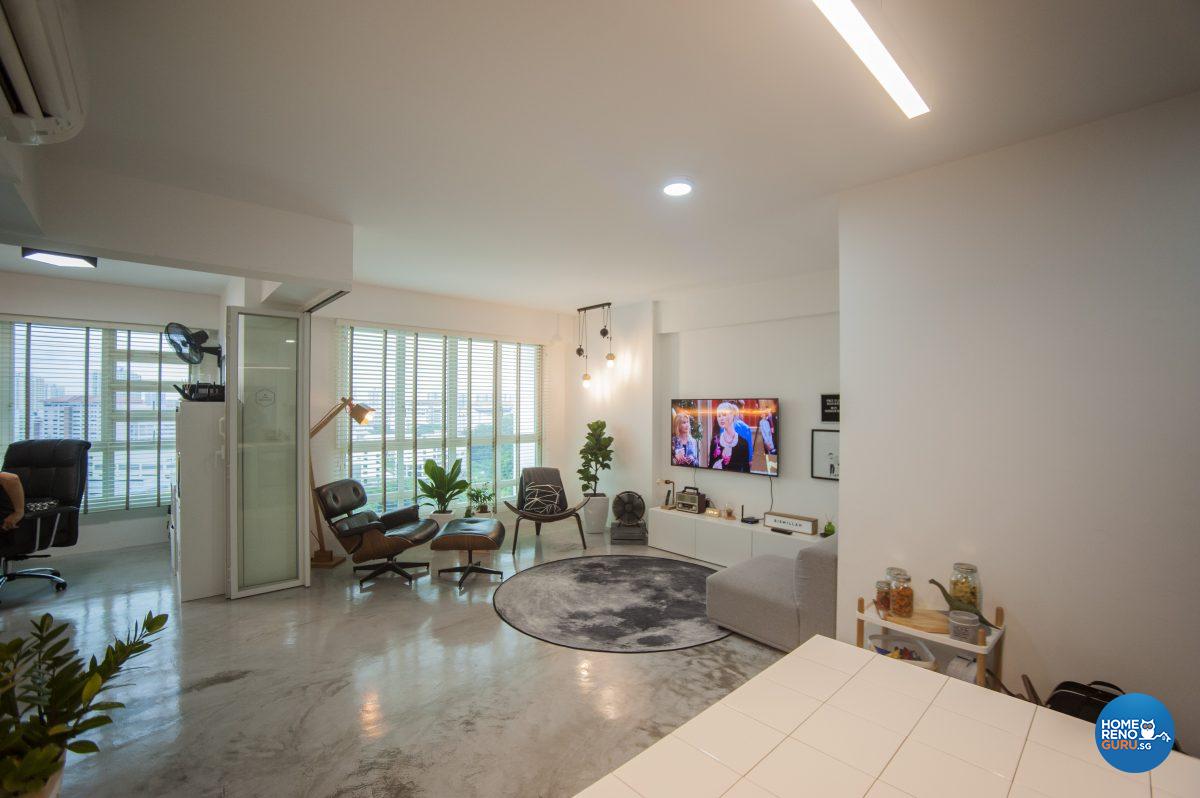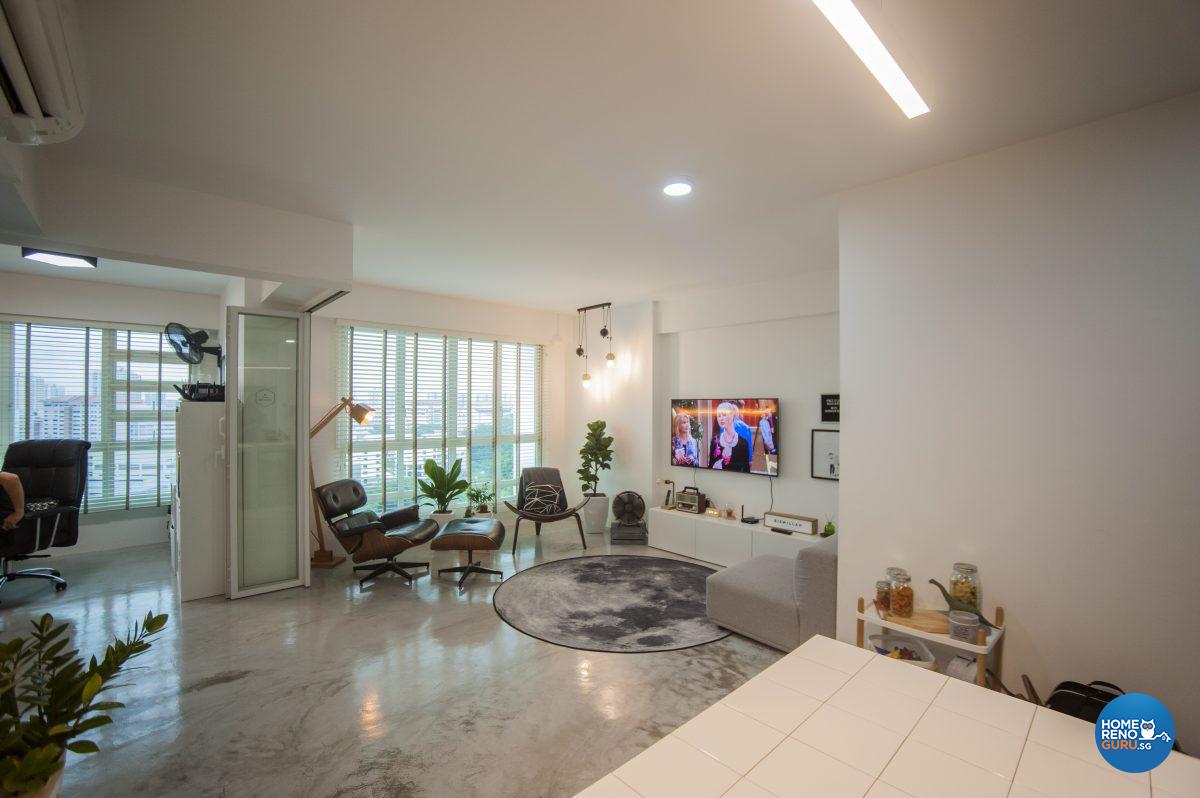 The floor paint was painstakingly adjusted until just the right shade of grey was obtained
San: My favourite part of the house is actually the flooring and also the spacious living room. For the flooring, it actually took Eugene couple of times to get the right colour. So during the first few tries, he took photos after he had done it, and sent them to me to see whether I liked it or not.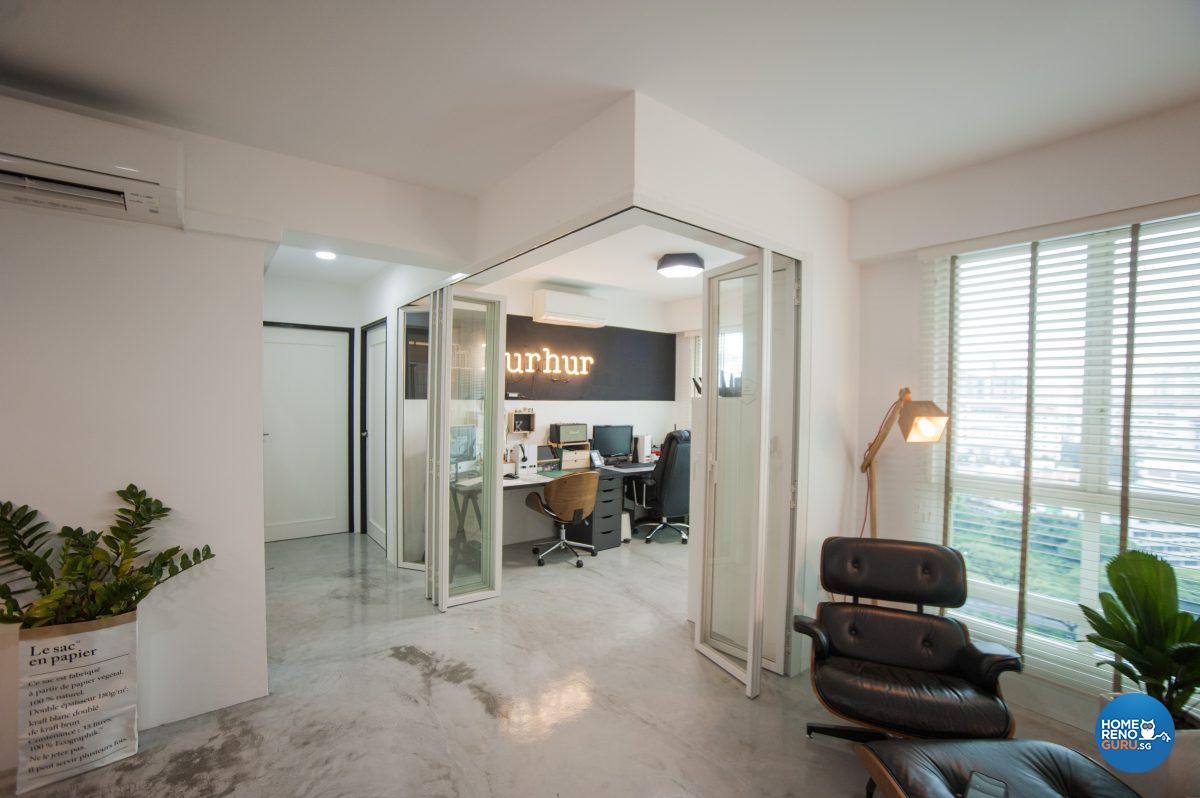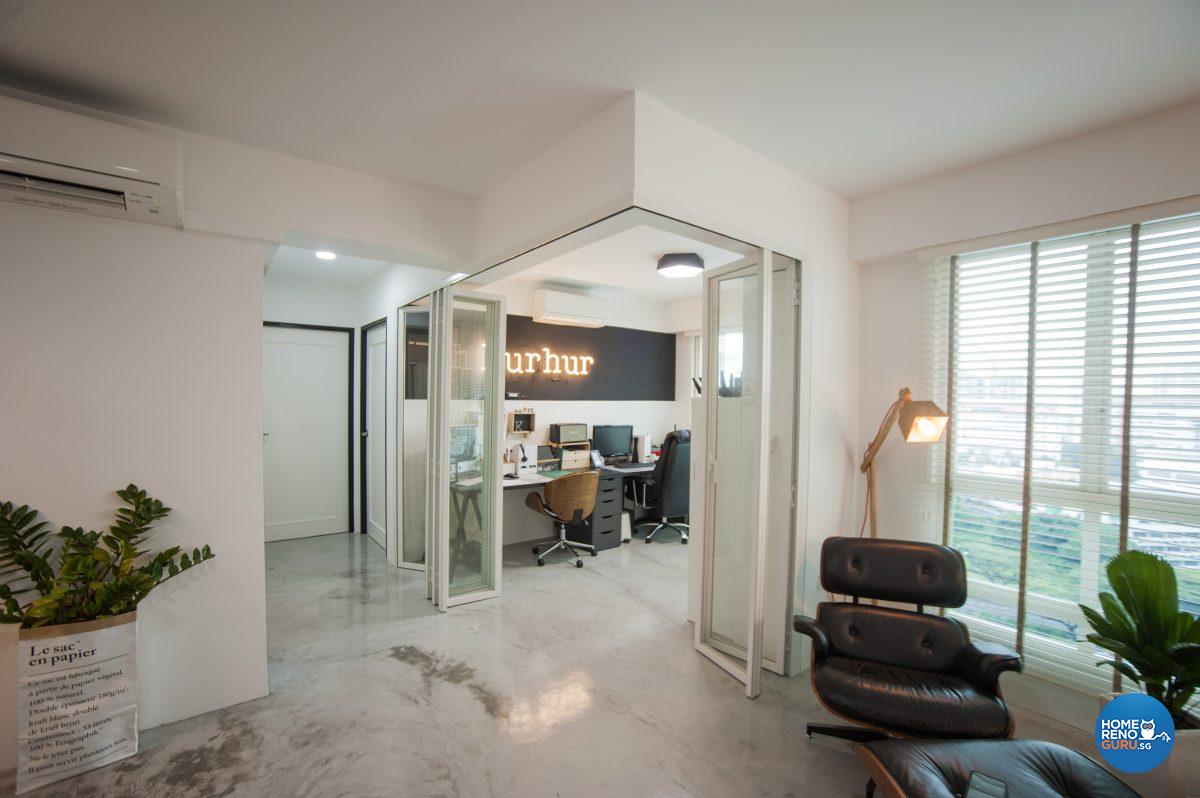 The office is separated from the living area with concertina-folding glass doors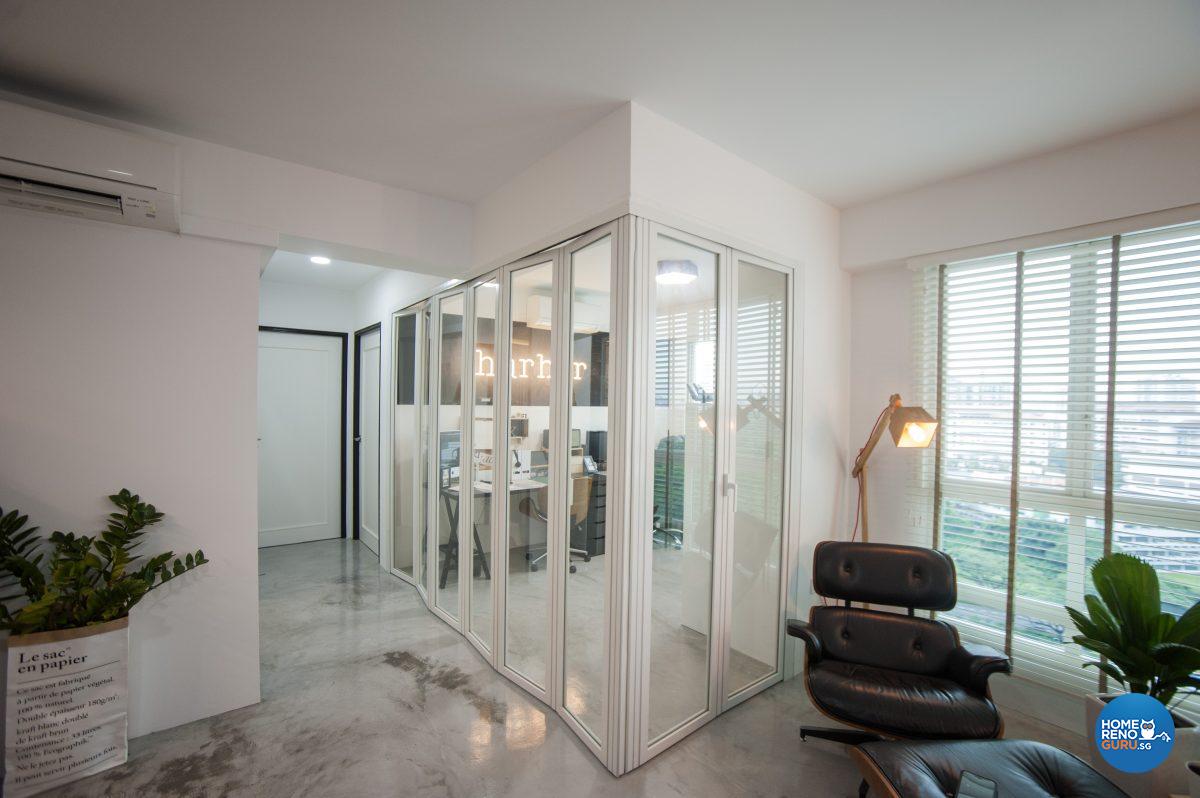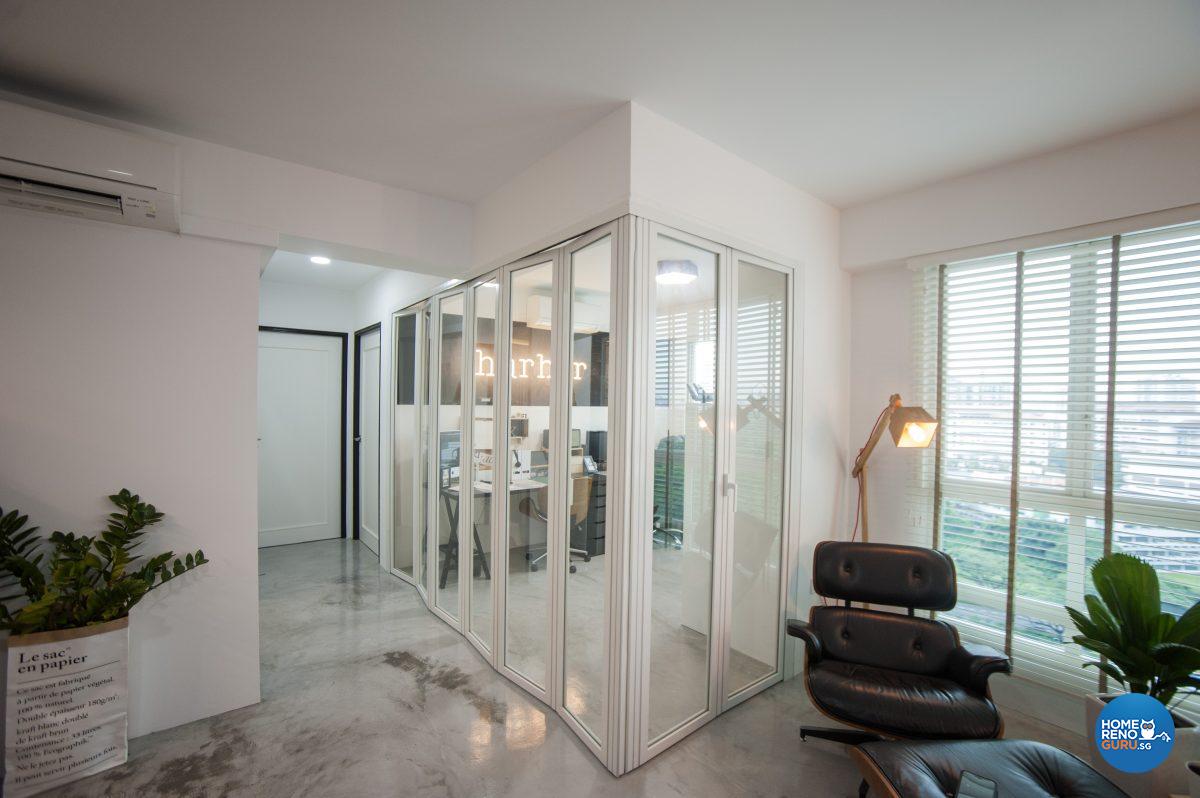 A view of the office with the glass doors closed
San: I believe one of the best decisions I made was to hack off one of the bedroom walls and convert it into an office. It feels spacious and looks bright.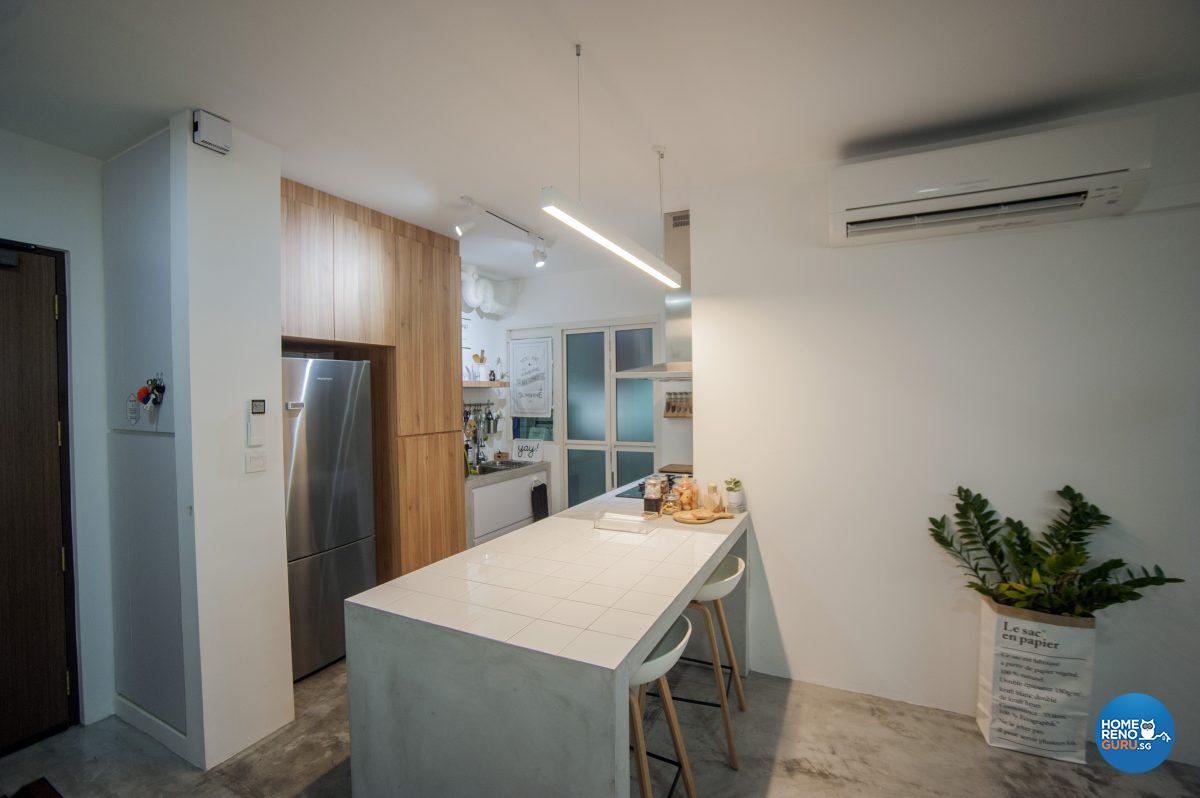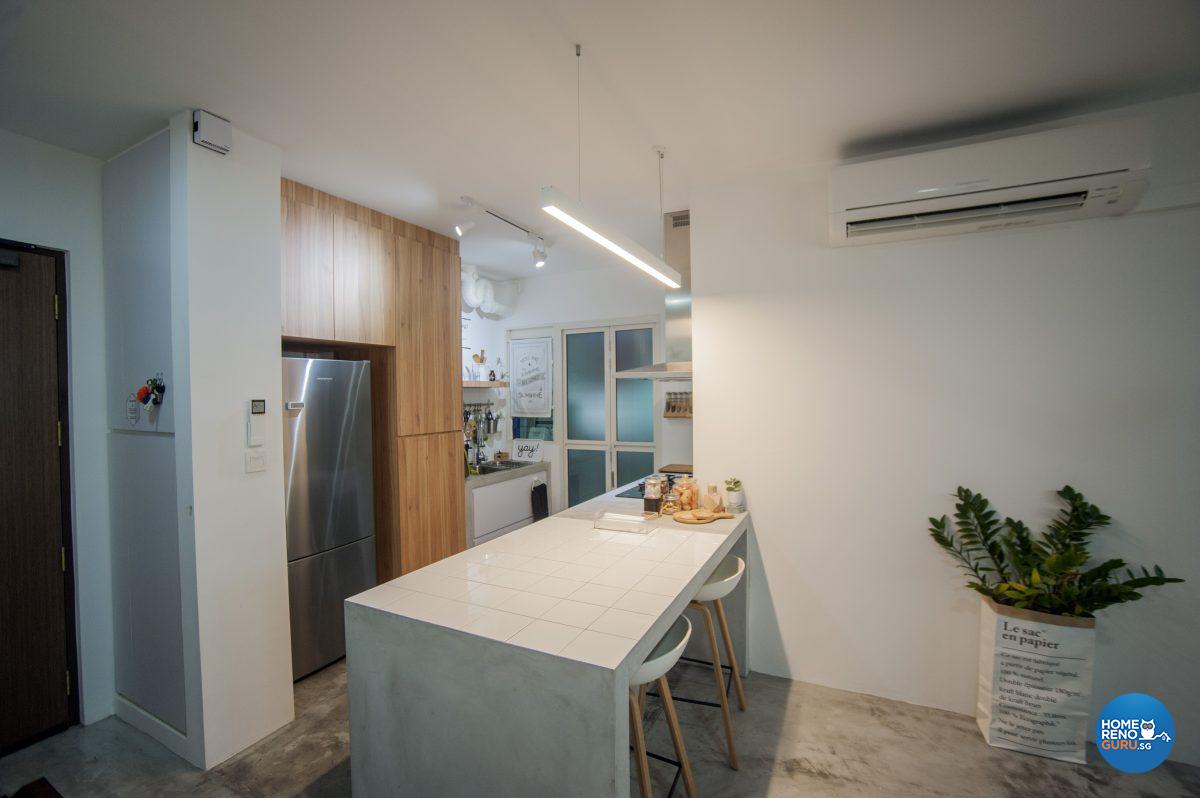 A kitchen counter doubles as casual seating and room divider
Yenny: For the kitchen, we also hacked the walls to have an open concept. When I'm doing my cooking, I can also supervise my son while he is playing with his toys or watching the TV.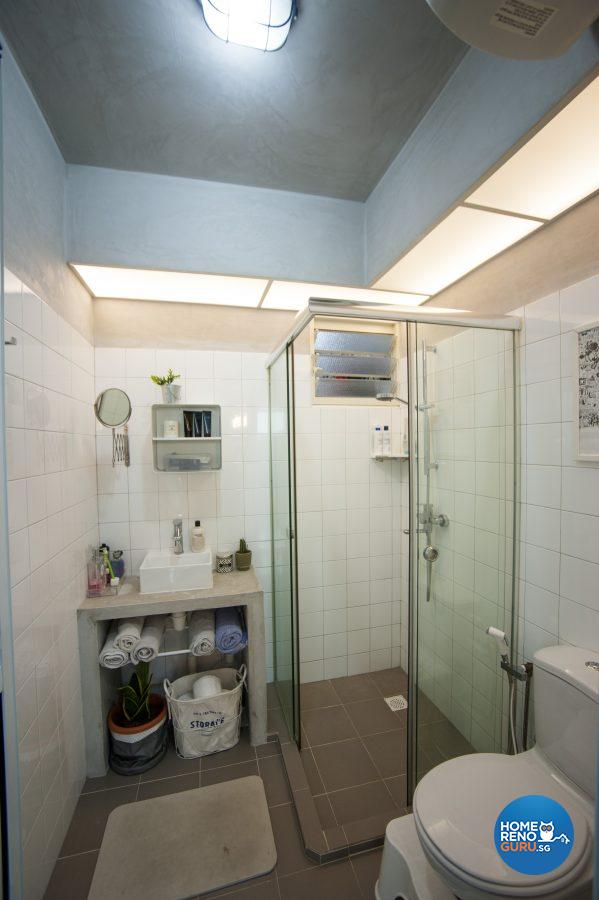 The fully tiled walls in the bathrooms and the cement screed ceiling were suggested by the designer
San: For the bathrooms, we initially wanted half of the wall to be tiled up, but Eugene suggested to tile three quarters of it, as the moisture from our shower can actually damage the walls. Another thing that he recommended was for the whole ceiling to be cement screeded.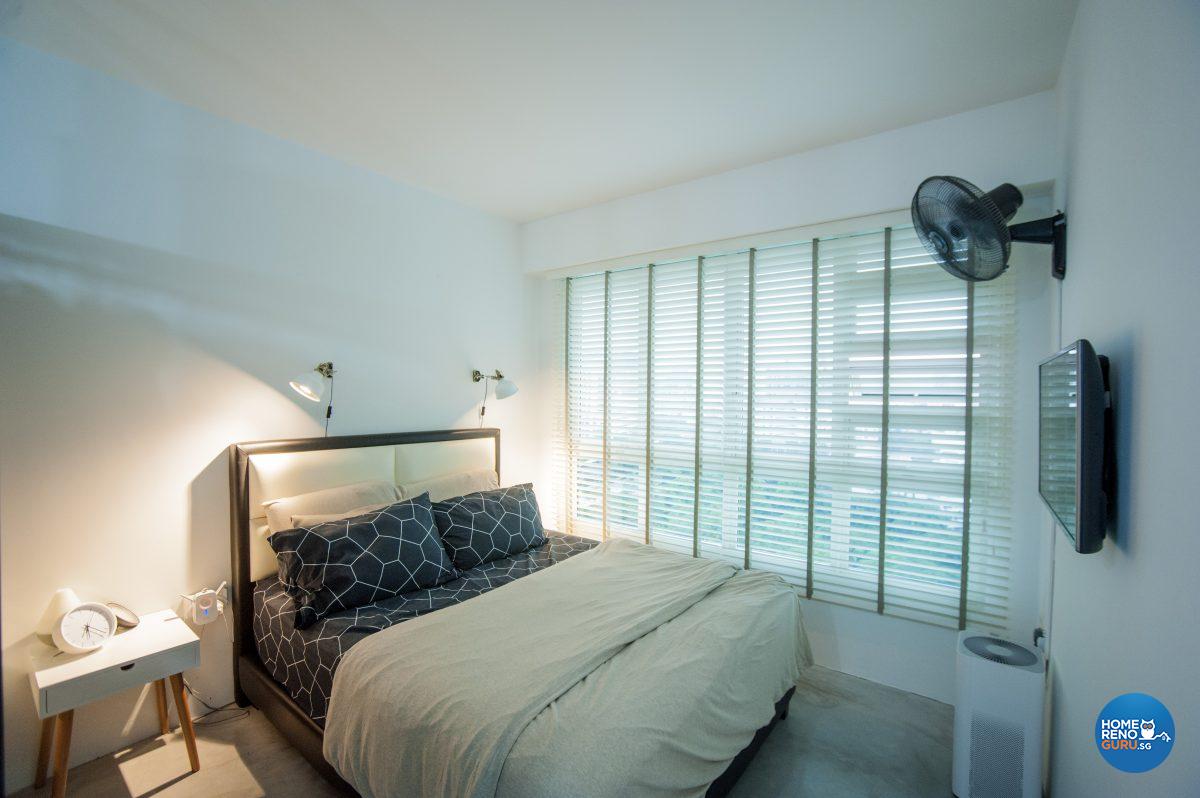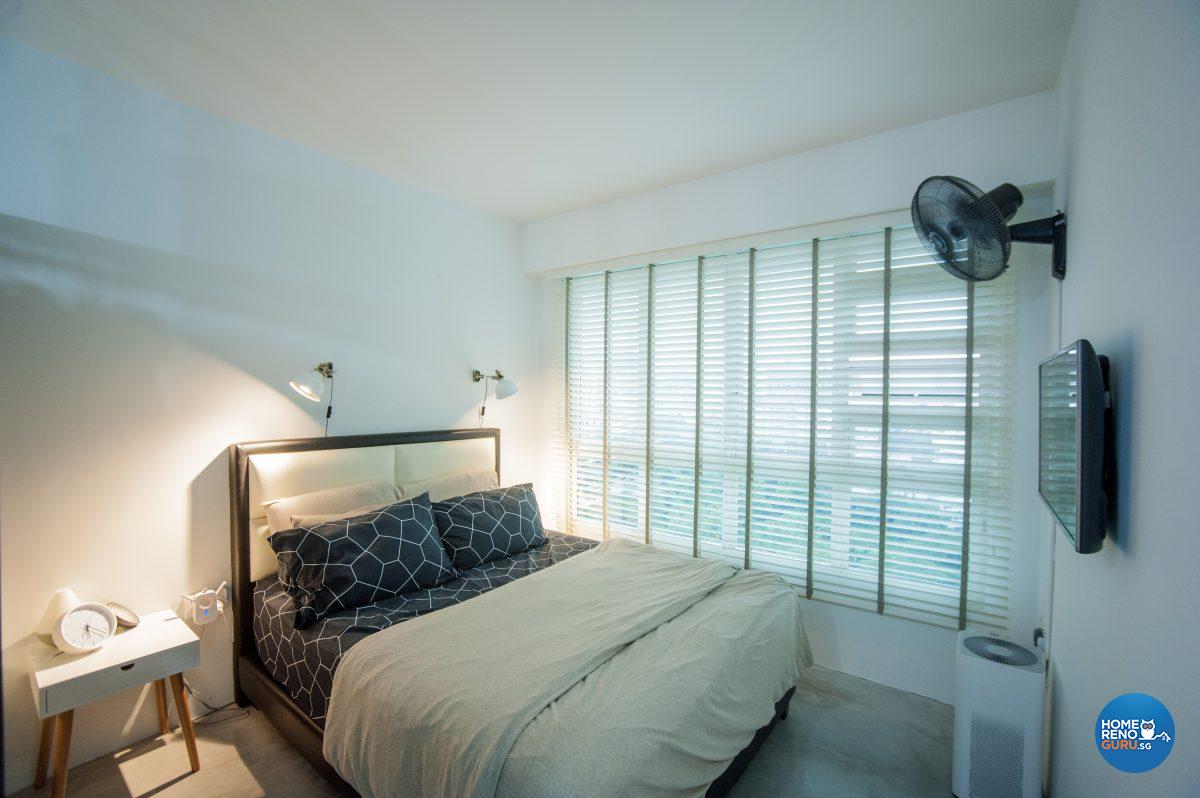 Layered lighting cloaks the master bedroom in soft light
HomeRenoGuru: Do you have any general advice you would like to share with homeowners who are considering embarking on a home renovation?
Looking for an estimate of your renovation costs?
Let HomeRenoGuru help!
San: When you want to start doing your renovations, do seek advice from your friends and family members who have done renovations before. And also, read up on the reputations of different companies that you may be interested in. And lastly but most importantly, follow your heart!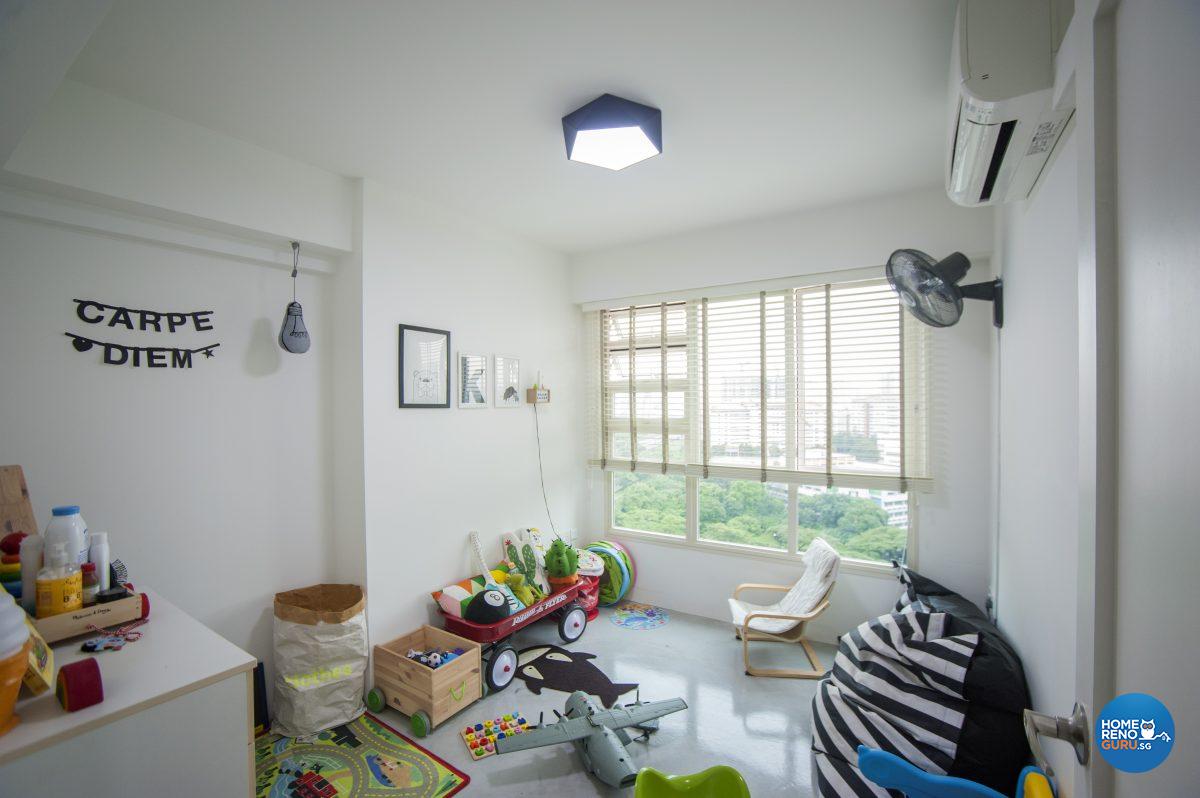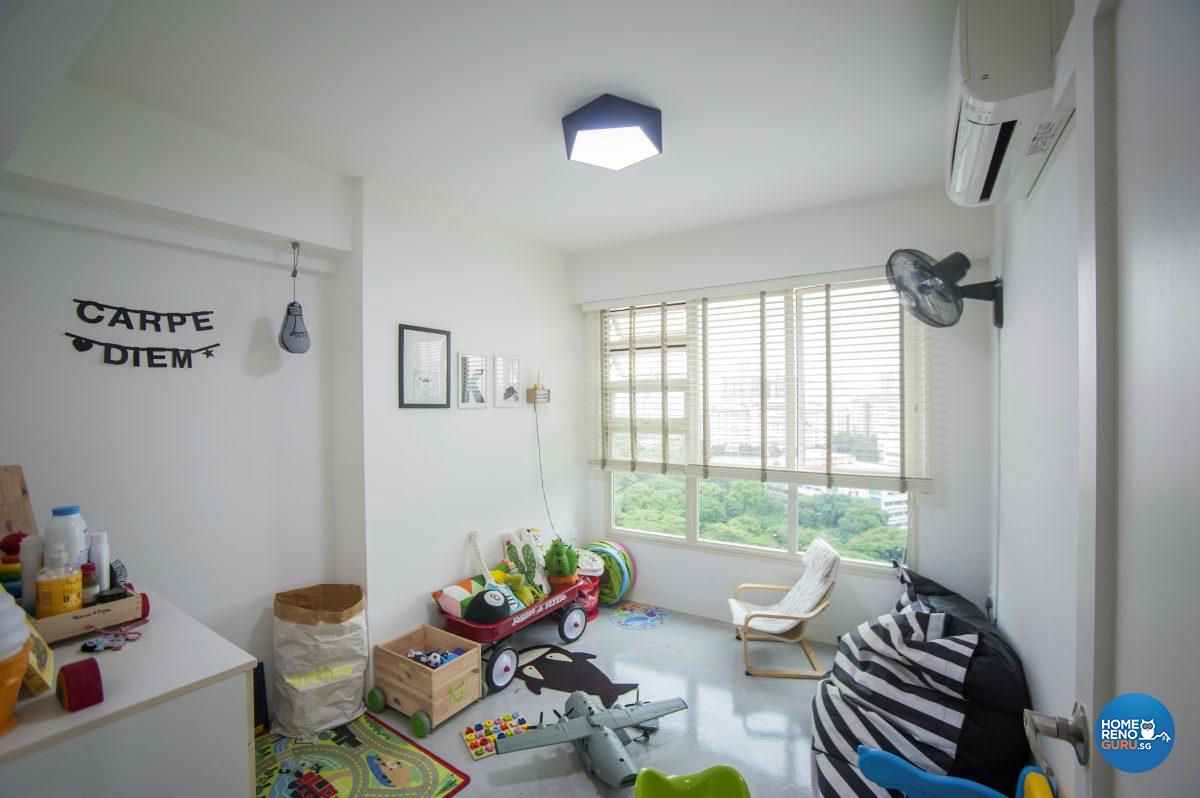 Shaan Kaiser's room is white, bright and airy
HomeRenoGuru: Would you happily recommend Carpenters and your designer Eugene?
Yenny: We are very pleased with Eugene's work. In fact, we have already recommended Eugene to our friends who just got their keys, and they have engaged Eugene for their house reno.
San: I would like to thank Carpenters and especially Eugene for making our dreams a reality.
San and Yenny: Thank you Carpenters!