Dream Home: From the Floor Up
Sumathi and Aravindan knew they wanted granite flooring, and Sumathi was particularly concerned about the space constraints of her kitchen. Other than that, they were open to the excellent suggestions of their interior designer, Ben Koh from Darwin Interior. Their openness paid off, and they love their newly renovated home.
Project Snapshot

Name(s) of Homeowner(s): Aravindan and Sumathi
House Type: 5-room HDB BTO Flat
Size of Home: 113 sq/m
Cost of Renovation: $60,000
Duration of Renovation: 2 months
Interior Design Firm: Darwin Interior
Name of Designer(s): Ben Koh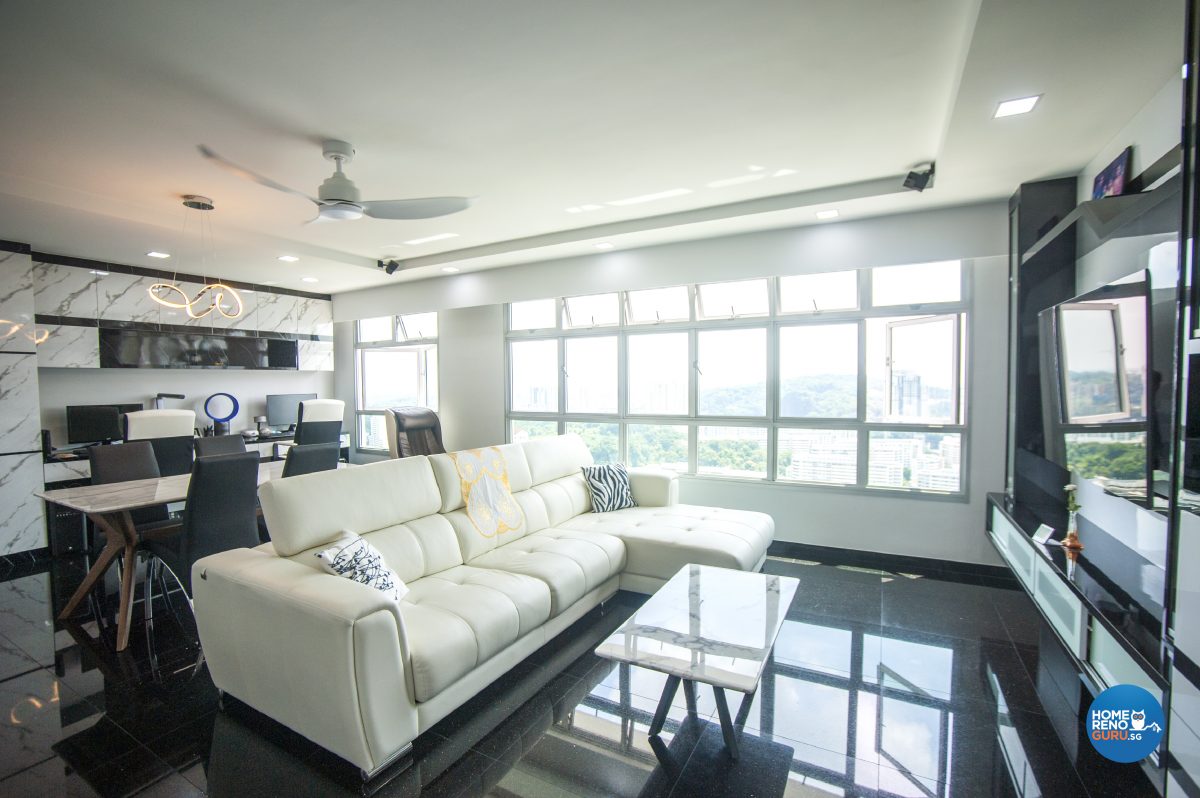 Black granite flooring set the tone for the monochromatic colour scheme of this gracious family home

Happy homeowners Aravinda, Sumathi and their daughter Subashini
HomeRenoGuru: How did you come to engage Darwin Interior to renovate your home?
Sumathi: Our ex-buyer recommended Mr Ben Koh from Darwin Interior. Once we met him, we liked his ideas, his approach and the timeline he gave to us, so we decided to choose Darwin Interior as our ID.
HomeRenoGuru: Did you have a clear vision of what you wanted from your renovation?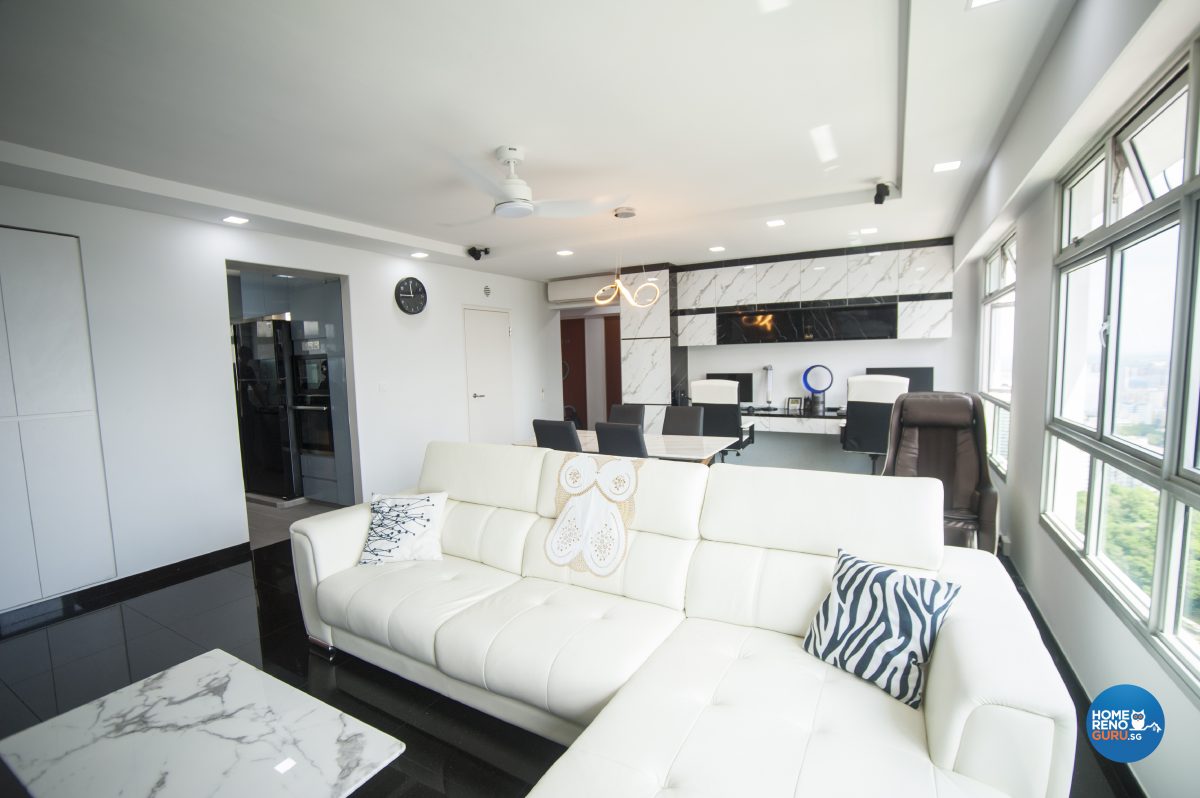 Elegant white furnishings and walls enlarge the open concept living area
Sumathi: We gave our brief to Ben when he came here to the new house one day. While looking at our house, I shared some ideas with him. In particular, when I saw the the kitchen, I thought that it was very small, so I wouldn't be able to keep a lot of things. When I told Ben I wanted a lot of shelves, he had some excellent ideas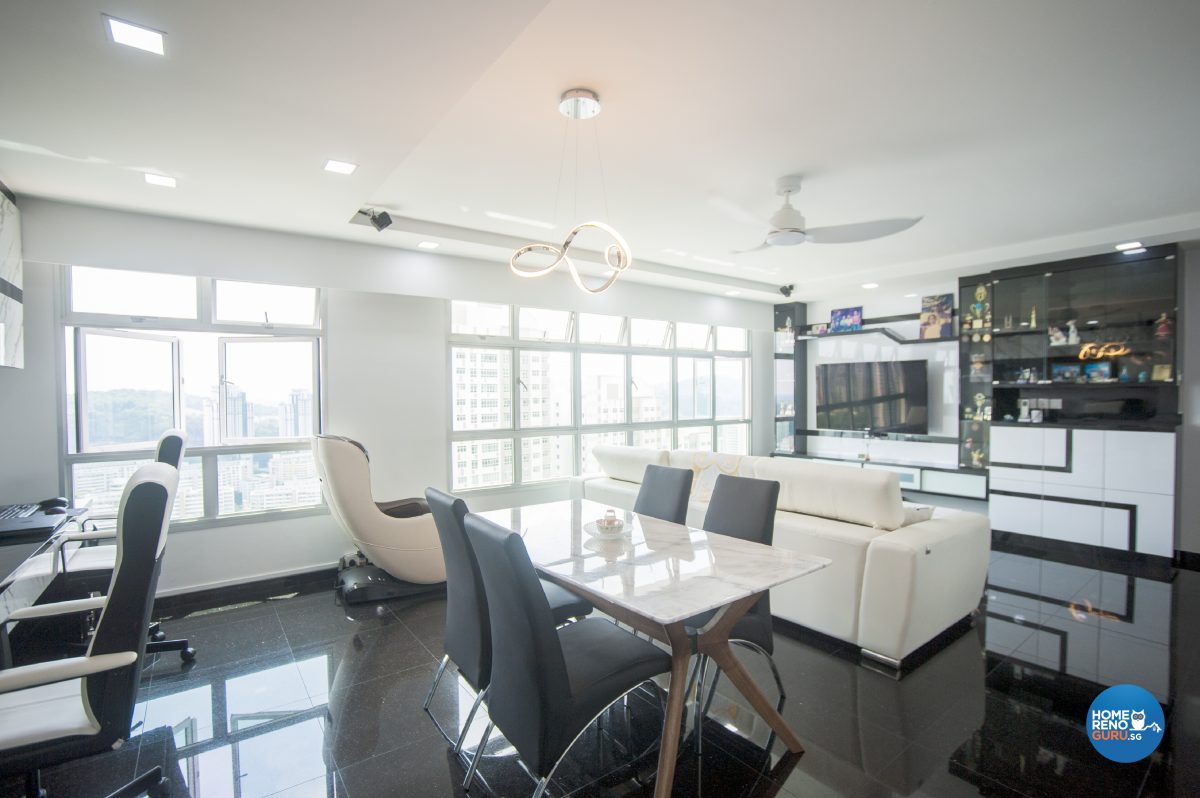 The living area flows into the dining area, which flows into the study area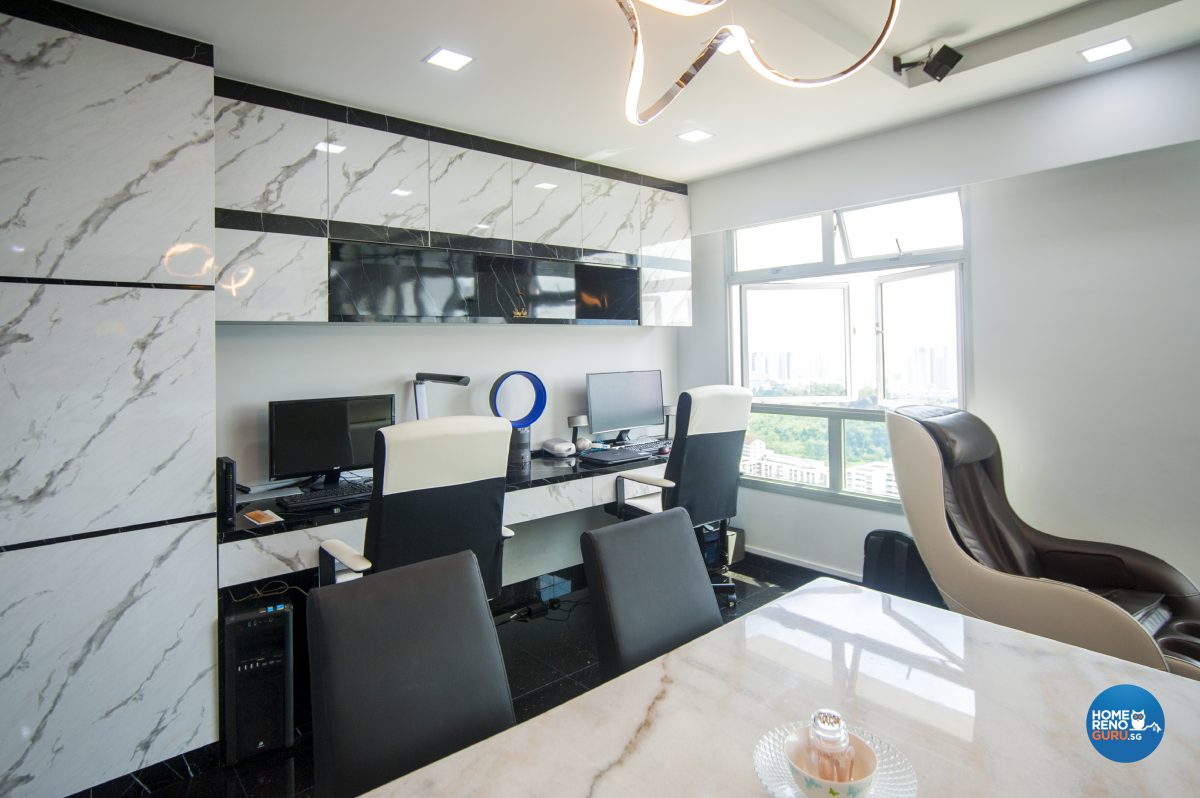 The marbled laminate used throughout the house visually connects the study and dining areas
Aravindan: When we briefed Ben, we had already chosen black granite for our flooring. From there onwards, we decided to go for a black and white theme. For the study room, we didn't want the separation because it makes the living room smaller, so we went for an open concept.
HomeRenoGuru: How did you find the actual renovation process?
Sumathi: The whole renovation process, Ben updated us by using the Whatsapp group. If we messaged him anything regarding the renovation, he will reply immediately. The maximum time he took is five minutes; minimum is within one minute he will reply.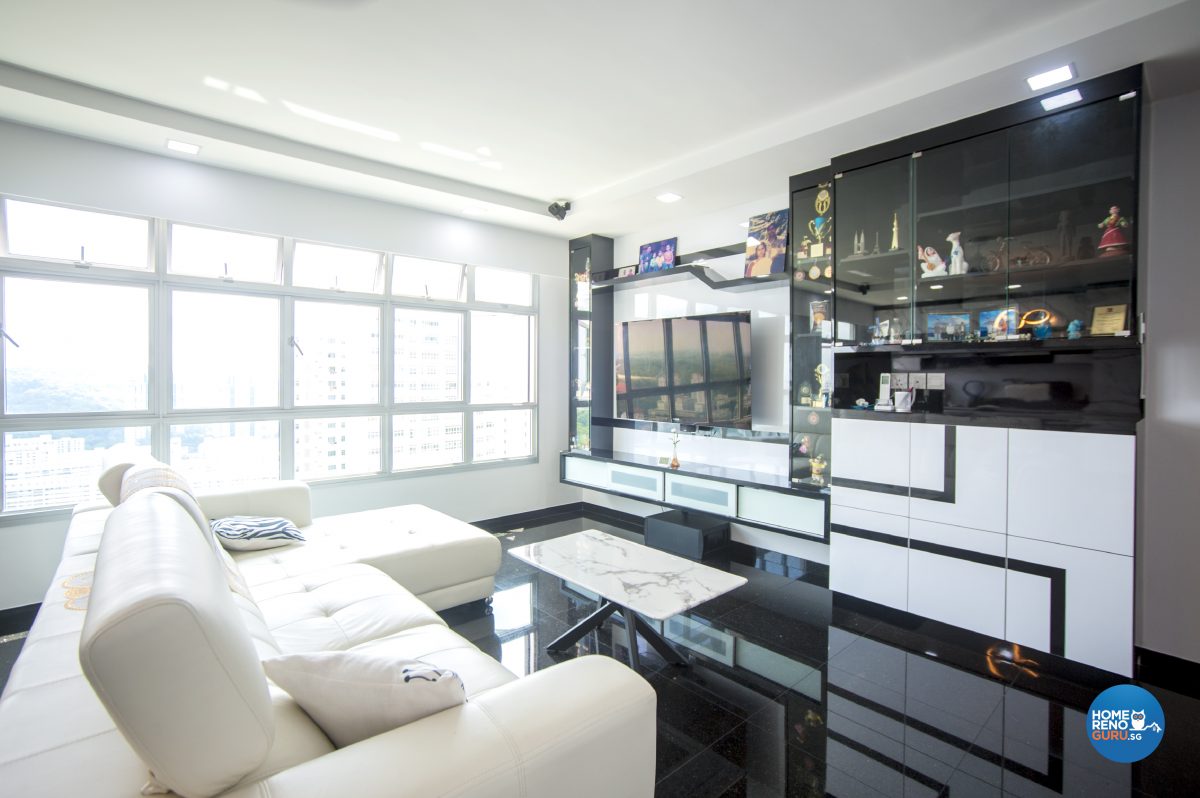 Reflective surfaces and layered lighting add a luxury feel
Sumathi: Small issue during the renovation process – we overlooked the power points we needed. Later after painting, we moved in, we realised that we need a lot of power points. Once we told Ben about that, he was very accommodating and helped us to solve the problem.
HomeRenoGuru: What do you love most about your renovated home?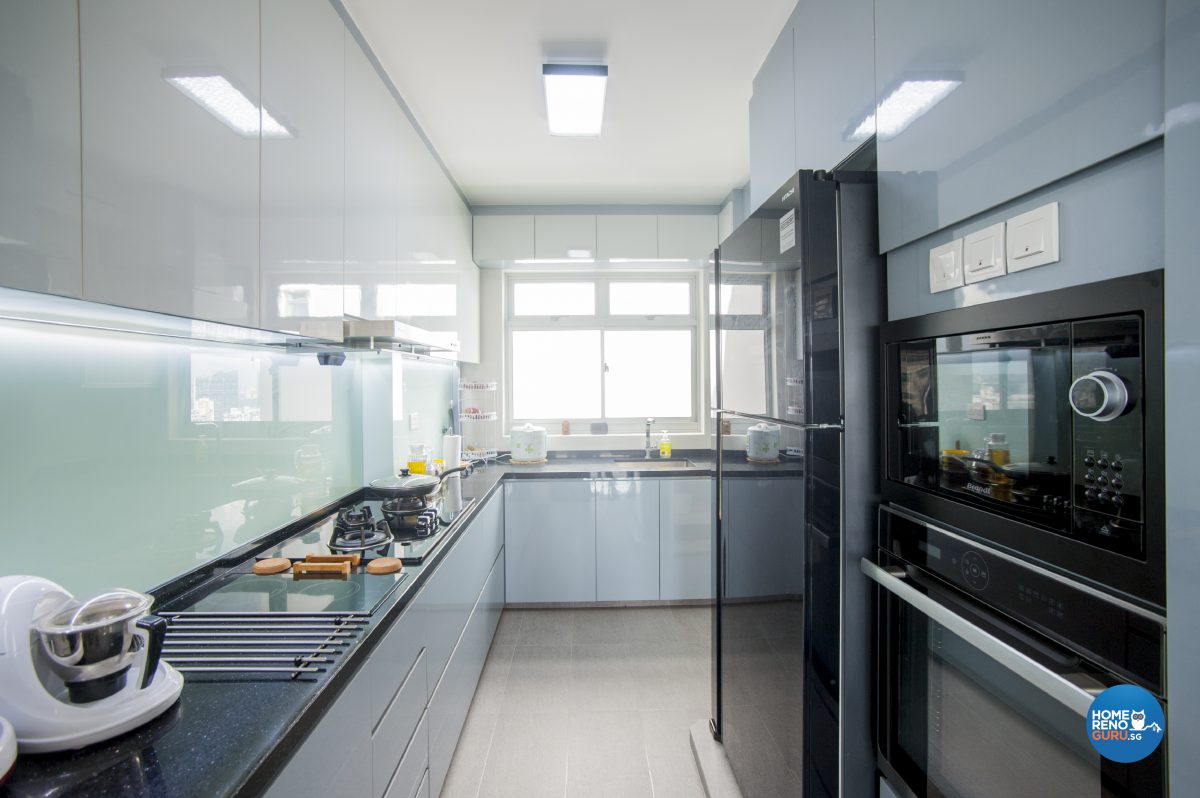 The compact kitchen utilises every available inch of space for storage
Sumathi: My favourite place in the house is kitchen, because I thought at first the kitchen was very small, and we coudn't put a lot of shelving. But Ben gave us a lot of ideas that allowed us to have a lot of shelving, which I was very happy about. We also requested more drawers in the kitchen, and Ben gave us a lot of drawers which are easier to access.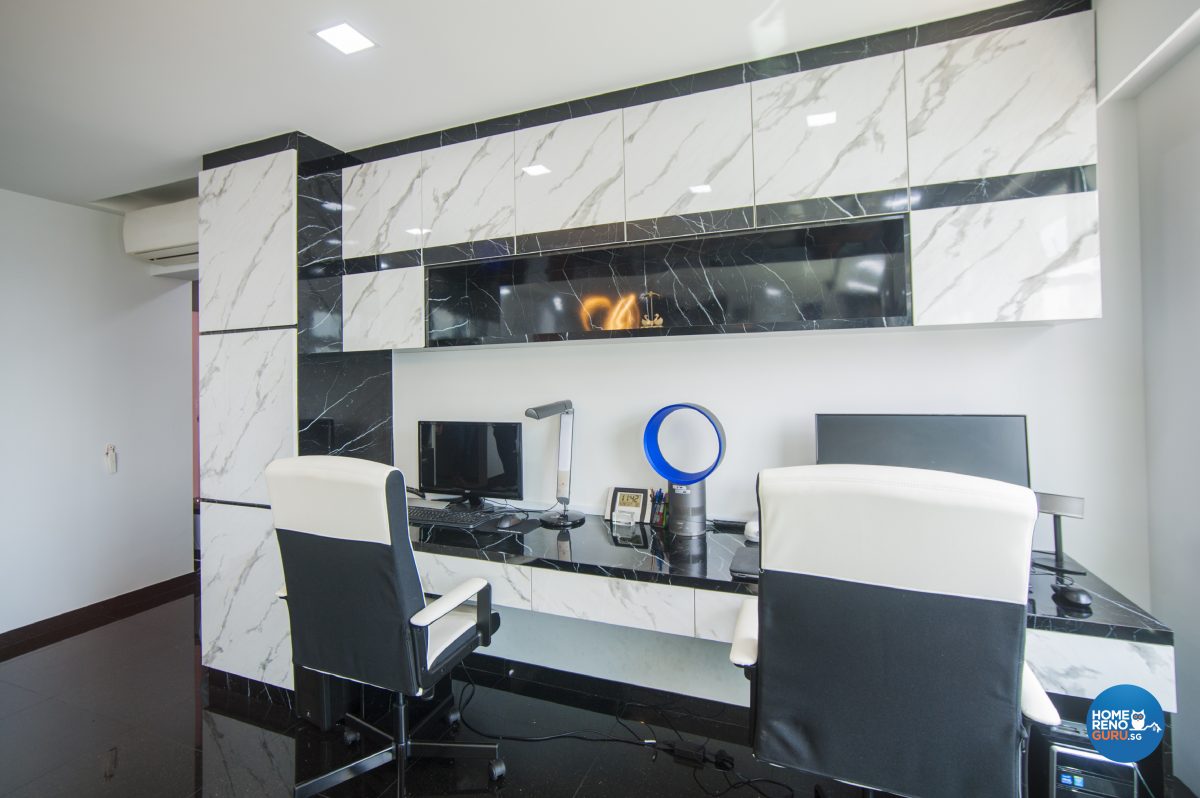 Interior designer Ben optimised the workspace in the study area and neatly concealed the wiring
Aravindan: The study area was planned very well. We can keep two desktops, as well as two laptops, and Ben concealed all the wirings. But still we have some workspace to do writing or reading in the study area.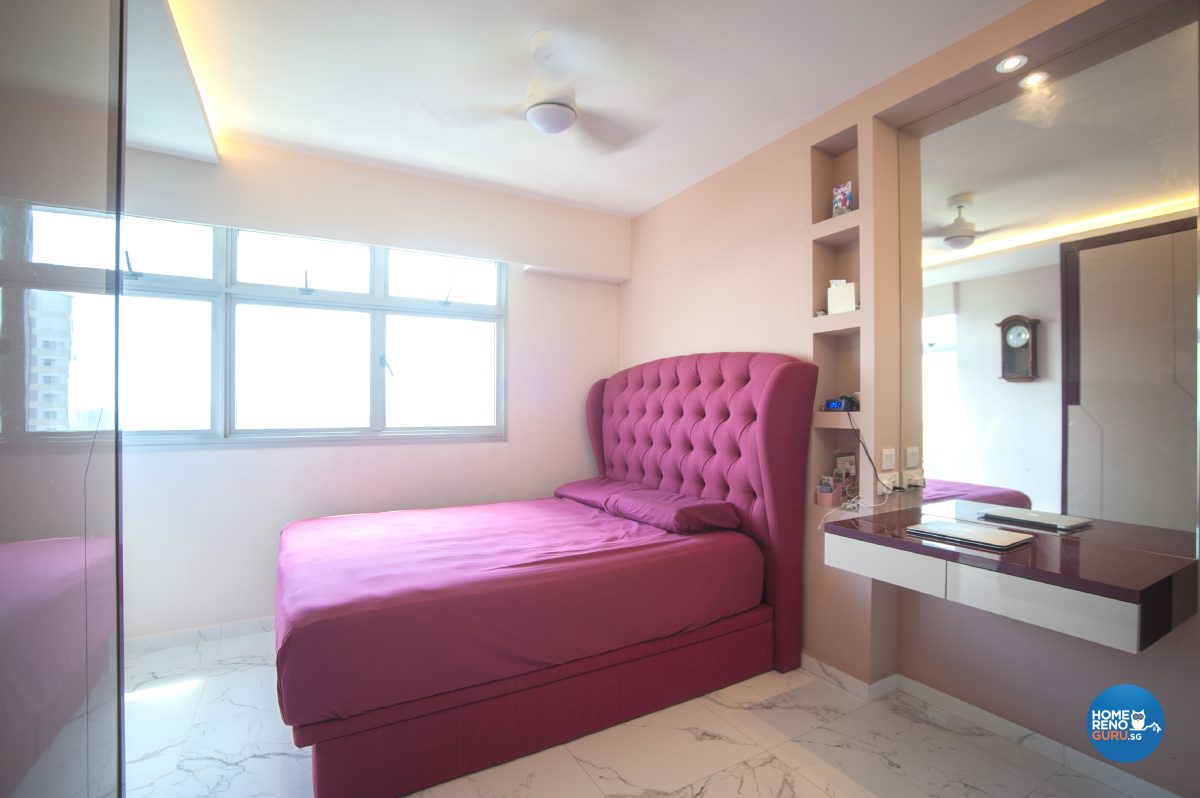 The master bedroom features a built-in dressing table and mirror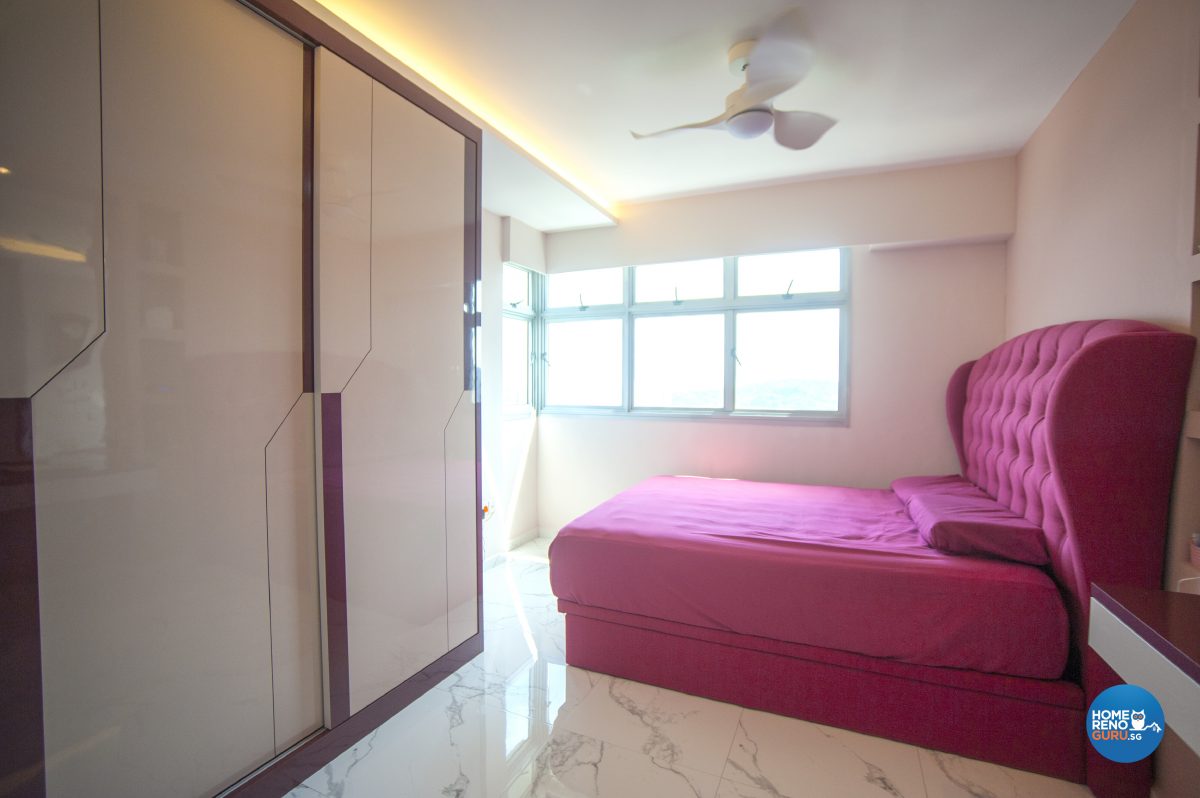 The long wardrobe creates a clear walkway in the master bedroom
Sumathi: During our colour selections, we gave some suggestions to Ben, but he actually recommended two-tone colours on the wall and the wardrobes, which was a very good contrast with the living room's black and white theme.
Aravindan: My kids also like the two-tone colours for their bedrooms.
Sumathi: And also for the wardrobe, we thought of having an L-shaped wardrobe, but Ben recommended the longer one, which is very good for the walkway in the master room.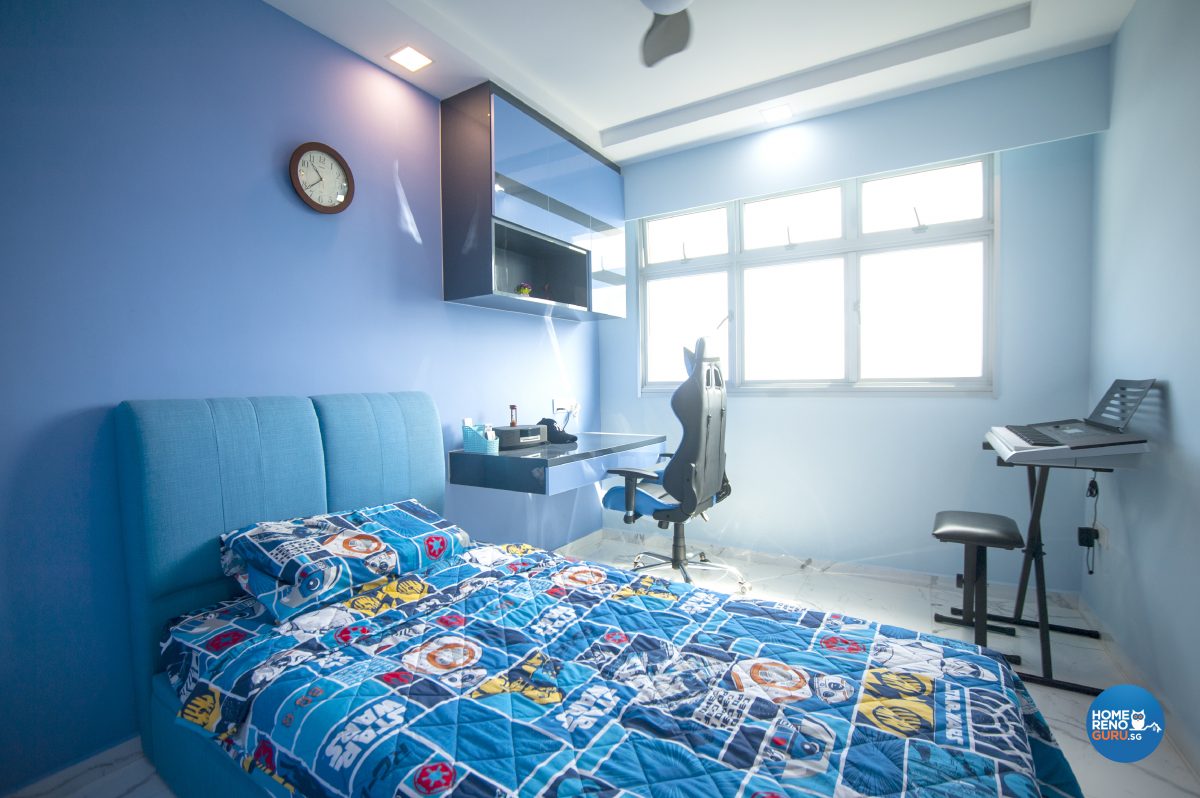 At the interior designer's suggestion, the boy's bedroom features two tones of blue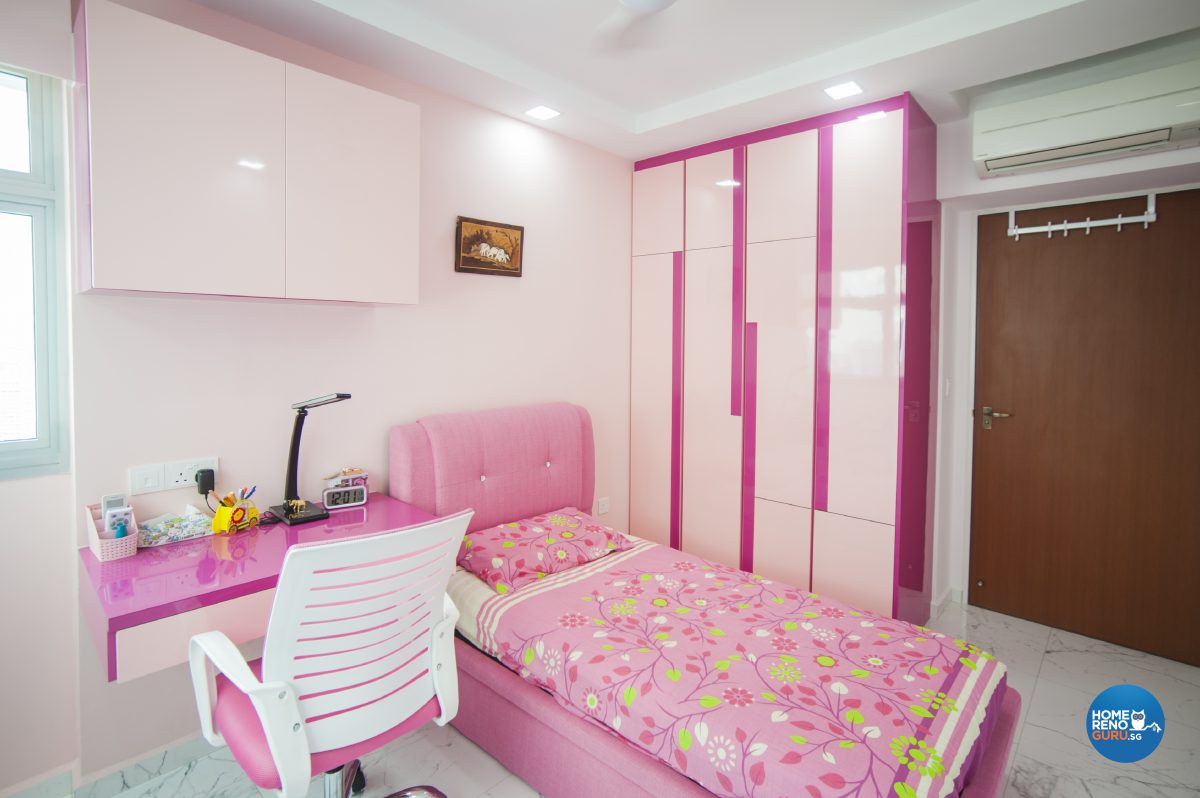 Likewise, the girl's bedroom features two tones of pink
HomeRenoGuru: Do you have any advice you would like to share with homeowners who are considering a home renovation?
Looking for Interior Designers?
Let HomeRenoGuru help!
Sumathi: My advice to future homeowners – you really need to choose one of the best IDs, someone like Ben.
HomeRenoGuru: Would you recommend Ben Koh and Darwin Interior to other homeowners?
Aravindan: Definitely I would recommend Mr Ben Koh from Darwin Interior, to anyone who's looking for an interior designer.
Sumathi: In fact, he has already recommended Ben to his colleague during our renovation. A big thank you to Ben and Darwin Interior. We love our home.