Dream Home: A Family Affair
An open-minded and family-minded pair of homeowners, Adrian and Cindy considered their children's opinions and welcomed their input in the renovation of their home. As Cindy put it, they wanted a home in which every member of the family would be happy. Their designer, Daniel Choo of Sennett Projects, met everybody's expectations!
Project Snapshot
Name(s) of Homeowner(s): Adrian Wee and Cindy Teo
House Type: 4-room Executive Condominium Apartment
Size of Home: 116 sq m
Cost of Renovation: $35,000
Duration of Renovation: 2 months
Interior Design Firm: Sennett Projects Pte Ltd
Name(s) of Designer(s): Daniel Choo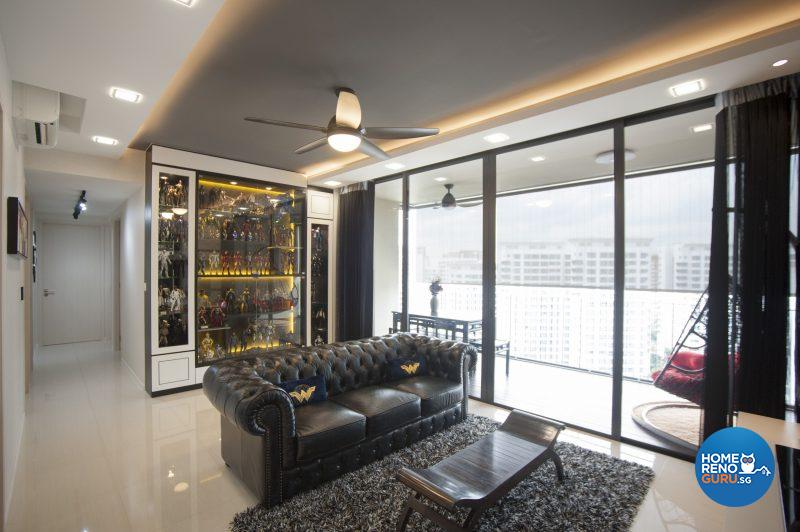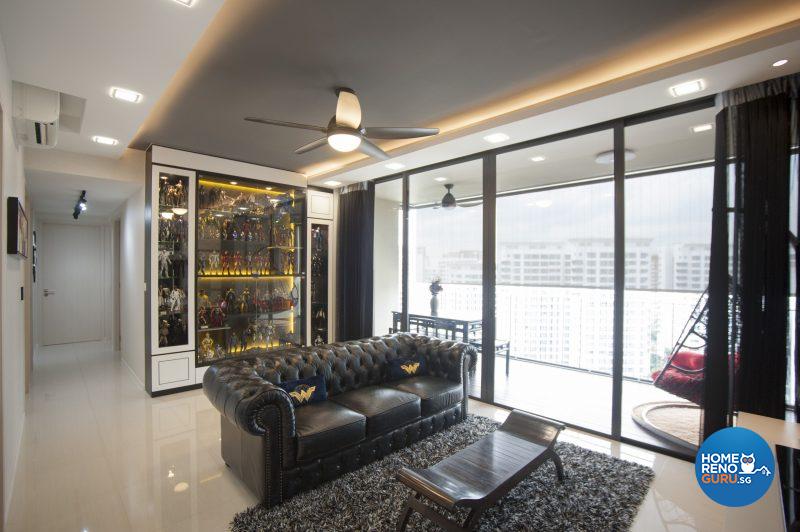 A Chesterfield sofa adds a touch of class to the living area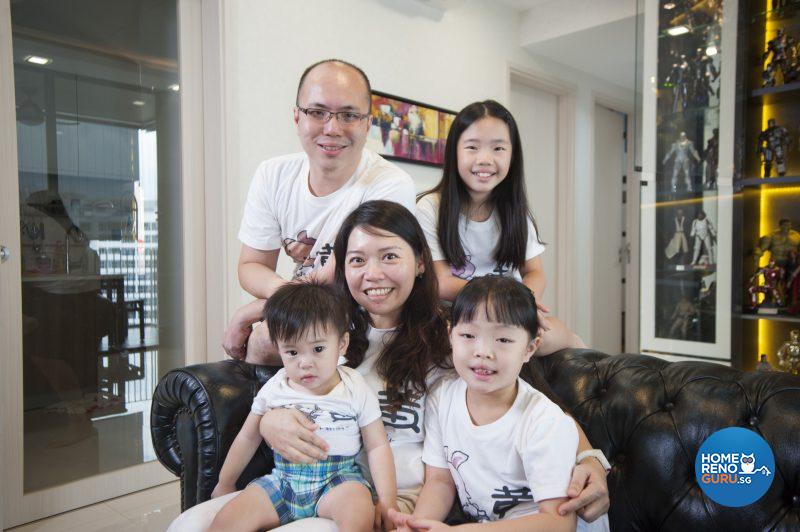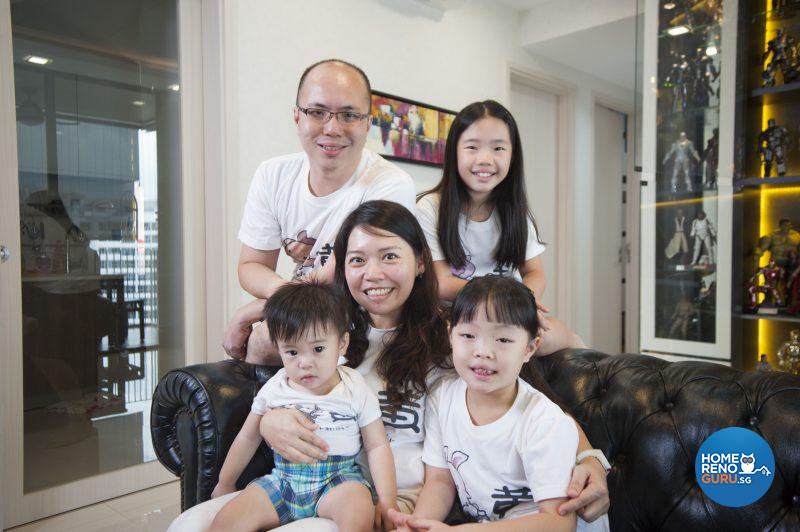 Adrian, Cindy and their three lovely children – Natalie, Natasha and Nathan
HomeRenoGuru: Why did you engage Sennett Projects to renovate your home?
Adrian: Our previous home was actually done by Daniel Choo of Sennett Projects, and we'd received plenty of compliments from family and friends. After a few discussions with my wife, we decided to entrust our home to Daniel again.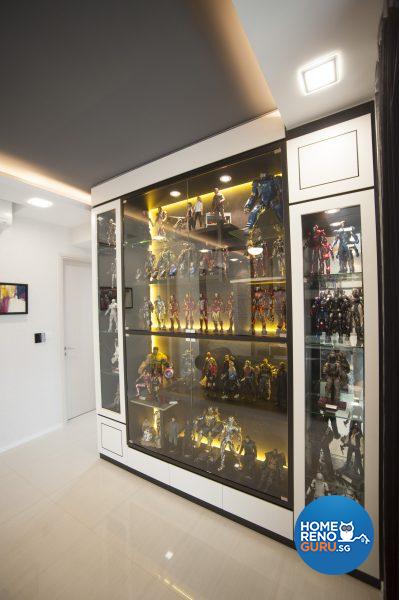 Floor-to-ceiling display cabinets house Adrian's extensive collections
HomeRenoGuru: What was your brief to Daniel?
Cindy: When we briefed Daniel, we considered built-ins for storage and so on.
Adrian: As you can see, we have a lot of boys' toys, so I needed a large cabinet to display them.
Cindy: In the end, we decided to go for something simple – a black and white concept.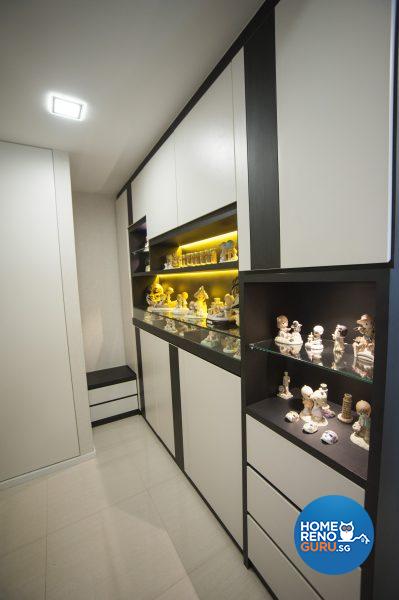 Shoe cabinets, display cabinets and concealed storage are neatly aligned at the entrance
HomeRenoGuru: How did you find the actual renovation process?
Adrian: When it came to the renovation process, Daniel was very effective with his communications. And the way he dealt with his co-workers, it was very impressive. He also managed the timeframe very well. Honestly, I think that he under-promises and over-delivers. What more can a customer want?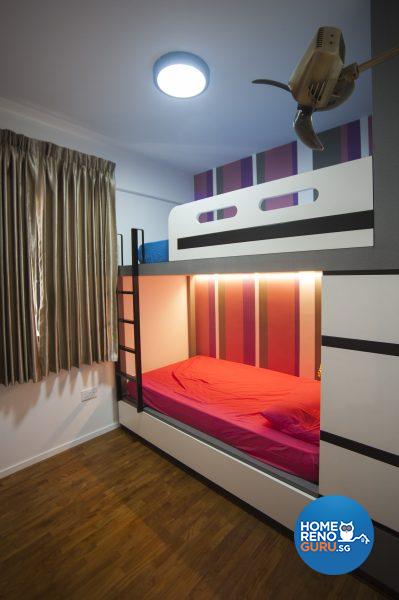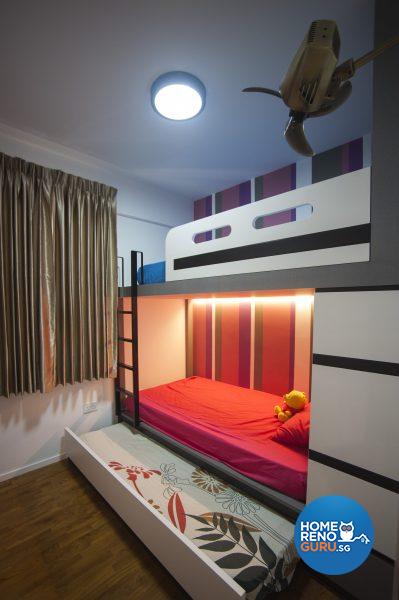 A pull-out bed slides neatly under the lower bunk in the girls' room
HomeRenoGuru: What do you love most about your renovated home?
Natalie: I love everything, but if you forced me to choose one thing I would say I love my bedroom because it has a bookshelf. If I need to study, I can just on my lights that are on top of my bed and take out my book. Then when I finish reading, I can just put it back on the shelf – unlike if I had to go to the study room, then I would have to climb up to my bed again.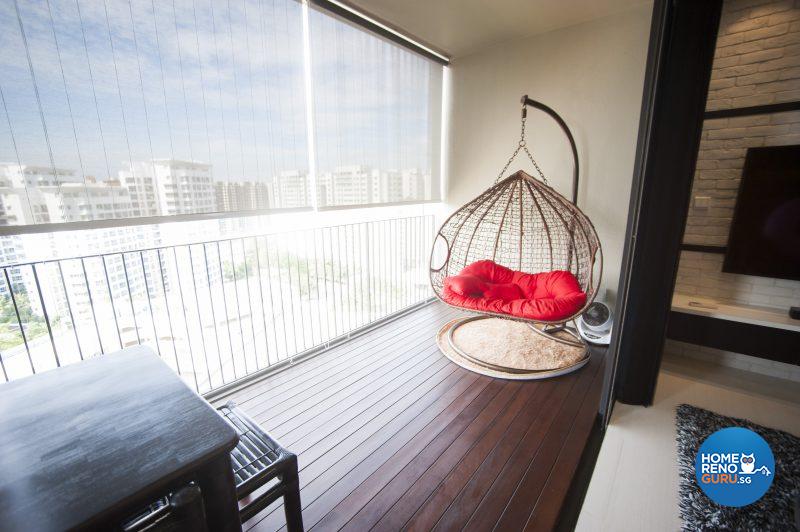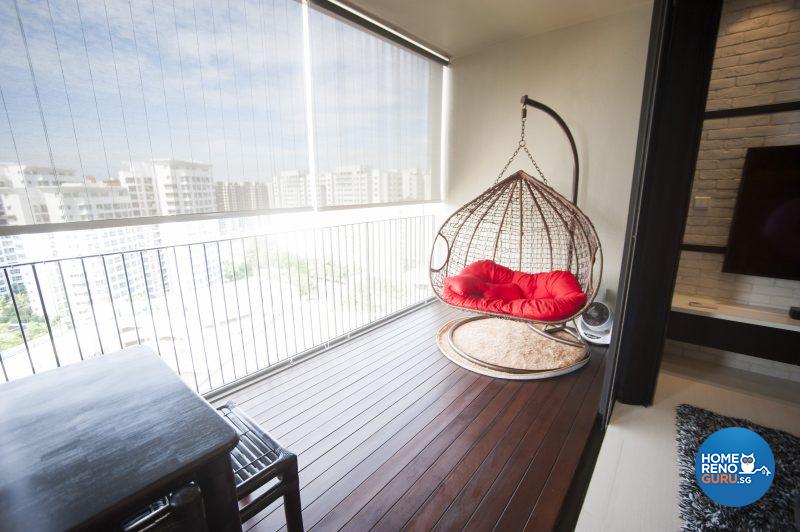 A cosy corner on the balcony is the perfect place to curl up and daydream
Natasha: I love the balcony, because there's a swing that makes people relax.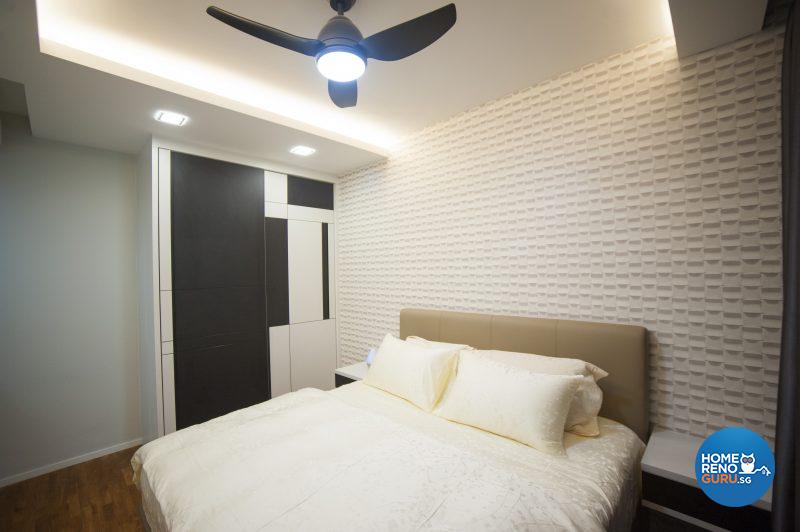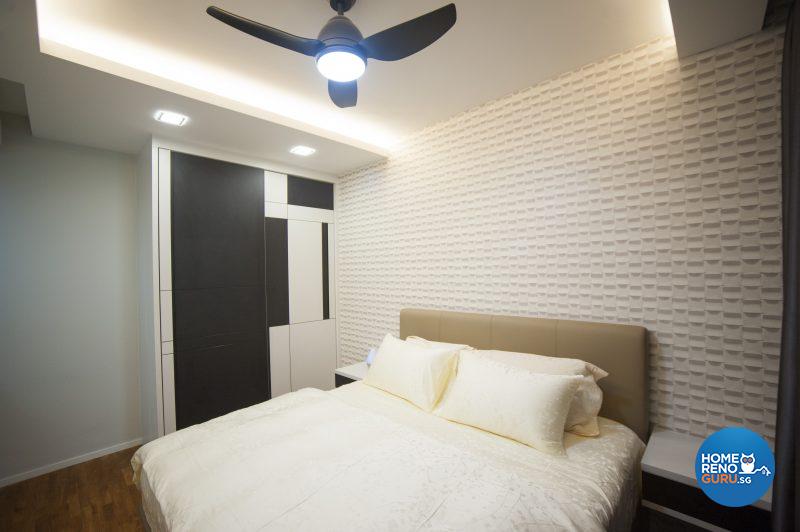 The simple, clean master bedroom is enlivened by an intriguing wallpaper that creates the illusion of actual 3D brickwork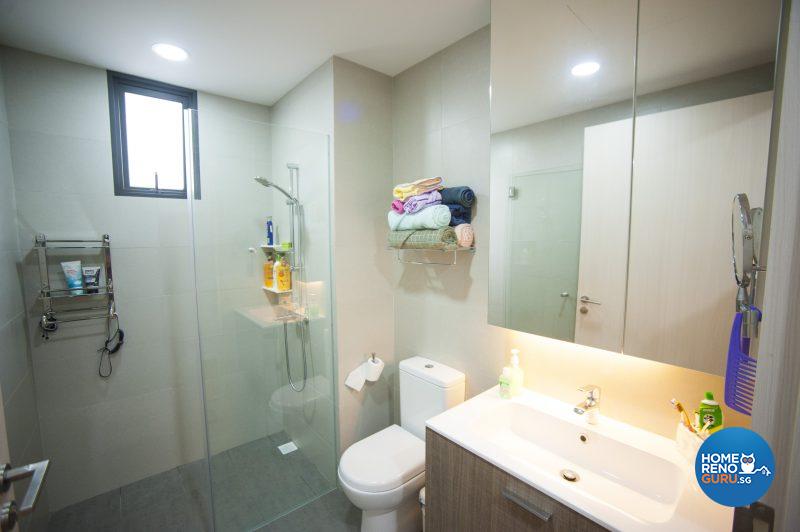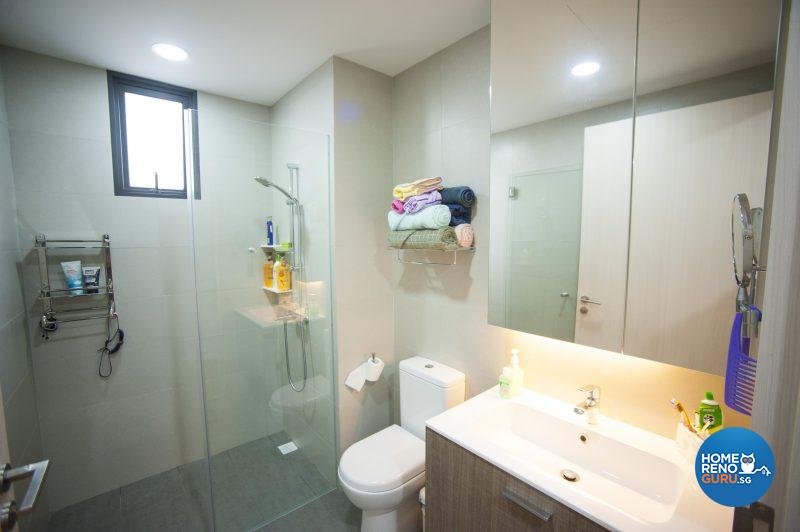 Ceiling-height mirrored cabinets hide away the clutter
Cindy: What I like most is my master bedroom, and especially the textured appearance of the feature wall that's behind my bed. Most of my friends are actually quite surprised when they take a closer look and find out that it's actually plain wallpaper!
I also like the tall mirrored cabinets that are in the bathroom, so that I can keep my things neat and tidy.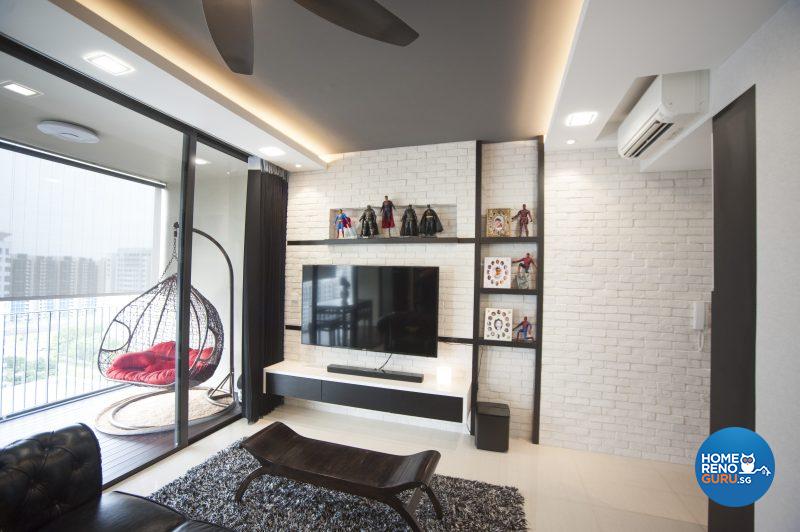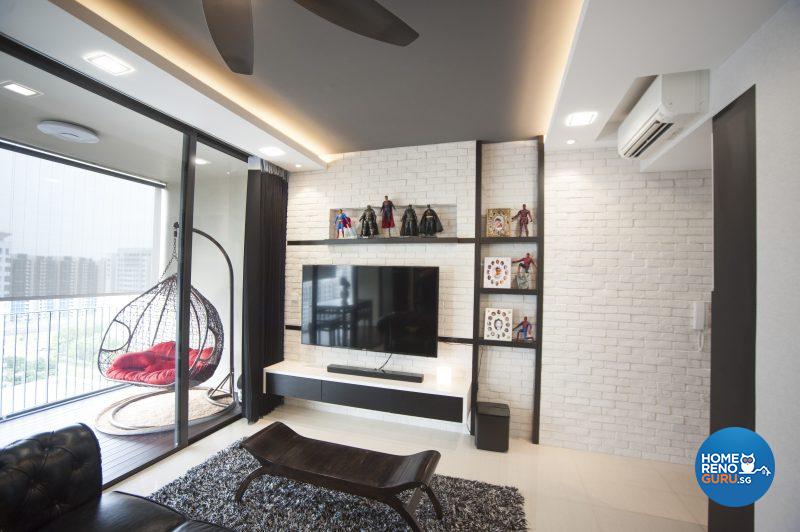 Indoors flow into outdoors, seamlessly
Adrian: What I like about our living room is the Craftstone feature wall, which is something that Daniel actually started doing quite early in his ID career. The lighting is also special. We can set it to three different moods, as we require them.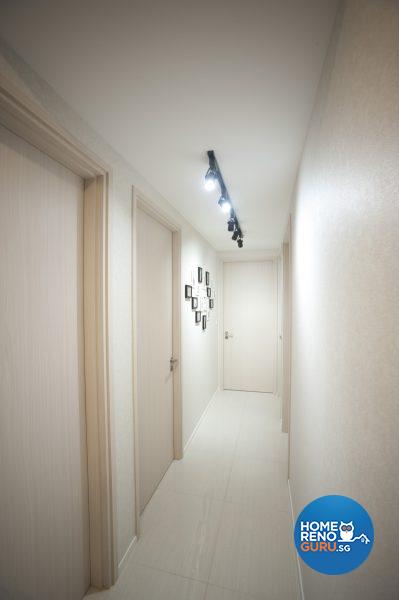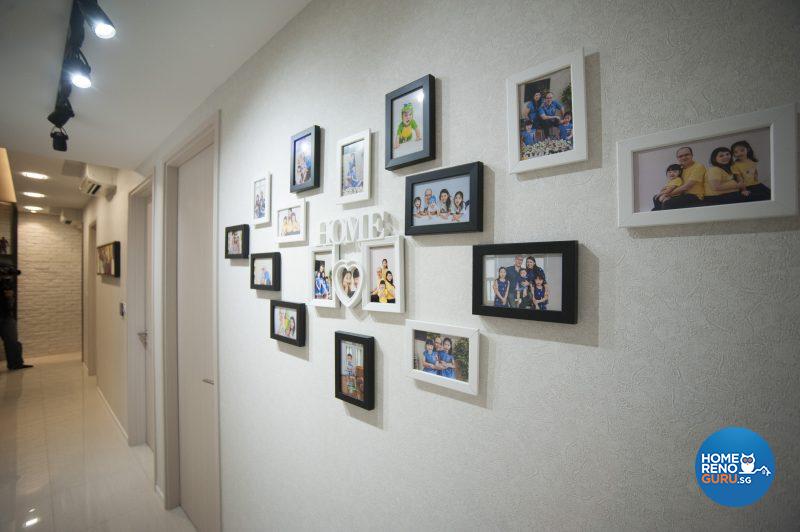 A pristine white hallway doubles as the family photo gallery
Cindy: I especially like my walkway – it is like a gallery. The wallpaper serves as a canvas for my family photos.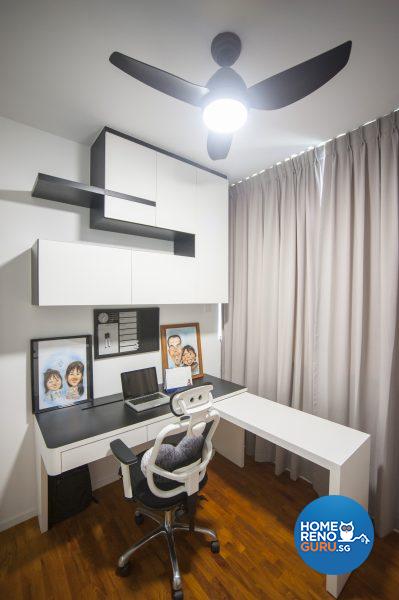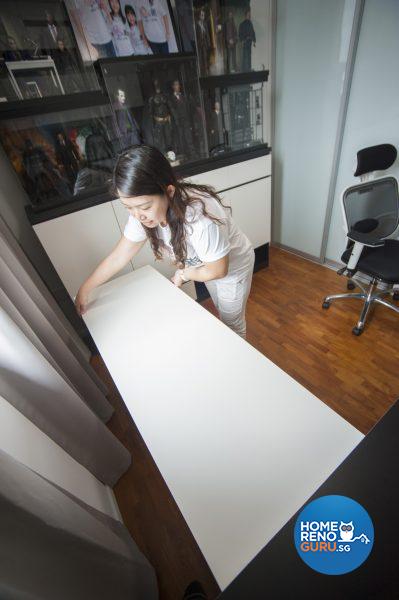 The study room sports an extendible table
HomeRenoGuru: Do you have any advice you can share with homeowners contemplating a renovation?
Adrian: My advice for future homeowners is that you've got to have a rapport with your designer and, most importantly, his 3D design has to be identical to the final product.
Natalie: My advice for all homeowners is to listen to your children. My mother asked me for my opinion, which I told her, and she followed it!
Looking for an estimate of your renovation costs?
Let HomeRenoGuru help!
HomeRenoGuru: Would you confidently recommend the services of Sennett Projects and Daniel Choo?
Adrian: Without a doubt, I would recommend Sennett Projects and Daniel Choo to all homeowners out there. Thank you, Sennett Projects. Thank you, Daniel Choo.