Dream Home – "Exactly What We Wanted"
After the initial excitement of moving into a new home, Farzanna and Firdaus were somewhat dismayed by the space constraints of their new flat. Then Azri worked his magic, and helped this lovely young family of four – Farzanna and Firdaus plus their daughter Farah and their son Umar, design a home that was exactly what they wanted. Here's the story of how their simple, timeless, family-friendly home came to be.
Project Snapshot
Name(s) of Homeowner(s): Firdaus and Farzanna
House Type: BTO 5-room HDB Flat
Size of Home: 115 sq/m
Duration of Renovation: 2 months
Interior Design Firm: Homeway Living
Name(s) of Designer(s): Azri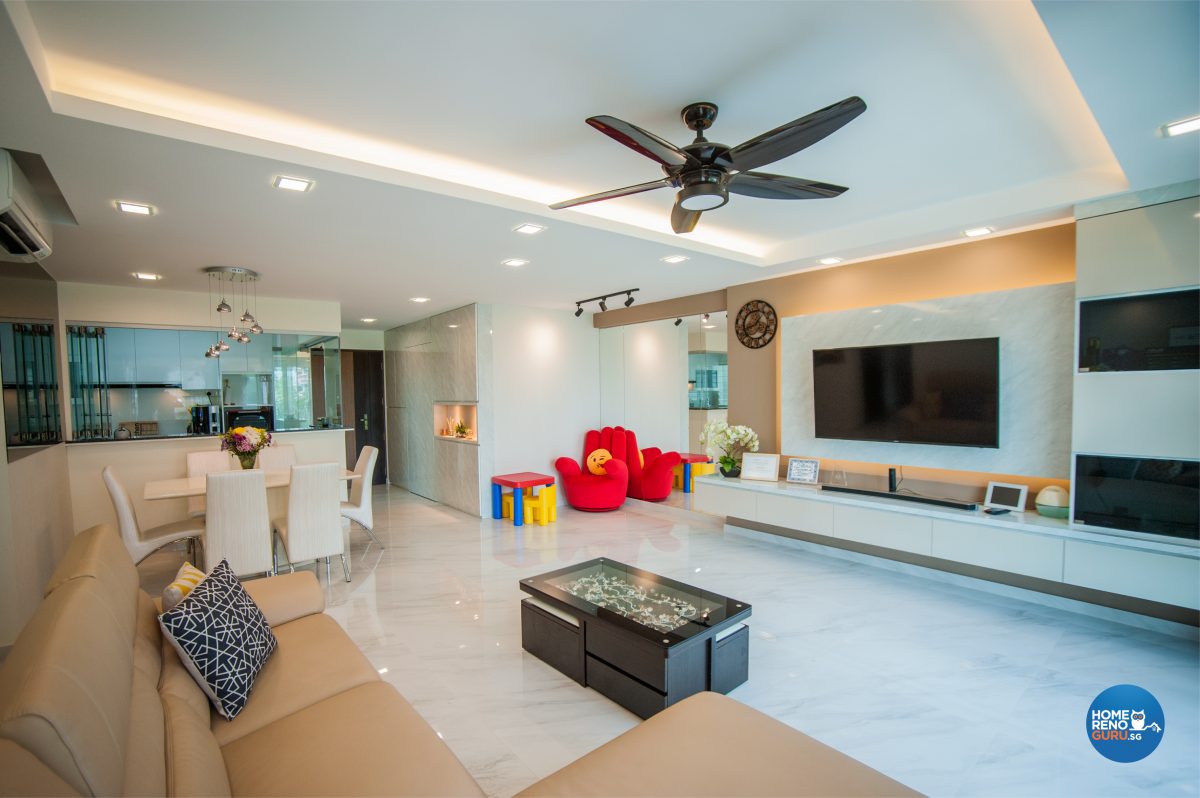 The simple, spacious and elegant living area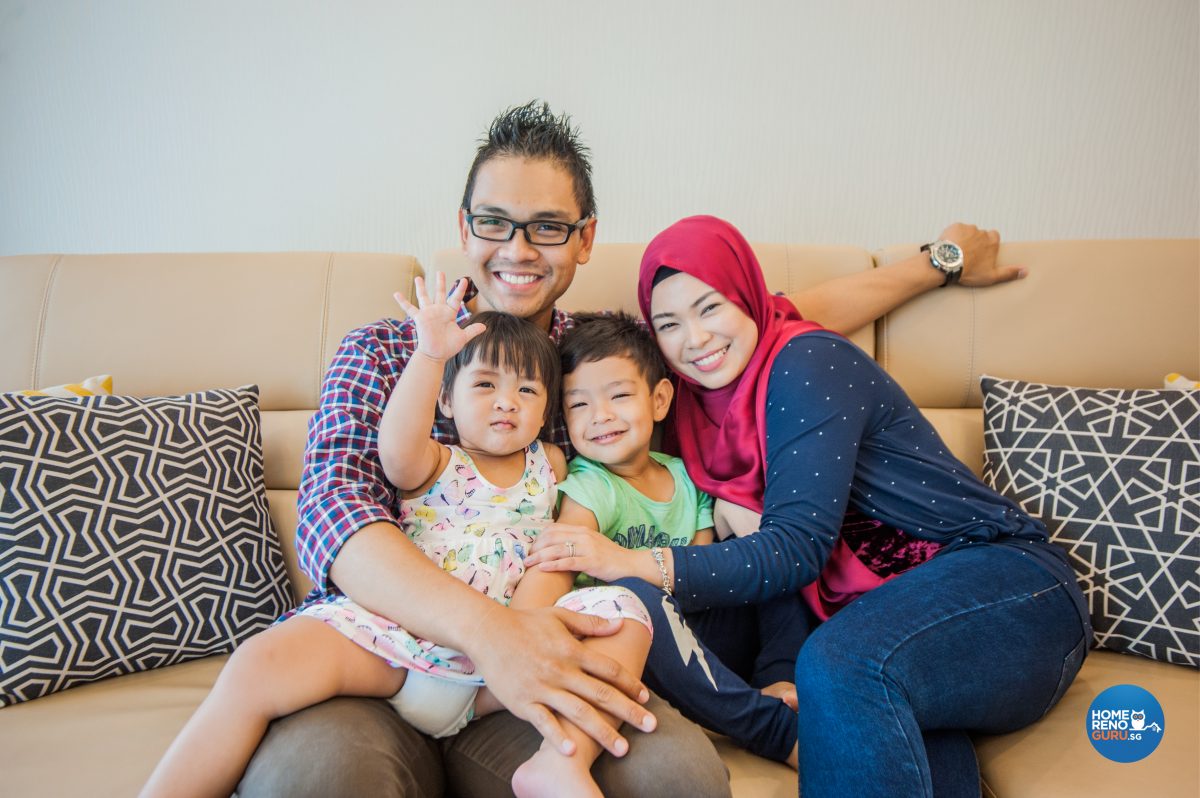 Beautiful family, beautiful home!
HomeRenoGuru: How and why did you come to engage Homeway Living to renovate your home?
Firdaus: In our extensive research, we stumbled upon Homeway Living on Facebook and we decided to drop by their showroom, which is located at Upper Changi Road. Upon arrival, we met Azri at his desk. We engaged him, we talked to him and we found out he was more like a friend rather than a salesman. Because he wasn't that pushy and his suggestion was on par with what our thoughts were.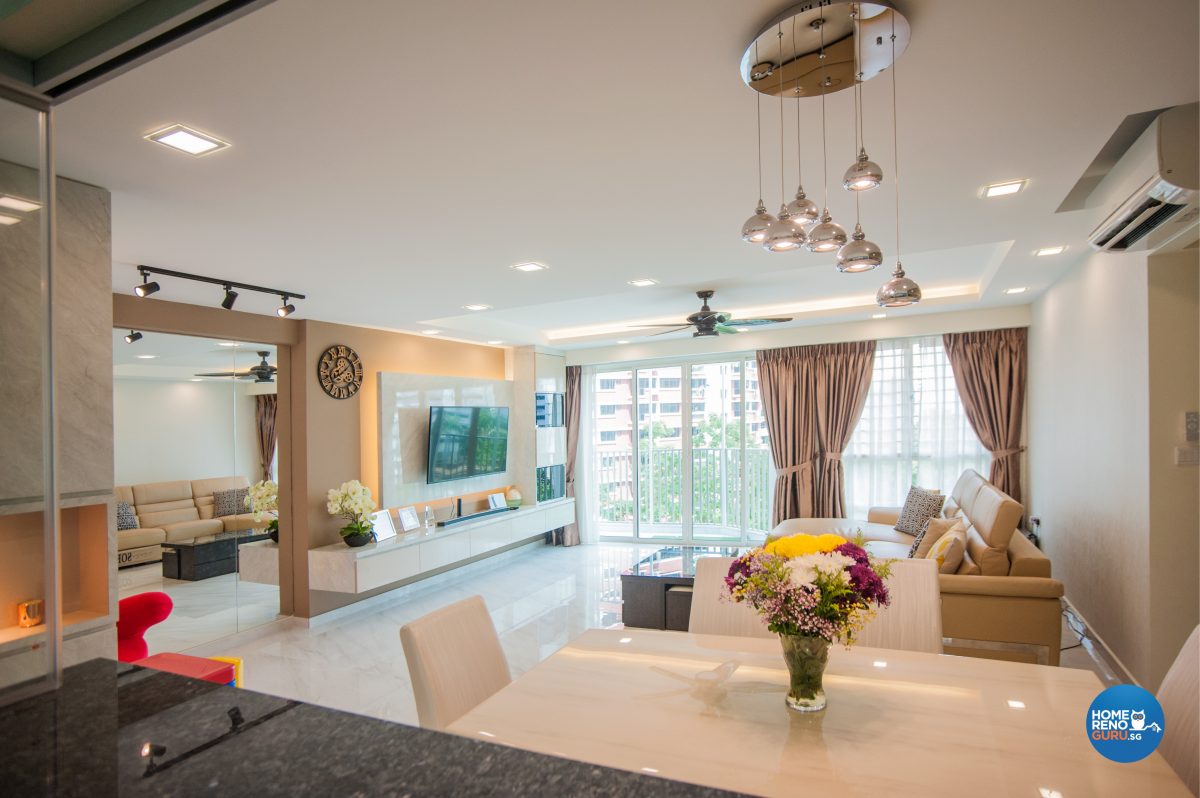 Light colours, natural wooden finishes and layered lighting open up the space
HomeRenoGuru: What was on your wish list when it came to your renovation?
Farzanna: When we first got our keys, we were very, very excited, because it was our first house and everything. But when we opened the door, we were quite surprised to see that the space was really small. It was actually smaller than what we had anticipated.
We told that to Azri, and then I started looking through Pinterest and Google images on houses. We wanted a classic minimalist design – something that is timeless. We didn't want Scandinavian or any of those trendy kinds of designs.
Azri showed us the 3D designs that he had created and it was exactly what we wanted – it was perfect, and we knew that we made the right decision.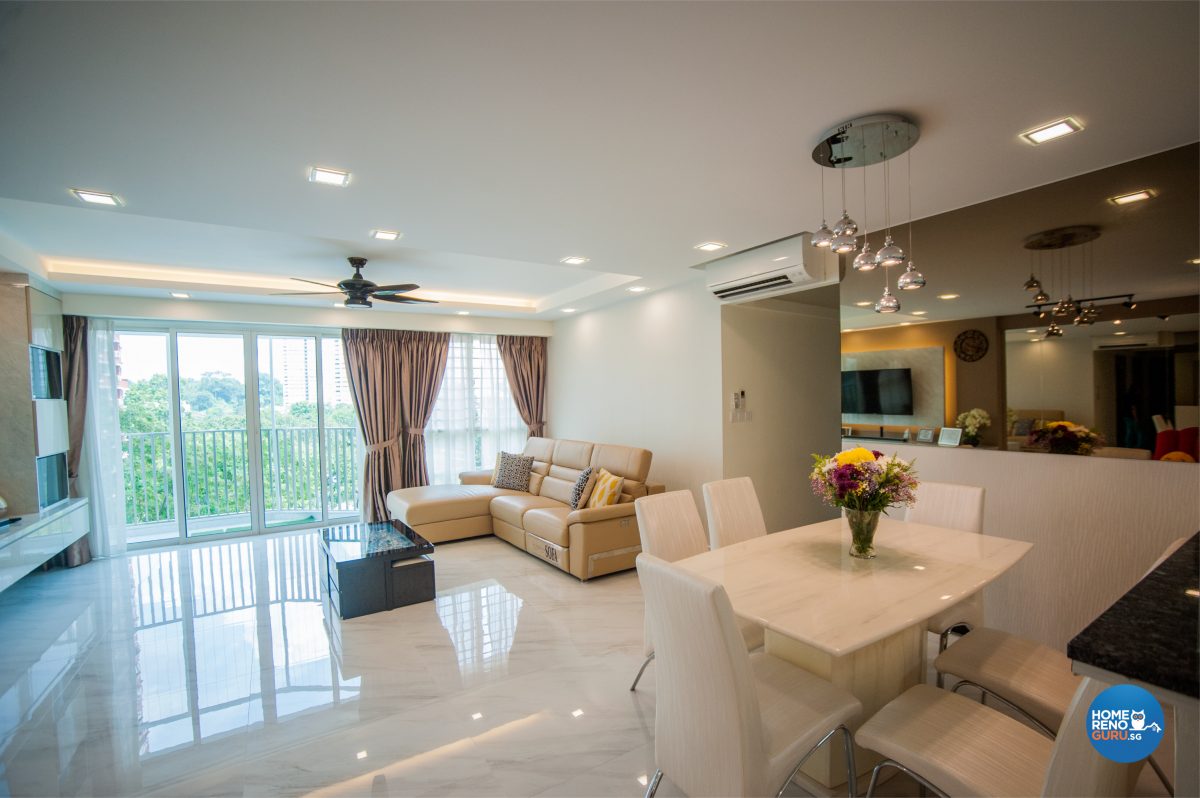 The open concept dining and living area is flooded with natural sunlight
HomeRenoGuru: How was the actual renovation process?
Farzanna: During the renovation process, Azri was very professional, he mapped out a timeline for us and ensured that all parties adhered to it.
HomeRenoGuru: Were there any surprises along the way?
Firdaus: During the execution phrase, the contractors took the initiative to suggest a more attractive arrangement of the tiles, which deviated slightly from the original plan. We were very grateful, as it turned out great.
HomeRenoGuru: What do you love most about your home?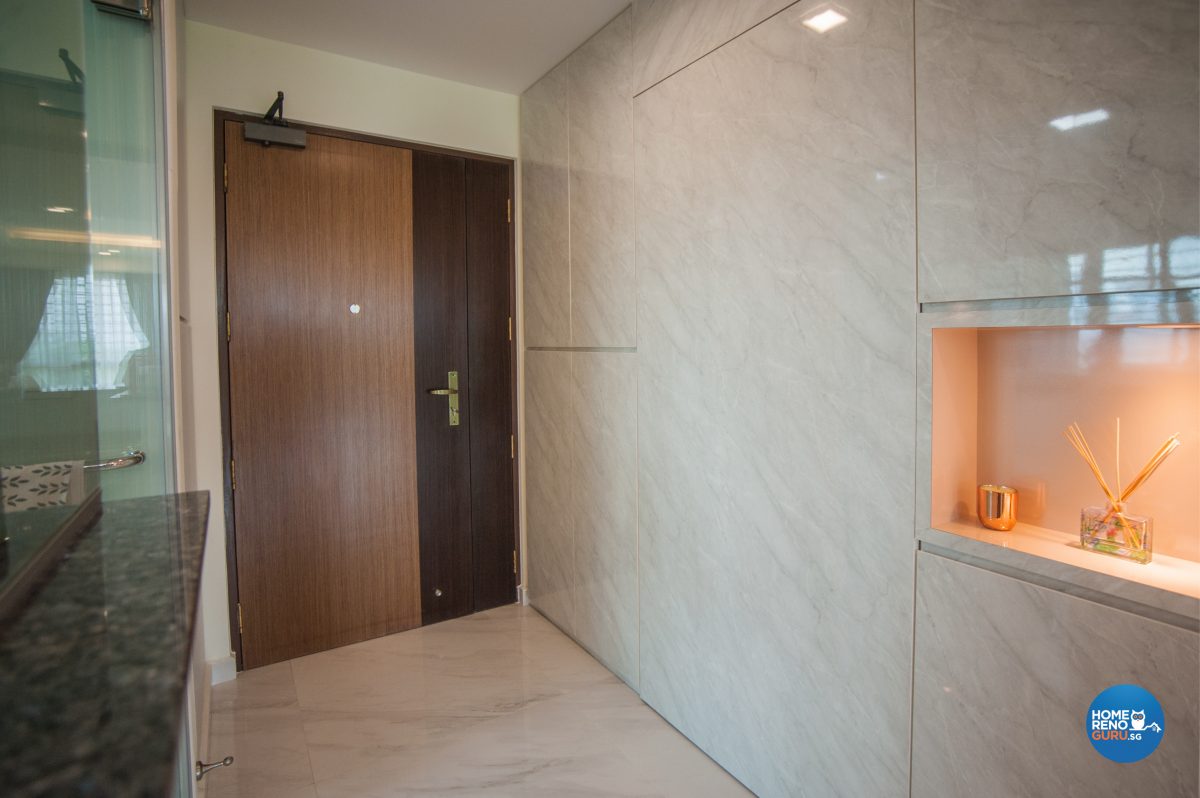 The entrance hall is neat and wide, with the shoe cabinet, display cabinet and bomb shelter cum storeroom seamlessly aligned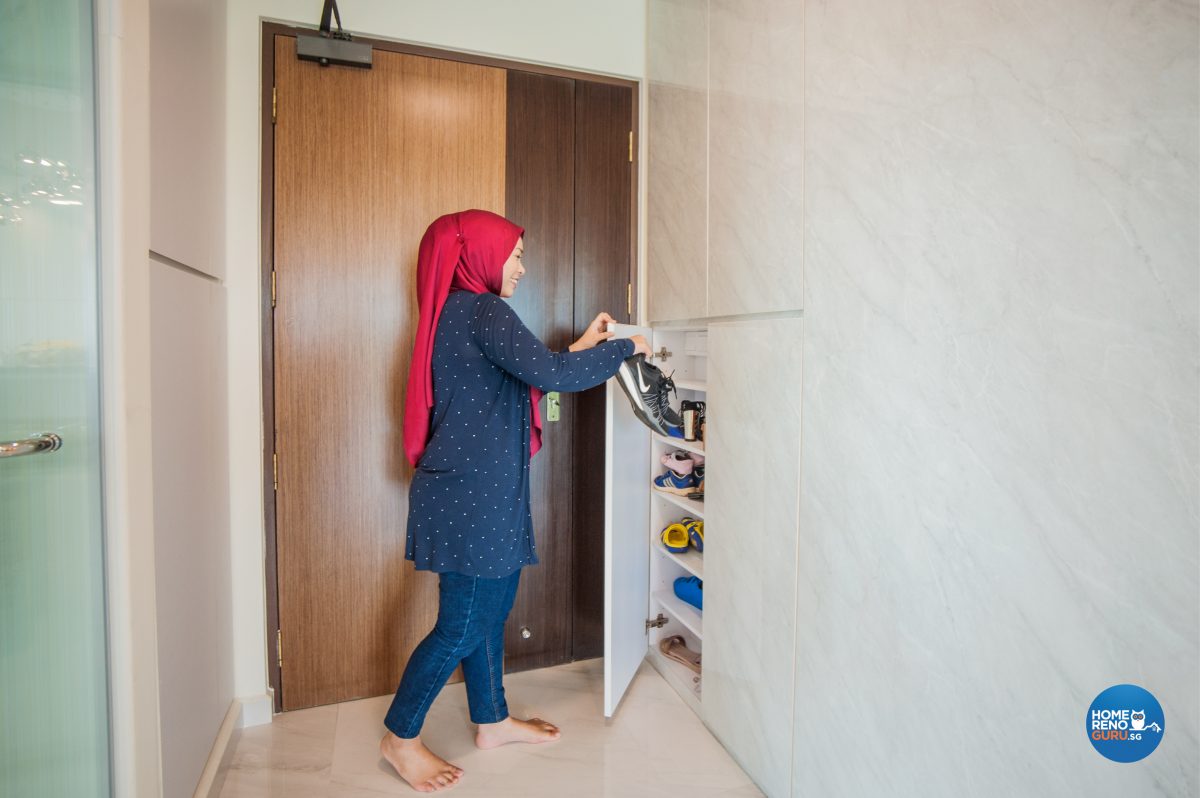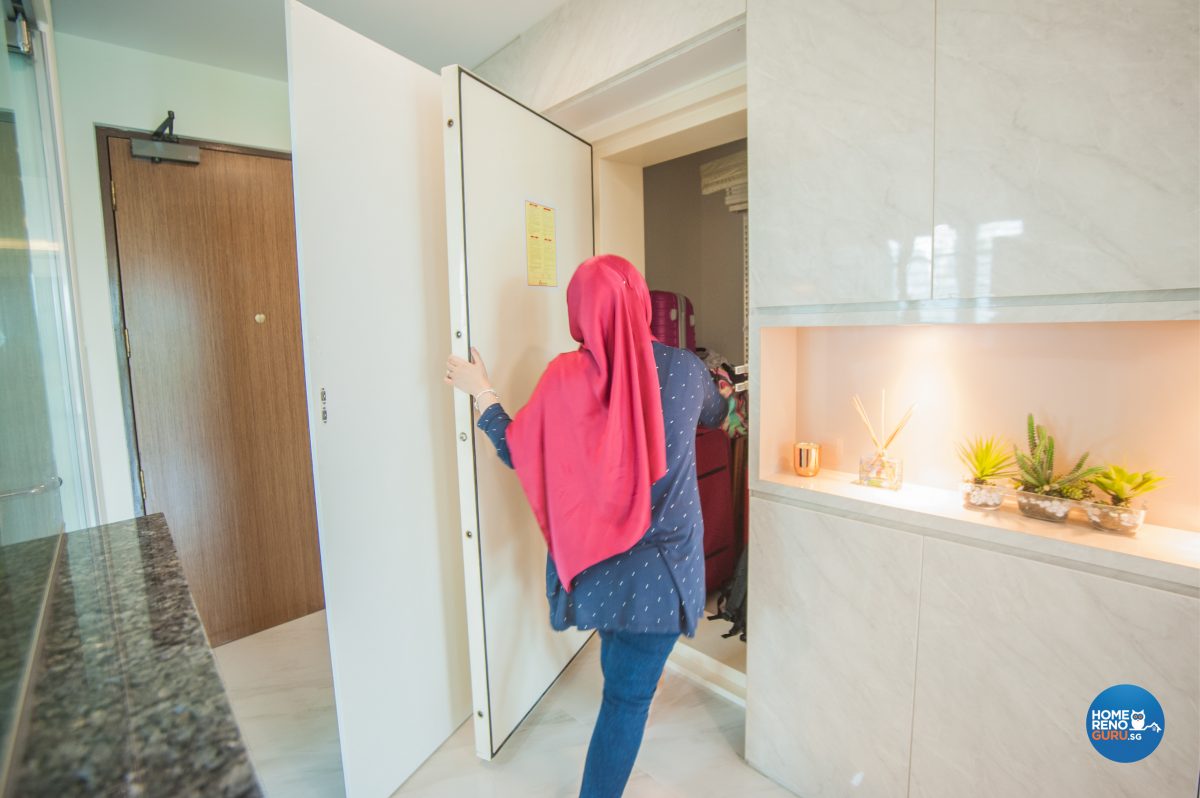 Tic tac doors eliminate the need for fussy handles to the shoe cabinet and bomb shelter cum storeroom, keeping the surfaces smooth and the lines clean
Farzanna: My favourite part of the house is really the shoe cabinet because, when you open the front door, the first thing you see is unfortunately the bomb shelter, and I really didn't like it. So we brought up this concern to Azri, our interior designer, and he suggested flushing the wall totally and concealing it with a tic tac door. He also suggested to have our shoe cabinet around it, and it turned out really well.

An uninterrupted line of vision flows from living room, through dining area to kitchen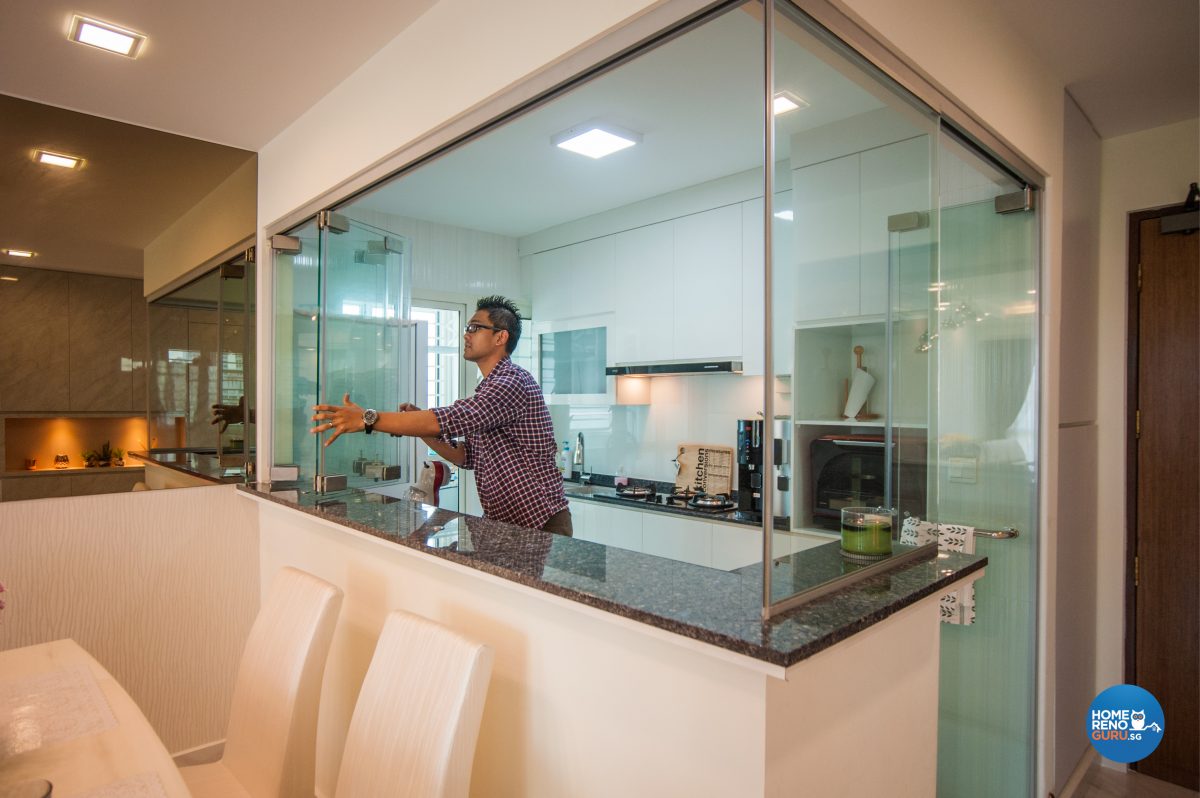 Glass panels remain closed to contain cooking odours when necessary, and open up to involve the family in mealtime preparation
Firdaus: For me, my favourite part of the house is the living room. After a hard day of work when I come home, I feel very calm. There's something about the colour scheme that we chose… We hacked the kitchen walls to open the house even more. Also because of the design of this house, we get to enjoy the fantastic breeze as the airflow is not interrupted.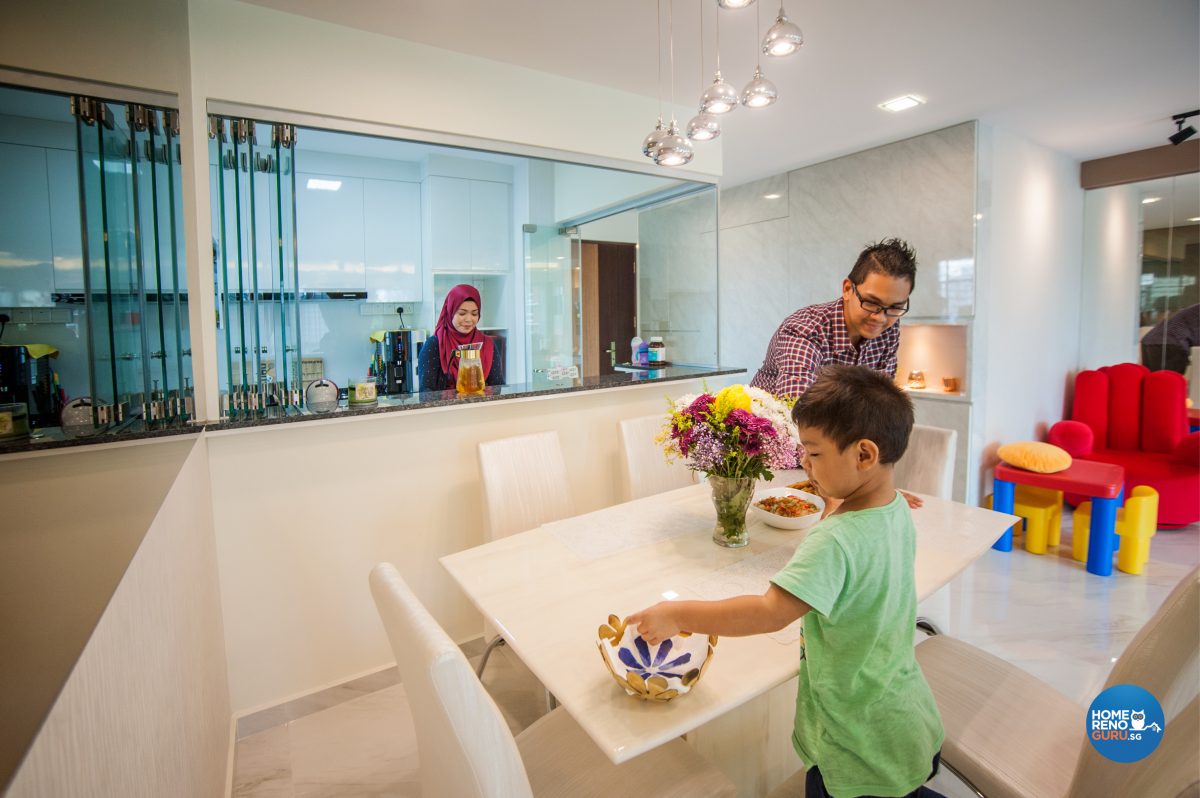 Farzanna puts hubby and kids to work setting the table while she preps a family meal
Farzanna: I feel obliged to say that the kitchen is my favourite part of the house, but let's be frank, it's not exactly my domain. But on the rare occasions that I do cook, I really do appreciate that we have the sliding door which allows me serve the food after I finish cooking, and it becomes a family activity where the kids help to set up the table and my husband can place the dishes on the table.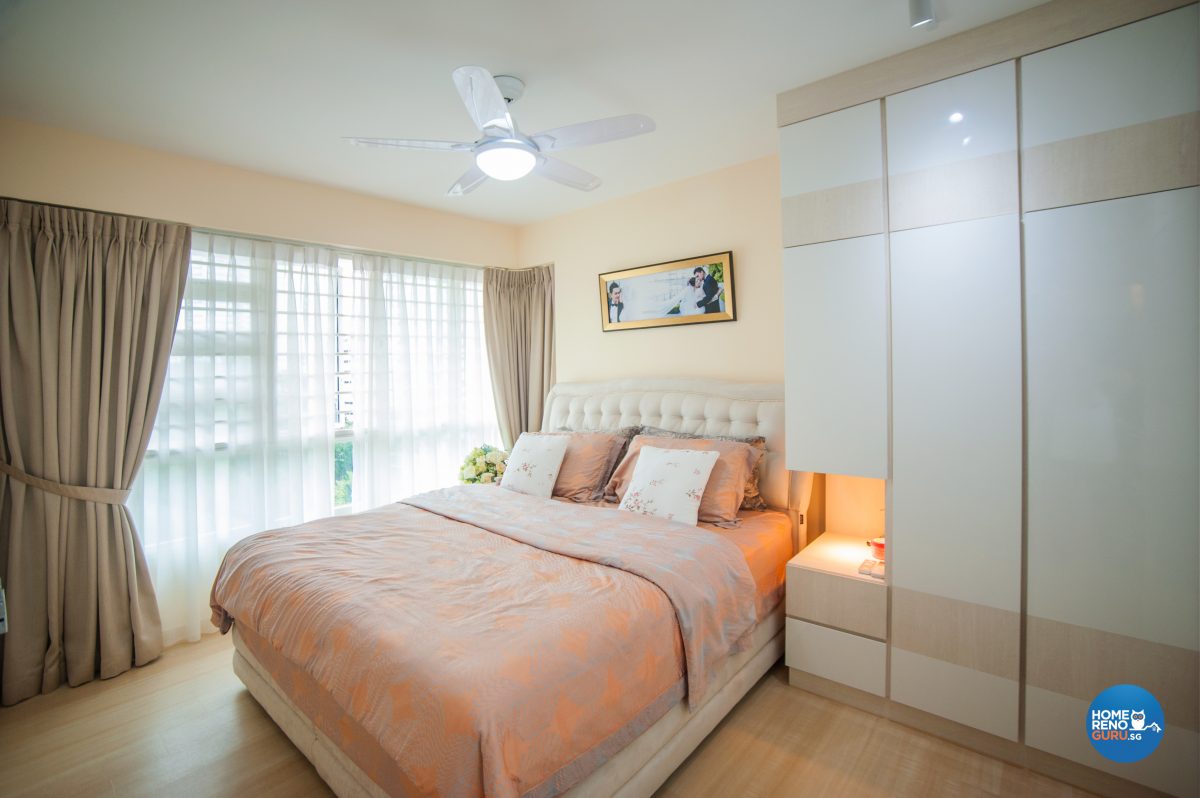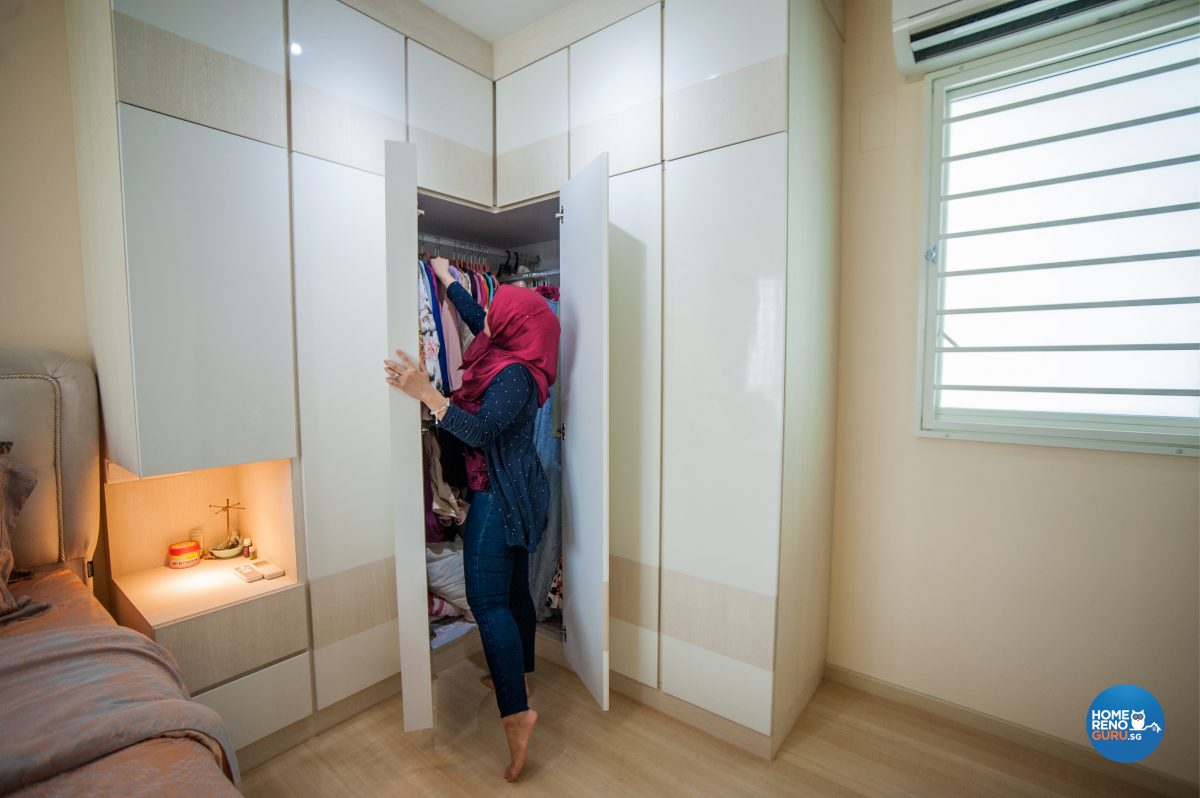 The L-shaped wardrobe in the master bedroom makes the most of limited space
What I really like about the master bedroom is the fact that we have an L-shaped wardrobe. So again the biggest concern we have is of course space and storage. The other concern we had was the fact that we have a king-sized bed, and we were worried that we couldn't have two bedside tables. So again Azri suggested that we cut a portion of the wardrobe where I could place my phone, my alarm and so on, and I could very easily access it next to me.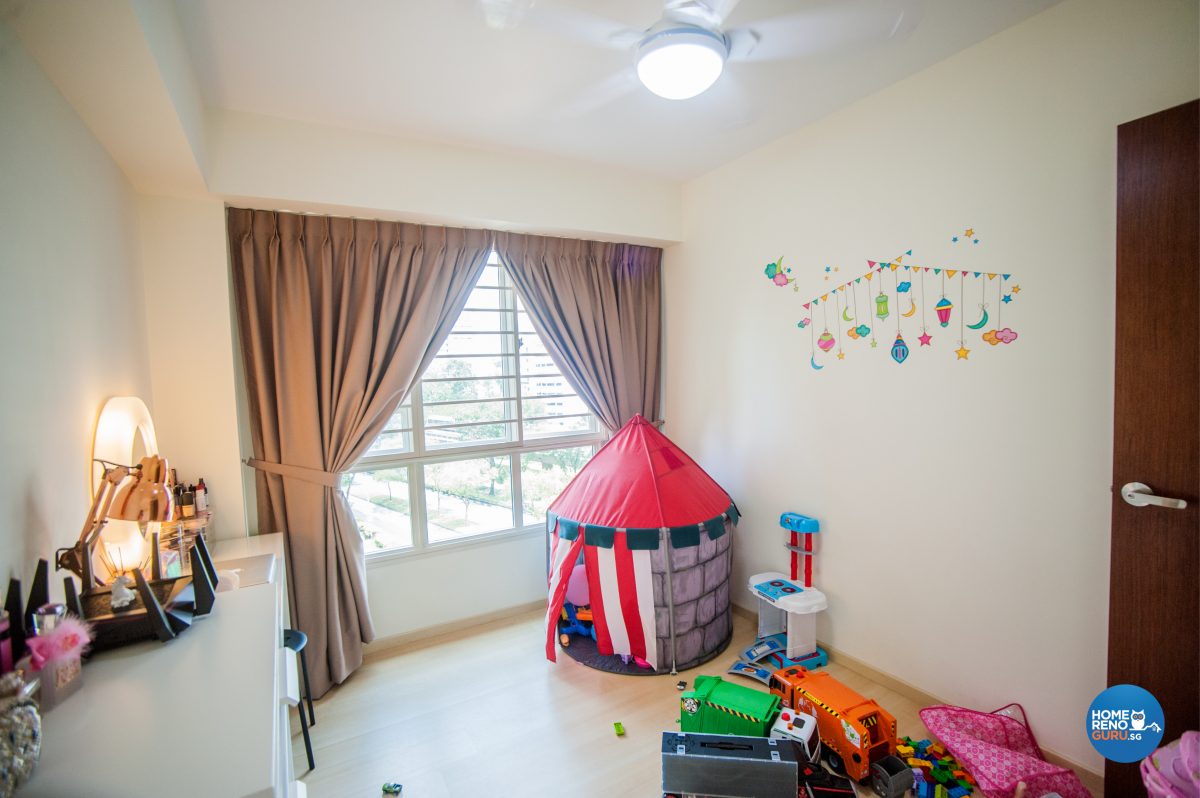 The playroom cum study is simple and bright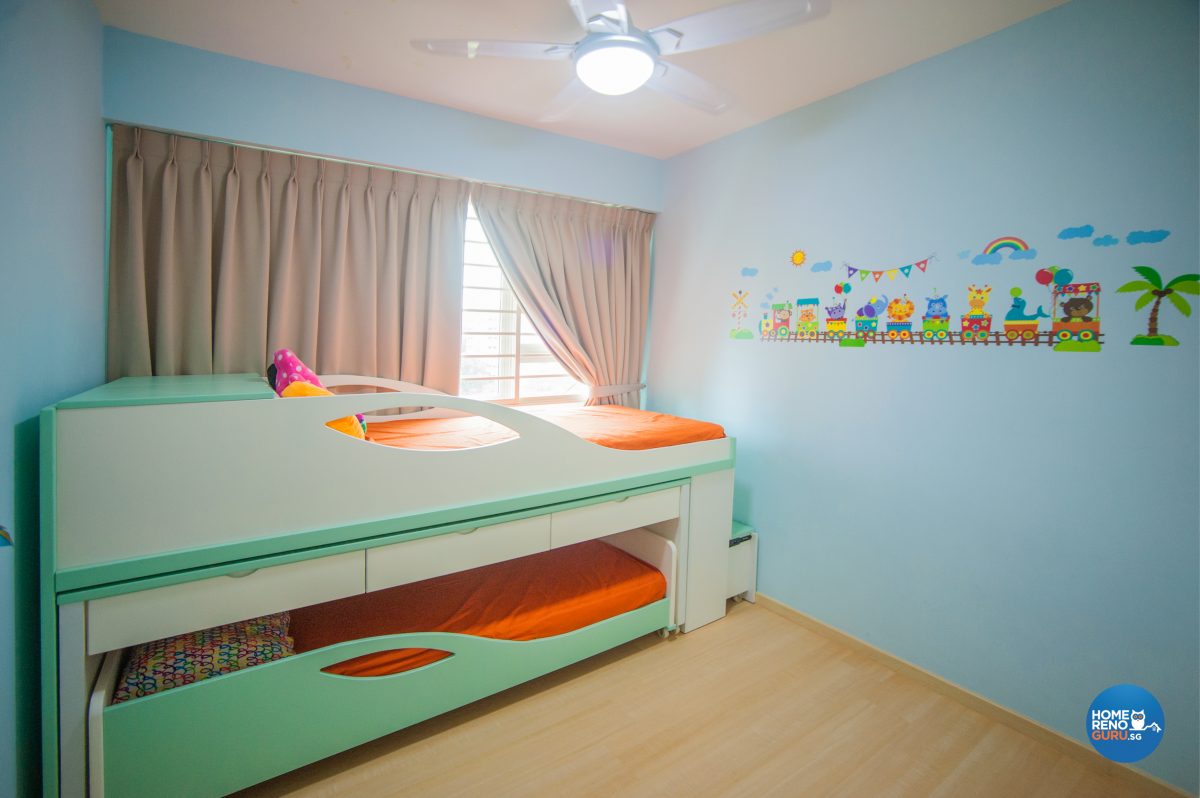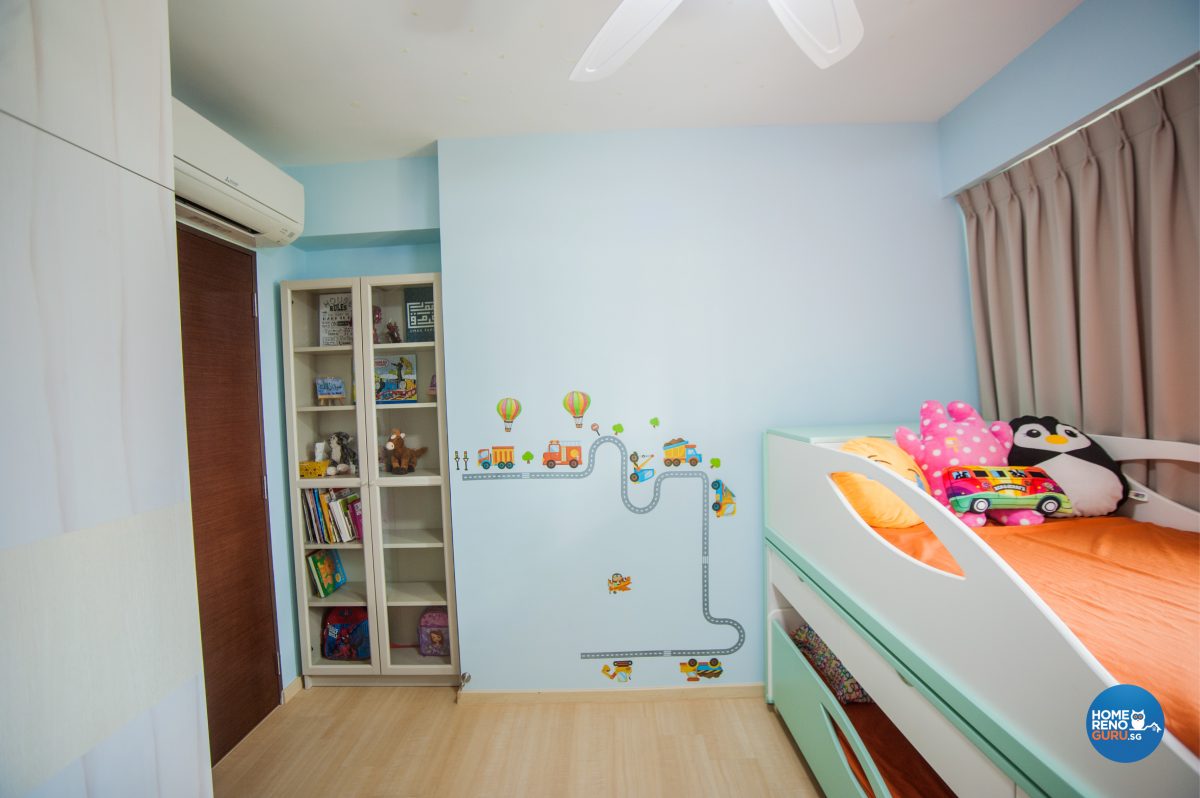 Wall decals in the kids' room are constantly repositioned, higher and higher, so they remain out of reach of curious little hands
The kiddy touches like the glow in the dark stars and the wall decals could be very easily removed. In fact, we had to place the decals higher and higher because the kids couldn't resist peeling them off.
Looking for Interior Designers?
Let HomeRenoGuru help!
HomeRenoGuru: After your first-hand experience, do you have any general advice that you would like to share with other homeowners?
Firdaus: My advice for homeowners:
number 1 – do your research,
number 2 – be upfront with your budget constraints,
number 3 – communicate well and openly with your ID.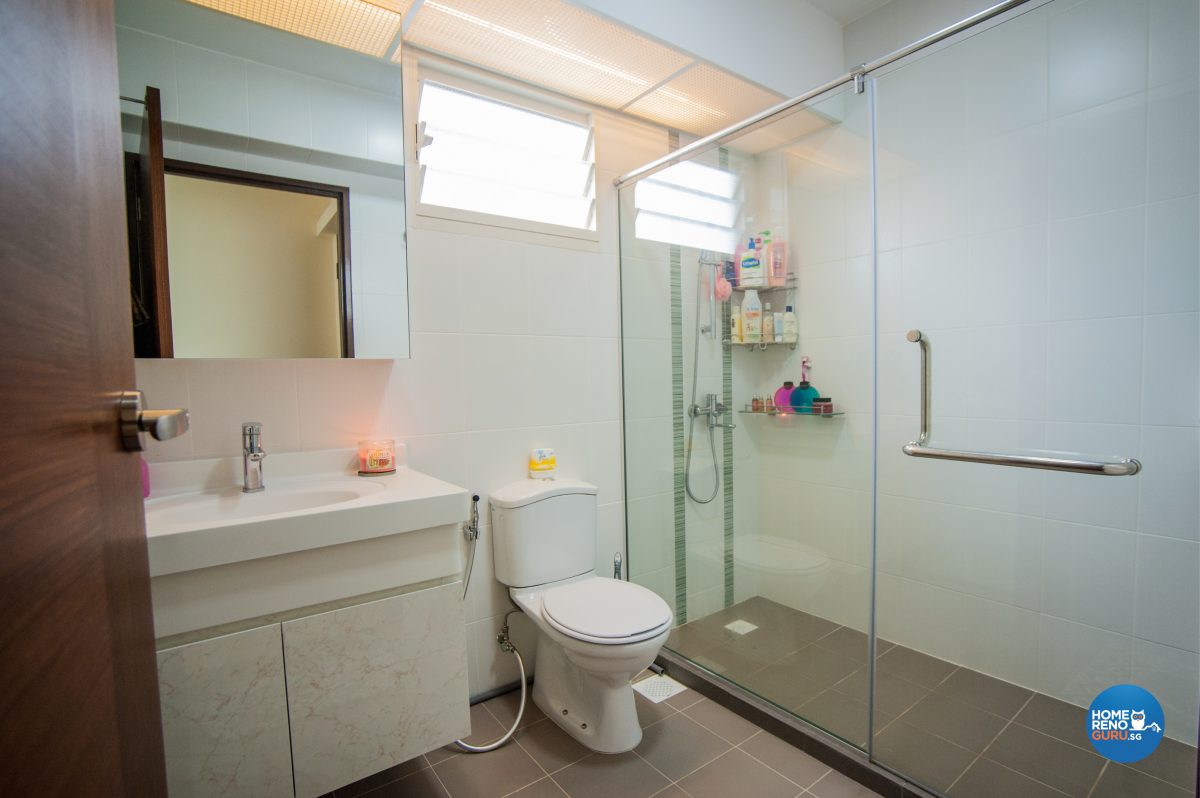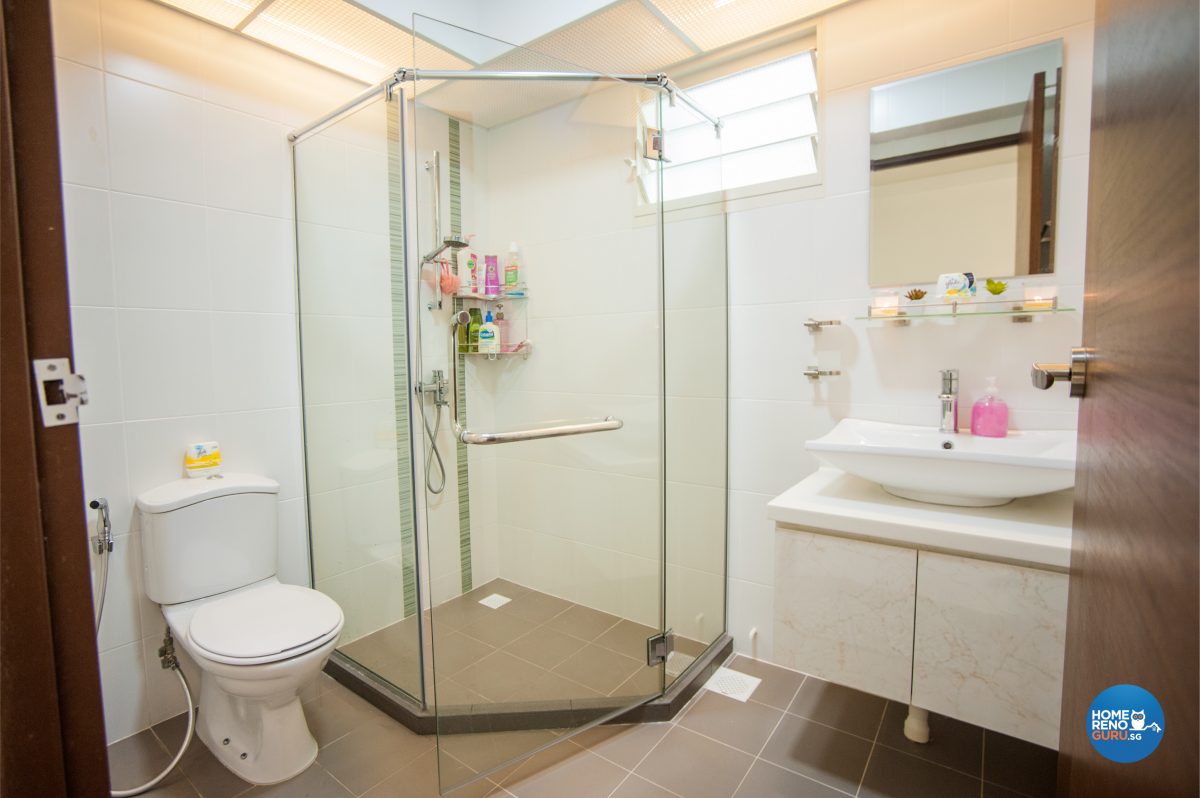 The pragmatic master bathroom and common bathroom are neat, sleek and clean
HomeRenoGuru: Would you recommend Homeway Living and Azri, your interior designer, to other homeowners?
Firdaus: We wholeheartedly want to recommend Homeway Living and our interior designer, Azri – he is a true professional.
Farzanna, Firdaus, Farah and Umar: We love each other and we are happy to call this home!