Dream Home: Deston's (Imaginary) Restaurant
Hospitable foodies Desmond and Tiffany are frequent entertainers – they've even dubbed their home 'Deston's Restaurant'. Hear how they cooked up a party-friendly, cleverly automated home with the help of their obliging and communicative designer, Ashton Wong of De Style Interior.
Project Snapshot
Name(s) of Homeowner(s): Desmond Lee and Tiffany Chia
House Type: 5-room BTO HDB Flat
Size of Home: 110 sq m
Cost of Renovation: $35,000
Duration of Renovation: 5 weeks
Interior Design Firm: De Style Interior
Name(s) of Designer(s): Ashton Wong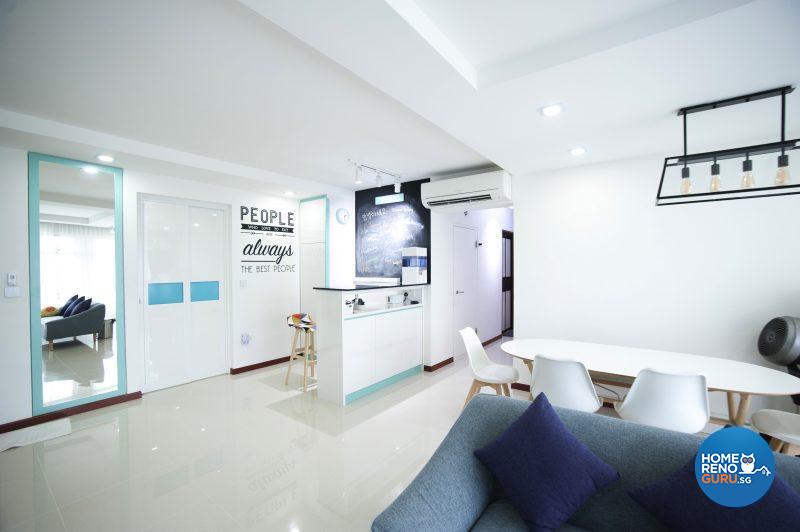 Built for entertaining, 'Deston's' is all pristine white with shots of Tiffany blue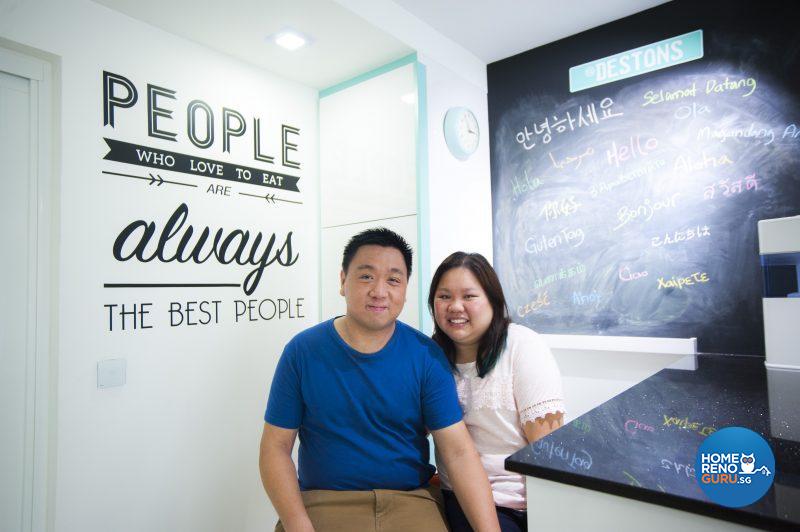 Desmond and Tiffany in front of their evolving work of art – the chalkboard adorned with guests' messages
HomeRenoGuru: How did you come to engage De Style Interior to renovate your home?
Desmond: We chose De Style when the company's name popped up on Facebook. We clicked on it, set an appointment and then we went. We were matched with Ashton and had a good first impression. But like any other savvy shoppers, we shopped around for other designers. We couldn't find anyone that had the same chemistry, and were as accommodating to our requests, and so we went back to him. And then we sealed the deal after a few meetings.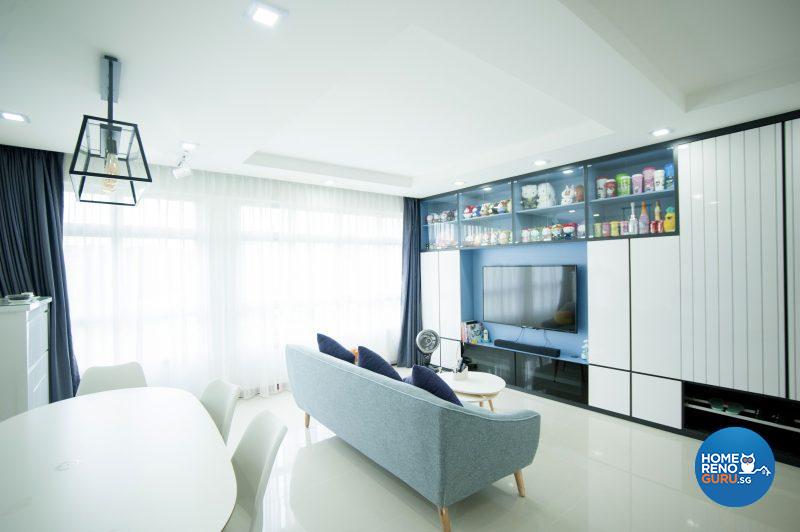 Statement light fittings enliven the elegant, simple living space
HomeRenoGuru: What was your brief to your designer, Ashton?
Tiffany: We wanted our house to be very functional, with a lot of storage, because we foresee our family growing. We have a lot of things. We buy a lot, and we entertain a lot, so we wanted a party-friendly, functional house. We wanted it to be bright, white, a lot of white. And then we felt that Tiffany's house must have Tiffany blue. So therefore the main focus of our kitchen is white, with Tiffany blue – it is a very timeless, practical design and colour.
HomeRenoGuru: So how did you find the actual renovation process?
Desmond: Ashton, the moment we sealed the deal with him, set up a group chat for us to communicate with him, so that he would not be triangulated between both of us, deciding yes and no. He was very responsive. All we had to do during the entire renovation journey was to tell him – yes, no, please go ahead or please stop, and that's all.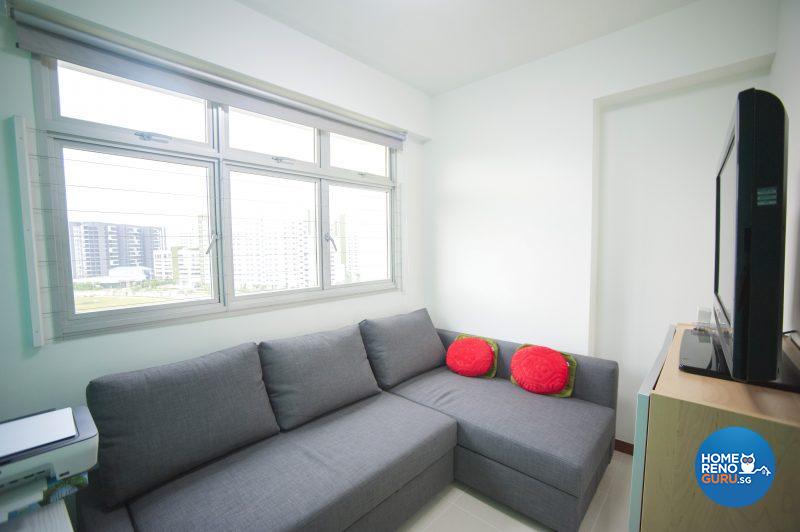 A second room transforms from an entertainment room cum study into a guest bedroom, thanks to a modular sofa bed
HomeRenoGuru: What do you love most about your house?
Desmond: I really like the smart features of the house, because I can just draw up my phone and then I can control parts of my house such as the lights, the vacuum cleaner – with a press of a button, the vacuum does the vacuuming itself. The curtains – we have the morning sun, so what happens will be that we have a timer that closes the curtains every night and it blocks out the sun in the morning, and then the timer will open the curtain something like 1 o'clock in the afternoon, when the sun is no longer shining into the house.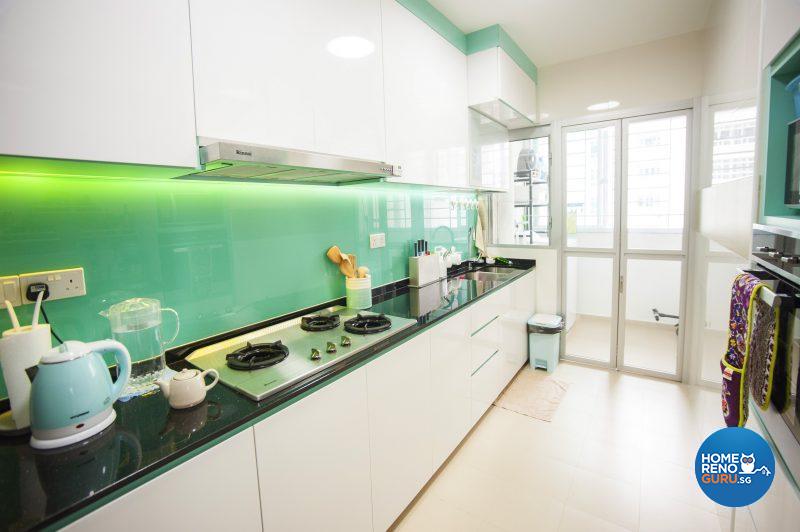 The spacious, functional kitchen is brought to life with black countertops and a turquoise tempered glass splashback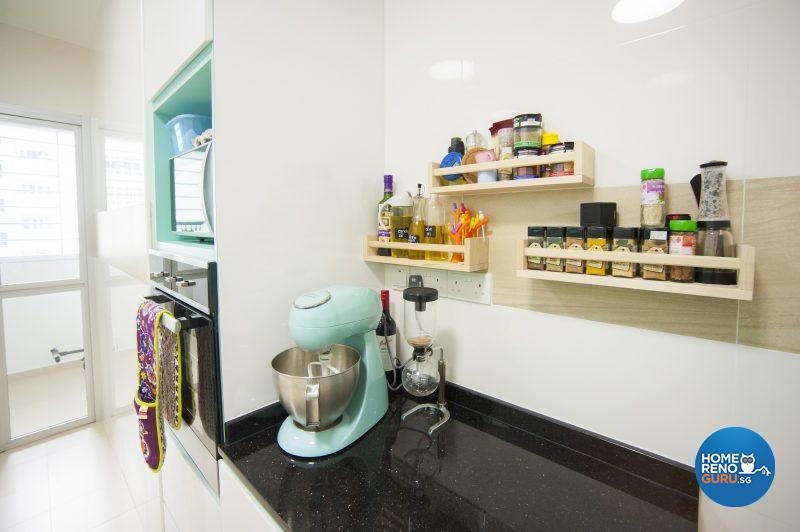 Maximum work surfaces and wall-hung spice racks cater to the needs of the baker in the house –Tiffany
Tiffany: My favourite part of the house would definitely be the kitchen and the pantry area. I think because we cook a lot, and entertain a lot, I needed my pantry to be super-functional. Ashton did it as I requested. He even improvised it for me after we moved in and realised it was probably not practical enough for me. The kitchen and the pantry area are straight out of my dream house.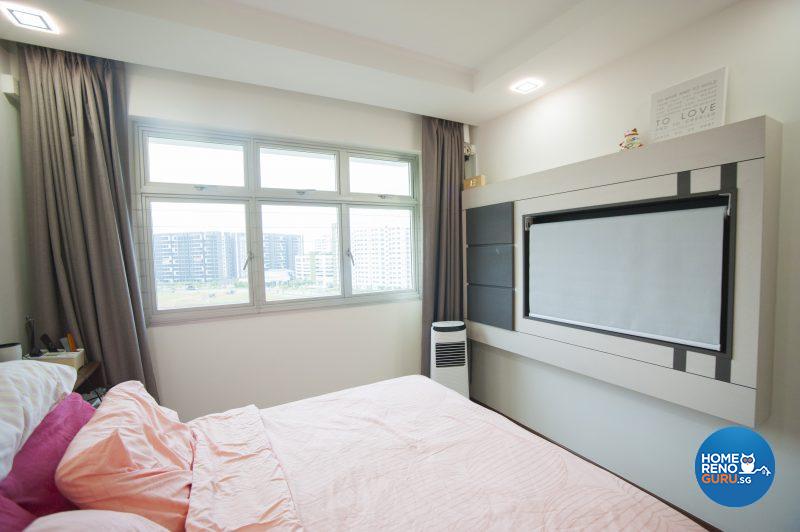 An automated blind conceals the TV in the bedroom for feng shui purposes

'Open sesame!' The curtain is raised at the touch of a remote control
Desmond: The smart home automation extends to the master bedroom, where we have electric blinds built into the TV console, so at the click of a button we can open and close the blind. That's because we went for some feng shui advice and we were told that the TV reflective surface is not good for our feng shui. We were not willing to give up our TV. And we are not willing to wake up to pull a manual blind down every night. So we had to improvise and source for something smart that met our needs.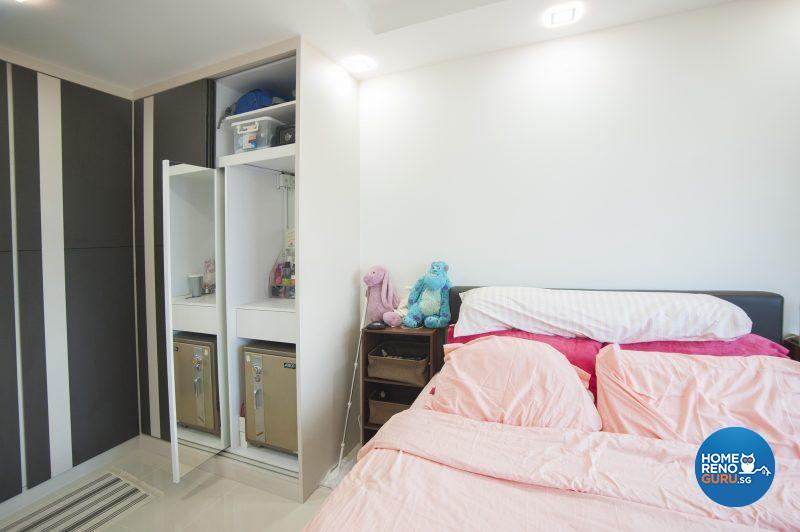 Now you see it…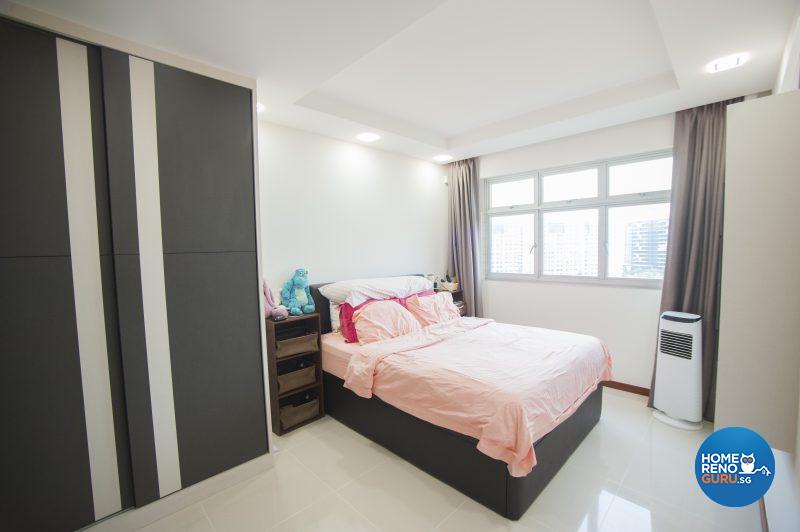 … now you don't! The concealed dresser in the master bedroom is one of Tiffany's favourite features
Tiffany: The master bedroom also has my wardrobe, which is beyond amazing because I have a concealed dresser, which is every girl's dream, and a concealed full-length mirror, which was specifically what I requested. So actually I had to crack Ashton's brain. I don't know how he did it, but he managed to build in the features that we requested with the very limited space that we have.
Looking for an estimate of your renovation costs?
Let HomeRenoGuru help!
We specified a lot of white walls in the house so that we could decorate it. We have paintings from my father, who is an aspiring artist, and we requested for a chalkboard wall as we envisioned a lot of people coming – we have a lot of creative friends. We provide the hardware, which is the chalk and the duster, but we get the people to come in and decorate it. So every time we have a new party, we clean up the wall, our friends for that day will come and put up something interesting, and their works will be part of the house. We're actually keeping a collage of all the works that's been featured.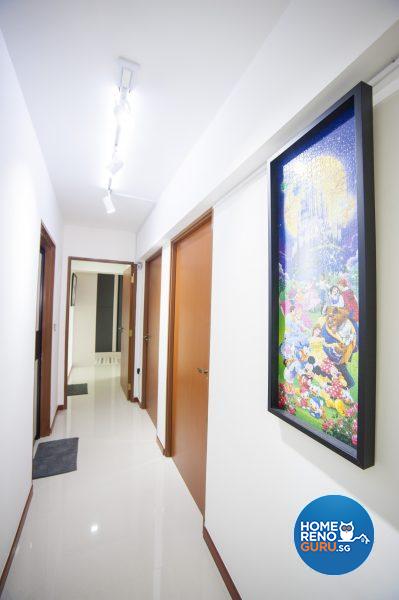 The walls were deliberately left white to serve as a blank canvas for artwork
HomeRenoGuru: Do you have any advice that you would like to share with other homeowners looking for an interior design firm?
Desmond: The general advice I would have for homeowners is have a budget, stick to it, and believe it will work. Since we had things that definitely didn't fit into the budget, we had to be creative in our ways of procuring them. We had to source online, whether it's locally or internationally. And you need to find an ID that believes in your vision and is willing to work with you to achieve your vision. Ashton did it!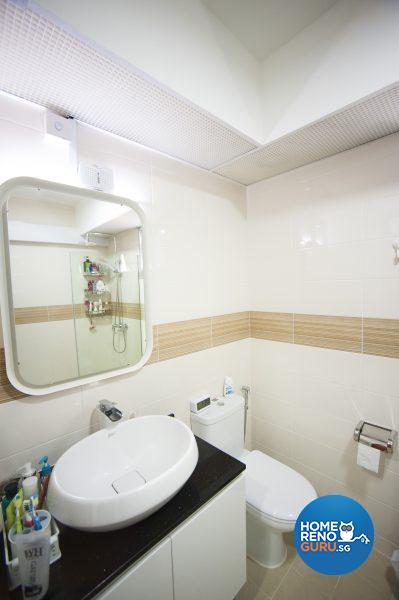 Cloaked in neutral tones, the master bedroom sports a high-contrast, black vanity top
HomeRenoGuru: Would you happily recommend De Style Interior and Ashton Wong to other homeowners?
Tiffany: I would highly recommend Ashton and De Style if you are looking for an interior designer in Singapore.
Desmond: By the way, we have a name for our house, Deston's, which is an imaginary restaurant. I'm the head chef – and she's the baker, and we have an extensive menu. Come dine with us!