Dream Home: A Cosy Modern Home
With careful choices of materials and lighting, Jack and Karen achieved a home that was cosy yet modern. Though they had a clear vision of what they wanted, they kept an open mind during discussions with their interior designer. In their own words, his approach gave them 'the best of both worlds', since it combined their personal tastes with the input of a highly experienced and very accommodating designer, Jason Tan. Here is the story of their major renovation.
Project Snapshot
Name(s) of Homeowner(s): Jack Hay and Karen Khoo
House Type: 3-bedroom Private Condominium Apartment
Size of Home: 1,582 sq/ft
Cost of Renovation: $120,000
Duration of Renovation: 6 months
Interior Design Firm: 96 Degree Designers
Name(s) of Designer(s): Jason Tan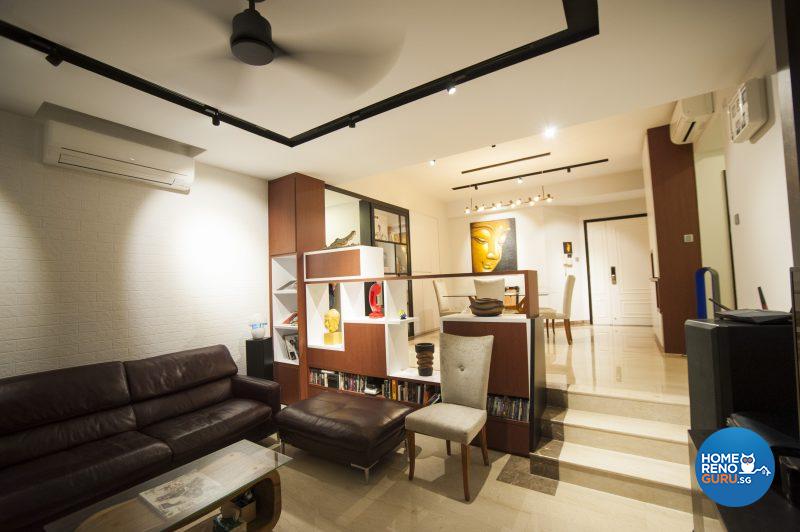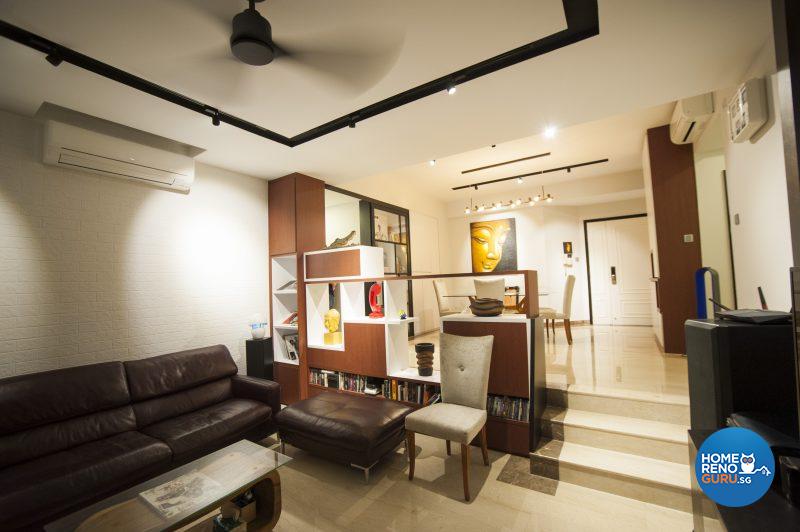 Jack and Karen's cosy yet modern home is a harmonious interplay of right angles, squares and rectangles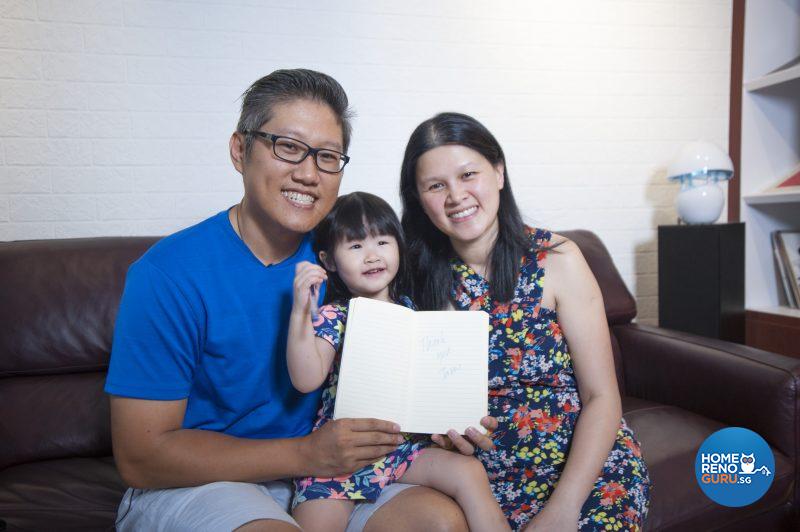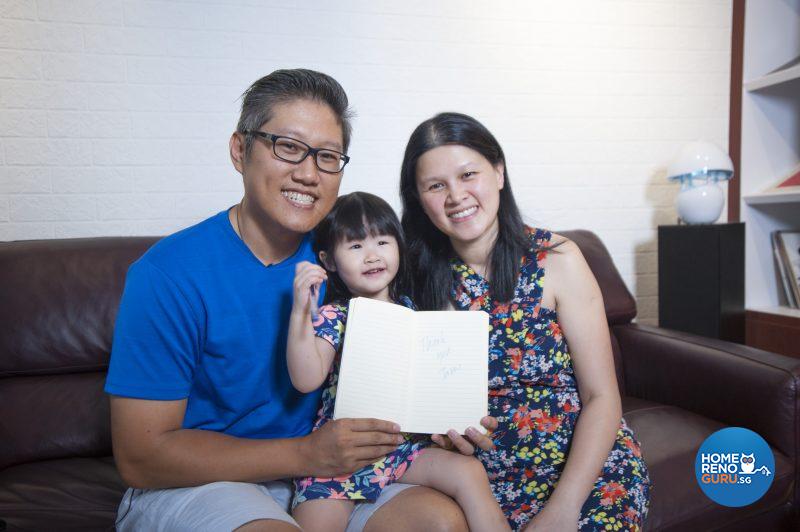 Jack, Karen and Niki, their budding young artist
HomeRenoGuru: How and why did you appoint 96 Degree Designers to renovate your home?
Jack: We chanced upon 96 Degree when we were on our way to see another designer. Just from the look of the shop, we liked what we saw and we went in and gave them a chance. Through our communications with them, we saw that they shared our vision and the cost was within our budget.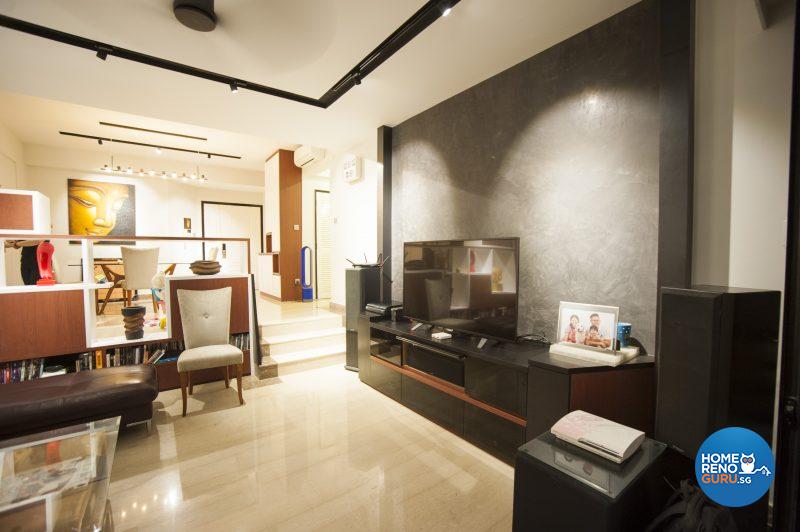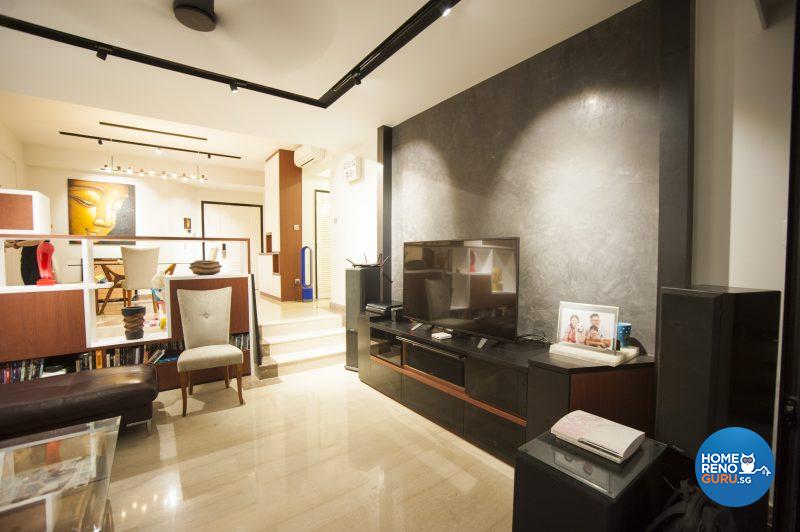 A continuous flow of track lighting, deliberately highlighted with linear black mounts, effectively unites the living and dining areas
HomeRenoGuru: What was your brief to your designer?
Karen: We wanted a modern Scandinavian theme, something cosy. Of course, cosy versus lots of storage is always a challenge. But we wanted both! We talked to Jason Tan, our designer, and Jason understood what we wanted and we went through the themes and looked at whatever projects he had done. We decided there and then that – hey, that's someone and something we can actually work with, so we moved forward.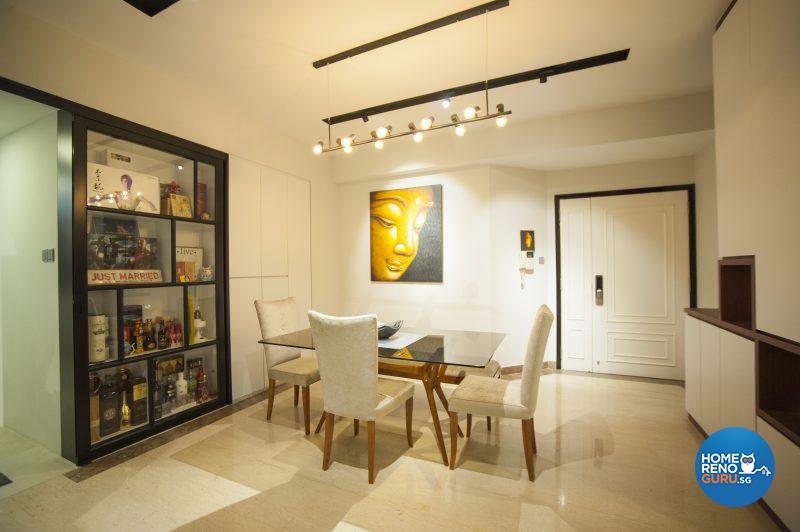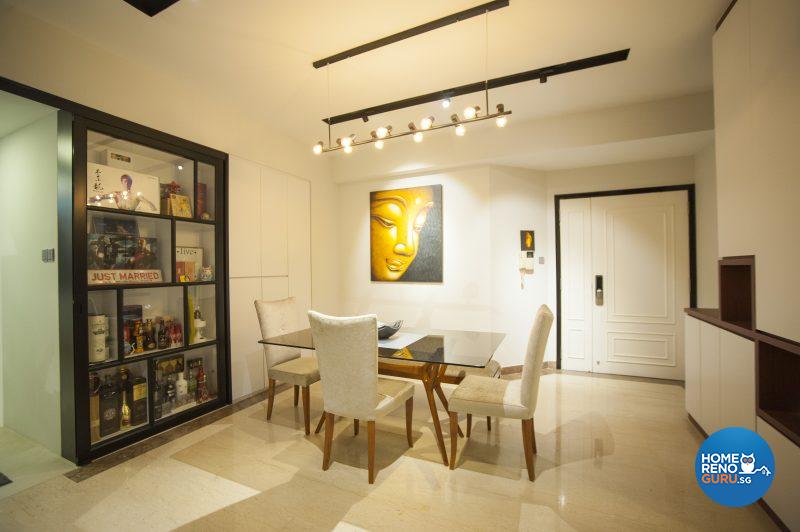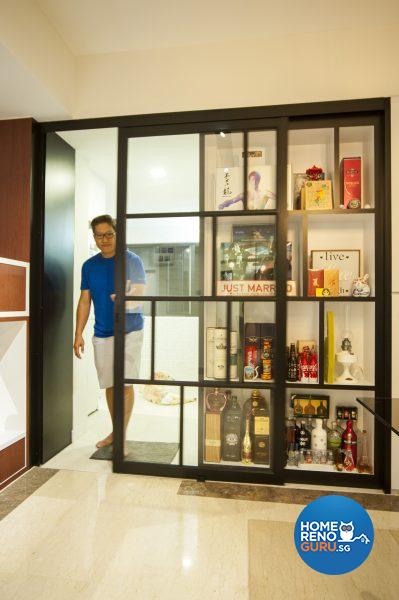 A cleverly designed, dual purpose sliding shelf unit doubles as a door
HomeRenoGuru: How did you find the actual renovation process?
Jack: This was a major renovation work, so when we moved in we knew that everything had to go. We did hacking to the living room, to the kitchen and even to our master bedroom.
Karen: It was a six months' project, which to me seems pretty lengthy. But given the extensive work that we had to do, it's justified. Throughout the whole process, Jason was very responsive and kept us updated through WhatsApp. I think in my phone I have like 2,000 over pictures – they accumulated daily. We were kept informed about the process, the progress and even who comes up to our place to do certain things and at certain times. Jason was very responsive and reactive whenever we asked him certain things that we wanted to find out.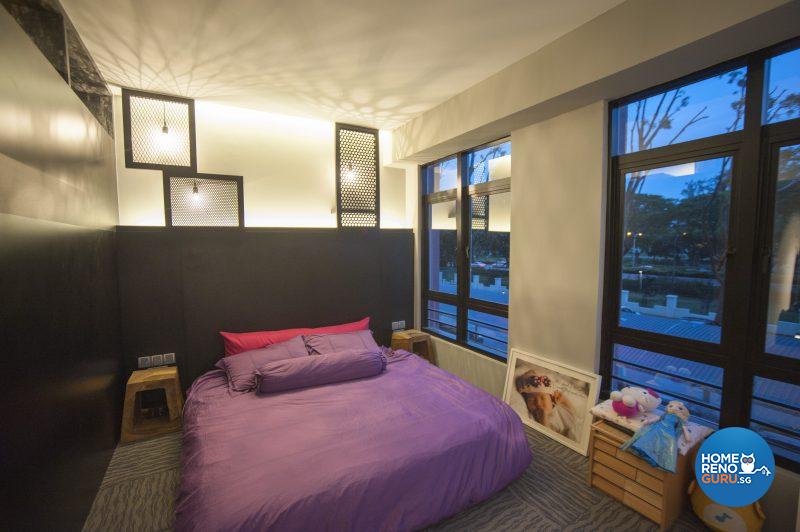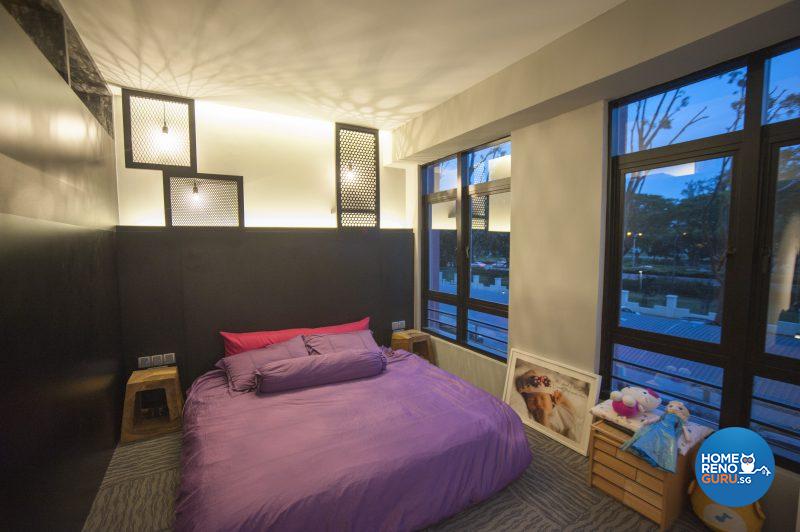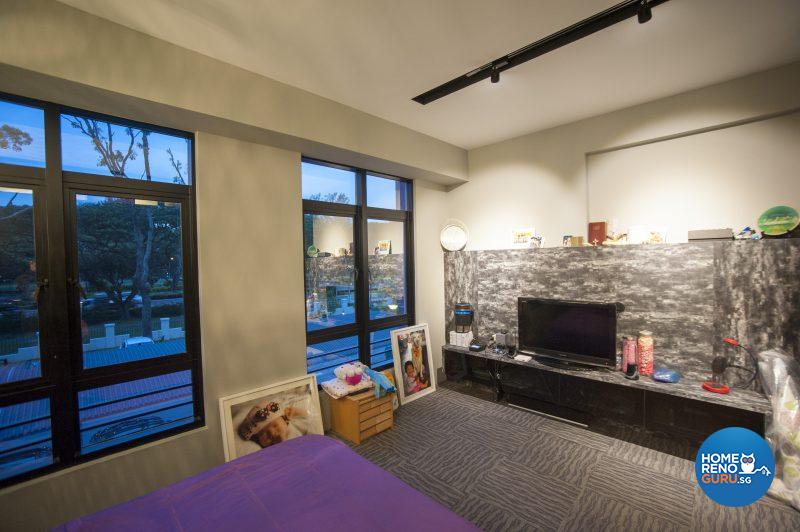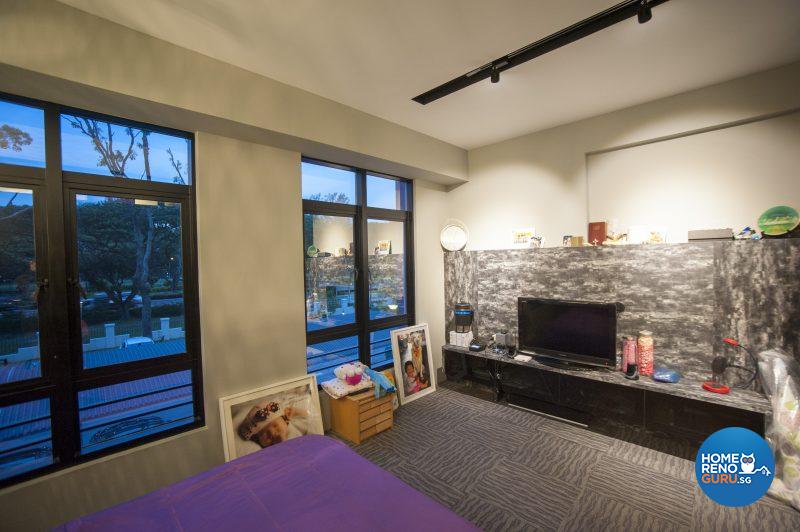 The master bedroom features layered mood lighting and expansive windows
HomeRenoGuru: What do you love most about your home now?
Jack: I would say that my favourite part of the house is the master bedroom. We knew that we wanted a standalone bath with two basins and a mosaic wall – something that looks like a hotel and gives you a hotel feel. So, we conveyed this to Jason and he managed to pull off what we wanted in just that small space alone.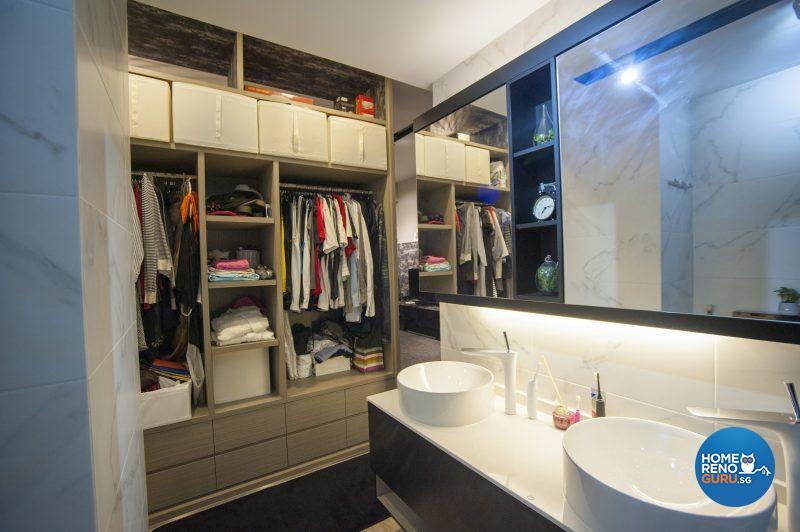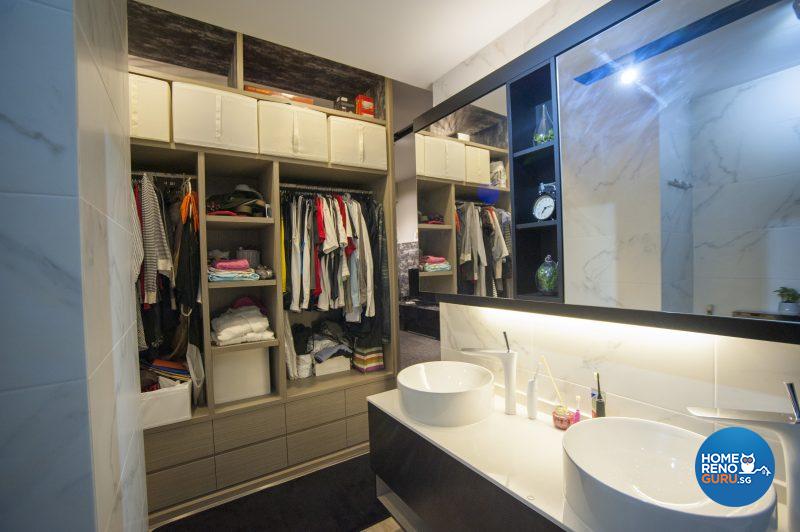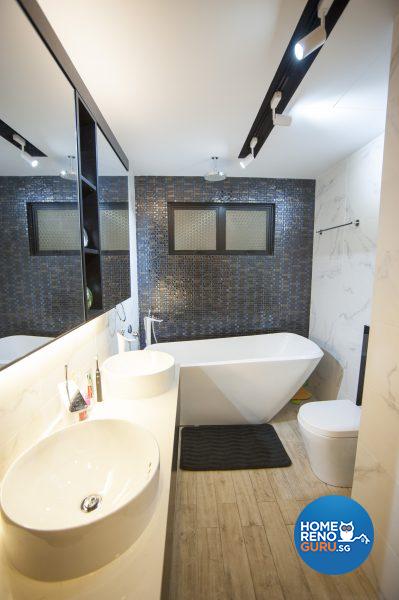 A walk-in wardrobe, twin basins and a standalone bath tick all the boxes on the owners' wish list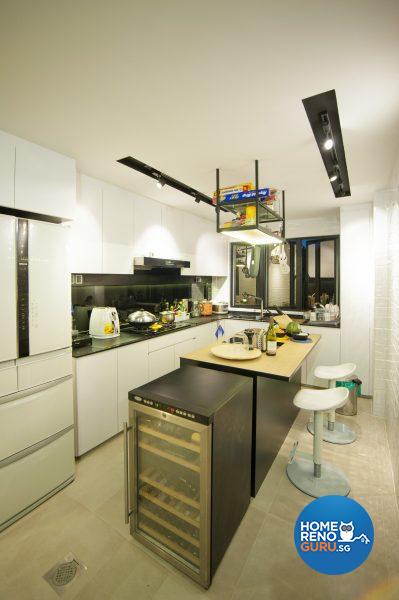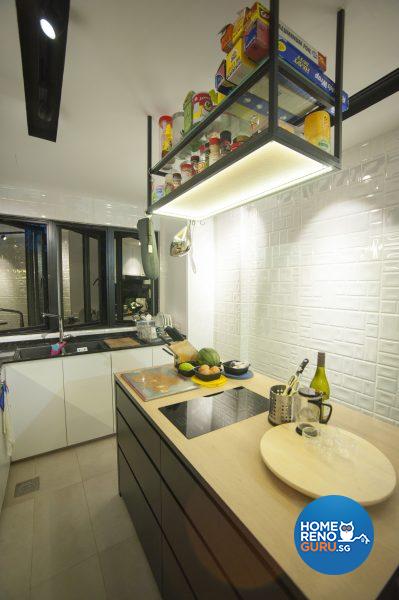 An island bar makes cooking while socialising with the family both a breeze and a joy
Karen: For me, my favourite part of the house is the kitchen. Because we have an island, where he can cook for me while I sit there and watch him, and tell him what to put in, and what I want to eat. We were thinking of that particular island as a breakfast place, where we just sit there while he cooks!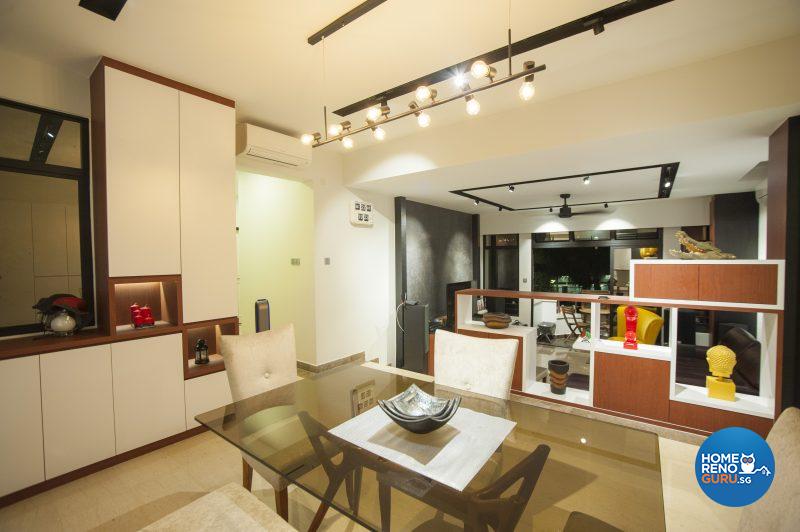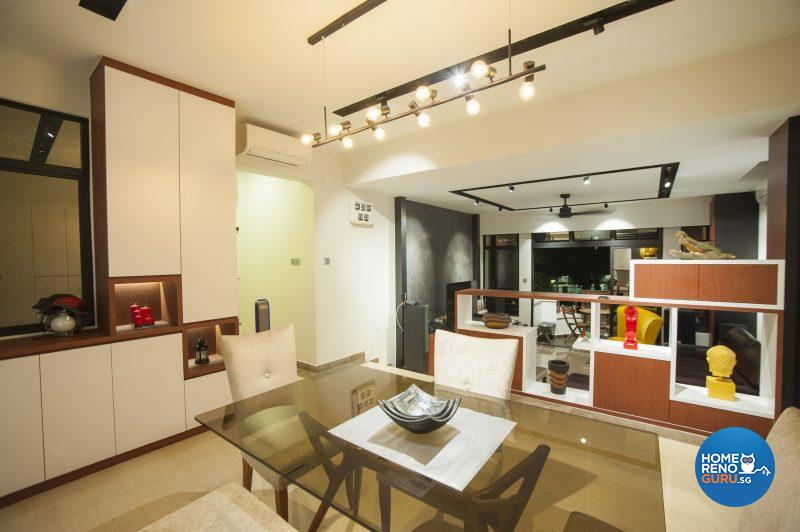 Black accents on the ceilings pull the eye upwards, and echo the colour of the countertops
Karen: One important thing that we wanted in the house is also the track lights. So, if you take a look at the whole house we actually have track lights all the way from the toilet to the kitchen to the living room to the dining area. Everywhere has track lights, which was something we wanted for this house.
Looking for an estimate of your renovation costs?
Let HomeRenoGuru help!
HomeRenoGuru: Do you have any advice you can share with other homeowners?
Karen: My advice is to know what you want, but when you approach your designer, do have an open mind. So that when these two pieces come together you'll actually have the best of both worlds. In our case, we got really lucky, because we got Jason Tan who is actually a team leader. He's very humble and he didn't behave like he's a boss, so we really liked working with him.
HomeRenoGuru: Would you confidently recommend 96 Degree and Jason Tan to other homeowners embarking on a renovation?
Jack: Yup, we would definitely recommend Jason Tan to any homeowners that want to a nice renovation for their home. Thank you, Jason!