Dream Home: Claire's Tavern
We had the pleasure of visiting both a homeowner and her companion on the renovation journey, her interior designer. With the expert guidance of James Ooi of Swiss Interior Design, frequent entertainer Claire totally transformed her resale flat into a dream home with an awesome kitchen, a games room and an amazing suite-like private space for sleeping, working and bathing. Join us on the guided tour!
Project Snapshot
Name(s) of Homeowner(s): Claire and Yohan
House Type: 5-room Resale HDB Flat
Size of Home: 1,334 sq ft
Cost of Renovation: $130,000
Duration of Renovation: 2 months
Interior Design Firm: Swiss Interior Design Pte Ltd
Name(s) of Designer(s): James Ooi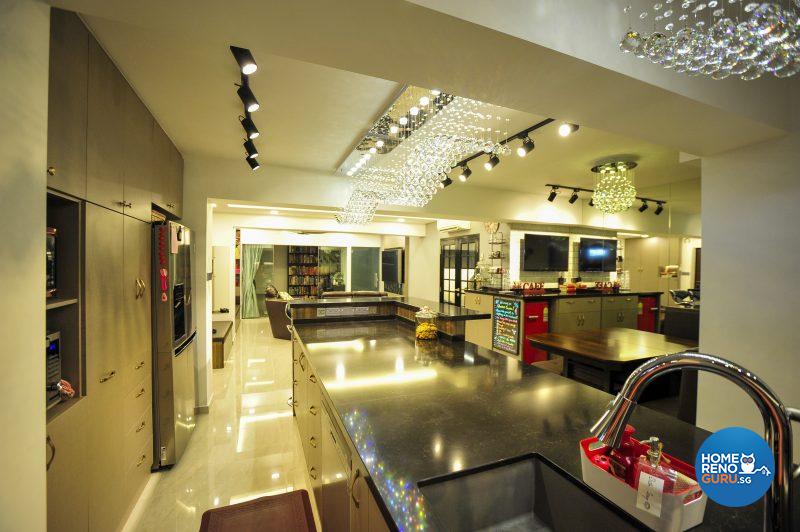 The view from the expansive counter of Claire's kitchen

Claire and Yohan
HomeRenoGuru: How did you come to appoint Swiss Interior to renovate your home?
Claire: So, my husband and I came back from the United States last July. We bought this house because it's just five bus stops away from my husband's work. When I was narrowing it down to the last four ID firms, I happened to be flipping the newspaper, and then I saw Swiss Interior ID, and they were just right next door. But it was my husband who fell in love with James. They had a bromance going on, and they tend to agree a lot with each other. So we always had James on hand to give us advice on how certain things could work, and why some wouldn't.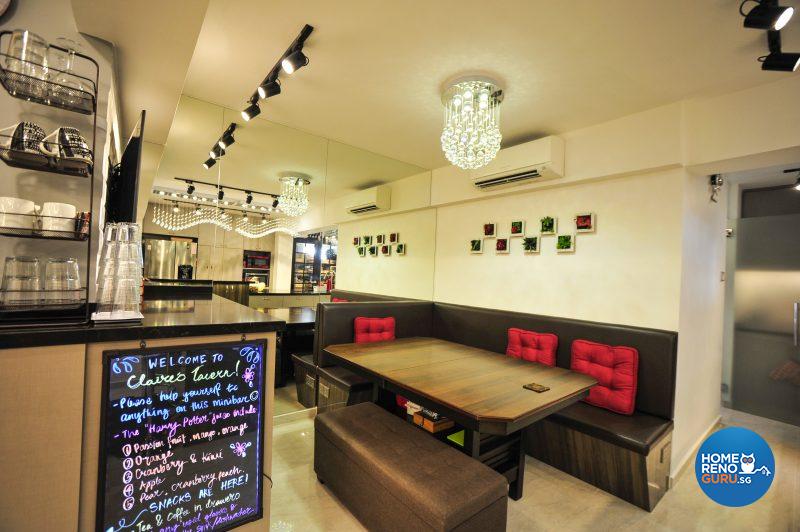 The diner-style booth, complete with menu board and bar fridge, opposite the kitchen
HomeRenoGuru: James, we seldom get to talk to the designer. What was your response to the brief for this project?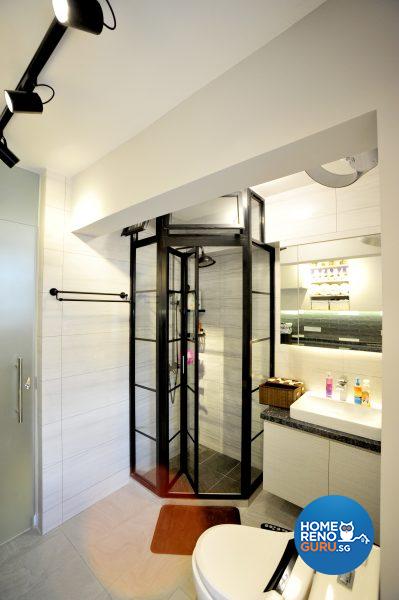 The common bathroom is connected to the service balcony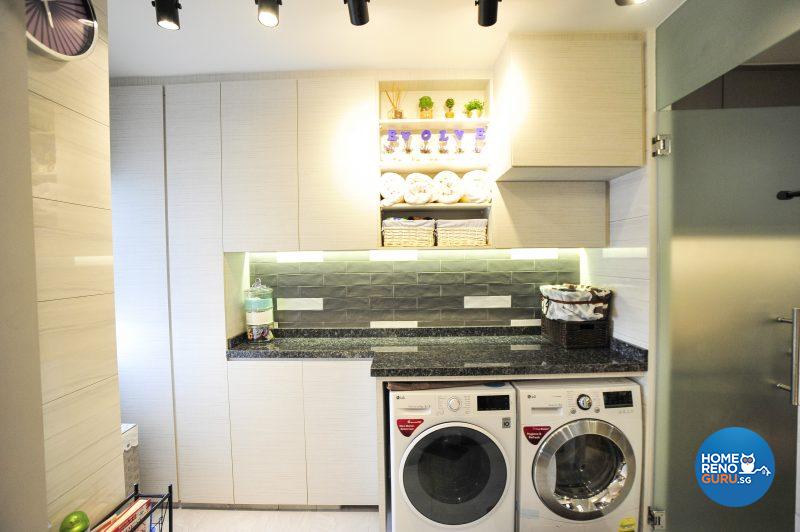 The neat service balcony houses a washing machine, dryer and extra storage
James: Basically, I knew that in this house there was a lot of hacking work, both hacking of walls and re-erecting of walls, to be done. For example, we knocked down a wall to connect the service balcony with the common toilet.
Looking for an estimate of your renovation costs?
Let HomeRenoGuru help!
HomeRenoGuru: Claire, please take us on a tour!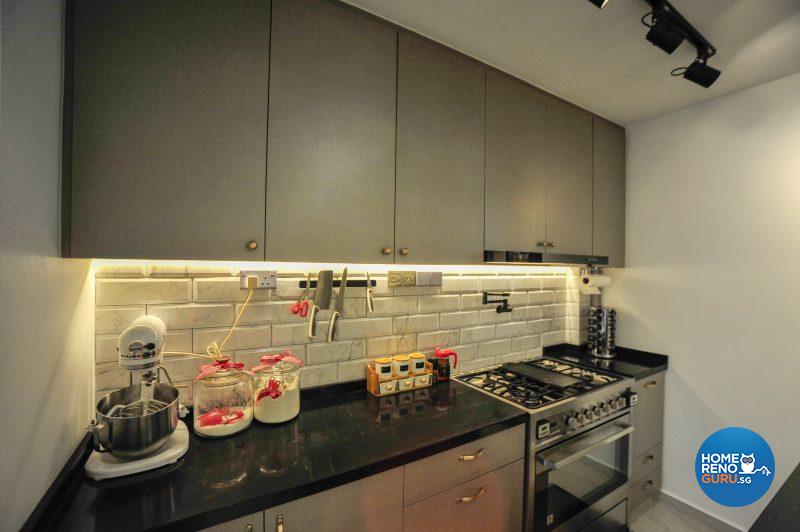 Cove lighting illuminates the kitchen counter and the brick veneer tiled splashback
Claire: So this is my kitchen. I have a free-standing cooker over here, and then I actually wanted to have drawers on the left for sauces, so that it's easy for me to season, and drawers on the right for all my utensils so whatever I wanted to cook with, it's easier.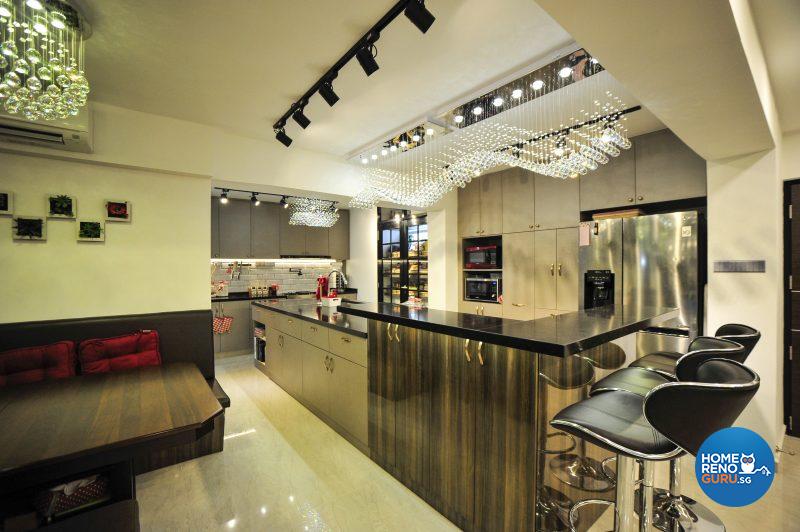 Chandelier lights are suspended over the luxuriously spacious kitchen counter
Here we have my dream kitchen island, which I've been wanting my entire life. And there's also an appliance cabinet where I can hide ugly appliances so that the house looks neat and tidy. And not forgetting, last but not least, my beautiful chandelier lights, which I spent eight hours hanging up, one by one.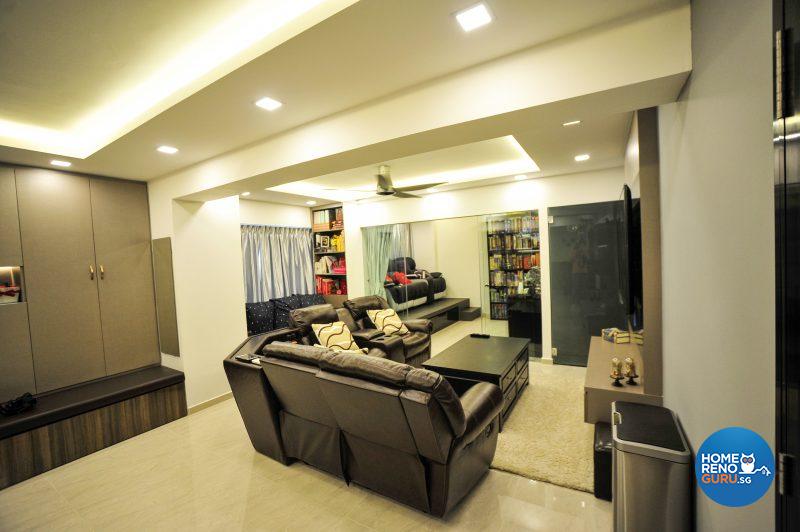 The cosy living area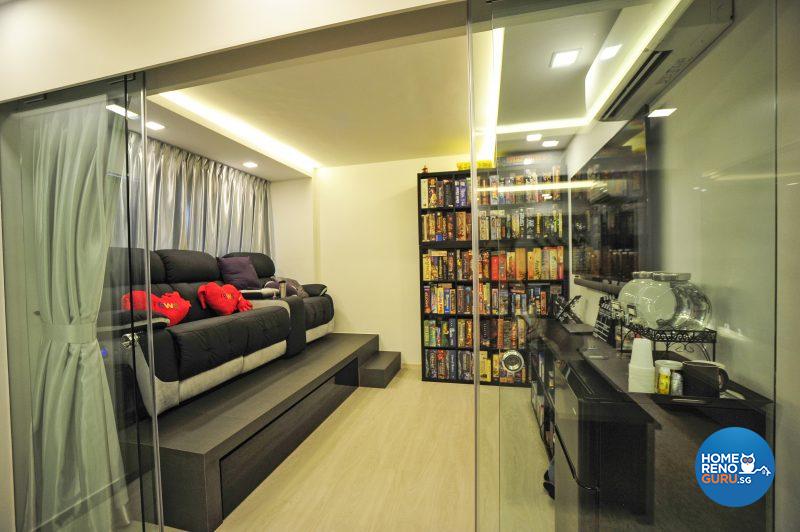 The entertainment room houses an impressive collection of board games
Basically, this is the entertainment room. We have this pull-out bed, so it's an entertainment cum guest room.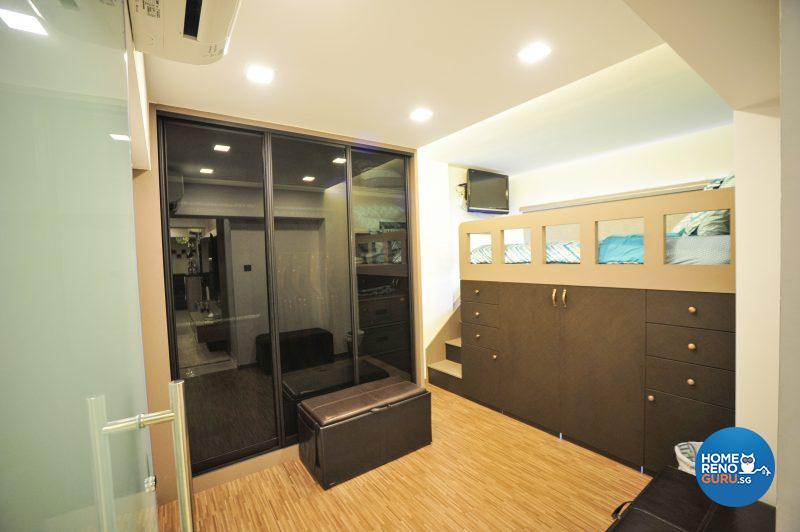 The spare room, which may one day become a nursery, accommodates abundant storage space under the bed and even under the stairs
Then this is the nursery that may become a guest room, or remain a multi-purpose room. There's actually a lot of storage under this bed.
James: And we have a drawer on the left and the right, and there's storage under all the stairs.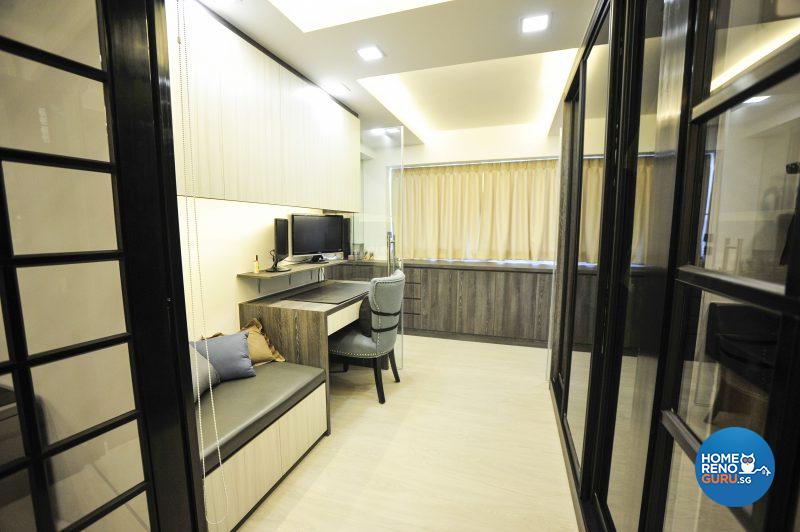 The entrance to the integrated bedroom, study, walk-in wardrobe and master bathroom
Claire: Welcome to my master suite, where I have cabinets to store my files and there's a settee right next to my table for me to put extra stuff or for someone to sit. And we are now walking into the sleeping chamber, where we have a king-size bed. Yohan and I each have a cubbyhole on our side to store our stuff, and this whole cabinetry is all storage.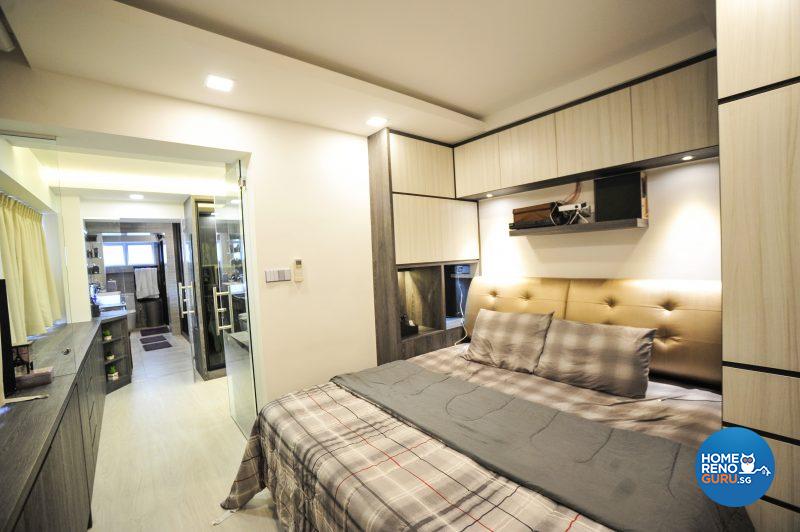 The 'sleeping chamber'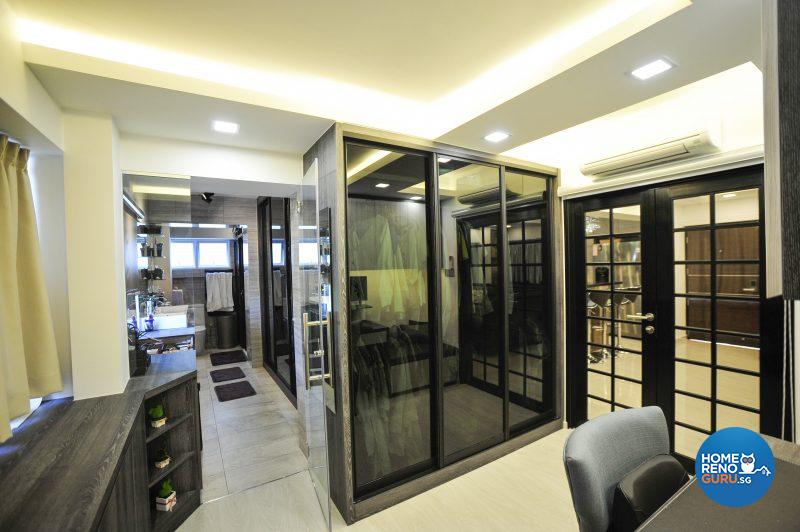 The walk-in wardrobe and master bathroom to the left of the study
James: This is a connected cabinet all the way inwards, past the office area, and you go in all the way to the master area… and this is a walk-in wardrobe, and this is the dresser on my left. And this is a long basin that two people can share.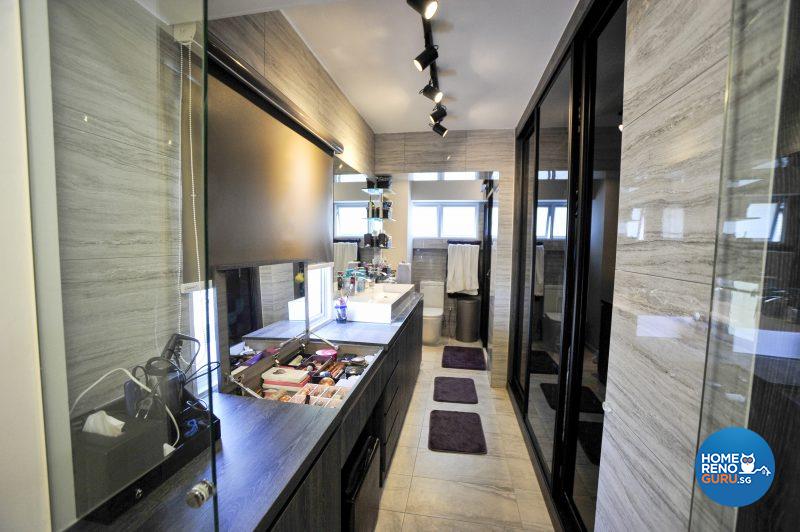 The walk-in wardrobe flows into the master bathroom, which has an exceptionally long basin for two-person usage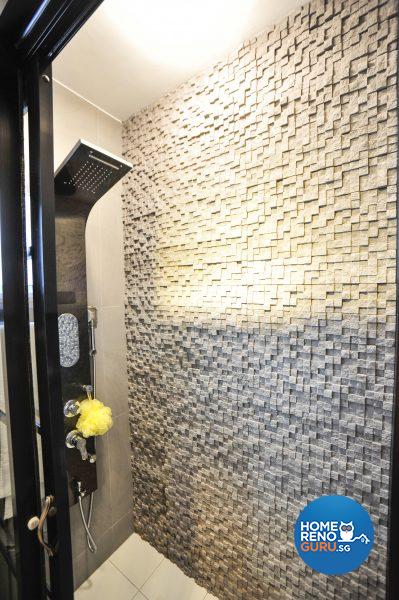 The sleek shower cubicle has a textured tiled wall
Claire: Thank you for coming, and thank you, James, for making all of this possible.
James: It's my pleasure to make a space to match your dream-come-true.
Claire: It's also been my pleasure working with you and Swiss Interior. Thank you!