Step Out Of Your Colour Comfort Zone - Part 2: Trend Beyond Colours 2016/2017
30 Oct 2015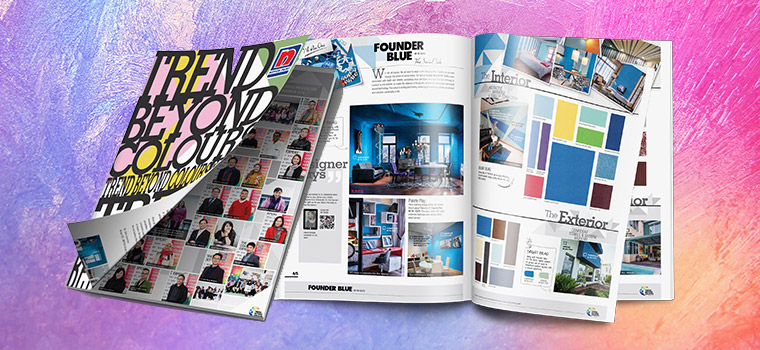 TO THE SOURCE
In the 1st part of this series, we asked leading interior designers to share their views on paint hues. Since the jury was out among interior designers as to what colours would rule in 2016, we turned to the source – paint companies. Or rather, the leading paint company in Singapore, Nippon Paint.
Here, we share Nippon Paint's official annual guide to colour trends: 'Trends Beyond Colour 2016/2017'. Be among the first to view the next big things in paint colours, and pass on the knowledge to your style-conscious clients.
FOUNDER BLUE

The first trend outlined in Nippon Paint's annual 'bible' of colour trends is dubbed Founder Blue. This vibrant blue reminds us of the Greek islands, sipping red wine with friends and supping off blue and white plates… It's a statement-making blue that would add a shot of energy to a living room or bedroom, and transform a regular home into a year-round holiday house.
GRAY KNIGHT

The next colour in Trend Beyond Colours 2016/17 comes as no surprise – it's a blue-tinged grey that corresponds with local interior designers' observations of the rise in popularity of the 'new neutral'. Meet the classy, cool and elegant Gray Knight.
GREEN TUFT

A vibrant leafy green found its way into Nippon Paint's vista of probabilities for paint trends in the coming year. Green Tuft reminds us of all things eco-friendly, and looks crisp as a fresh green apple with white and wood.
TAVERN BUFF

A little bit biscuit, a little but caramel, a little bit taupe, this hard-to-define neutral with a twist adds warmth and a vintage vibe to any room.
LUSH

A softer, blue-tinged green also made it to the 'it-list'. Nippon Paint calls it Lush. A vision of curling up on a bed of cushions, gazing out to sea from a bay window, springs to mind…
VOLCANIC BLACK

Charcoal, tobacco, cinnamon – these are a few of the things that are conjured at a glimpse of this masculine, moody colour: Volcanic Black. We can imagine it adding drama and atmosphere to a den, a library, or a dining room.
BEING PEACH

Soft, summery, sweetly romantic, this pastel peachy shade that hovers between pink and orange would look at home just about anywhere. It's called Being Peach, and it's one of Nippon Paint's happiest hues for 2016.
BLUE LULLABY

Not quite baby blue, not quite sky blue, this slightly grey-tinged blue would be a fitting foil for stronger colours and eclectic décor collections. Nippon Paint calls it Blue Lullaby, and hails it as a colour that represents perfect balance.
FAST CAR

Intensely coloured flowers and summer berries spring to mind when we feast our eyes on this anything-but-shy shade of dark reddish-pink, dubbed Fast Car. It would make a fabulous feature wall in a living room, or a striking wraparound colour to blanket an intimate boudoir. We can see it working equally well with clean, modern lines and ornate Victorian chandeliers and Chesterfield sofas.