Neon Interior Design: Pop Goes the Décor
Conservative and risk-averse – who, us? These neon-bright local interiors will change your mind.
Once upon a time, the vast majority of Singaporean homeowners would opt for neutral interiors. Times have changed. Bold primary colours and neon-bright hues are popping up in every room. 
Deep Purple Meets Piet Mondrian
HDB 5 Room Standard Flat | Artrend Design
 This deep purple feature wall and built-in cabinets inspired by the iconic work of Piet Mondrian serve to segregate living and dining areas in this otherwise pristine white interior. Reflective surfaces and layered lighting play up the dramatic contrasts in colour.
Orange Juice with Every Meal
A feature wall in cheerful orange visually separates the dining area from the living area in this otherwise neutral-hued open concept apartment. The bold choice of wall colour is picked out in table mats and linen in one shade deeper. It's cosy, it's appetising and it works!
A Squeeze of Lime and a Shot of Chilli
HDB 5 Room Jurong West Blk 673A | Dreamvision Designer Pte Ltd
A neutral sandy-coloured interior is enlivened by a recessed wall drenched in lime green. An off-centre TV breaks all the rules, beautifully, while a statement sofa and dining chair counterbalance the cool lime with a shot of fiery chilli-red.
Freshly Picked
HDB 4 Room 817B Keat Hong Link | Icon Interior Design
This eye-catching and light-hearted shelving unit evokes an auspicious pineapple with cheeky creativity. It provides a warm and witty welcome, and a showcase for family members' cherished collectibles.
Sweet Green Dreams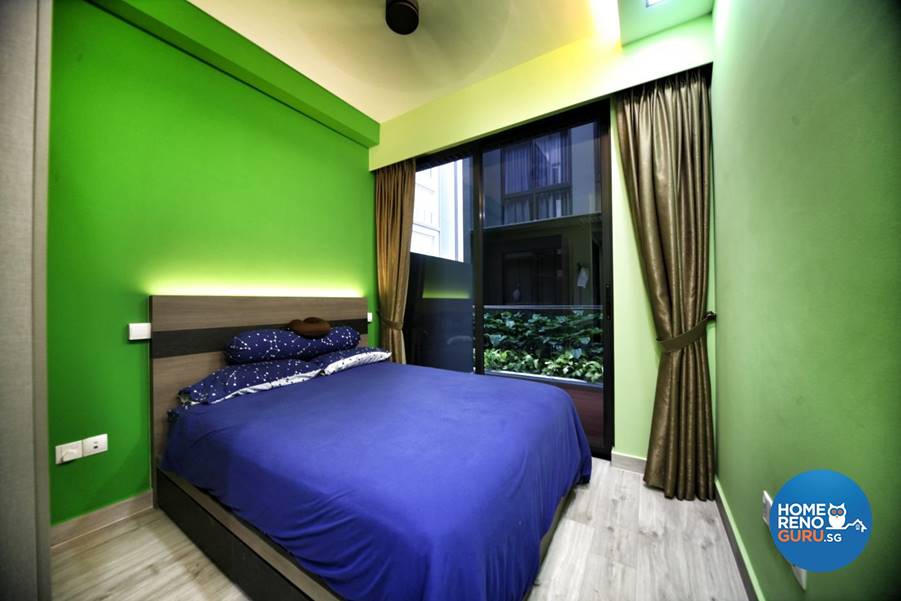 HDB Studio Apartment Guilemard Road | Interior Diary Private Limited
Flying in the face of conventional wisdom that says small spaces should be painted in light colours, this bright green studio apartment makes a big statement. Far from being oppressive or claustrophobic, it is positively refreshing.
Hot Pink, Cool Kitchen
HDB 4 Room 430 A Yishun Ave 11 | Absolook Interior Design Pte Ltd
Pink, pink and more pink puts the 'fun' into 'functional' in this gorgeous galley-style kitchen. Glossy black and pink laminate has been used extensively to evoke a groovy retro vibe with all the durability and easy maintenance of modern materials.
Have we coloured your thoughts? If you're thinking about renovating, you may or may not have a fixed colour scheme or even a theme in mind. What you do need for sure is a great interior designer who will work with you to crystallise a vision of your dream home then make it real. Request for a free renovation quote here, and we'll connect you with an interior designer to fit your needs and budget.
What's more, you'll stand a chance to win a Mercedes-Benz CLA 180 Coupe & Free Home Renovations worth $30,000!