6 Different Ways of Incorporating Exposed Brick Walls
There's something about bricks that says 'homely'. Enter the popular hipster hack of brick veneers – wafer-thin tiles that create the perfect illusion of bricks without the hassle of laying them. Behold these eye-catching tricks with bricks.
Handy for Scandi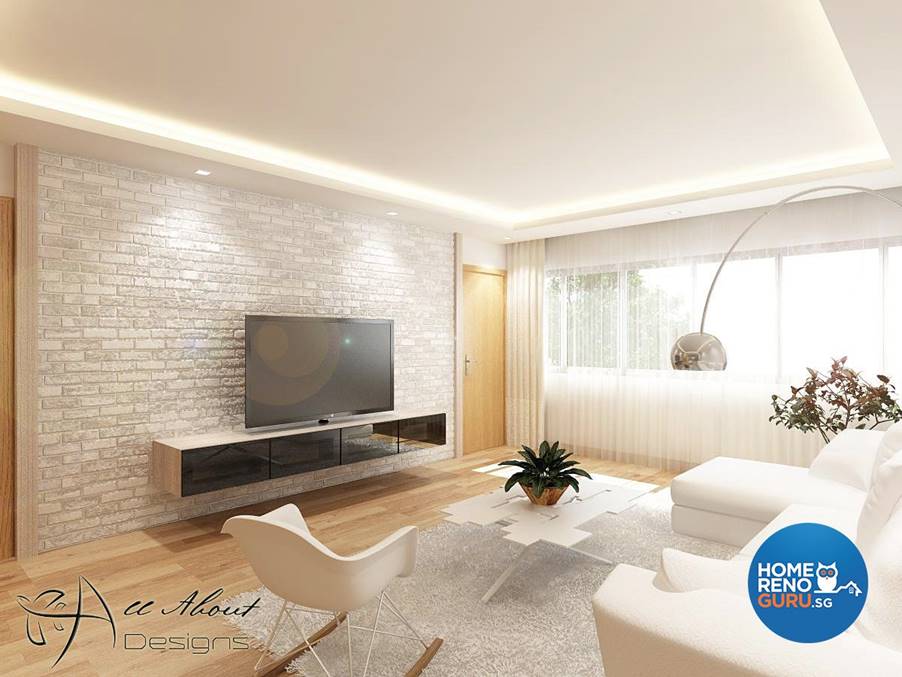 HDB 5 Room Tampines Street | All About Designs Pte Ltd
This cool, minimalist Scandinavian-inspired interior manages to be both warm and airy, thanks to the variegated exposed brick feature wall in shades of palest silvery grey and white, paired with light blonde wooden flooring and all-white furniture.
Perfect Imperfection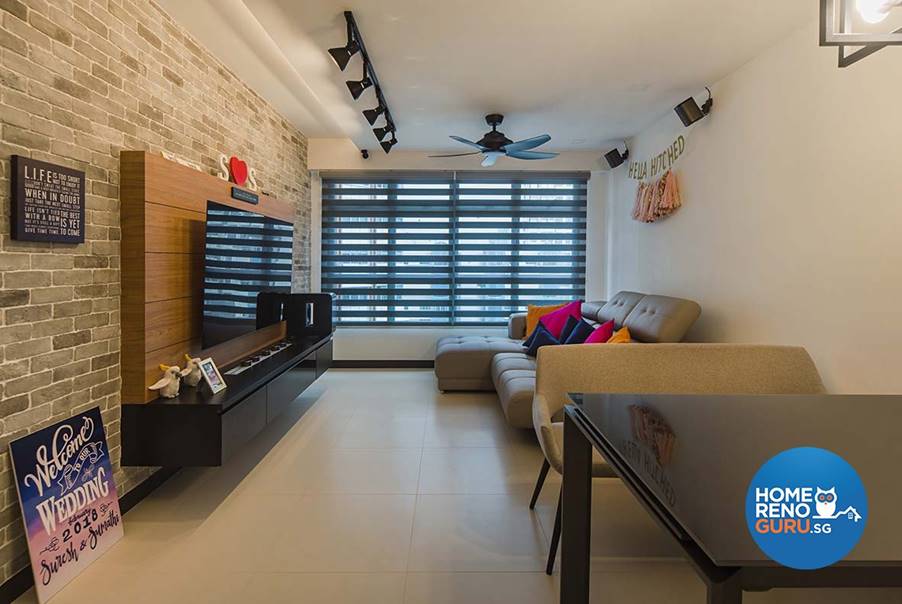 HDB 4 Room 56 Teban Gardens | Cozy Ideas Interior Design Pte Ltd
A full wall of distressed, motley brown exposed brick wall veneers gives a retro rustic vibe to this comfortable and essentially simple interior. Splashes of black on the TV console and track lighting add contrast and create focal points in an otherwise neutral space.
Red Riding Hood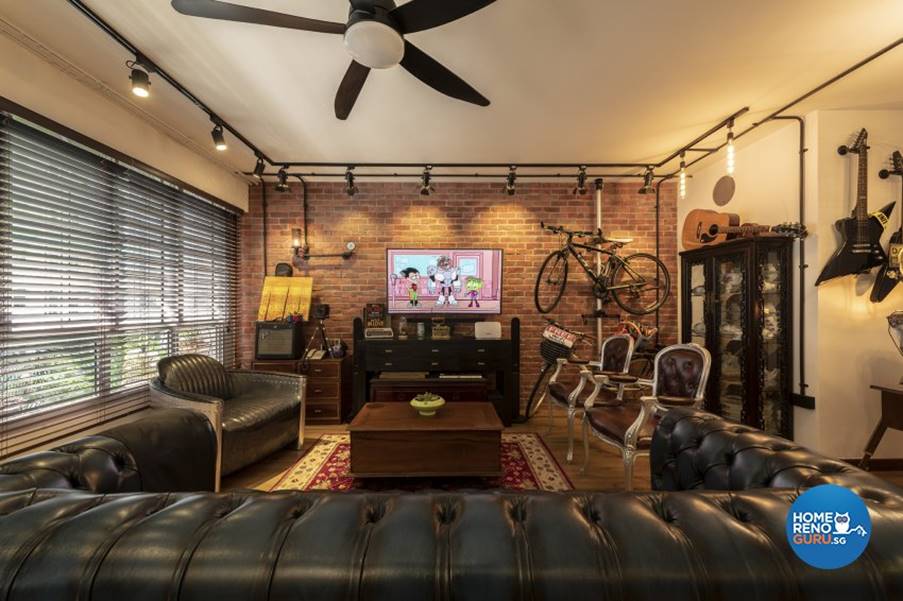 HDB 784C Woodlands | The Two Big Guys LLP
The full wall of aged-looking red brick veneers creates an instant industrial chic vibe, while black track lighting and utilitarian wall-mounted bikes complete the look. The shades of red are picked up and picked out in the floor rug and the rich mahogany hues of the eclectic vintage wooden furniture.
Fabulous Fragments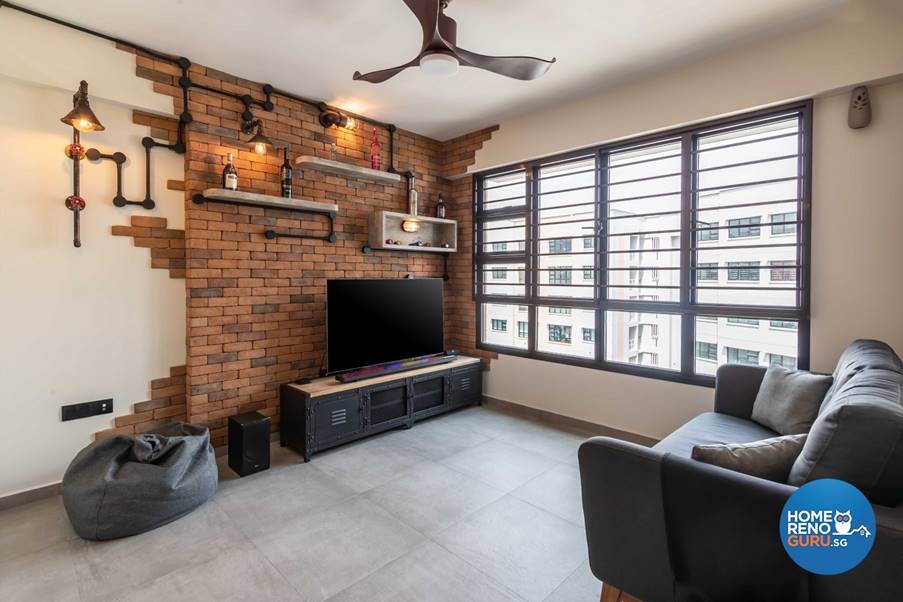 HDB 4 Room Blk 462C Yishun Ave 6 | Swiss Interior Design Pte Ltd
This jagged-edged wall of exposed brick veneer looks like a snapshot of a work-in-progress. But far from looking like an abandoned building project, it injects a dynamic energy into the space. Cement screed flooring and exposed piping nail the rugged warehouse aesthetic.
A Little Bit Country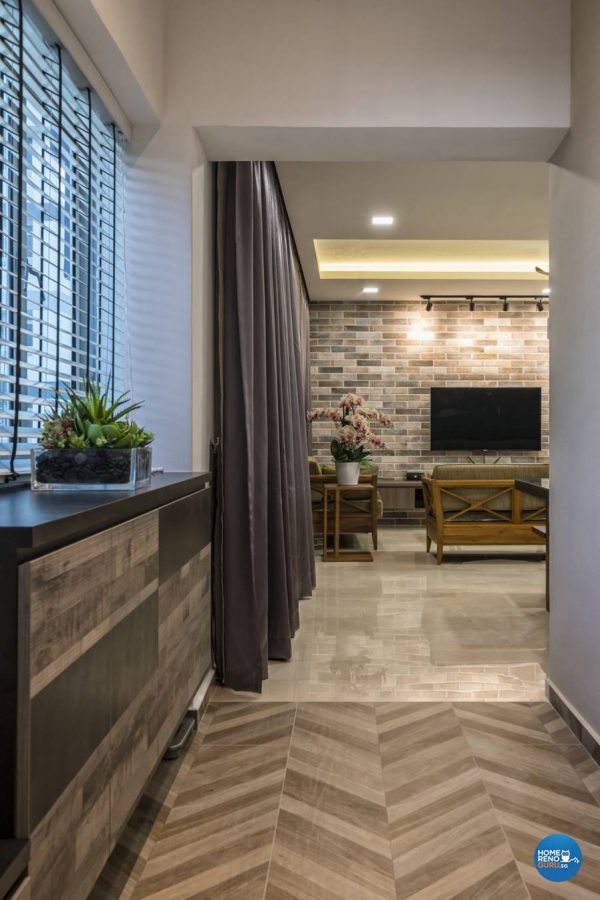 HDB 5 Room HDB Eunos Damai | U-Home Interior Design Pte Ltd
Looking for Interior Designers?
Let HomeRenoGuru help!
Multi-hued brown brick veneers provide the palette for the earthy colours that cloak this living space in a welcoming warmth. An interplay of glossy and matt textures adds visual interest to a theme that is quiet and cosy, never bland and boring.
Stand Divided
HDB 4 Room 316B Punggol Way | Fineline Design Pte Ltd
A column of white exposed brick veneers, interspersed with recessed niches, flanks the subway tile-covered wall that divides the entrance hall and the kitchen. Conventional wisdom says shouldn't work – insufficient contrast in colour, two clashing textures… and yet it does. After all, rules are made to be broken.
These tricks with brick veneers go to show that a simple hack – in this case the prudent use of a trending modern material, beats hacking an entire wall. It can certianly save you a whole lot of money, time, noise and dust. Speaking of saving time, money and in this case legwork, why not ask for a free renovation quote here? We'll connect you with an interior designer who matches your needs and budget.
What's more, you'll stand a chance to win free home renovations worth a total of $30,000!