8 Ways To Go Green With Your Homes
16 Mar 2017
This year, it's all about going green. From eco-friendly buildings with energy conservation features to buildings covered with greenery, architects and designers alike are bringing their focus back to the environment. Being eco-friendly doesn't mean you have to forsake tasteful design; read on for 8 ways you can go green with your homes while still make a statement!
1. Building a vertical garden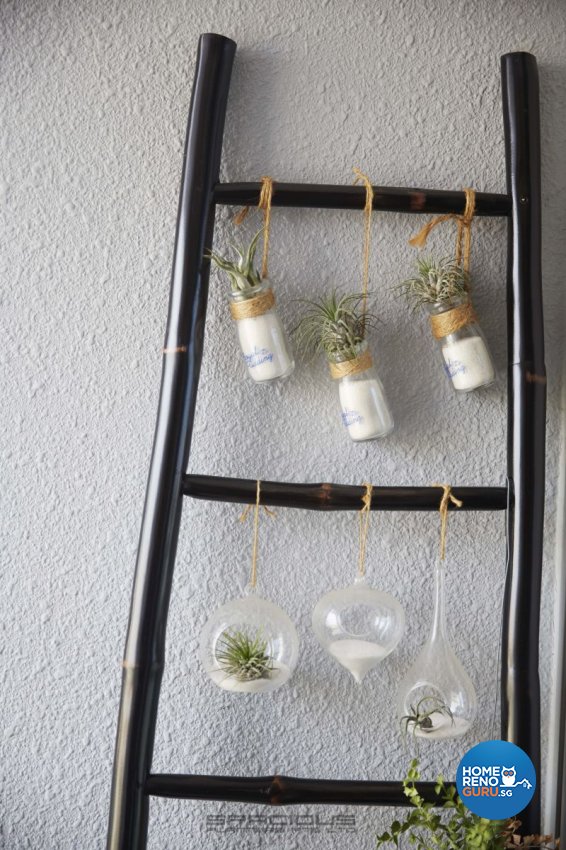 132 The Scala by Spacious Planners Pte Ltd
An indoor vertical garden brings the beauty of nature right into your home. This concept has been gaining traction over the years as it adds a burst of greenery in the urban, compact spaces that are characteristic of land-scarce Singapore.
"Balinese, industrial or wood themes go well with vertical gardens, unlike modern ones which might be more difficult," says Bing from Carpenters Design Group. However, while vertical gardens are easier to maintain as compared to traditional gardens, he says that homeowners will still have to take into consideration their lifestyle habits before installing one.
"It wouldn't be recommended for busy homeowners who do not have time to care for the plants," he adds.
2. Let natural light in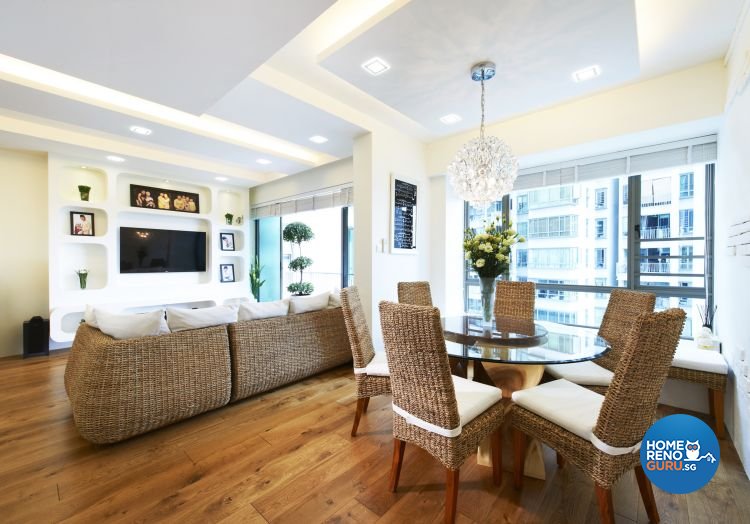 The Quintet Condo by U-Home Interior Design
Reduce costs spent on additional light fixtures and save energy expenditures by using windows that maximize the entry of natural light. Not only is it more eco-friendly, but the sun's illumination will also instantly brighten the  room, making it look bigger!
To maximise natural light into your home, Anne from Cad Associates ID recommends homeowners to go for a lighter colour scheme and to use clear glass for their windows, instead of tinted glass or those with window films, as these will cut down the light that penetrates through.
3. Buy furniture made with sustainable materials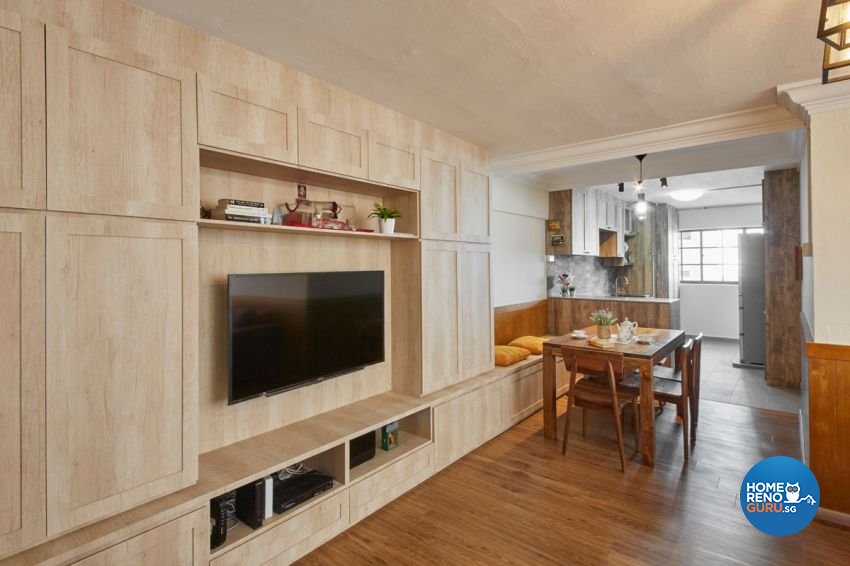 Hougang Ave 4 by Carpenters.com.sg
Always read the labels before purchasing to find out where your materials such as wood, are harvested from, so as to make an informed decision. Look out for materials which have either of these global certifications – Forest Stewardship Council (FSC) and Programme for the Endorsement of Forest Certification (PEFC). The FSC and PEFC promote environmental sustainability and ensure that the materials used are responsibly harvested.
4. Using multifunctional furniture
As the saying goes, 'less is more'. Why spend extra cash on 2-3 furniture pieces when you can spend it on one? In addition to saving space and moolah, buying less means reducing our consumption, wastage and also the time and materials spent cleaning them.
[cta1]
5. Use eco-friendly paint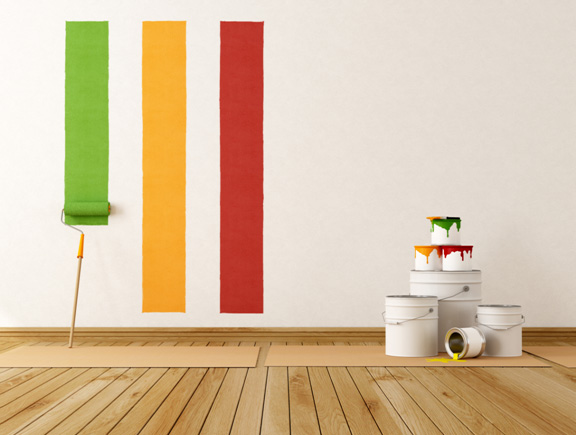 archideaphoto / Shutterstock.com
Eco-friendly paints are environmentally friendly as they use natural ingredients which are biodegradable. Additionally, as these paints emit little to no Volatile Organic Compounds (VOC) unlike normal varieties, they are much safer to work with and also prevents you and your family from various diseases and lung cancer. For a start, you can consider Nippon Paint Odour-less All-in-1, Odour-less Easywash or Odour-less Medifresh. These products emit little to no VOC.
6. Use a tankless water heater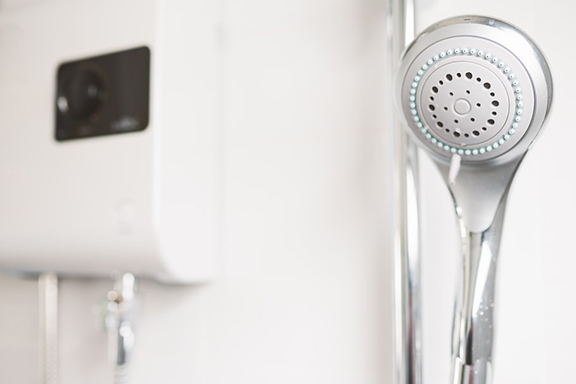 MIA Studio / Shutterstock
Also called an instant water heater, using one will help reduce your energy consumption. It heats water via a coil system as the water passes through it; this is in contrast to a tank/storage heater system which stores and maintains the temperature of the hot water in a tank until it's ready for use. As an instant water heater doesn't require a water tank, it also frees up space in your home.
7. Go LED
Boon Lay by Northwest Interior Design Pte. Ltd
If there's anything that will greatly reduce energy consumption in the house, it's gotta be the lights 'round the house. Shy away from your usual incandescent light bulbs and go for the energy-efficient LED ones. These eco-friendly lights are becoming more and more mainstream in the market, so you'll have a field of options!
8. Adorn your interior with indoor plants
Skip air-purifying systems and replace them with indoor plants which can do the job of purifying the air too. They help to remove nasty VOCs from the air, making it cleaner and fresher. Plus, the pop of greenery will breathe life into your abode!
For indoor plants, Dennis Chong from D'esprit Interiors Pte Ltd suggests putting them visible to the seating area, near the windows, so as to provide optimum sunlight for the plants' growth.
As for homes which don't have the luxury of abundant sunlight, homeowners can consider putting money plants instead. Low-maintenance money plants can grow exceptionally well even in low light conditions.
——
Combating climate change starts with us. By adopting environmentally-friendly habits and making small changes in our lifestyle, we can then as a community, move towards more sustainable living. Not only do these tips show you how you can do your part for Mother Nature, but they also help you trim those energy bills too!