6 Fancy Bathroom Styles To Help You Stay Relaxed
Who here's guilty of spending a little too much time in the bathroom-please tell me I'm not the only one?
When life is as hectic as it is, you find sanctuary in the unlikeliest of places. Everything you do in the bathroom is on your own time, and the privacy it affords is almost… luxurious. Plus, don't tell me you've never taken a hot shower or bath at the end of a day you thought would never end and felt it to be immeasurably therapeutic and soothing.
This time, we share with you 6 styles that'll help you transform your own bathroom into a relaxing space that not only looks good, but makes you feel good too!
1. The One with a Neutral Colour Scheme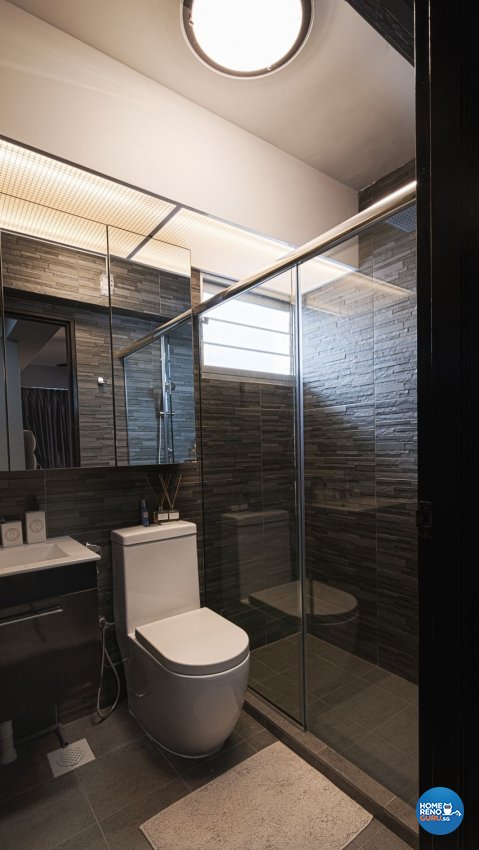 Upper Serangoon Cresent-HDB 4 Room by Swiss Interior Design
The holy grail of the frazzled office worker is attaining that coveted Zen state of mind where no impending assignment or presentation can faze you. And your best bet at achieving the said state of enlightenment? Opting for a neutral colour scheme for your bathroom, of course!
Ronnie Goh of Swiss Interior says that a design sporting darker colours and a neutral palette-think shades of black and brown- is an easy way to transform your bathroom into a classy setting that'll melt your anxieties away the moment you step foot inside.
2. The One with Some Greenery
275 Loyang Rise by Love Home Interior Design Pte Ltd
There's nothing that relaxes you better than mother nature herself, so why not incorporate a touch of greenery into your bathroom's design? One or two potted indoor plants should do the trick, but be sure to choose plants that can thrive in the low-light and humid environment of the bathroom.
3. The One with Marble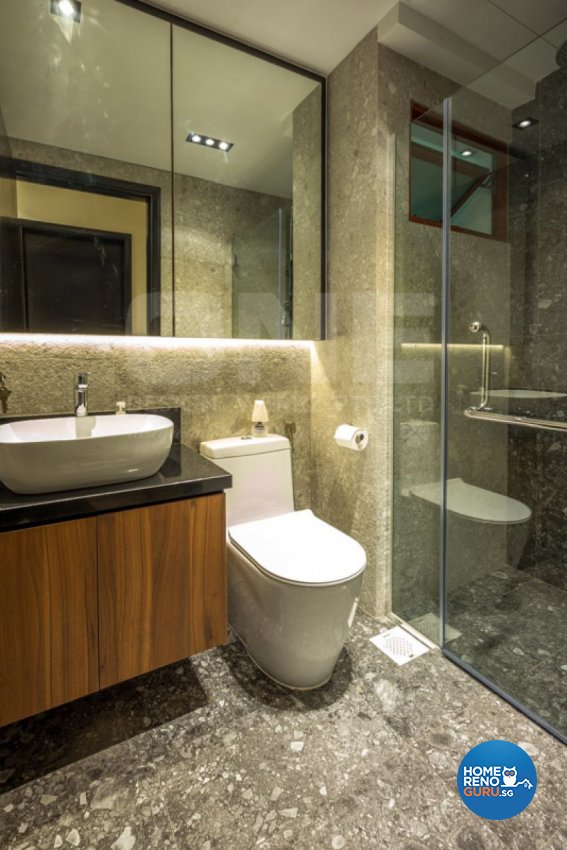 Casafina-Condo by One Design Werkz Pte Ltd
Some of us sing in the shower; others prefer to think while soaking in the bathtub. For a classy design that truly inspires as much as it relaxes you, it is important that you choose to incorporate the right materials for your bathroom. Stephanye Yoon from One Design Werkz alludes to this. She says, "A bathroom is where you start and end each day. It is also where inspiration strikes as it's the time you are left alone with your soul. The use of natural marble might help in your imagination."
Looking for an estimate of your renovation costs?
Let HomeRenoGuru help!
Ask For Quote
4. The One with Storage
Condo by Matrix Interior Pte Ltd
Wouldn't it be great if you came home to a bathroom that looks like something you'll find at a high-end hotel? Here's the key: storage. You'll notice that there's nothing lying astray in those fancy hotel bathrooms because everything has its proper place.
For a clutter-free and relaxing space, consider adding wall cabinets and leaving spaces for towel racks when having your bathroom designed.
5. The One with Appropriate Bathroom Fittings
125 Serangoon North by MET Interior
After all that's been said and done, your bathroom's still going to have to be able to walk the talk. It can't just look relaxing- it has to actually has to have certain things that'll help you relax. Yup, I'm talking about your bathroom fittings.
Ideally, including a bath tub instantly amps up the relaxation and luxury factors of your bathroom. Otherwise, overhead showers. such as the one pictured above, are also great alternative sources of relaxation and refreshment.
6. The One with Cove Lighting
Contemporary Bathroom by Retz & Relax Interior
For a soothing atmosphere that looks like something out of a magazine spread, JJ Yang from Rezt&Relax Interior recommends installing cove lighting in areas such as the top and bottom of mirrors in your bathroom. For the uninitiated, cove lighting is a form of indirect lighting built into places like ledges that allows for a more diffused and softer lighting system for the room.
See where I'm coming from now? May these snazzy designs inspire you to transform your bathroom into your own private heaven that you'll be able to spend ages unwinding peacefully in!