5 Kitchen Designs That Will Have You Wishing You Can Cook
It's been a long day without you my friend, you might whisper as you come home and enter your…kitchen. That's right! While most dream of coming home to snuggle up in bed after a long day at work/school, for the aspiring chefs, the kitchen is where the heart is. For those of you not blessed with the making of food and only the eating, you might not feel that same magnetic pull to the kitchen. However, some kitchens were designed to make you wish you could cook- we round them up here.
1) This super clean, minimalist kitchen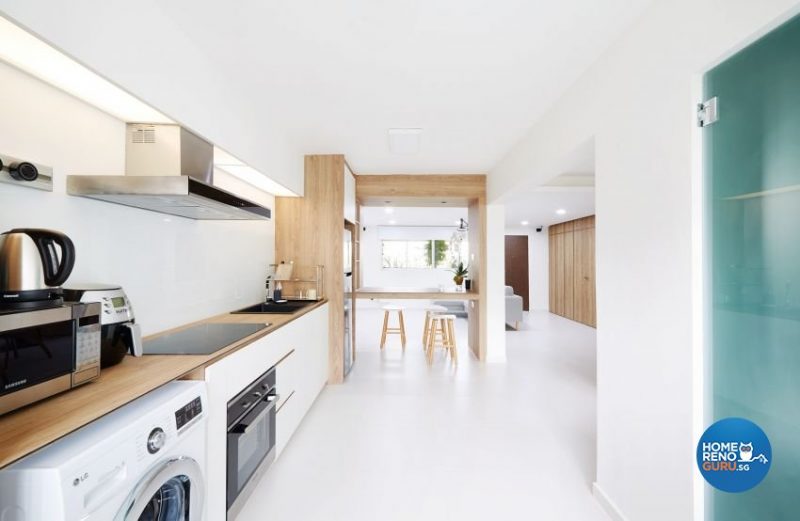 Bishan HDB 4 room by The Local Inn.Terior
Lovers of minimalism, this one's for you. So white that it's almost blinding, this kitchen is made even more spacious thanks to its galore of ivory surfaces. However, it's made warmer with the addition of wooden elements in the form of the countertop. Just picture yourself here whipping up some Michelin star worthy dishes- what a lovely dream.
According to Jade from The Local Inn.Terior, the layout of this house was carefully thought out – every corner of the space is designed according to the homeowners' lifestyle. "Often, during the space planning stage, people don't realize that a bedroom in the past can be used for another purpose. For this house, one of the bedrooms has been repurposed into a dining room as they spend more time there," he said.
2) This warm, quirky kitchenette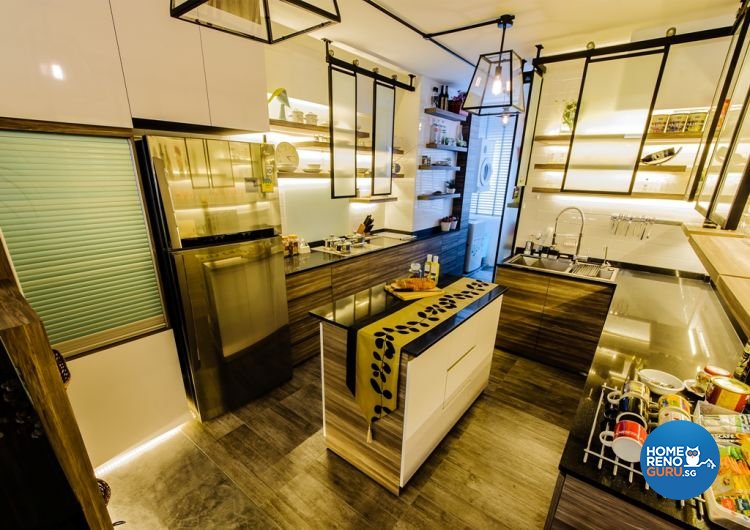 Choa Chu Kang Avenue 3 by Ideal Design Interior
This kitchen positively screams warm and inviting with its usage of yellow light and quirky light fixtures. The island in the middle adds dimension to the kitchen, while the various shelves that line the walls with sliding glass panels are simply a joy to look at. This kitchen is one that's full of the homeowner's personal touch, and looks like a joy to cook in.
Said Justin, designer of Choa Chu Kang Avenue 3: "The owner wanted an open concept design, so instead of a wooden cabinet, we used sliding glass panes. We also wanted the place to stand out, so we installed LED lights."
Looking for an estimate of your renovation costs?
Let HomeRenoGuru help!
Get Free Quote
3) This modern city slicker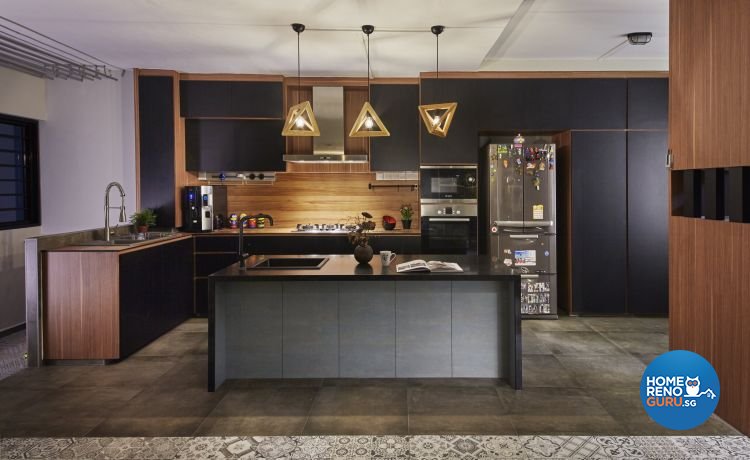 105 Jalan Rajah by Carpenters Design Group
All dark and sleek lines, this is quite possibly Christian Grey's dream kitchen. In this kitchen that's the epitome of city chic, imagine cooking filet mignon here, a glass of wine in one hand as you gaze out at the skyline…oh wait, this is Singapore, so your view's probably blocked by another apartment.
Said Bing Wong, designer at Carpenters Design Group: "Generally, the owner has given me a free play in the design works. From what I gathered, the owner favors wood, and darker shades of colors, with rich Nonya culture and influence. As much as possible, I try to incorporate the finishing touches to match up with the owner's expectation, such as using Nonya-style tiles and dark walnut for example.
"And taking into consideration of the vast collection of Balinese furniture that the owner has, I went a step further by infusing the concept into an Industrial theme, whereby you'll noticed the grey cement contrasting with the wood grains, the big industrial style taps, and the hanging angular designer lights."
4) This Scandinavian beauty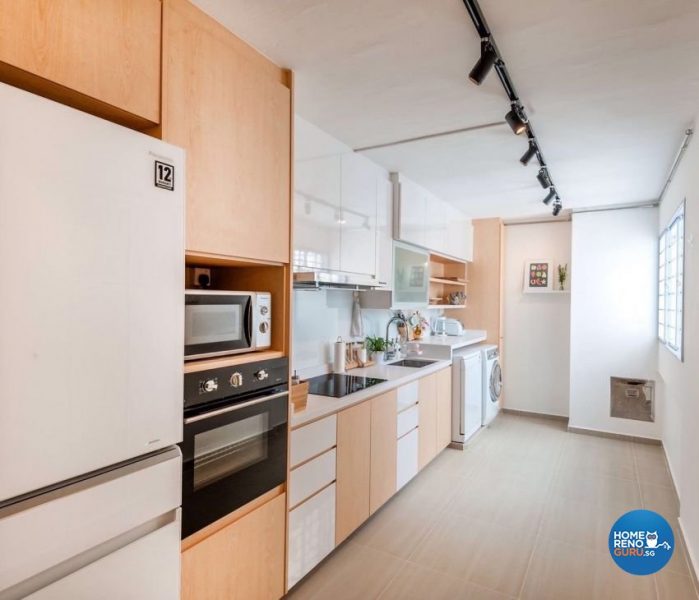 The Scandinavian theme is essentially the Kim Kardashian of all home decor trends right now- like it or not, you definitely can't ignore it. Note how everything is kept clean to one side of the kitchen, with all nooks and crannies being fully utilised. Cooking should be a breeze when you've got everything laid out neatly!
5) This quirky resort-inspired space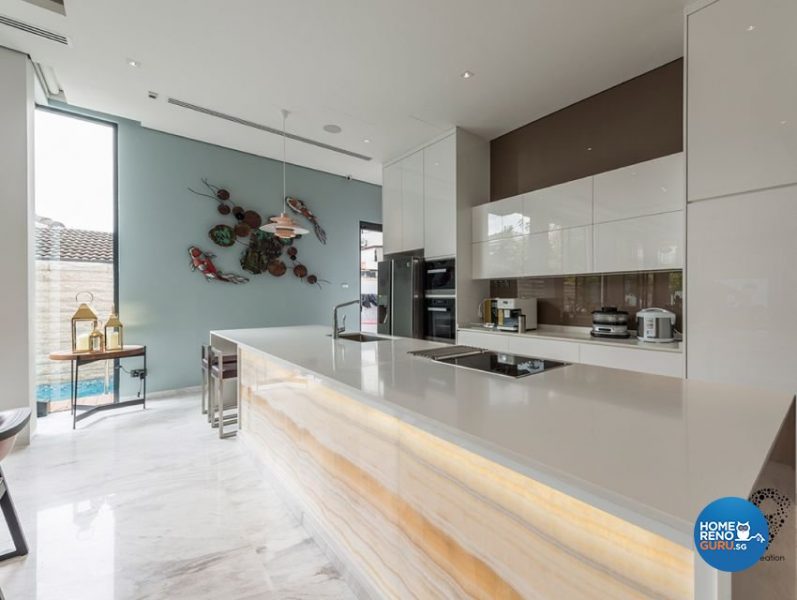 Huddington Avenue by 9 Creation
At first glance, this kitchen looks pretty typical of a resort-style home with its expanse of white-and-marble countertops, cupboards and flooring. However, it's made more unique with a grey-blue feature wall, complete with cute 3D fish and other patterns. With a view of the swimming pool outside, putting together a meal here is made a lot more enjoyable!