Tile Style: Your Ultimate Guide to Tiles in Renovation
09 Nov 2018
Once upon a time, wall tiles were confined to kitchens and bathrooms. Those days are gone.
Modern printing and production techniques have resulted in an explosion of patterned and textured concrete, ceramic, porcelain and laminate tiles. They have found their way into living areas, bedrooms and beyond.
Tricks with Bricks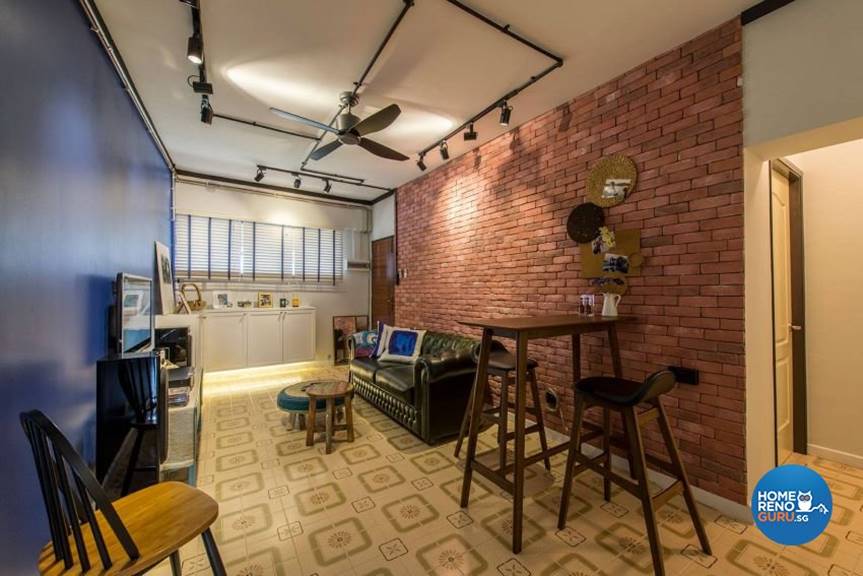 Brick veneer tiles create an industrial-warehouse vibe in the living area of this 3-room HDB flat by Ace Space Design Pte Ltd
Tiles can be made to mimic brick, marble, granite, wood and all manner of building materials. Brick-look tiles, also known as brick veneers, are an affordable alternative to full brick walls and can transform the look of an interior while avoiding hacking and major structural renovations.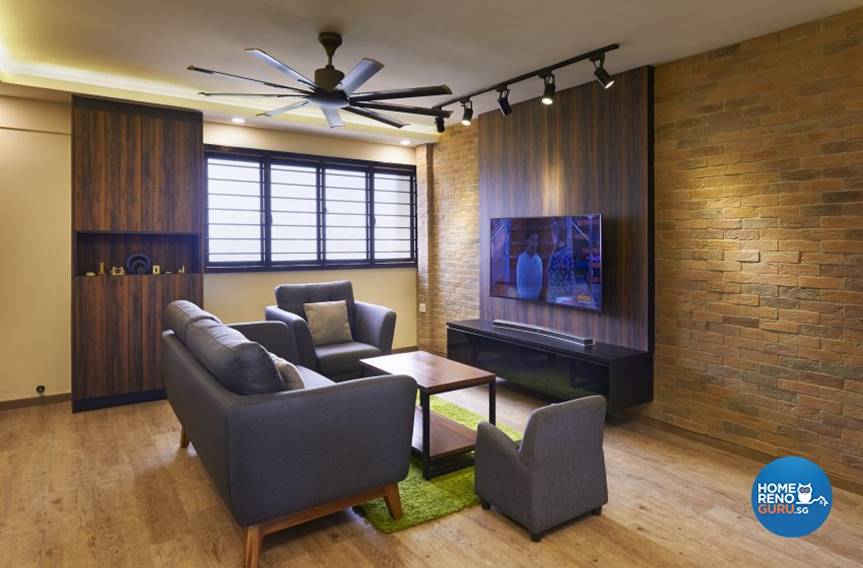 Texture and warmth are injected into this cosy living room with a feature wall clad in brick veneer tiles, by Dezign Culture
Mosaic Magic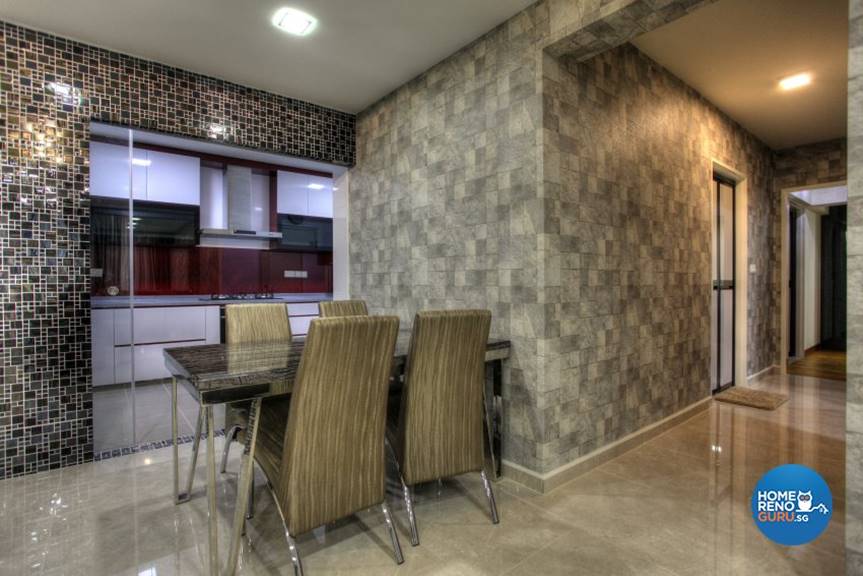 A wall of black mosaic tiles with contrasting white grouting defines the dining nook in this 5-room HDB flat by Dreamvision Designer Pte Ltd
Once seldom glimpsed outside of bathrooms and swimming pools, old-school mosaic tiles look fabulous on living room and bedroom walls. They can create an Italian café cum American diner vibe in dining nooks, and add an eye-catching splash of colour to any room in the house. Instead of covering a wall in its entirety, consider tiling a single pillar to make a statement and create a focal point.
Multi-coloured mosaic tiles add a carnival touch to the vibrant modern bathroom of a semi-detached house by Space Vision Design Pte Ltd
Geometry Lesson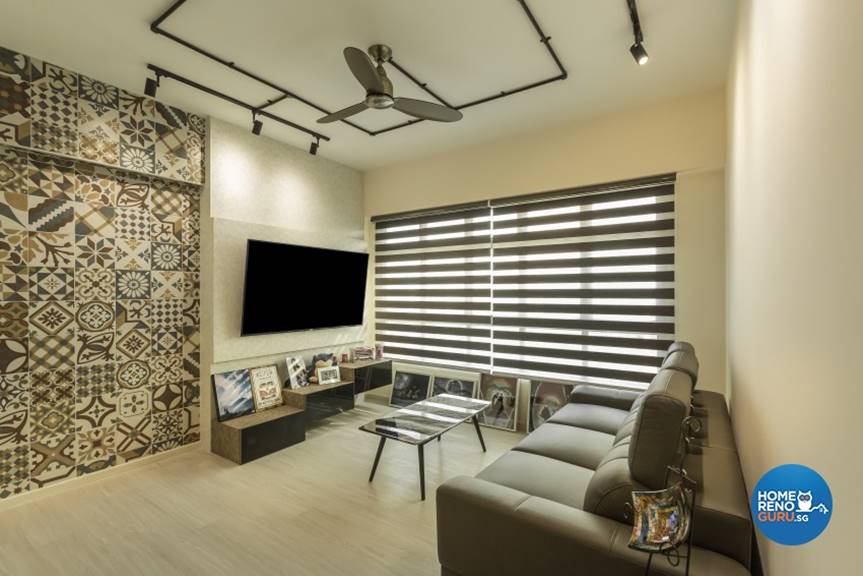 Peranakan-style printed tiles create a striking feature wall in the living area of this 4-room HDB flat by Jialux Interior Pte Ltd
Modern Peranakan-inspired tiles are popping up everywhere in local interior design. Often seen on backsplash and in bathrooms, they can also look stunning in living rooms.
Choose one design and repeat it endlessly, or go for a crazy mixed-up effect by placing complementary patterns and colours in artfully 'random' combinations.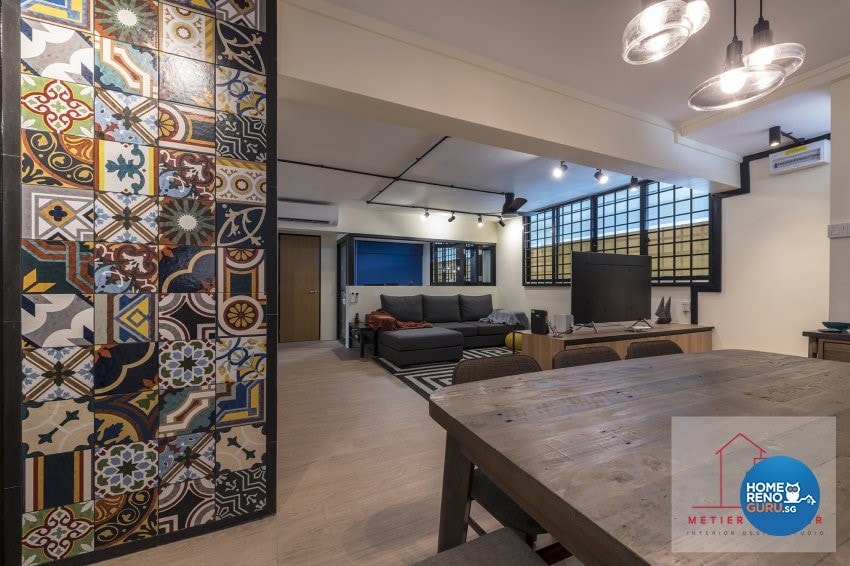 This tiled partition loosely segregates the dining and living areas in this 4-room HDB flat by Metier Planner Pte Ltd
Ride the Subway
Subway tiles create a retro vibe in the bathroom of this condominium by Prozfile Pte Ltd
Singaporean homeowners continue their love affair with those glossy rectangles known as subway tiles. Though they are typically white and laid in a brick pattern, they can also be laid in aligned columns and herringbone patterns. Aside from standard issue white, they are available in a multitude of colours from nostalgic hospital green to grey, blue and red.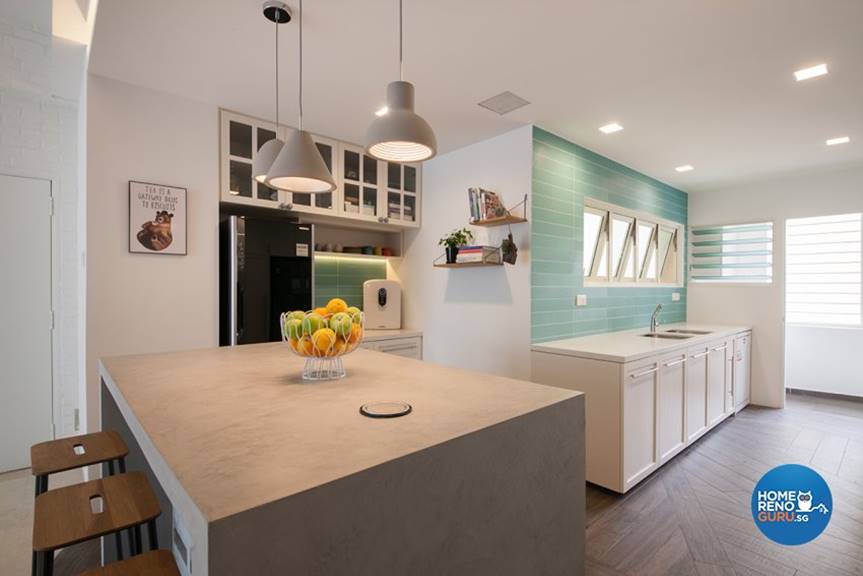 Green subway tiles, aligned in columns, add a punch of colour to this open concept kitchen and dining area by Prozfile Pte Ltd
Be it in your bathroom, kitchen, living room or every room, tiles can add colour, texture and personality to your home. For long-term durability, make sure you obtain expert advice on the correct grout or adhesive for their intended environment.
Speaking of expert advice to get your perfect tile design during renovation, you've come to the right place. Request for a free renovation quote here, and we'll connect you with an interior designer who fits your needs.
But wait, there's more. You'll stand a chance to win a Mercedes-Benz CLA 180 Coupe & Free Home Renovations worth $30,000!