Your 'Home Away from Home Renovations': PARKROYAL Serviced Suites
27 May 2021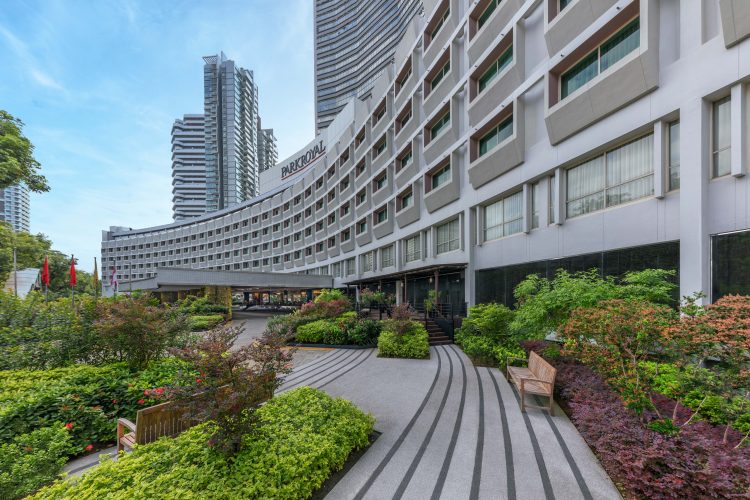 PARKROYAL Serviced Suites Singapore

Finally, after the delays of lockdown and the days of being house-bound, your renovations are about to begin. And with that comes the noise, dust and disruption of living on a building site. Or, you could check into PARKROYAL Serviced Suites. Here's why that's a brilliant idea!
Escape from Hacking Hell
It's definitely no fun living in a home undergoing renovation. Most renovations involve hacking walls to create the coveted open concept living space. That means no functional kitchen, workmen hanging off ladders and using your bathroom, and dust – everywhere, including in your nostrils and ear canals. Chances are, if your reno involves rewiring, you won't even have wifi.
Sure, there are some pros. You can supervise the work – if you have the in-depth knowledge to contribute something meaningful. And you can save the money you would have spent on temporary accommodation. Or can you?
Speed Up the Renovation Process
Inconveniences like dust, noise and no network aside, living in a home undergoing renovation can seriously hamper the process. In an empty house, a good interior designer or project manager can schedule non-conflicting contractors to work on different areas concurrently. If there are occupants crammed into a section of the house, the work has to be done on a rotating basis. Your renovation will take longer, for sure, so what you think you're saving could well be wiped out by the costs incurred by the length of time added to the duration of your project.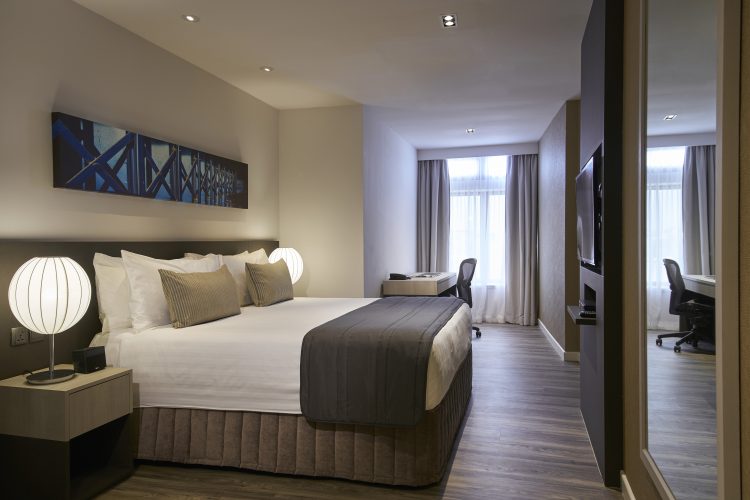 Two-bedroom Premium Suite at PARKROYAL Serviced Suites
Do yourself a favour. Swap all that sneezing and wheezing for snoozing (in crisp, clean sheets) and cruising the colourful neighbourhoods of Kampong Glam and Marina Bay… Check into PARKROYAL Serviced Suites.
Enjoy the Comforts of Home, Without the Housework
Staying at PARKROYAL Serviced Suites prior to your renovation is a little bit like enjoying a preview of your dream home. Everything is sparkling, new or optimally maintained, and the décor strikes the perfect balance between understated luxury and cocooning comfort.
Needless to say, one of the joys of staying in a serviced suite is the fact that somebody else does the housework. A stay at PARKROYAL Serviced Suites includes two weekly visits by the Housekeeping team, who uphold the stringent standards of the suites' SG Clean certification.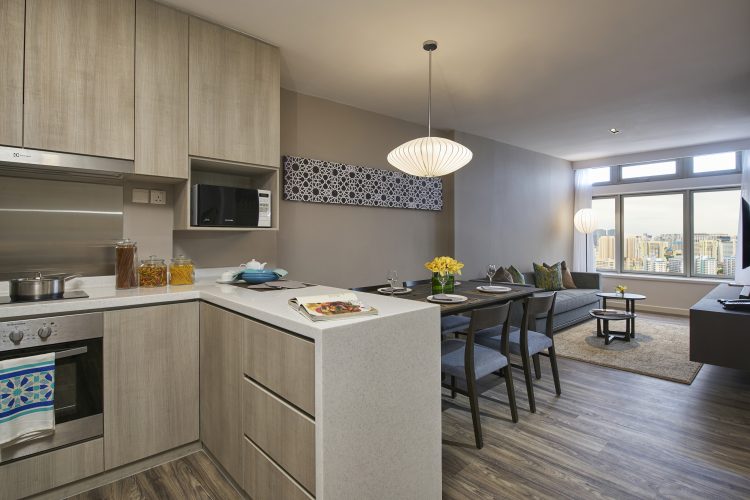 PARKROYAL Serviced Suites uphold the high standards of SG Clean certification
Whether you are single, half of a couple or have kids and an extended family in tow, there is ample space at PARKROYAL Serviced Suites. In fact, you can book as much or as little space as you like. Got a furkid? No problem. Pets are welcome!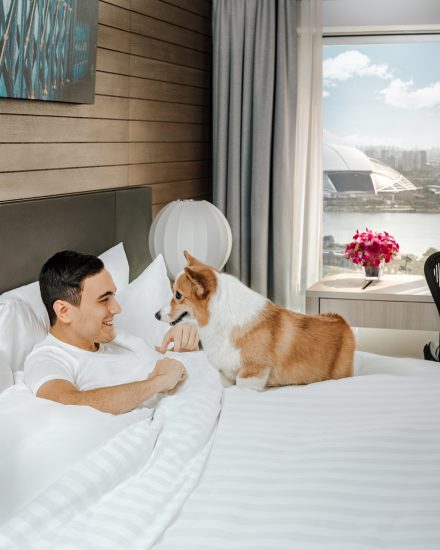 Pets are welcome at PARKROYAL Serviced Suites
Suites on high floors, from levels 18 to 22, offer breathtaking panoramic views of Singapore. Green by day and a glittering jewel box by night, the outlook from your window will not only make you feel proud of Singapore but could go a long way to curing your pandemic-fuelled wanderlust. Our iconic futuristic skyline rivals that of any city in the world.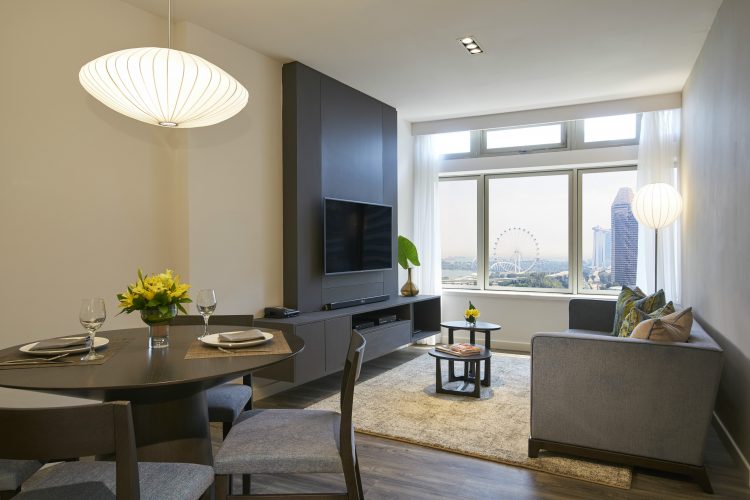 High-level suites offer panoramic views of Singapore's iconic futuristic skyline
Worried about getting around? Don't. PARKROYAL Serviced Suites are situated at one of the best-connected locations in Singapore, on Beach Road. Within walking distance are both the Bugis and Nicoll Highway MRT stations. The Downtown and East West lines both pull in at Bugis, and the Circle line passes through Nicoll Highway.
With a cluster of small boutique hotels in the area and a myriad of tourist attractions, there are almost always cabs cruising in the area, and you are surrounded by bus stops.
Dine In or Out, Around the Clock
You'll never go hungry while you're staying at PARKROYAL Serviced Suites. You can literally stroll into in-house restaurants Ginger and Si Chuan Dou Hua. The cherry on top is 20% off menu prices!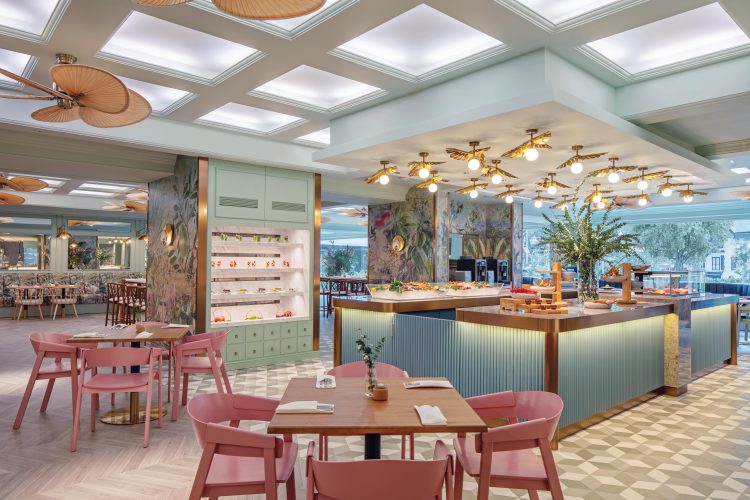 In-house restaurant Ginger serves one of the best buffets in Singapore in a charming garden-themed setting
Ginger offers arguably the best buffet in Singapore, showcasing our rich culinary heritage in a delightful tropical botanical setting. The chilli crab and salted egg yolk crab are must-tries, and the chendol ice cream is to-die-for. And if you haven't yet settled on your wall finishes, you may well find the spark of inspiration you've been looking for at Ginger. The much-snapped customised wallpaper is 'almost famous' on social media.
Si Chuan Dou Hua serves stunning Sichuan cuisine in an elegant modern Chinese setting. Classics like 'Chong Qing' Diced Chicken with Dried Chilli, Smoked Fish with Mixed Spices and Minced Chicken Soup with Fungus are cooked to perfection and exquisitely presented. After indulging in a feast fit for an emperor, you can even zen out in the adjoining oriental garden.
Not in the mood to dress up for dinner? Slip into your PJs or sweatpants and order in. Guests enjoy 10% off in-room dining.
Fancy a change of scenery? There are countless 'cheap and good' eateries at your doorstep. Famed for their mouth-watering biryani, the legendary Zam Zam and Victory Indian Muslim restaurants are just a stroll away, and Arab Street and Haji Lane are brimming with Middle Eastern eateries. The mouth-watering meatballs and Nordic nosh of Fika Café take your tastebuds all the way to Sweden. There are dozens of quaint cafes within walking distance too, such as a themed one called Meomi Cat Cafe where you can brush ankles and shoulders with feline friends.
Well, Well, Well…
If you're worried about piling on the kilos with all that good food on your doorstep, fret not. Guests at PARKROYAL Serviced Suites enjoy access to PARKROYAL on Beach Road Hotel's Wellness Floor, which boasts a half-Olympic size outdoor swimming pool with amazing views, a gym and fitness studio, instructor-led group classes and even personal training sessions.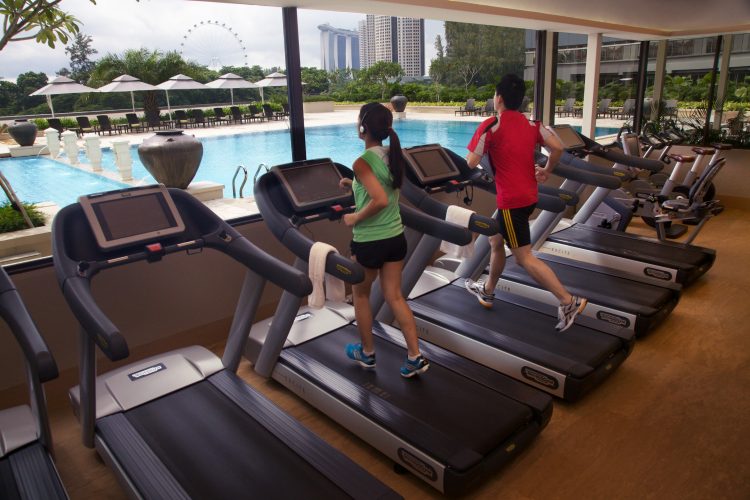 Guests enjoy complimentary access to PARKROYAL on Beach Road's Wellness Centre
Maybe a break from the hassle of housework, not to mention free state-of-the-art fitness facilities, could be just what you need to kickstart that fitness regime you've been putting off for the longest time?
Be a Tourist in Singapore
It's often been said that well-travelled Singaporeans neglect exploring our own backyard. For obvious reasons, overseas holidays are put on hold. So now is the perfect time to be a tourist in Singapore. There is no better place to base yourself than at PARKROYAL Serviced Suites, close to the treasures of Kampong Glam and the swanky attractions of Marina Bay.
With SingapoRediscover vouchers up for grabs, now is a great time to experience all those 'tourist must-dos' you've never gotten round to. Take a turn on the Singapore Flyer, hop on board a bumboat tour of the Singapore River. You'll see your hometown through new eyes!
Shop for Homewares
While your house is being renovated and you have some time on your hands during your temporary liberation from housework, why not shop for homewares to christen your 'new home'?
Eclectic and exotic homewares abound in the shoppers' paradise of Kampong Glam
At PARKROYAL Serviced Suites, you are surrounded by fabulously eclectic and affordable shopping. Gorgeous hand-loomed carpets and all the perfumes of Arabia can be found in and around Arab Street, and just around the corner on Beach Road, contemporary design shines at Supermama Store. Haji Lane is a treasure trove of independent retailers selling everything from vintage repro to handmade items.
A Special Home Renovation Promotion
If your renovation commencement date has been fixed, book now and take advantage of a special promotional package that has been thoughtfully put together by PARKROYAL Serviced Suites for discerning house-proud, Singapore-proud locals just like you. Visit https://www.panpacific.com/en/serviced-suites/pr-ss-singapore/offers/home-reno.html and enjoy your temporary 'home away from home renovations'!