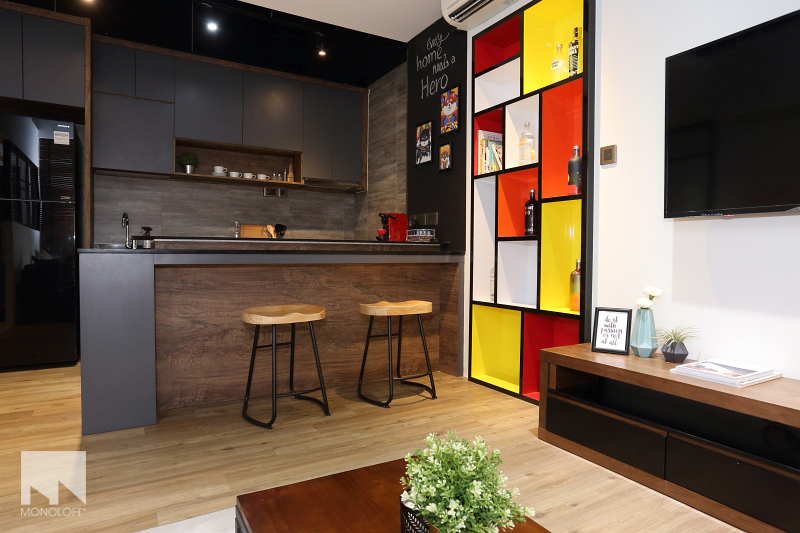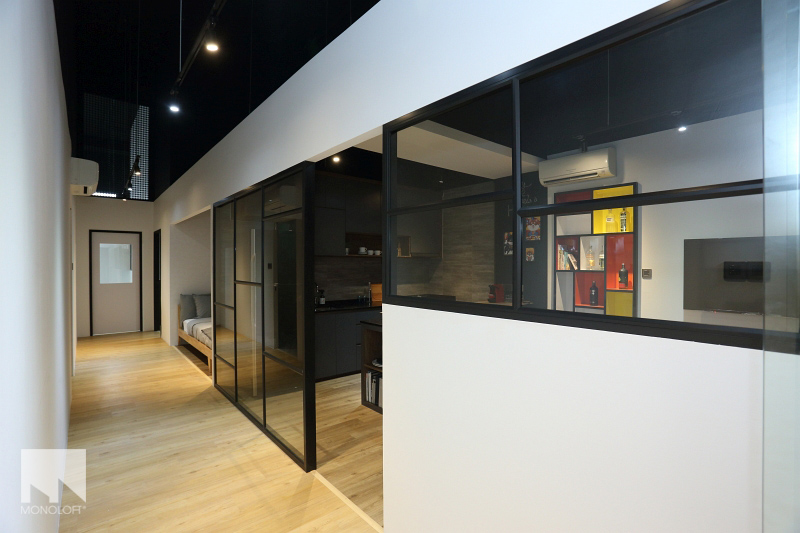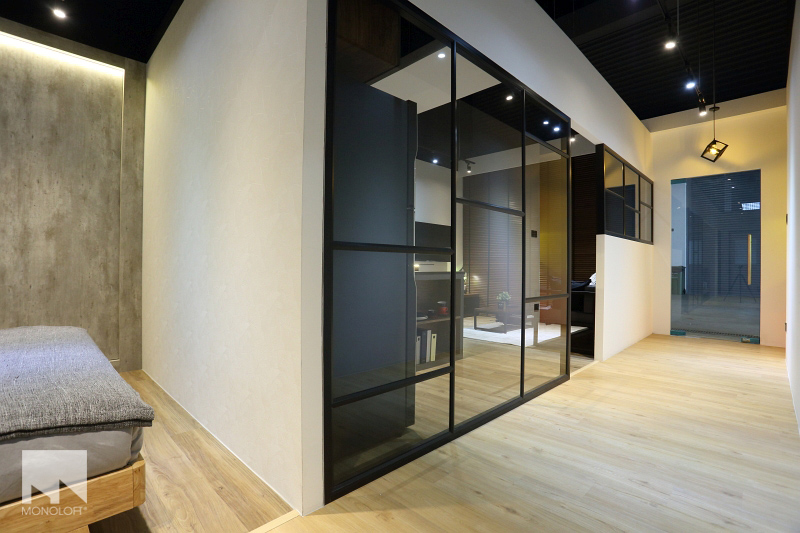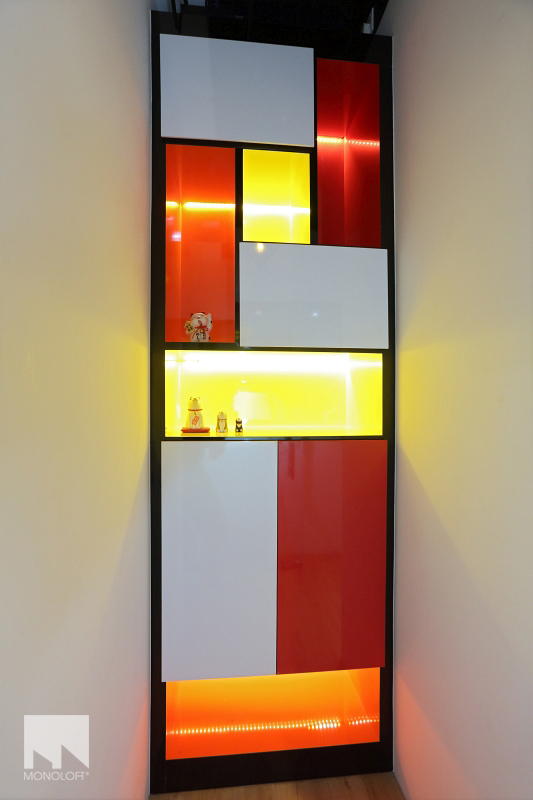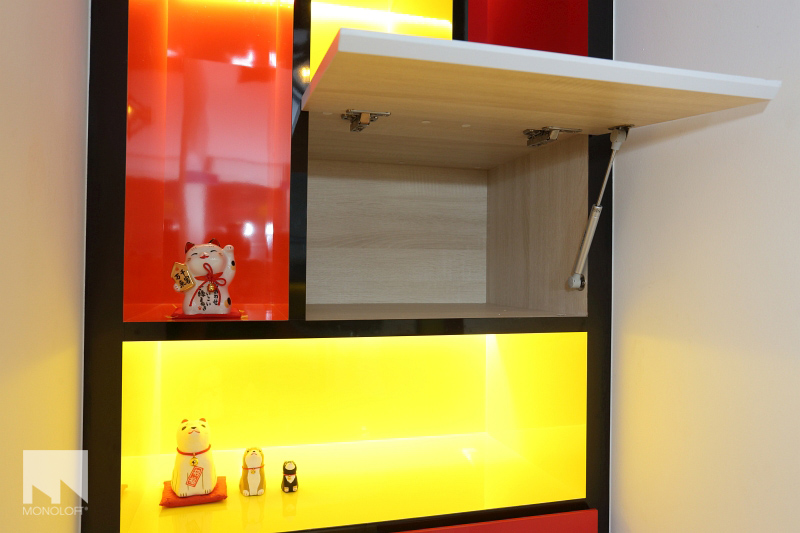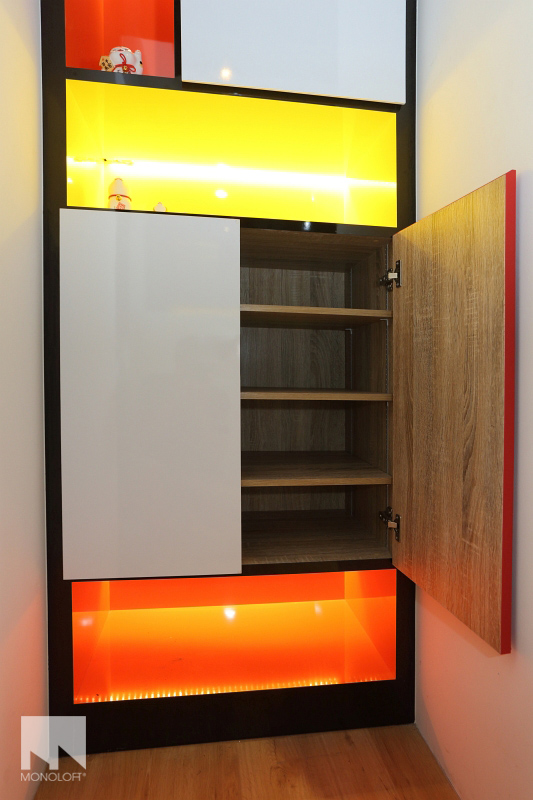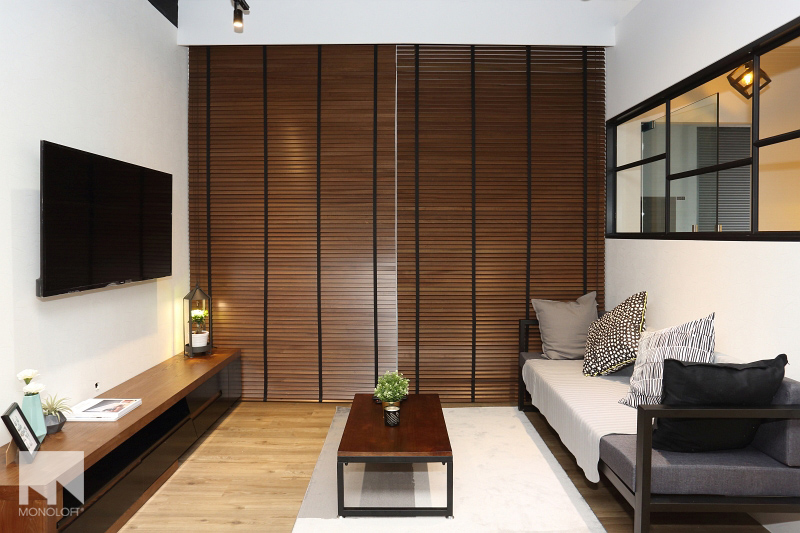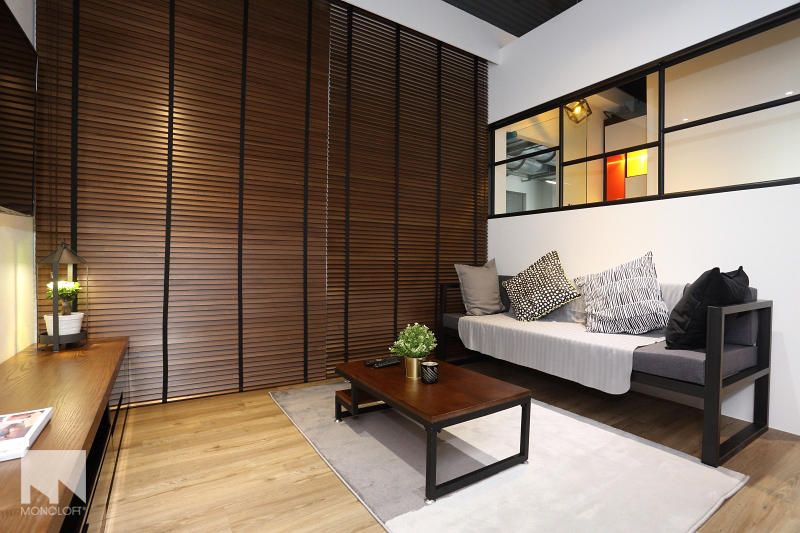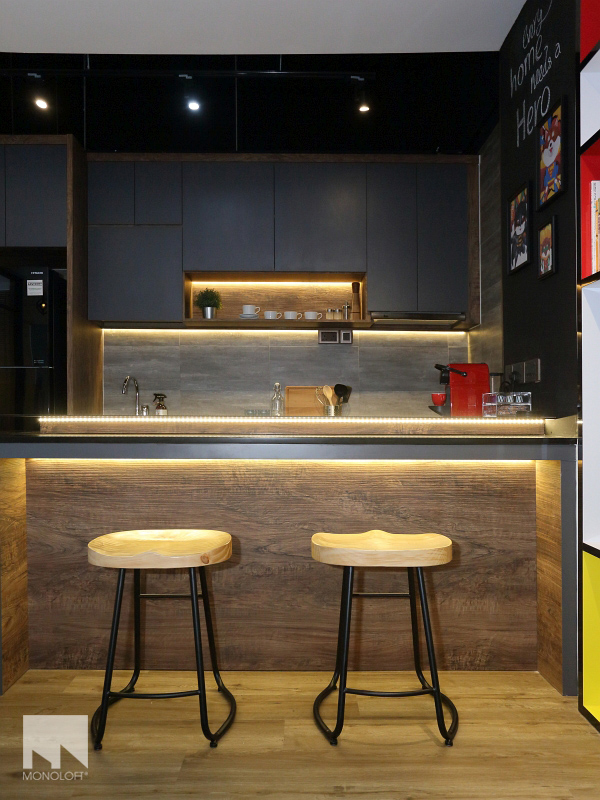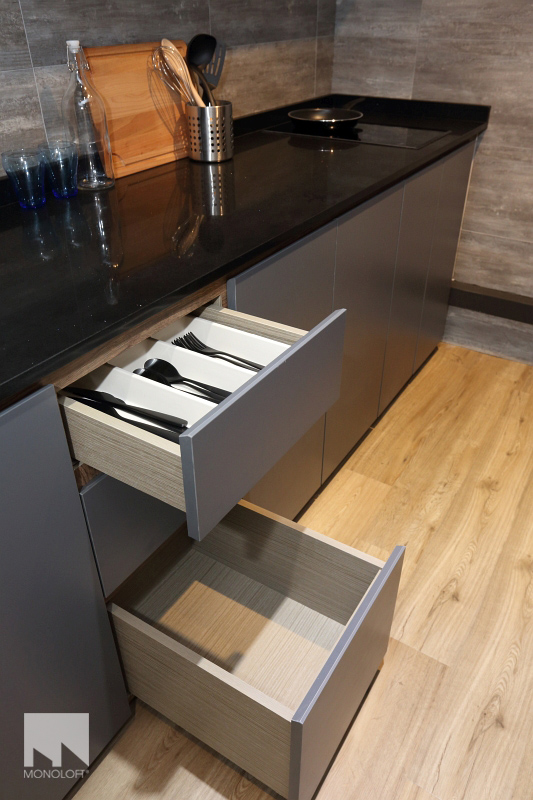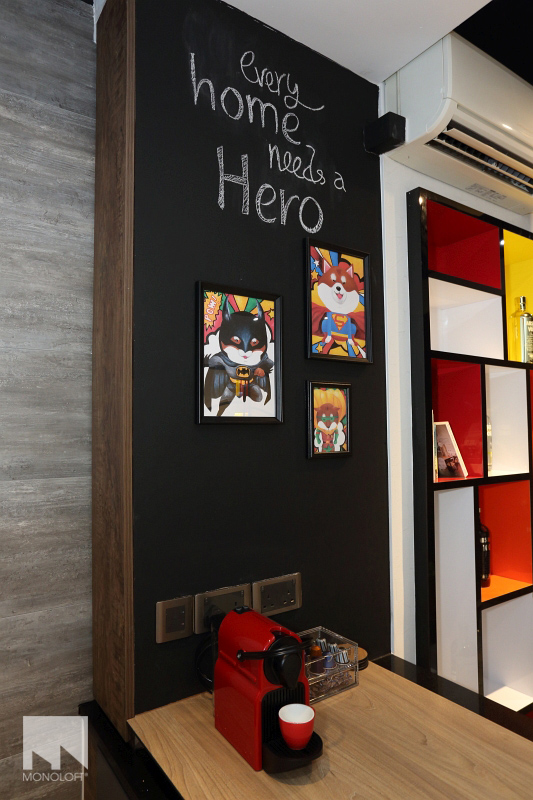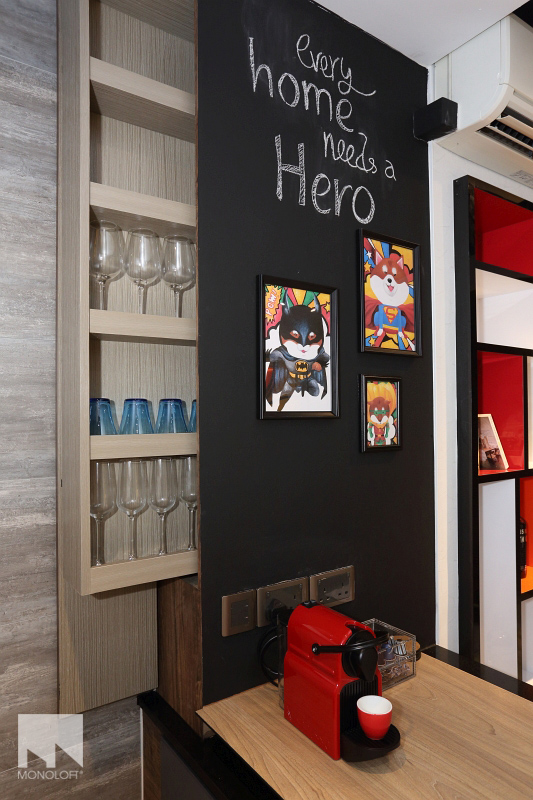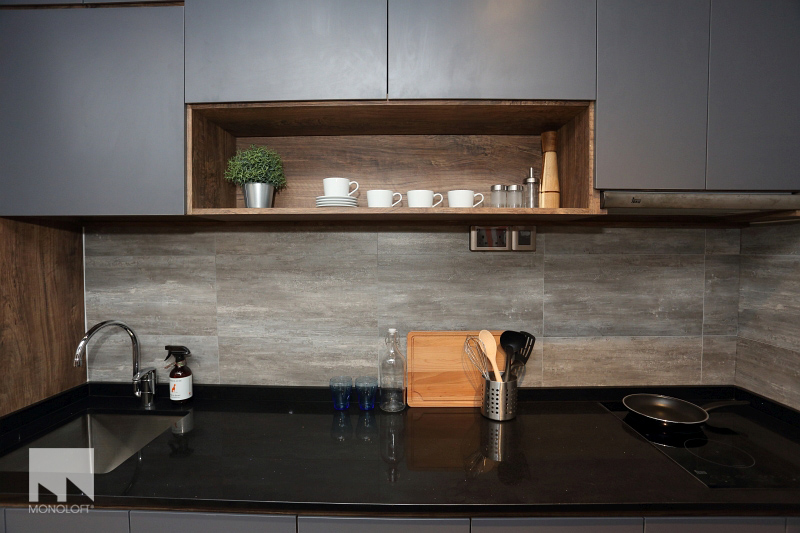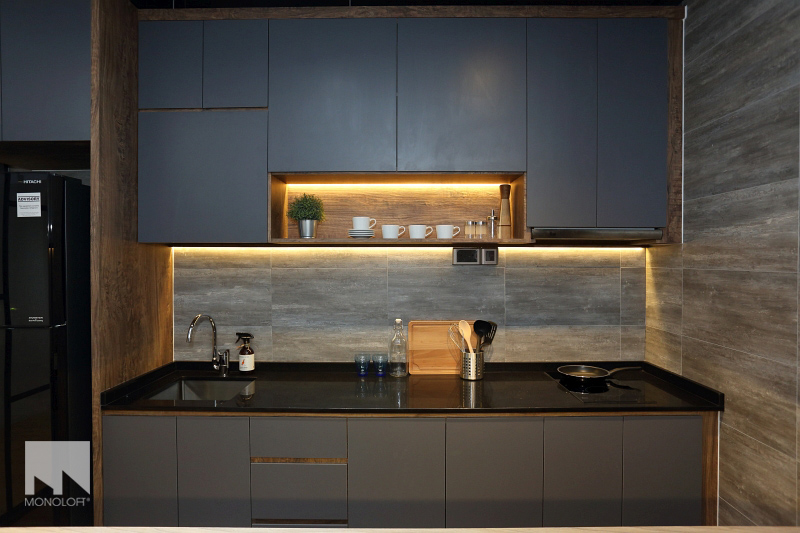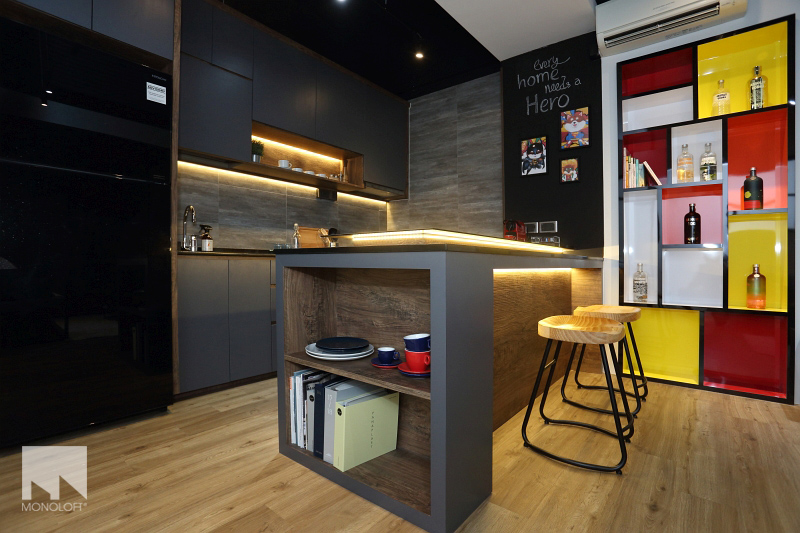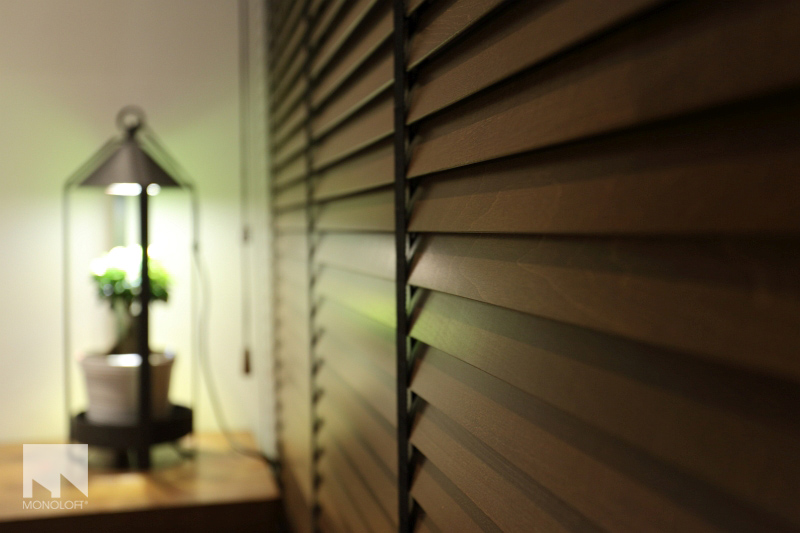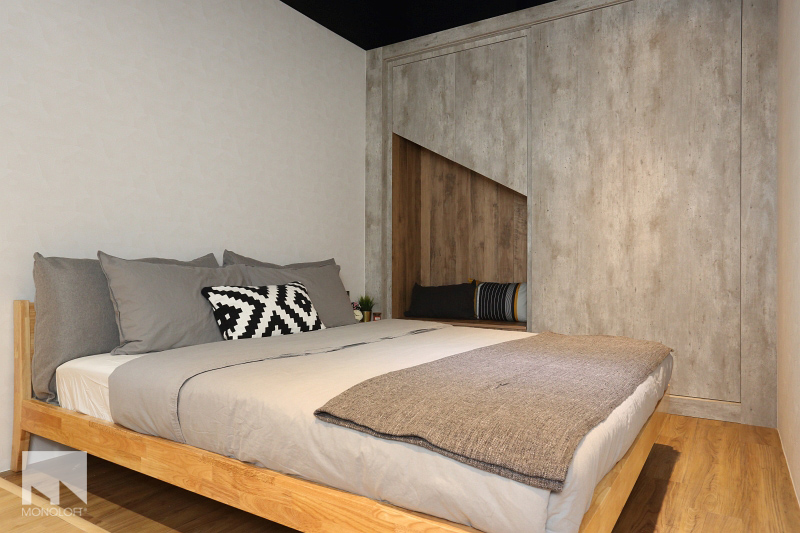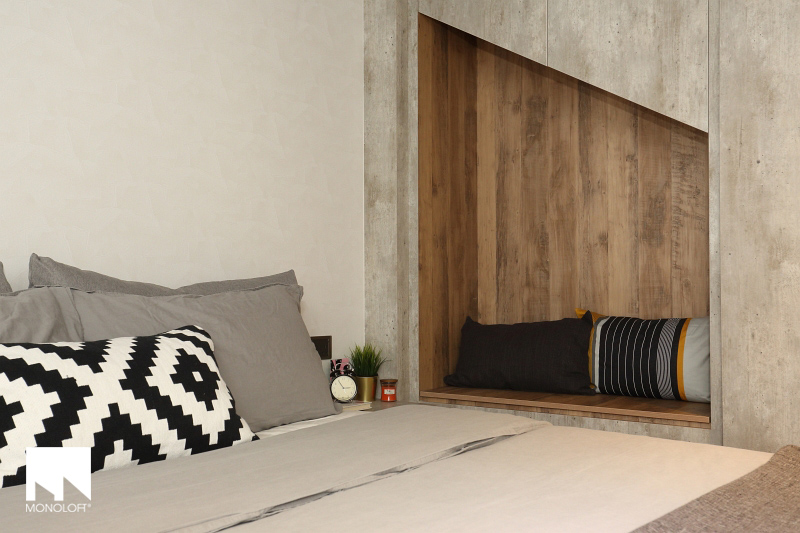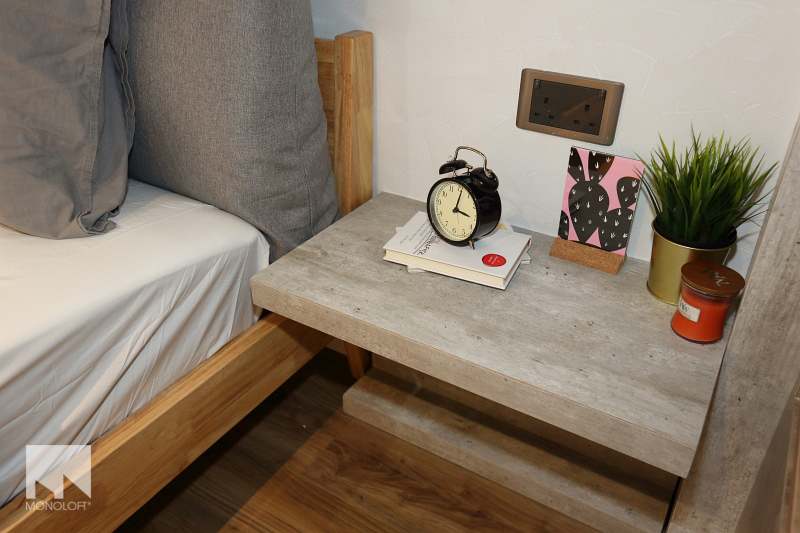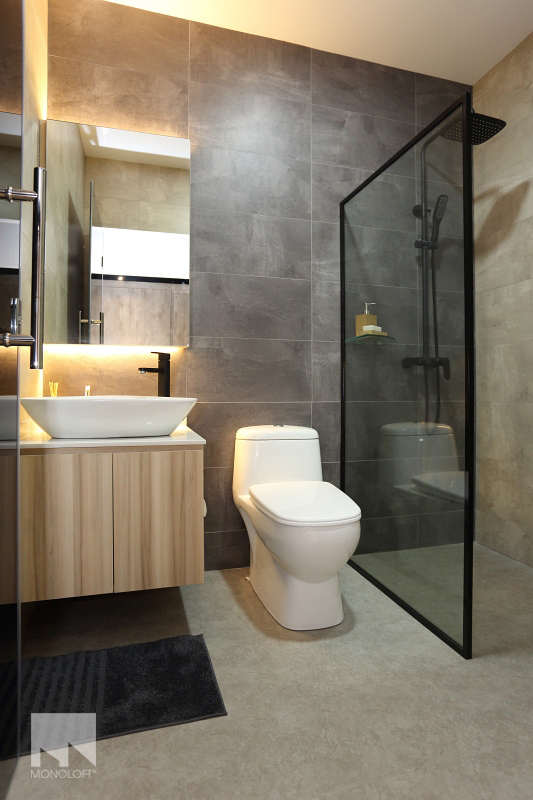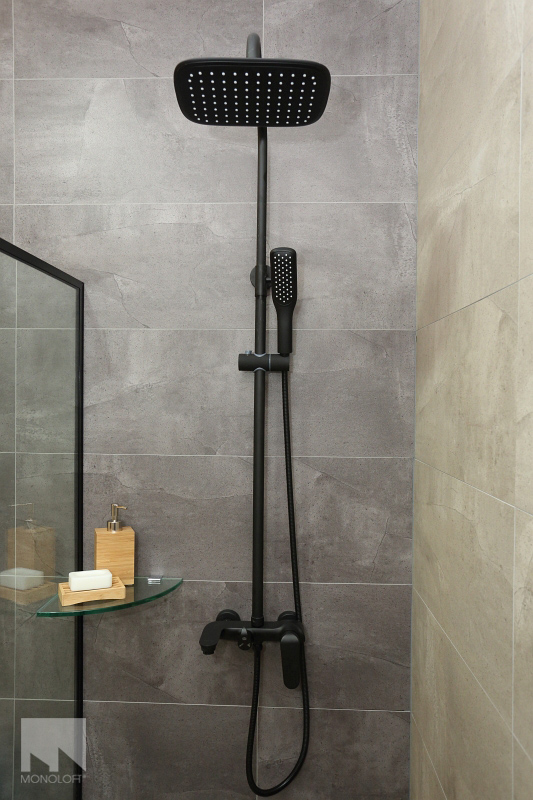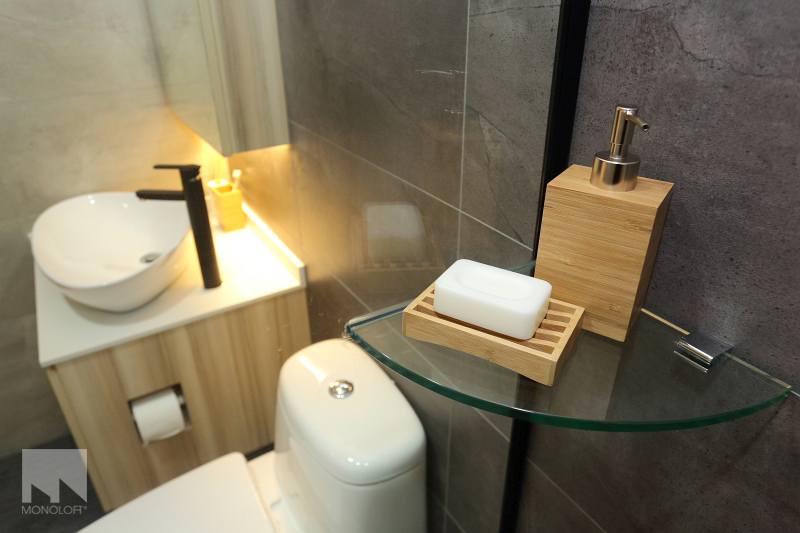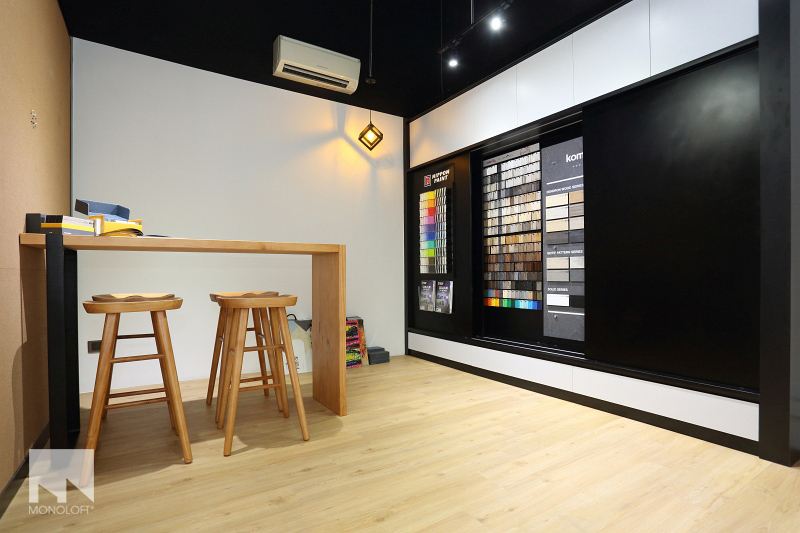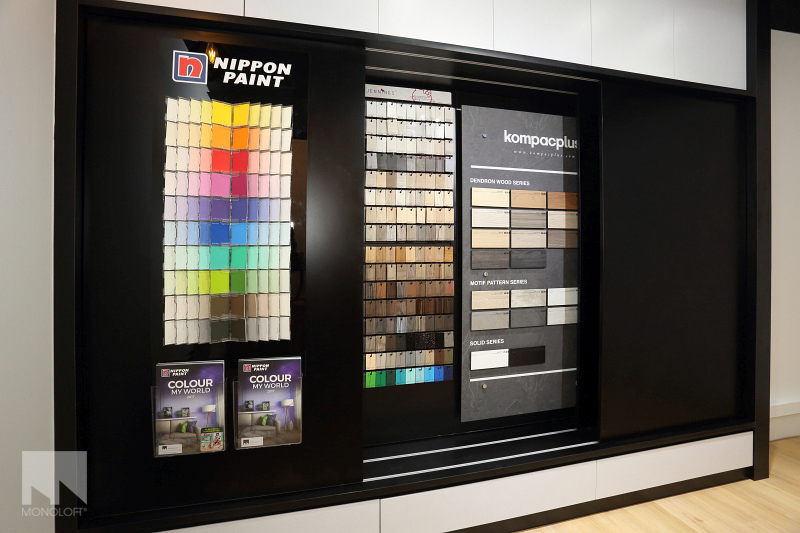 Included in this package
Paint
Carpentry
Featurewall
Electrical
Flooring
Ceiling
Plumbing
Aircon
Tiling
Hacking
Wallpaper
Furniture
Project Description
Monoloft Design Studio
After spending 9 years of working solo in the renovation business, interior designer Joseph Seah knew it was time for him to expand his horizons. Now joined with four other talented designers, he formed a team that would become Monoloft - Singapore's homegrown interior design brand whose main goal is to create cozy, beautiful and practical homes within every client's means. All they needed was a home - a place to showcase their skills and commune with their clients.
On September 2017, Seah fell in love with a 650 sq. ft commercial unit at Nordcom 1. It was a place brimming with potential. Anchored by his natural panache in modern industrial design, the space was converted into a showroom that took 2 months of hard work and masterful craftsmanship.
"We are Monoloft. We are homeowners too," said Seah, and this was their guide in crafting functional spaces within various budgets. Here, they were able to highlight their strengths; the open-space area and the private rooms reflect their love for natural textures incorporated with contemporary twists
Inside The Inspiration
Two powerful design movements were evident in Monoloft's design studio. One, the eye-catching visual language of De Stijl, which spoke with primary colours, basic shapes and random sizes. This Netherlands-helmed art movement blossomed in the 1920s, rivaling the decorative extravagance of Art Deco, which was the era's prevailing trend. Two painters – Theo van Doesburg and Piet Mondrian, the latter known for his contemporary cube works – led the flourishing art form. Monoloft saw this as an impacting display of joyful colours and basic shapes, something that matches their ethos: form, function and feasibility.
The second was Scandinavian design, another design movement first popularized in the Nordic countries during the 1950s. Its toned-down simplicity has been emulated in many modern homes, recapturing functionalistic architecture that makes use of natural textures, basic shapes, light furniture and muted colours. Effortlessly classic, Monoloft utilizes this philosophy in creating airy spaces with smart storages to fulfil the modern-day homeowners' demands for living.
One may be tempted to go excessive and eclectic, but Monoloft's talent is to edit what's necessary without diminishing the space's own sense of glamour. With their own design studio, the brand can showcase their millennial-perfect concepts, using their tried-and-trusted vendors and suppliers whom they have worked with along the way.
An Emblematic Welcome
The entrance of Monoloft Design Studio leads guests to a treat: a black and white mural that makes enough of a solid statement. Inside is the first De Stijl-inspired handiwork – a show cabinet lit with ambient lights, congenially suggesting one to leave those work shoes behind and be at home. Here, Monoloft successfully recreates what is commonly mundane into something eye-catching; bright pops of yellow and orange feel like an introduction for what's about to come.

Into The Living Room
Still maintaining the De Stijl inspiration, Monoloft fashioned a living room with the same monochromatic colours, this time, infused with a deep essence of Scandi. Wood in deep dark, brown and neutral pervade the vinyl flooring, wooden blinds and furniture. Cheery tones of yellow and orange still linger thanks to the black aluminum frame with glass panels that accentuate the divider. For the textile, palettes of grey were used to balance the warmth. The television becomes the full focus, slated on a Gypsum board partition wall. A low console lets the homeowner use the shelves for their storages.

A Delightful Feast
Like a room wrought straight out of a cocktail bar, the open-concept kitchen is a dark-wood space with sleek countertops brilliantly lit by LED track lights under the vertical panels. Seasoned stone and engineered quartz were placed on the kitchen counter, while beautiful wall panels overlay on existing styles to complement the look.
Eyes easily turn towards the island table, which is wonderfully covered by Kompacplus, a premium material that is resistant to water, heat and scratches. Small stools make the illusion of a bigger space. On the side, the feature wall is painted with black chalkboard paint, enabling homeowners to leave reminders, or to list down the day's menu. To add more fun, Monoloft decorated wall with customized portraits of a shiba inu, dressed as DC comic characters! This is a tribute to Interior Design Director Joseph Seah's love for the canine specie. The same De Stijl design complements the space; shades of yellow and red blaze up the wine display, in which the bright colours magnificently illuminate the stark coloured bottles.
Building Your Haven
Lighter palettes were chosen in the bedroom, where muted colours were proven to relax the eye and mind. Private downtimes are made more serene with the natural textures of concrete and wood. Grey tones pervade the textile, with the strong hints of white and black. On the wardrobe, a sliding door gives the homeowner two options: one, a cosy corner where one can curl up and cuddle with their favourite book to read. The slanted design, it must be noted, was derived from Monoloft's own logo.
The other side of the sliding door is a full-height wardrobe with the similar tone. Beside the bed, a tablet with the recurring concrete texture. Floors are covered with Woodculture Vinyl Flooring, a cheaper alternative to wood, also water-resistant and budget friendly.
Blissful Baths in Black, White and Wood
Following the Scandi tone of the communal spaces, Monoloft crafted a bath with wood and concrete textures. Pivot wall panels are overlaid on the existing tiles to create the marbled effect. The panels are lit with LED lights to create an ambient, restful glow. A black-aluminium-framed glass panel divides the wet and dry sections; black hardware was used in both showers and faucets for an edgier feel. White ceramics add a clean charm against the motif. Among the standouts in the room is the vanity, crafted from a solid plywood and Jennings laminate. A Casa Stone Compress Quartz was installed as table top to complete its design.

Marking The Materials
The overall tour of Monoloft Design Studio will lead to this: the material room, where clients make the final handshake before a project begins. This spacious room is made up of few furniture, centring one's attention to the Arova-laminate black glossy feature wall which showcases the materials mounted on the panel. paints, textures, textiles and all the other redecorating options are featured there, like a gallery, for the client's convenient viewing. Monoloft smartly used cork on its other wall, which helps in putting together the client's wishes and whims, while they sit on the comfortable stools illuminated under a clear task light.
From here, dream homes are made to reality, and imaginations into tangible things that will let one celebrate the joy of living in a home of their choosing.
About MONOLOFT
Review: 9.5/10 (16)
Monoloft is a multidisciplinary practice combining sustainable architecture, interior furnishing and experience design. Since the firm's inception in 2010, Monoloft has produced over 150 projects nation-wide.

We offer a turnkey service, starting with initial walkthroughs of potential sites, and encompassing feasibility studies, contract negotiation, space planning, furniture and fixture design and construction administration.

Because we understand how difficult the construction process can be, we provide efficient project management which helps clients minimize the build-out period and reduce costs.