Here at HomeRenoGuru, our daily mission is to build the most rewarding interior design & renovation website and app platform where Interior Designers can call home. Which is why we strive to reward our Interior Designer partners for your unwavering support in us.
Hence, every month, HomeRenoGuru with our strategic partner Nippon Paint Singapore, is proud to reward our Interior Designers partners with the attractive cash prize of $800 for garnering the most views for their new uploaded projects in that month!
So, how does it work?
There is NO disruption to how Interior Designers use HomeRenoGuru. Interior Designers should continue to upload their NEW design projects on HomeRenoGuru on a frequent basis. What we do is to look at project views via the HomeRenoGuru.sg website and mobile apps.
Here is how we determine the winner each month:
Look at the projects uploaded in that particular month (i.e. uploaded in January 2017)
Look at the views (project based) accumulated for the projects for 2 months (i.e. 1st January – 28th February 2017 )
Announce the project with the most views as the winner of that month (i.e. Winner of January 2017)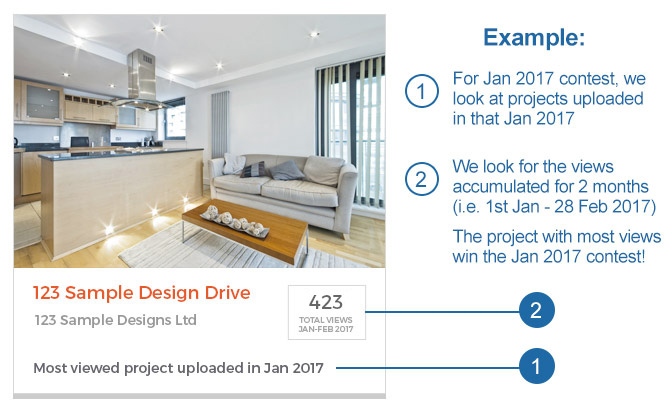 Terms & Conditions
HomeRenoGuru ("HRG") reserves the right at its reasonable discretion to terminate the contest or vary, delete or add to any of these terms and conditions from time to time, including, without limitation, the eligibility criteria, the basis of awarding the contest, the date of the calculating the views, the prize for the contest and the selection of the winner of the contest.HRG's decision on all matters relating to the contest will be at its reasonable discretion and will be final and binding on all participants. In the event of any inconsistency between these terms and conditions and any brochure, marketing or promotional material relating to the contest, these terms and conditions will prevail.
In the event of a dispute arising out of the redemption and execution of this prize, the decision of HRG is final and binding.
HRG cannot accept any responsibility for any damage, loss, injury or disappointment suffered by any entrant entering the Contest or as a result of entering the Contest or accepting any prize. HRG is not responsible for any safe custody, return, non-delivery or missing of entries, late, misdirected, problems or technical malfunction of any telephone network or lines, computer on-line systems, servers, or providers, computer equipment, software failure of any email or entry to be received on account of technical problems or traffic congestion on the Internet, telephone lines or at any web site, or any combination thereof, including any injury or damage to entrant's or any other person's computer or mobile telephone related to or resulting from participation or downloading any materials in the Contest.
By entering the Contest or accepting the prizes, You agree that no claim relating to such losses or injuries (including special, indirect and consequential losses) shall be asserted against HRG, affiliates, directors, officers, employees or agents from any and all losses, damages, rights, claims and actions of any kind resulting from the Contest and acceptance of any prize, including without limitation, personal injuries, death and property damage.