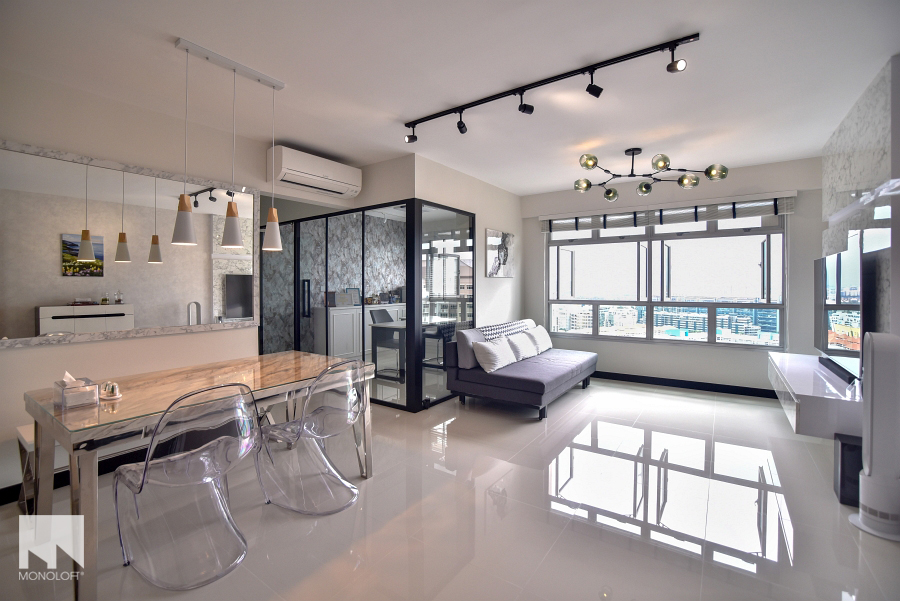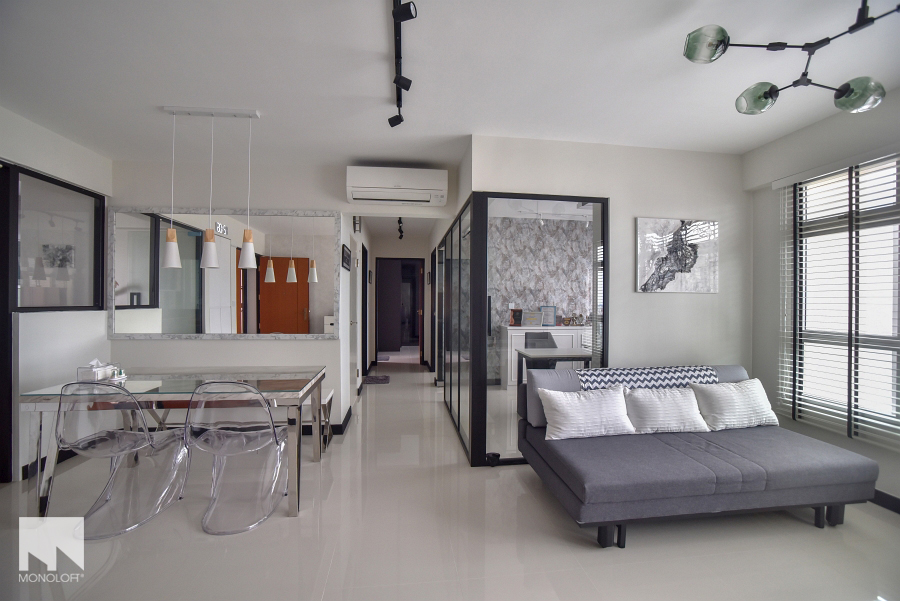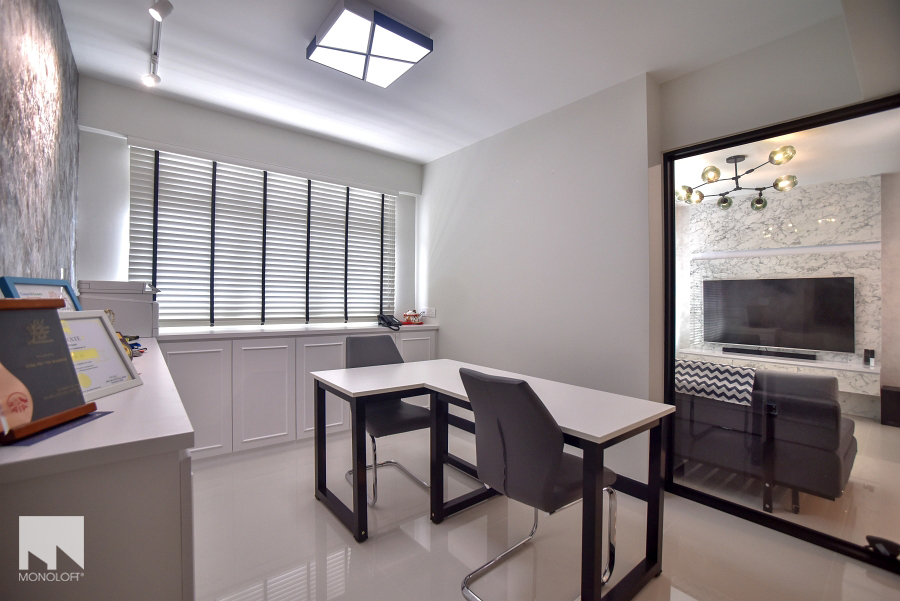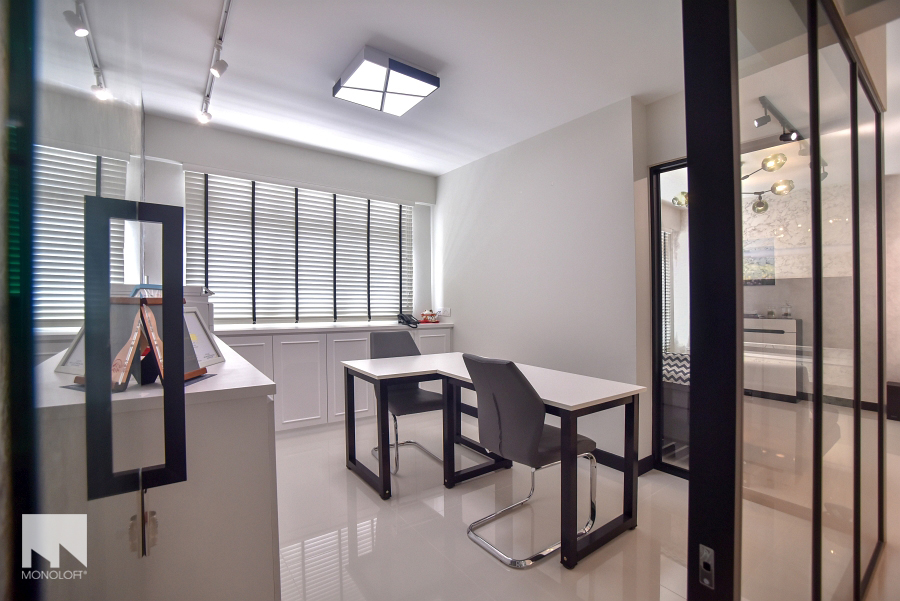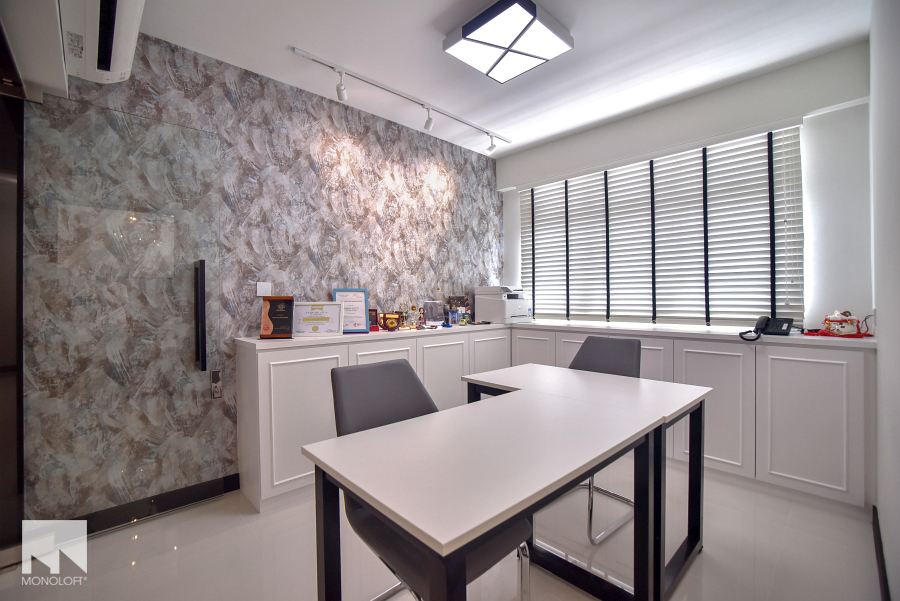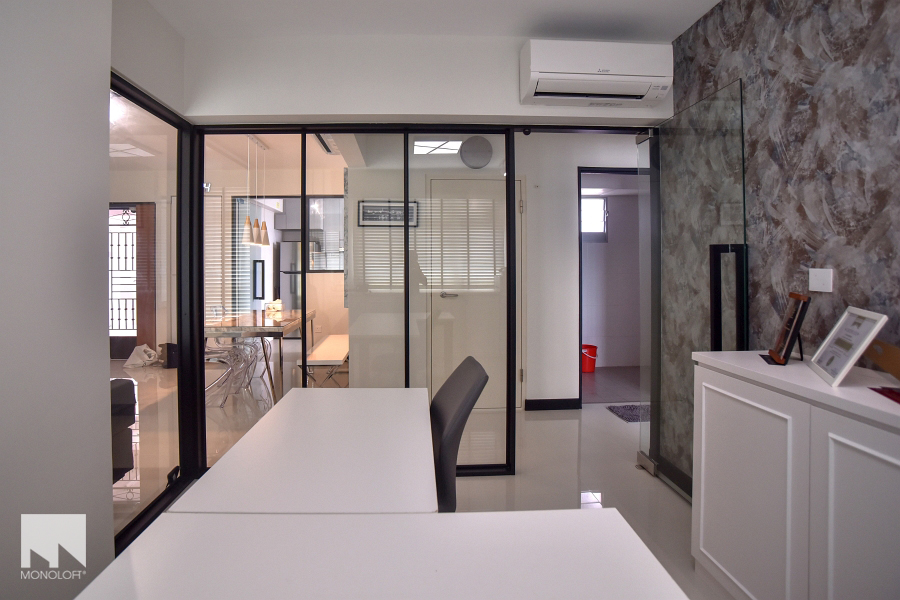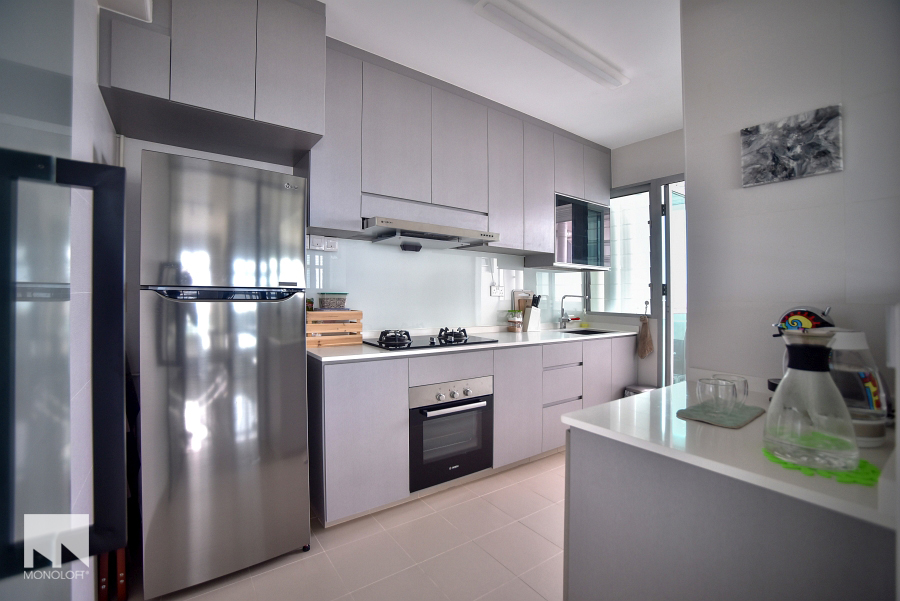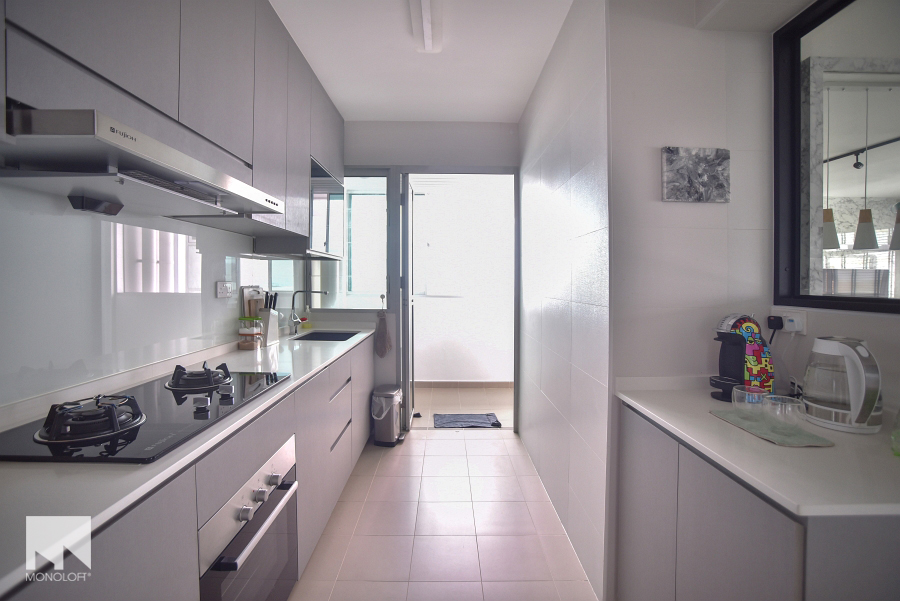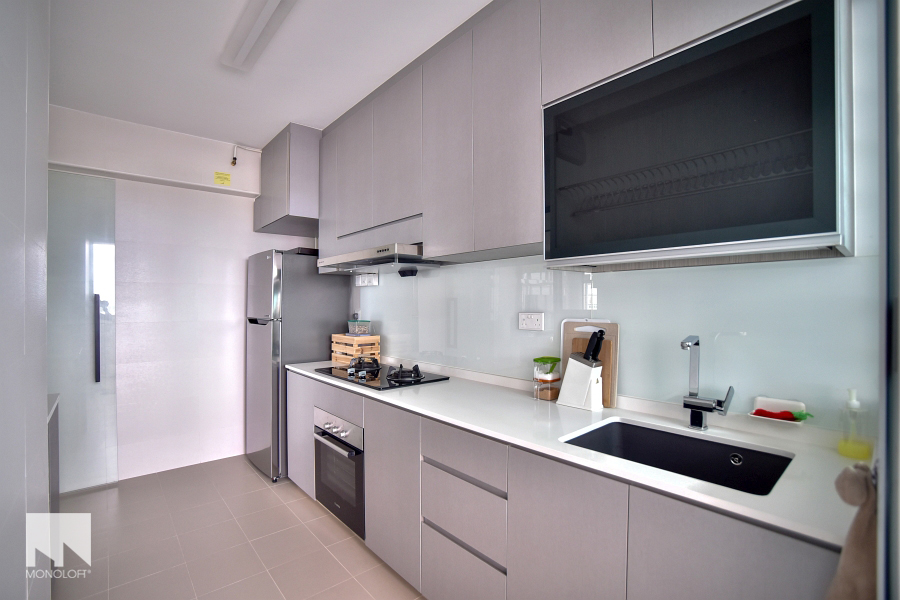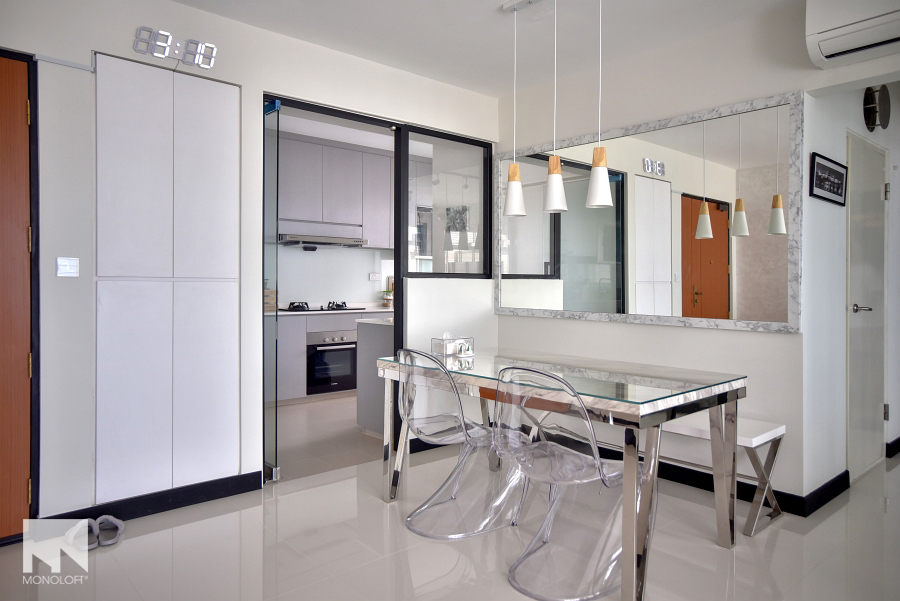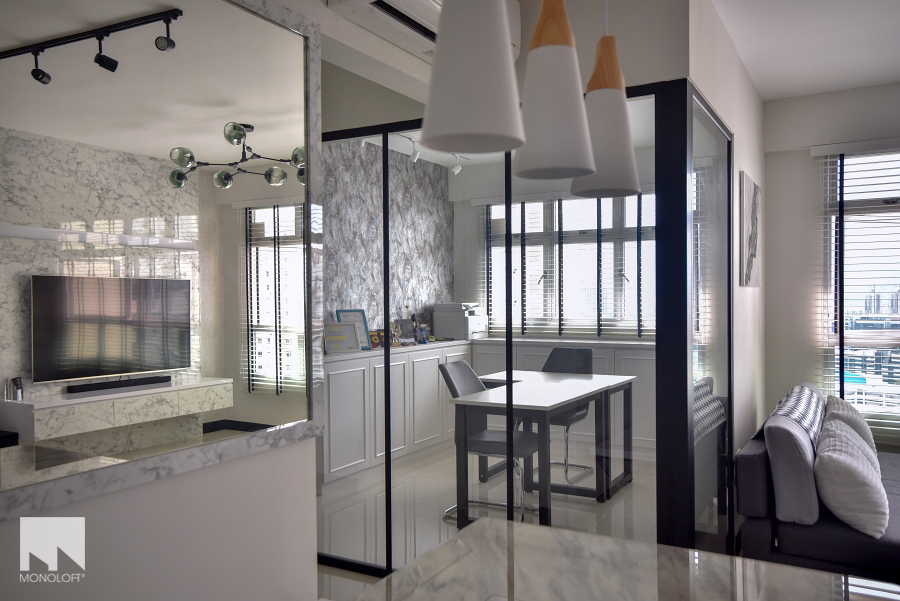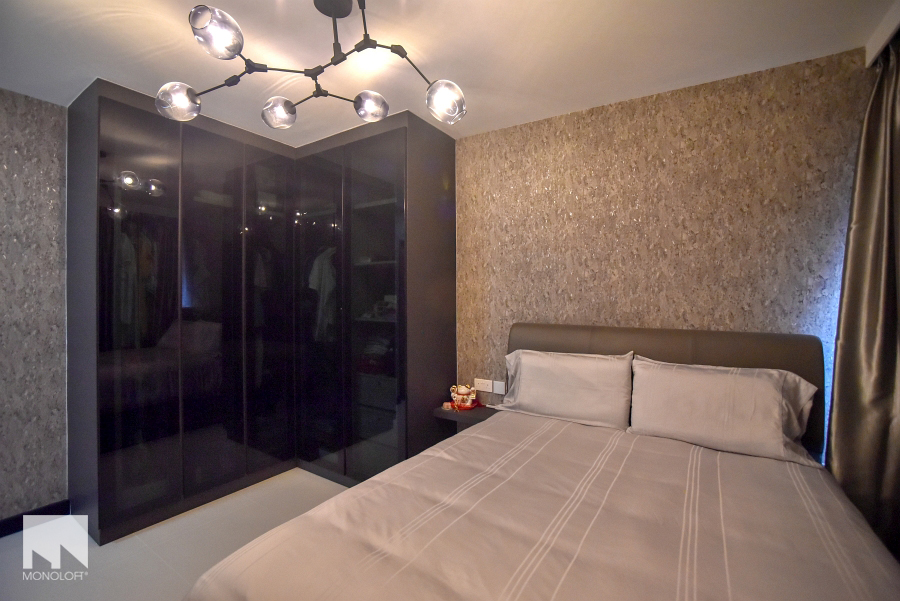 Included in this package
Paint
Carpentry
Featurewall
Electrical
Flooring
Plumbing
Aircon
Tiling
Hacking
Wallpaper
Project Description
Luxury White Monochrome
Cool whites, soothing grays, sleek lines, opulent accents
Opening a fresh chapter in their lives, newlyweds Jeremy and Sharon enter the married life by moving into their own home. They purchased a 4-bedroom flat in Bukit Batok, a 91sqm expanse where they would dream, live, and build their family together. It was a good choice; this residential town is bordered by many other planning areas, making it accessible to many notable places such as the nature parks, community clubs, MRT station and schools.
Perched on top of a 34-story complex, their unit comes with many perks. This includes a clear view of the community, which is especially delightful at night. At daytime, they can enjoy the abundance of natural light in their space.
Enlisting Monoloft's interior designer Joseph, Jeremy and Sharon planned for a nesting place that will fit their lifestyle as a couple. Being lovers of the laidback life, they lean towards clean monochromes and a sleek, minimalist look. They want something fuss-free and easy to use, but they don't want their space to look bare. With that, the couple requested a subtle feeling of luxury in their space.
After listening to their needs and wants, we suggested the extensive use of whites – chic, classic, and tasteful – along with the use of marble laminate finishing that emulates beautiful textures, minus the hefty cost. Whites make good use of the natural light, making the space appear larger than it really is. It also cools the eye, and the colour allows them to harmoniously immerse other tones in their overall interior. But simply sticking to white looked simple and plain. Thus, we suggested adding textured wallpapers throughout the home. This is a smart way of breaking the icy, cold colour and will bring more textures to the space.
Both Jeremy and Sharon were pleased and approved our design. All set, we proceeded with the renovation and implemented a luxury white monochrome theme for their interior.
Living Area
It's all white from the ceiling to the floor, and our monochromatic scheme goes well with the grey sofa the couple has purchased. We slated it across a customised TV feature wall – a single-panelled console that sports a marble laminate backdrop, adding an opulent elegance in the room. To further add a sense of luxury, we installed warm LED lights on the top and bottom of the console, adding an ambient glow in the living space. Installing the marble feature wall and laminate backdrop creates a timeless appeal, adding a breath-taking value to the home.
Open-Concept Study Room
To create a bigger space, we hacked down one of the bedroom's wall to convert the area into an open-concept study room. From here, Jeremy and Sharon can view both the living room and dining area. We don't want to stick to just white; black complements the colour perfectly, and with that, we used this for tone for the aluminium glass door. It nicely frames with glass panels that creates a stylish look. To boost more of the textures, we used a metallic faux-effect wallpaper on the feature wall. Finishing the look, we installed L-shaped cabinets in white laminate for a surprisingly classy charm.
Dining Area
Both Jeremy and Sharon enjoy eating together. They bought a marble glass dining table paired with stainless steel legs – this choice blends well with the entire motif. For a unique take, we added fun, clear acrylic chairs, making the area feel spacious. Hung above the table is a set of lovely pendant lights that illuminate the centrepiece. Furthering that off, we added a customised full-length mirror with marble finishing. Not only is this a tasteful addition; it also helps to check their appearance before heading out!
Kitchen Area
A little break from the white, the kitchen area is themed with a splash of neat grey. White in the kitchen may seem finnicky, but grey makes it feel utilitarian. We added matte grey laminate cabinets to complement the white countertop. Then, we paired it off with a glass backsplash to create a clean look. To make use of the natural light, we added an aluminium framed glass window, making the space look brighter and bigger. The choice for the appliances harmonizes well with the colour, making the motif easy on the eye.
Master Bedroom
Last but not the least, we treated Jeremy and Sharon's sanctuary with every bit of luxury. Instead of pure white, we echoed the study room's metallic faux-effect texture wallpaper on the entire room. We added a full-height built-in wardrobe, complete with a tinted glass swing door so they can easily see their essentials. At night, the warm light, courtesy of the elegant chandelier, make the room warm and cosy. At daytime, they can pull the metallic-themed curtains for a cleaner, classier look.
"The clean colour choices and the way they manipulated the space made our home feel chic and luxurious," said Jeremy. "We look forward coming home each day knowing that it is a place where we can be at ease and feel indulgent at the same time."
About MONOLOFT
Review: 9.5/10 (16)
Monoloft is a multidisciplinary practice combining sustainable architecture, interior furnishing and experience design. Since the firm's inception in 2010, Monoloft has produced over 150 projects nation-wide.

We offer a turnkey service, starting with initial walkthroughs of potential sites, and encompassing feasibility studies, contract negotiation, space planning, furniture and fixture design and construction administration.

Because we understand how difficult the construction process can be, we provide efficient project management which helps clients minimize the build-out period and reduce costs.