London-Living: Travel-Inspired Home Decor
There's a saying that goes something like, once you go black, you never go back. Similarly, the travel bug is one that has a really itchy bite, and it's easy to get addicted to that feeling of freedom. When you're home after an amazing trip, it's only natural to want to replicate a piece of that country in your own home. Now, if you're an anglophile, London, one of the busiest cities in the world, is probably your inspiration. As the British would say, these homes are absolutely smashing.
1) This Victorian home

Parc Vista by Impression Design
Yes, the word is out. If you're looking for your own Elizabeth Bennet/Mr Darcy, how better to express those longing feelings than to channel it into your home decor? This home, so beautifully reminiscent of the Victorian times with its swathes of floral prints, kicks it up a notch further with its soft pastel bedroom and crystal chandelier. There's definitely a strong touch of London circa the 1800s!
"Victorian design normally involves a consistent theme and soft colours like white, avoiding strong colours. " Richard from Impression Design shared.
2) Soho chic

Industrial Design by Matrix Interior
All clean and sleek lines, this apartment is essentially many a millennial's dream. With an undercurrent of one of London's busiest districts Soho running through this home, this seems like it could be the hashtag blessed life of a young working professional. The touches of wood in the form of furniture help to warm up this cool city cat.
3) Elegant country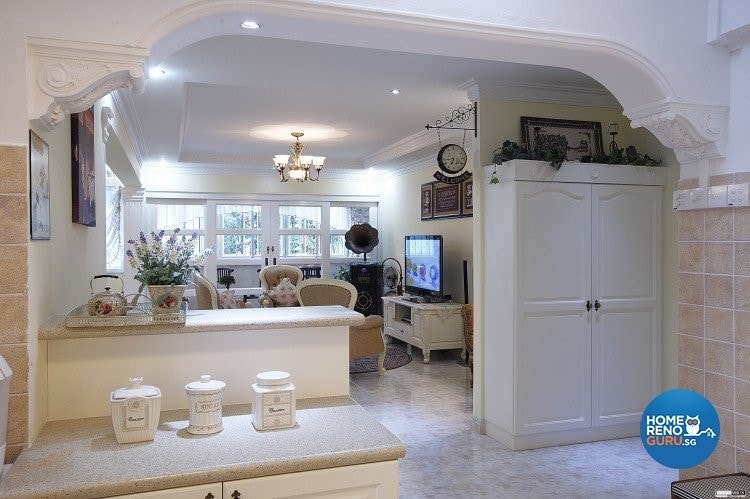 HDB Executive Apartment by Impression Design
Quiet and elegant, this clean country home takes us to the London countryside with its understated colour scheme of a soft white paired with neutral accents of brown and grey. The touches of floral in the furniture and English ornaments further enhance such a mood. The brass elements found in the chandelier and clock add a hint of modernity to this otherwise antique home!
4) Artsy eclectic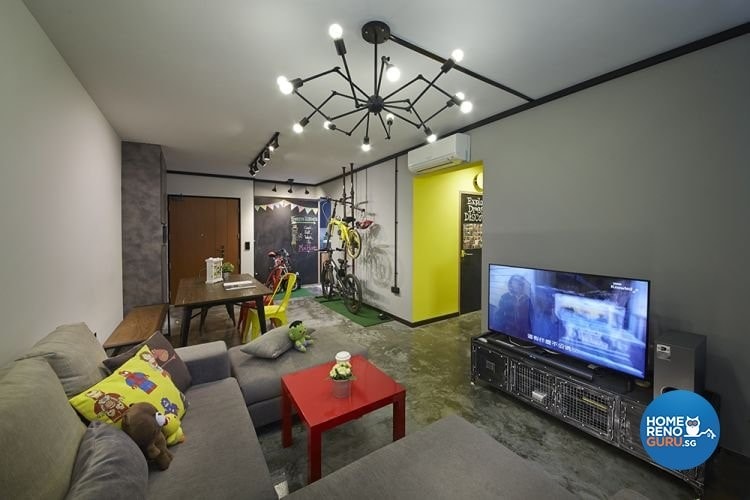 HDB 4 Room – 331B Anchorvale Link by Carpenters Design
If there's something London is known for, it's its bustling arts scene. This home channels all of its eccentricity into the bright pops of colour in terms of furniture, and the various artwork displayed all around. Although this homeowner keeps the walls fairly neutral coloured, there's definitely a flair of quirkiness in the unique furniture. The rustic flooring takes this home to new heights!
"When experimenting with colours like yellow, it is important to contrast them with dull or neutral colours like black and grey. This also ensures that the coloured walls stand out," Bing from Carpenters Design advised. We agree – can you imagine walking into a home with a bright yellow in every direction you look?
5) A splash of London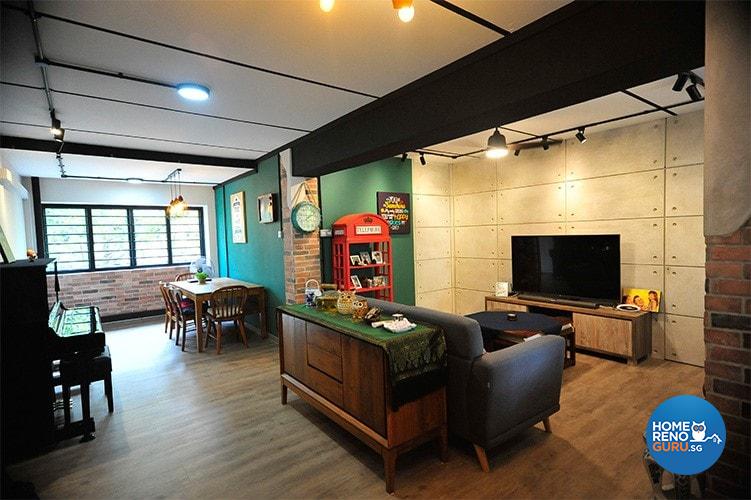 5 room HDB flat by Ace Space Design
While this home doesn't immediately scream London to you at first, all your doubts should be quelled when you see the bright red telephone booth so prominently displayed. As one of London's iconic landmarks, the telephone booth immediately adds some English flavour to this home. An eclectic mix of styles, the colours and textures are vibrant and distinctive, much like the melting pot that is London's culture.
"The owner really likes the red phone booth as it gave them the feeling that they are living in a new country. So in order to weave it into the living room, we complemented it with an industrial background, where the colours are not as strong, such as wooden flooring, red brick tiles and coffee shop table.", Nick from Ace Space Design shared.