Small Living Rooms That Live Large
With designers that think out of the box, these living zones are no longer restricted to their limited floor areas. It's a matter of using the design of your small living rooms in a more efficient and creative manner. From space-enhancing design measures to savvy storage and custom-built fixtures, here's how to pack more function and style into your own living space.
GO WITH MULTI-FUNCTIONALITY
Condominium @ Blk 21 Pasir Ris Link by Artrend Design
A striking monochromatic colour scheme grabs the eye in this contemporary industrial living room, but it is really the clever mix of furnishings that saves the day. Case in point: The dining bench. It not only serves as a point of demarcation for the two areas, it works as extra seating for the living room. Also noteworthy is the sleek line-up of cabinets at the back which offers countertop space and a compact beverage counter.
Go MINIMALISTIC
4-Room HDB Flat @Punggol Field by Icon Interior Design
Less is definitely more in a space with a tight square footage and this definitely rings true for this humble 4-room flat unit. Using a restrained colour palette and neutral-looking materials like cement screed bring across a spacious and open visage. Recessed lighting cuts through the top to add a warm contrast to the otherwise stark-looking space.
GO WITH A SLEEK SHOWCASE
4-room HDB flat @ Woodlands Rise by Starry Homestead Pte Ltd
Your home should have all your favourite possessions and you can't go wrong with a bespoke showcase like this, and is an inspiration to your small living room design. A full-height display works to maximise every inch of your living space and the illuminated compartments creates a striking design feature.
GO WITH A SEAMLESS SETUP
4-room HDB flat @ Waterway Brooks by Posh Living Interior Design Pte Ltd
HDB flats come with all sorts of structural eyesores like beams or pillars that you probably can't do much with. Except you can; with the magic of carpentry works to soothe out all these awkward angles. A floor-to-ceiling TV console will mask the appearance of the ceiling beams and also bring with it a generous capacity of storage for all your entertainment peripherals.
GO WITH A PIVOTING TV STAND
5-Room HDB Flat @ Ang Mo Kio by Starry Homestead Pte Ltd
Perfect for those who don't want to miss their favourite TV shows, a revolving TV stand lets you access your shows from most angles in your living area or shared dining area. Another practical aspect is it'll help get the glare from the sun out.
GO WITH A BAR COUNTER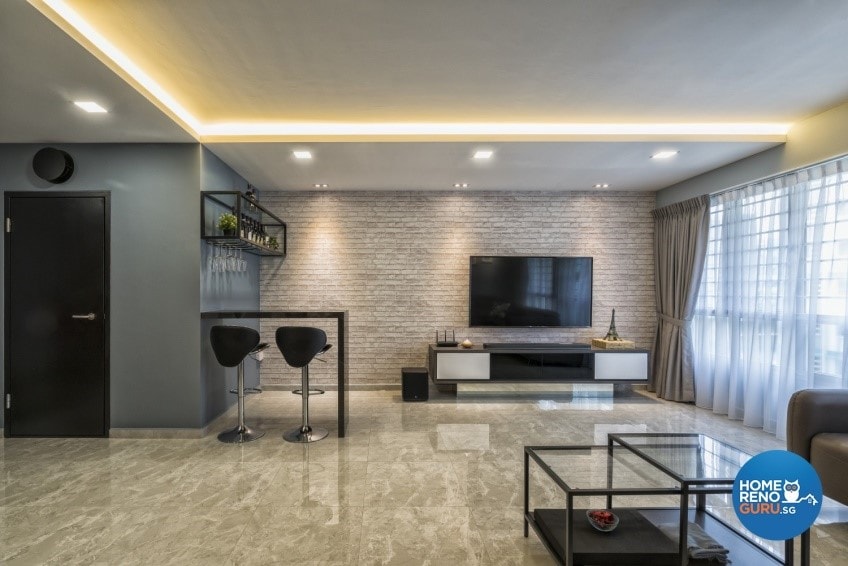 5-room HDB flat at Woodland Rise by IN2SPACE Interior Pte Ltd
Even with a tight square footage, your entertaining needs can be answered with the simple designs forms of a bar counter and bar rack which occupy minimal floor area. Using marble flooring or high sheen surfaces can also add to the sophisticated lounge-worthy ambience and enhance the appearance of space.
Looking for Interior Designers?
Let HomeRenoGuru help!
GO WITH HALF-HEIGHT STRUCTURES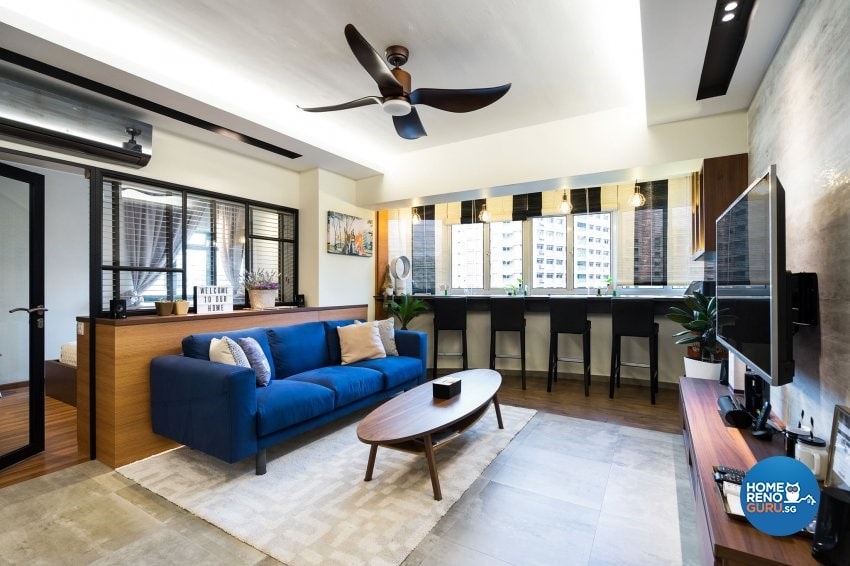 5-room HDB flat @ Lorong 2 Toa Payoh by Fineline Design Pte Ltd
The reason why this resort-inspired smaller living room appears so airy and expansive is because of its half-height fixtures. It advocates the expanse of the space and light. Aside from the half-height wall that encloses the bedroom, the bar concept by the window adds a nice touch to the resort theme.
GO VERTICAL
Condominium @ The Hillier by Rezt & Relax Interior
Don't let the lofty ceiling height go to waste. Working in full-height storage units can maximise whatever space you have without hampering on the floor area. A sliding ladder will make a handy addition to accessing those upper storage compartments.
GO STREAMLINED
4-room HDB flat @ Bukit Batok West Ave 6 by Carpenters.com.sg
Taking a clean-lined design approach can work wonders in creating a wider illusion of space. By incorporating white-toned cabinetry with some woodgrain accents to add warmth, this setup aligns with the wall seamlessly. The streamlined placement of furniture also works well in this small living room design; it shows off more floor area for a larger-looking living area.
GO WITH SOPHISTICATED PAIRINGS
4-room HDB flat @ Admiralty Grove by Yujia Interior Design Pte Ltd
The combo of marble and dark wood for this feature wall looks set to be a timeless affair and these cool-warm design accents also bestows grandeur to a small space. Even if marble is out of your renovation budget, the good news is you can opt for a lower-cost alternative such as laminates for a similar luxurious marble-like finish.