8 Top Tips for Inviting Good Luck into Your Home
Usher in the Year of the Ox with these eight good luck hacks and customs. Read on and prosper.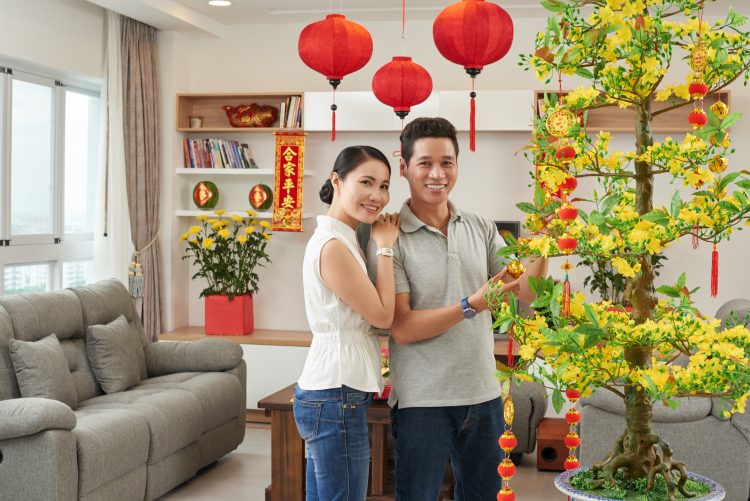 Tip #1 – Declutter and Clean
The lockdown may have already prompted you to give your home the 'Marie Kondo' treatment. If so, skip the decluttering and go straight to cleaning. According to Chinese tradition, clearing out and cleaning your home effectively gets rid of any residual bad luck that's still hanging around at the tail-end of the year. In the case of this ratty Rat Year, it may pay you to be extra-rigorous in your efforts.
Just make sure you hang up your apron and put away your cleaning tools before New Year's Day – or risk sweeping away all the good luck for the coming year!
Tip #2 – Hang the Decorations (Sometimes Upside-down!)
Head down to the local markets to pick up armfuls of decorations, and make sure you throw in some ox-themed items. Forget tasteful restraint – deck the halls with scrolls of calligraphy and strings of lanterns. Now is the time to paint the town (beginning with your home) red. Throw in some gold for good fortune.
Remember to hang your fu (Chinese for 'fortune') scroll upside down, in line with a Chinese tradition that's actually based on a clever pun. Since 'upside down' in Chinese sounds like 'arrive', when guests say 'Fortune is upside down' it's effectively saying 'Fortune arrives (at your home)' – while doubling as a New Year greeting to the household.
Tip #3 – Refresh Your Wardrobe
Chinese New Year is a great time to buy a new outfit, since putting your best outfit on and your best face forward is thought to set the tone for the year ahead. If you're hosting an open house, it's also just good manners to greet your guests in fitting fashion. (Besides, after a year of lounging around in track pants and outsized tees, you're probably itching to go clothes shopping anyway!)
Most Chinese favour traditional red, or 'sunset colours' in the red family. Modern Chinese often opt for 'Shanghai Tang' neon bright like lime green, fuchsia pink and purple. Really, anything goes except for white and black, which are associated with death and mourning, hence considered unlucky.
Tip #4 – Fill Your Home with Lucky Plants
Certain plants abound at Chinese New Year, which is technically a springtime or harvest festival. Peonies, orchids, pussy willows and plum blossoms are popular picks, which symbolise abundance, prosperity and a bunch of good things. Fast-growing bamboo symbolises strength and resilience.
Lucky potted fruit trees include mandarin, tangerine, orange, pomelo and cumquat trees, whose orange fruits resemble the sun. They are most often seen in pairs, flanking front doors to home and entrances to buildings. In certain Chinese dialects, the sounds of the words 'tangerine' and 'orange' resemble the words for 'luck' and 'success'. So, do invest in a pair of potted tangerine or orange trees. Bonus: you get to 'eat your (lucky) words' after the seasonal celebrations!
Tip #5 – Make Your Own Wealth Luck
The dawn of a lunar new year is a great time to review household finances. Look at where your money is going. If you subscribe to the principles of fengshui, check your bathroom for 'wealth leaks'. To avoid chi literally going down the drain, keep toilet lids down and drains covered.
In addition, scrutinise your utilities bills. Since Singapore's electricity market was opened up to private providers in 2018, one company has emerged ahead of the rest – Tuas Power. Consistently competitive rates, a wide range of plans, great customer service, and the convenience of receiving one consolidated SP bill has seen it secure one of the largest market shares compared to the other retailers.
Tip #6 – Gather and Reconnect
On the week leading up to New Year's Day and especially on New Year's Eve, it is customary, if not mandatory, to attend a family reunion dinner. On this occasion, family members reconnect with each other over the dining table and tuck into a feast of auspicious dishes.
If you're hosting the family reunion dinner, remember to brush up on etiquette, such as – always serve from the oldest to the youngest. And do over-cater, since a plentiful feast symbolises abundance in all areas of life. What's more, the leftovers can be eaten on the first day of the new year, when it is considered bad luck by many to clean or cook.
Tip #7 – Eat Your Fill of Lucky Dishes

Whether you're a diehard Chinese traditionalist, or you just like to hedge your bets, and in fact even if you're not Chinese at all and just want to share in the spirit of the occasion, make sure you load your table with lucky things to eat.
If you have no idea what to serve, you can serve these three things:
a whole fish for prosperity
Chinese dumplings for wealth
Niangao (glutinous rice cakes) for career success.
Make sure you host your own lo hei, the ritual tossing of the yu sheng (raw fish salad) that symbolises good fortune. It is said that the higher you toss the auspicious ingredients, the higher your fortune will climb – and the messier the table and floor. (Tip: Line your table with paper or use a washable or disposable tablecloth.) 
Tip #8 – Give Packets of Cash to Singletons
Hongbao or red packets, stuffed full of cash in crisp new bills, are the gift of choice for Chinese New Year, along with the obligatory pair of lucky mandarin oranges.
If you're married, stock up on red packets of cash in even-numbered amounts, especially '8' which sound like huat (prosperous) but avoid '4' as it sounds like 'death' in Cantonese. You should present every young and single person with a hongbao upon entering your home. Adult should also gift their parents and grandparents red packets, containing amounts commensurate with their income and assets.
Powerful Reasons to Change in the Year of the Ox
Geomancers foretell that the year of the Metal Ox brings career advancement, success in business, prosperity and wellness for all zodiac signs. Stretch every dollar when you sign up with Tuas Power online now till 28 February 2021. Not only do you stand to save considerably on your electricity bill, you will also get a generous bill rebate of up to $108* when you choose Tuas Power as your electricity retailer. What's more, you get to enjoy 12 months of FREE Aviva Insurance#.
Simply head over to the Tuas Power website and enter PRHRG108 in the campaign code field to sign up now. Happiness is when you receive great savings and perks in the comfort of your home! 
What are you waiting for? Don't bank on getting lucky ­– make your own luck with Tuas Power, Singapore's favourite electricity retailer.
*Terms and conditions apply.
#Protected up to specified limits by SDIC.