5 Key Landlord Decorating Tips for Rental Homes
Decorating your house is an excellent way to let your personality shine through, but that can be rather tricky when it comes to rental property. Landlords often find themselves in a dilemma — what's too much and what's too little? A rental house needs to be stylish enough to attract tenants, and yet it should require low maintenance, especially if you are not living there.
Here, our interior designers share some tips to decorating your rental property.
Opt for value-for-money materials
Don't go for lavish furniture and decor for your rental home, but don't skimp either! If the finishing is cheap but lousy, you may end up spending more on repairing and replacing them.
For a long-lasting flooring, Li Ying Ying from Monoloft Singapore advises homeowners to get vinyl flooring that is more durable and affordable than ceramic tiles. "The natural wood finishing makes vinyl plank flooring an excellent choice minus the exorbitant price tag of authentic wood. It is not only water resistant but also easy to install and maintain."
Paint the walls with neutral colours
It can be hard to anticipate the likes and dislikes of the tenant if you aren't that person. To make your house attractive for most tenants, don't get too personalised with your rental home. White is your best friend! White walls give a clean and spacious look to the home, making it attractive for tenants in spite of their individual preferences.
Condominium – 90 Edgedale Plain by Zenith Arc Pte Ltd
"If they are looking for something that is timeless and accepted by almost everyone, go for whitewash wall and have a touch of wood furniture," said Jordan Toh from Zenith Arc. He believes wood provides an excellent contrast to the white walls while remaining neutral. It's best to stick to one shade to avoid any colour discordance.
Avoid white for bathrooms
Bathrooms are often prone to mould and paint cracks due to its humid and damp conditions. Thus, they need extra care and maintenance. But for rental property, landlords cannot guarantee that their tenants will keep the bathrooms shiny and spotless as they do. The best solution is to install solid colour tiles for your bathroom.
Tiled Bathroom by Trinity Idee
Ken Lee from Trinity Idee noted that homeowners in Singapore still prefer lighter colours for bathroom wall tiles to add the illusion of a bigger space. "Our advice is to use texture wall tiles such as brick or stone at the shower area to avoid being one-dimensional in texture. That way, it can help to hide unavoidable tiny spots in the bathroom. For the flooring, grey and dark brown are still the best choices so that the floor doesn't turn dirty quickly."
Brighten up your house
If your current home is dim, do consider making a major revamp by adding windows to your unit. Natural lighting is essential in creating a spacious floor plan and in radiating a warm and lively atmosphere at home. The plus point of having plenty of daylight is that you can also reduce light energy consumption during the day.
Pelind Chong from Made Artisan suggests to put up "day and night curtains for the living room area". When the light gets too harsh, the light day curtain can help to filter the brightness. She also suggested opting for Singaporeans' all-time-favourite "earth tone colours" to complement the room design.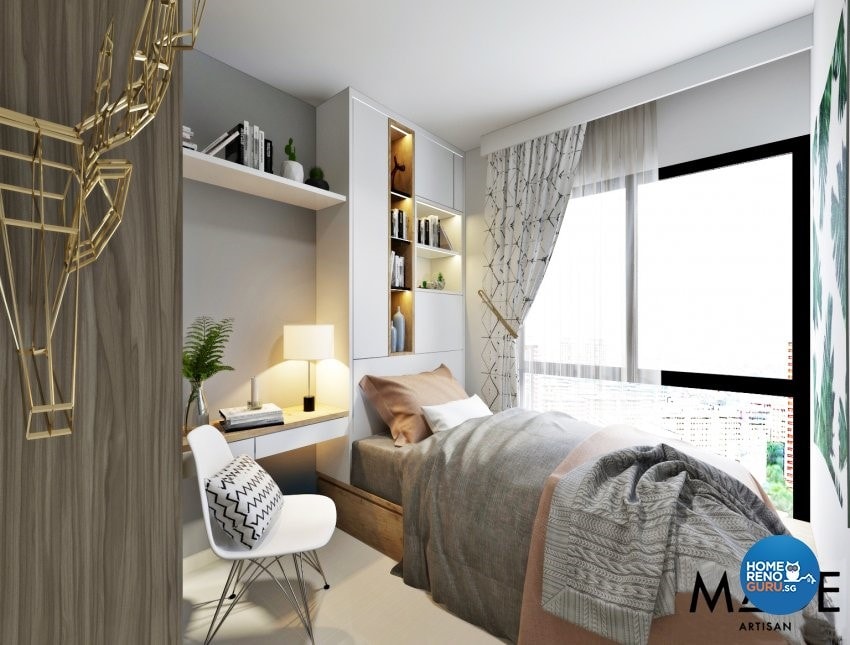 The Panorama by Made Artisan
Create more storage
Landlords often forget that tenants are not there for a staycation, but are staying for long-term. Tenants collect and store items just as homeowners do. It is then important to keep plenty of storage room for tenants to keep their things in their bedroom, where they will spend most of their time in.
Storage Bed by Ideal Design Interior
"A storage bed is the way to go," said Ivan Ong from Ideal Design Interior. "Storage beds remain popular among homeowners, allowing tenants to keep their luggage and bulky items out of sight." He also advises homeowners to be smart in utilising space by getting a full-height cabinet whenever possible and keep a lookout for an area near the window and below or above tables.
HomeRenoGuru
Decorating a rental home can be as fun as decorating your own home. Just keep it simple and welcoming so that your future tenants feel at home. To stay relevant, remember to communicate frequently with your tenants on their design preferences. For more design ideas, visit HomeRenoGuru's design gallery. The gallery features a plethora of design options to help you and your tenant find the ideal style for a comfortable home.
Ready to get the perfect home that will attract many potential tenants? Leave it to the experts! Simply request for a free renovation quote here, and we will match you up with interior designers based on your needs.
What's more? Stand a chance to win a Mercedes-Benz CLA 180 Coupe & Free Home Renovations worth $30,000!