The Ultimate Toilet Guide: Designing Your Bathroom To Avoid Leakage
The bathroom is an oasis of personal space. Your bed may boast soft pillows, but you are only really yourself when you're thinking up nuggets of wisdom in the shower or cursing at another failed try at level 12574 of Candy Crush on the toilet.
But bathrooms are also notoriously vulnerable to leaks. Water builds up fast and can seep into the floor and walls, spoiling your home and causing stinky mildew. Here are 5 priceless tips when designing your bathroom, so you don't mess up your toilet zen.
Drainage comes first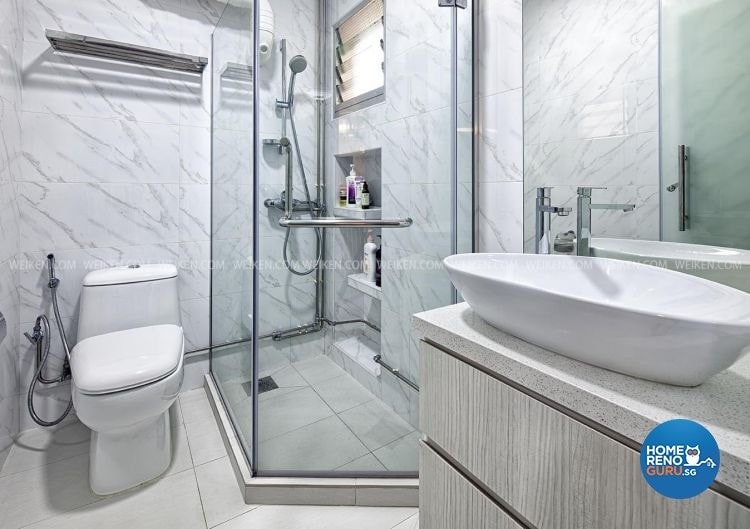 HDB 5-Room Choa Chu Kang by Design 4 Space
You'll have noticed perforated circular drains on your bathroom floor. Called floor traps, they direct wastewater away and keep odours out.
When designing your bathroom, make sure the floor slopes enough for water to flow into the trap. This sounds easy to do, but it means you have to choose appropriate tile formats for your bathroom.
Large formats look great, but in smaller spaces they need to be cut to fit the gradient, disrupting the seamless look. Know where your floor traps are and pick the right tile formats, so water doesn't build up on your bathroom floor.
Be practical with flooring
Unless you want water to seep into your floor boards and attract mould, water resistance should be the first thing on your mind when picking a material for your bathroom floor. Porcelain and ceramic tile are your best bet: waterproof, versatile, and packing great value; they repel water without burning a hole in your pocket.
If you have deeper pockets, natural stone like marble and granite may be an excellent choice to lend a royal sheen. They can be a bit slippery but sandblasting takes care of that easily.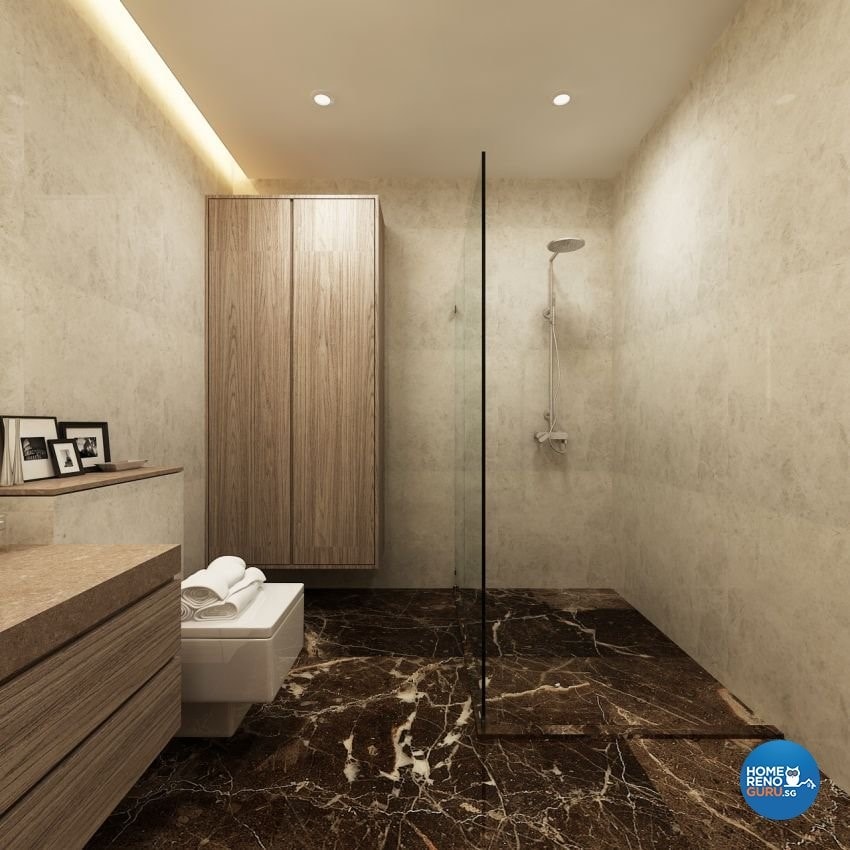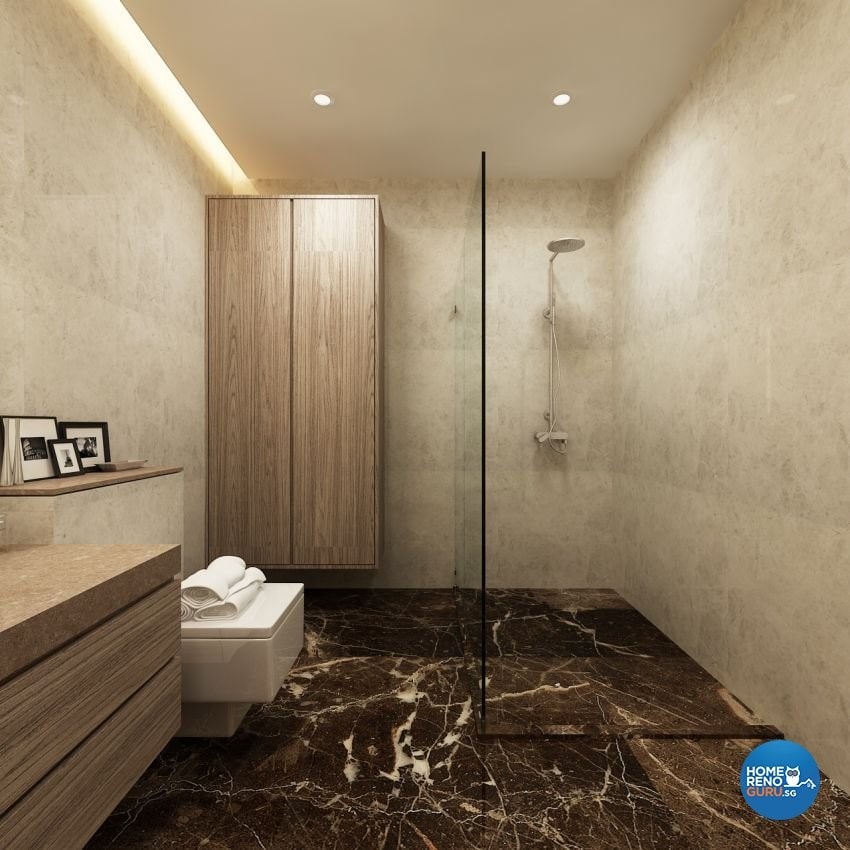 4-Bedder Condo at The Interlace by The Mind Design
This bathroom from The Mind Design combines the best of porcelain and stone. "The owner wanted something posh but practical, so we used porcelain tiles that mimic black marble to add grandeur. Porcelain is also durable and waterproof, so it is easy to maintain," said Yiyi from The Mind Design.
Choose the right materials and paint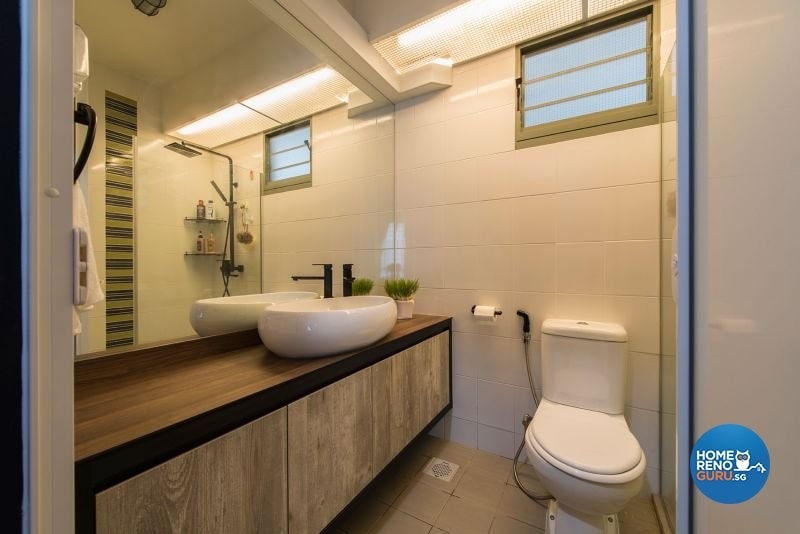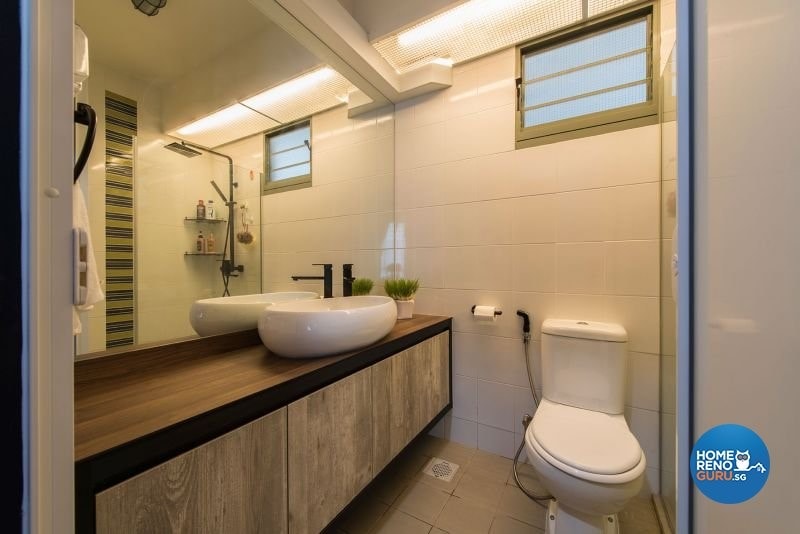 HDB 4-Room by Posh Living Interior Design Pte Ltd
The air in your bathroom is full of moisture that easily condenses into water droplets, penetrating into your walls and ceilings. Like for flooring, choosing the right wall material is key to avoiding leaks and water damage.
Tiled ceramic and porcelain are good again but need grouting. Grouting refers to the filling of tile gaps with white concrete. The problem is mould grows on grout over time, which is unsightly and tiring to clean.
Don't want to scrub down your walls every month? Acrylic might be better for you. Sleek and waterproof, they come in sheets, so no grouting is needed.
For the ceiling, choose a waterproof and anti-mould paint that keeps water out and prevents mildew from stinking up the bathroom. Nippon Paint has many waterproof paints and an anti-mould ceiling paint perfect for this purpose.
Make sure bathtubs are easy to maintain
Bathtubs offer an excellent full-body experience that soothes the mind and calms the soul. But they are also prone to leaks that damage your home and your neighbours' too.
Aside from leaks at the shower neck and faucet, bathtub plumbing can also leak over time, causing water to pool below the tub. The latter is hard to spot but can cause serious water damage, so proper waterproofing is a must.
This bathroom by Imposed Design was built for functionality and elegance as the bathtub adds a touch of luxury to a clean design marked by white tiles and mirrored cabinets.
Jenny from Imposed Design highlights that thorough waterproofing is crucial for bathtubs. "We made sure to secure the floor under the tub first by setting a layer of cement screed over a waterproof membrane. We then laid floor tiles above them so water cannot enter floor boards easily," she said.
Jenny added, "Don't forget to install an access panel to the plumbing so that maintenance doesn't take a long time."
For dividers, less can be more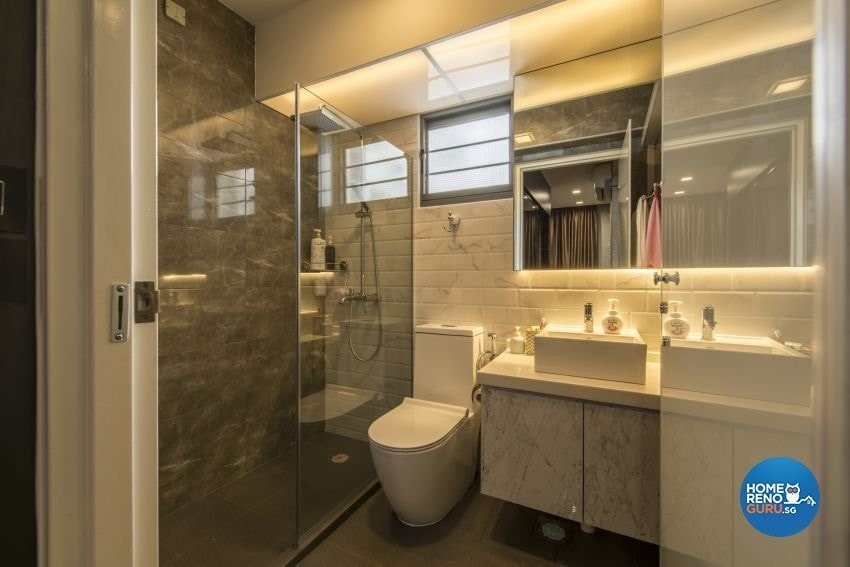 4-Room Punggol Way by Artis Interior Pte Ltd
Lastly, an easy way to avoid bathroom leaks is to use minimalistic dividers. This bathroom from Artis Interior is a great example of stylish practicality: chic marble-tiled walls and a clean monochrome palette are matched by a clear glass panel to guard against splashes.
Colin from Artis Interior said, "Preventing leakages starts from making sure water doesn't go where it is not supposed to. Shower kerbs do that without standing out too much."
—
Designing a leak-proof bathroom can be tricky but paying attention to these 5 tips helps you avoid paying hundreds in plumbing fees later on. It is always nice to have a vision for your bathroom but make sure you choose the right materials and fittings that make it a stress-free personal haven.