Dream Home: A Future-proof Home
Happy repeat customers Chee Kwang and Geraldine engaged a designer whom they'd previously used, Patrick Chia from Home Concepts Interior & Design. Though their brief was admittedly sketchy, he clarified and built upon their vague ideas to create a beautiful, modern home, with ample space to accommodate the needs of a growing young family.
Project Snapshot
Name(s) of Homeowner(s): Lee Chee Kwang and Geraldine Chong
House Type: 3-bedroom Private Condominium Apartment
Size of Home: 1,508 sq ft
Duration of Renovation: 5 weeks
Cost of Renovation: $60,000
Interior Design Firm: Home Concepts Interior & Design Pte Ltd
Name(s) of Designer(s): Patrick Chia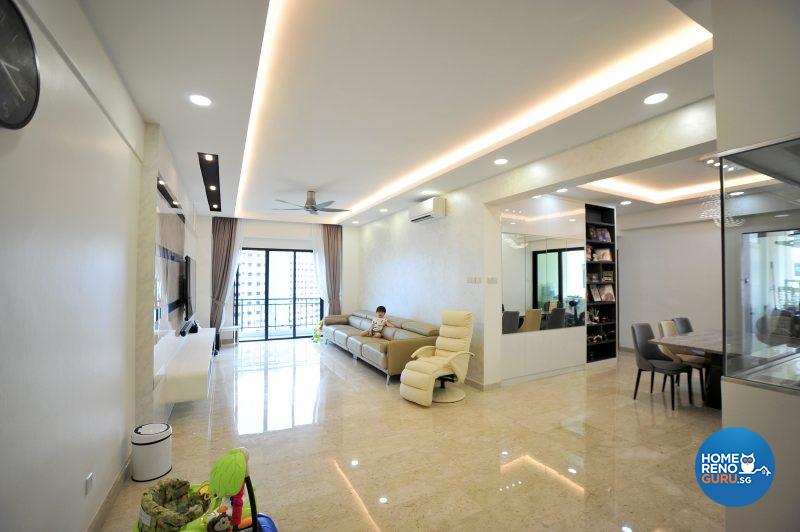 The remarkably spacious open concept living and dining area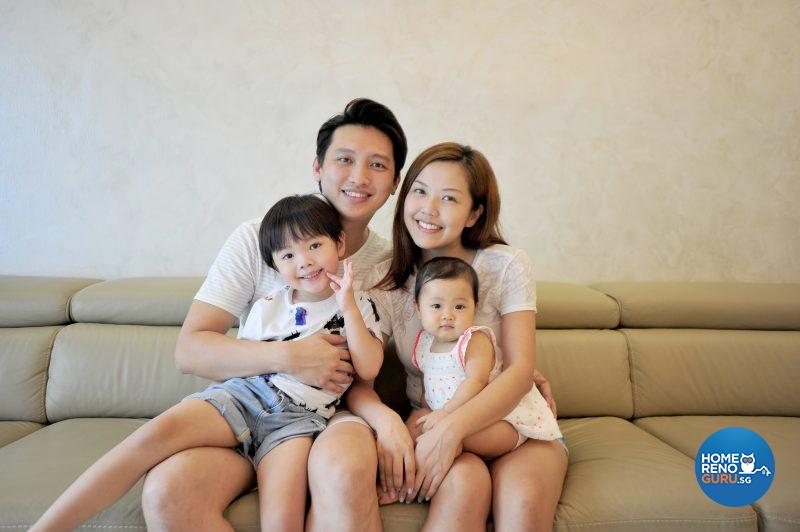 Chee Kwang, Geraldine, Jayven and little Shannon
HomeRenoGuru: How and why did you come to engage Home Concepts Interior & Design to renovate your home?
Chee Kwang: This is the second time we have engaged Home Concepts actually. So, the first time we had a very good experience with Home Concepts as well as Patrick. We like his service a lot, we didn't have to worry a lot and the workmanship and the quality of the work that he has done is really great. So, we didn't want to waste time searching for another ID this time round and went straight to him, knowing that we will definitely get very good service and good work from him.
HomeRenoGuru: What was your brief to your designer, Patrick?
Geraldine: When we started thinking of how we wanted to do our new house, we had pretty sketchy ideas. We knew we wanted to have a big space for the children to play around, but yet we don't want to be stuck in a design that you know, 10 years down the road that we didn't like it at all, or feel it's really dated and old-fashioned. So, we just told him that we wanted something modern, something that is spacious, and will look nice… And he basically proposed certain things to us, the designs, how it should be and so on, where he felt that in certain areas if, let's say, we hack the walls, it will provide a better, more open and spacious concept. So, we pretty much took his suggestions into consideration.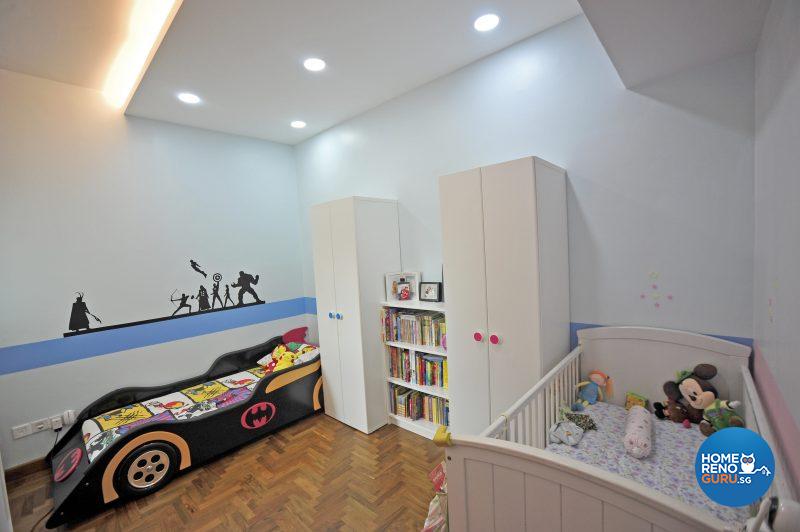 Jayven's personal 'bat cave'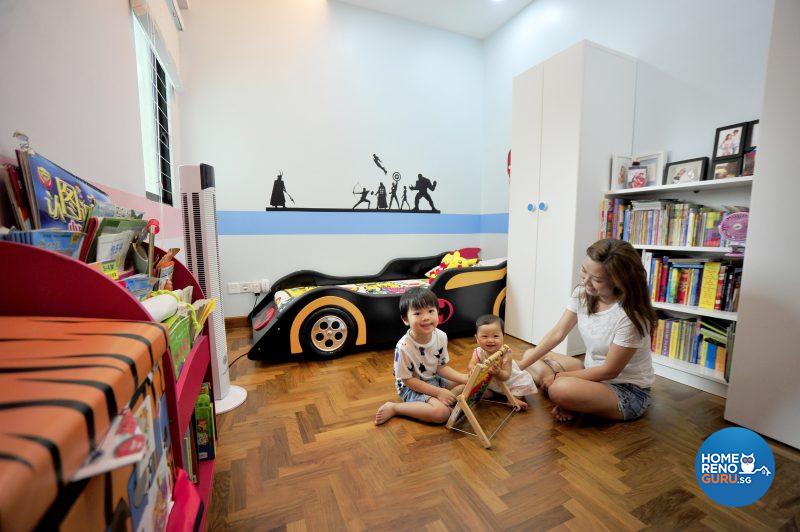 The wall mural spans the length of one wall above the batmobile-themed bed, inspiring superhero dreams!
HomeRenoGuru: How did you find the actual renovation process?
Chee Kwang: Patrick is a very detailed project manager, so he is always very punctual and he is always available. Whenever we have any questions or in doubt we can always call him anytime, and he will always try his very best to help us do the best things.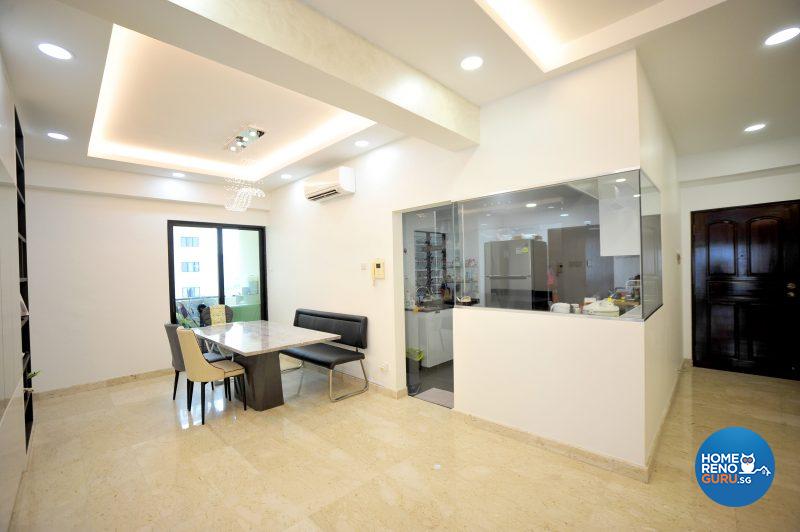 The glass-paneled kitchen allows the family to interact with the chef of the house, Geraldine's father
Jayven: I told him I love Batman because of my toys, and I love my pictures.
Geraldine: I really love our bedroom because of the open concept. Basically, it gives us a more hotel feel, so you'll feel that at the end of the work day, you come home you just want to relax in your room, you watch some TV and you go into an environment which is really pleasant. I also like a lot about our kitchen, because of the open concept area. My dad is basically the chef for our family. So, whenever he is cooking, you know, we can peep in to see when the food is ready to have some interaction with him, and that's really nice.
Looking for an estimate of your renovation costs?
Let HomeRenoGuru help!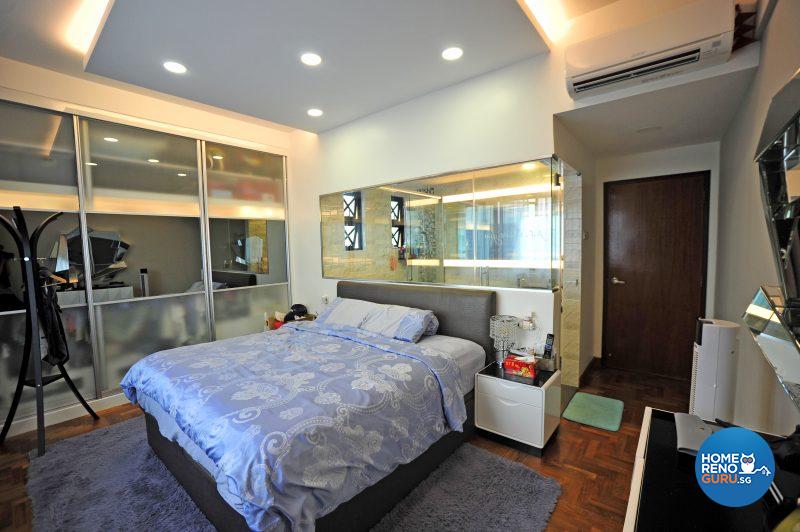 The master bedroom features a window into the master bathroom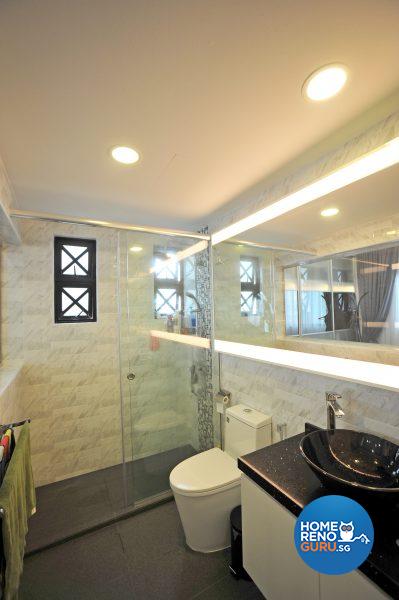 Semi-partitioned, the luxurious master bathroom affords a degree of privacy while remaining true to its the hotel-like open concept
Chee Kwang: I like Patrick's suggestion on the rounded edges for all the carpentry work. For example, my TV console and my shoe cabinet. He knows that I have two kids at home and they are very young, so he suggested to have rounded edges for all the carpentry work and I love the living room. So, what we wanted initially is to really have a feel of a very big space and he proposed this big feature wall together with the TV, so it really looked very spacious and it's exactly what I want.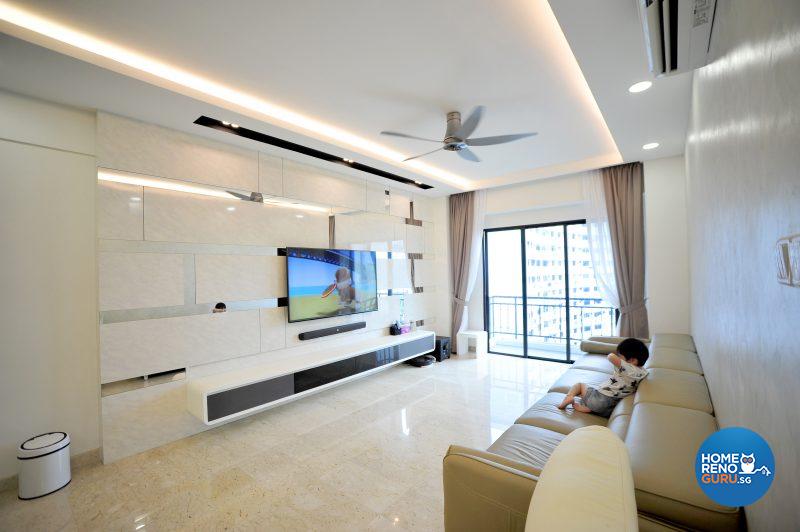 A light colour scheme of cream and milk coffee enhances the spacious feel, while rounded edges on the cabinetry childproof the living area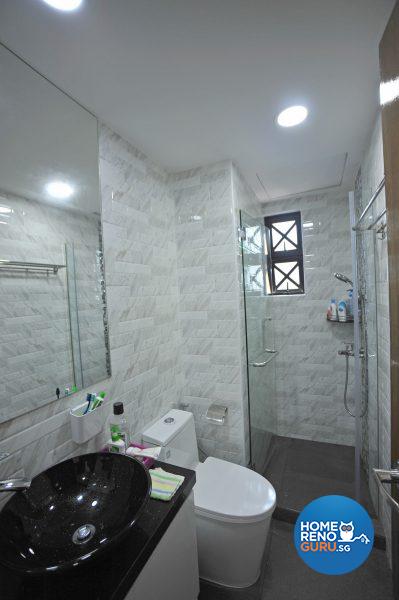 Downlights illuminate the common bathroom
HomeRenoGuru: Can you share some advice with homeowners looking for a renovation company for their homes?
Geraldine: My advice for homeowners who are looking for renovation companies to do their home, is to get someone that they trust with good communication, like this good rapport going on. Because ultimately, you're going to work with this person for the next two months or so to get your perfect home up and running. So it's very important to get somebody that you're really comfortable with, somebody who is honest, somebody who you know, show you everything upfront and tells you what are the costs you incur at the end of the day. Or you know, somebody who is very meticulous and very detailed. My advice is to just go with your instinct, if you feel comfortable with the person, then pretty much he should be the one.
HomeRenoGuru: Would you personally recommend Home Concepts Interior & Design and your designer Patrick?
Chee Kwang: We strongly recommend Home Concepts and Patrick if you want good quality work, good workmanship and a good price. We really love our home!